Samsung Galaxy S9 Plus has hit the market, and just like every year, Samsung has packed its flagship with the best display on any smartphone. Once you look at the 6.2 inches of the AMOLED beauty, you will realize how much you are missing out on when you buy other flagship devices. That said, the display will not always remain this beautiful if you don't take care of it. Believe me, you don't want to put scratches on this beauty. That's why you will need to buy a good screen protector which will save the display from any scratches, scuffs, or cracks in case you drop the device. That being said, it's not that easy to select the perfect screen protector for your device when there are thousands of options out there. That's why to make things easier for our readers, we have created a list of 10 best Samsung Galaxy S9 Plus cases that you can buy:
Best Galaxy S9 Plus Screen Protectors
1. IQShield Galaxy S9 Plus Screen Protector
IQShield is a company which has recently made its name in the world of smartphone screen-protectors. They make one of the best screen protectors in the market, and you cannot go wrong with them. Their LIQuidSkin adhesive coupled with our unique IQ Shield wet-install method ensures easy, bubble-free, and frustration-free installation. The IQShield Galaxy S9 Plus screen protector brings high touch sensitivity, self-healing durability, and uses a material which doesn't turn yellow as it ages. This is great for anyone looking for providing their S9 Plus's display protection form normal scratches and scuffs.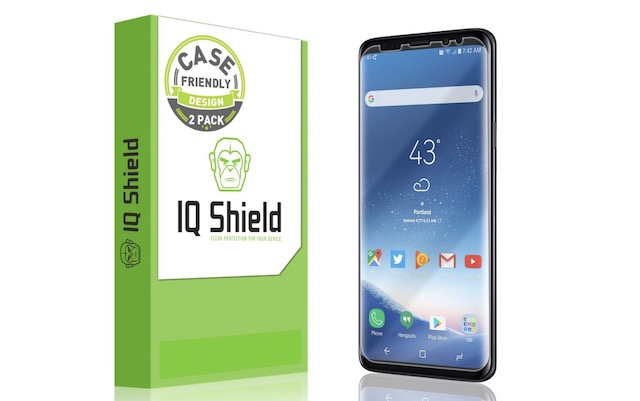 Buy From Amazon: ($7.85)
2. Spigen Galaxy S9 Glas.tR Nano Liquid Screen Protector
While IQShield has made their name recently, if there's one company whose name is synonymous with quality cases and screen protectors, it's Spigen. The Spigen GLAS.tR Nano Liquid screen protector for Galaxy S9 Plus is made from silicon dioxide material which has been optimized to provide the best touch sensibility without losing the durability of a tempered glass. The screen protector is also coated with nano-hydrophobic technology which brings oil and scratch resistance. The screen protector is also tough enough to protect your S9 Plus's screen against minor drops and falls.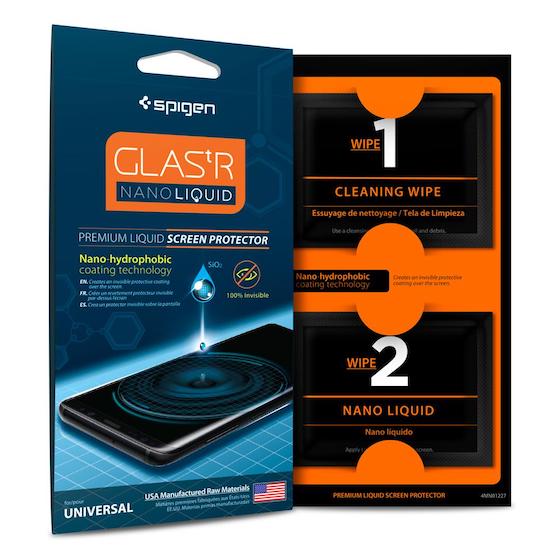 Buy From Spigen: ($24.99)
3. Skinomi Screen Protector for Galaxy S9 Plus
The Galaxy S9 Plus screen protector from Skinomi is designed using precise laser cutting technology to offer maximum screen coverage. The material used in screen protector is also flexible, allowing the full coverage of even the curved part of the display. Other features include self-healing capabilities, flexibility, tough, and the use of military-grade thermoplastic urethane which can absorb impact. Skinomi screen protector of the S9 Plus will protect its display without burning a hole in your pocket.
Buy From Amazon: ($7.85)
4. LK 3-Pack Samsung Galaxy S9 Plus Screen Protector
Lately, I have taken a liking towards the screen protectors from LK as the company not only makes really good screen protectors, but it also provides them at one of the cheapest rates in the market. This one for the Galaxy S9 Plus comes in a pack of three and brings quality TPU and PET material that is scratch resistant and protects your screen from daily scrapes and abrasions. Both the TPU and PET materials used in the screen protector are also flexible which means you are getting a full coverage while keeping your device case friendly. If you are looking for cheap yet quality screen protector for your device, do give this one a try.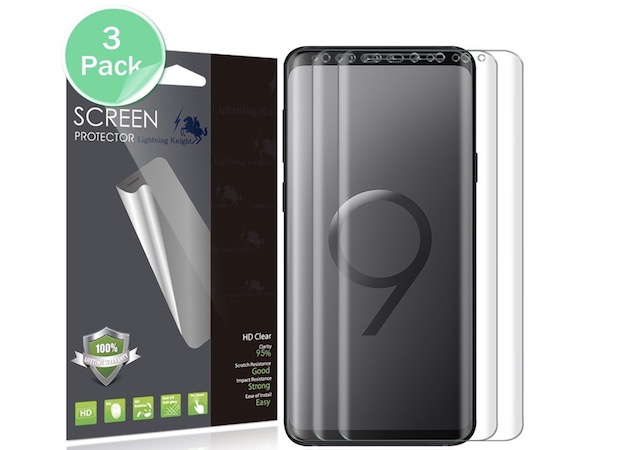 Buy From Amazon: ($8.99)
5. Dome Glass Galaxy S9+ Screen Protector
If you don't care about money and just want the best of the best screen protector for your brand new Galaxy S9 Plus, this one is for you. Dome Glass makes premium screen protectors which uses their patented liquid glass technology which evenly disperses over the entire screen including existing scratches and scuffs, and hardens to create an impenetrable edge to edge barrier while repairing former cracks and imperfections. Their screen protector also comes with an install frame and a UV curing light which ensures that you are getting an error and bubble free install. If you are ready to shell out over $40 for a screen protector, the Samsung Galaxy S9 Plus screen protector from Dome Glass will not disappoint you.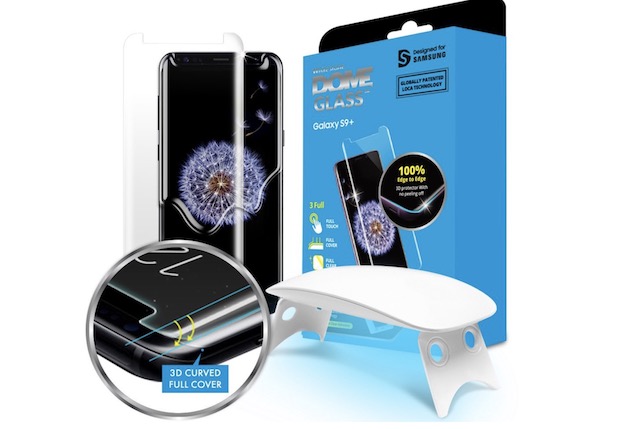 Buy From Amazon: ($44.99)
6. EcoPestuGo Tempered Screen Protector for Galaxy S9 Plus
The tempered glass screen protector from EcoPestuGo brings 9H hardness meaning it will easily protect your screen from scratches and other external damages resulting from drops and falls. The tempered glass is ultra-thin which means that you are not compromising on user experience for the extra protection that you are getting with one. That said, the touch experience won't be as good as it will be with something like Spigen Glas.tR Nano Liquid screen protector. However, if protection is what matters to you most, this is definitely the one for you.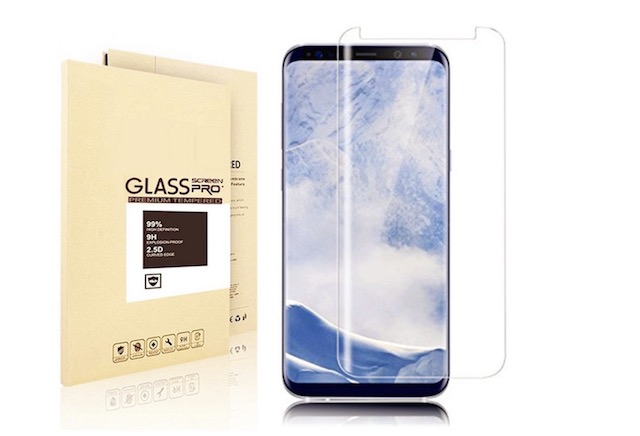 Buy From Amazon: ($12.99)
7. Bestfy Galaxy S9+ Screen Protector
Bestfy is fairly new to the screen protector game, however, the company has been receiving really good reviews for their screen protectors. Their screen protector for the S9 plus is tough enough to reach the 9H hardness and provides the S9 Plus with multi-layer protection against daily wear and tear. It also features 3D curved glass thus covering even the curved portion of the S9 Plus's display to provide an overall protection.
Buy From Amazon: ($12.99)
8. Galaxy S9 Plus Tempered Glass Screen Protector From Encased
Encased is also a well-known company which makes tempered glass screen protector. This offering from encased brings extra scratch protection with 9H hardness rating, tempered layering, and reinforced shatterproof construction. The tempered glass is also just 0.3mm thick which means that you won't even notice that it's there. The protector comes in a package which contains a microfiber cloth, dust remover, alcohol pad, and drop-in alignment applicator, ensuring a perfect bubble-free installation.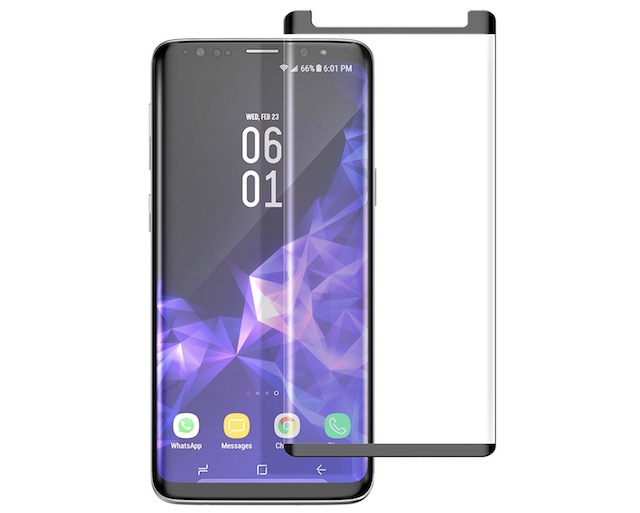 Buy From Amazon: ($13.94)
9. AUNEOS Galaxy S9 Plus Tempered Glass Screen Protector
AUNEOS Galaxy S9 Plus Tempered Glass Screen Protector uses thermoforming glass which effectively absorbs bumps & shocks and reduces dust and smudges. It also brings a special coating which protects the screen protector against UV lights, rainbow effects, and film yellowing. The special coating also prevents unwanted fingerprints and oil-stains, making the film easy to clean. The glass also brings anti-shatter technology which means that even if it breaks in case of falls, the pieces will remain together without any sharp edges.
Buy From Amazon: ($15.95)
10. BISEN Samsung Galaxy S9 Plus Screen Protector
The last screen protector on our list is from a company called Bisen and which brings a quality tempered glass with bubble-free application adhesives. The screen protector is just 0.3 mm thick providing 99.9% of original visibility. The 9H hardness of the glass also ensures maximum screen protection against scratches and scuffs in case of minor drops and falls. The screen protector doesn't bring anything special, however, it's a good screen protector, and definitely deserves a place on this list.
Buy From Amazon: ($12.55)
SEE ALSO: 12 Best Galaxy S9 Plus Cases and Covers You Can Buy
Protect the Infinity Display on Galaxy S9+ With These Screen Guards
If you just received your Samsung Galaxy S9 Plus or are waiting for it to be delivered, you will need to invest in a good screen protector to protect its screen from scratches and cracks. Considering how replacing a screen now costs almost half the price of the phone itself, the initial investment in a screen protector is a wise decision. Do check this list out and let us know which one did you choose by dropping its name down in the comments section below.
---
Load More