Our smartphones, PCs and all the smart devices that we own can become really dumb really soon without an internet connection. That's why the ability to share internet connection between devices is so important as it ensures that if one of our devices have an internet connection, others can also remain connected. While we have been able to achieve this feat with our mobile devices for a very long time, on Windows the feature was first effectively implemented by a piece of software call Connectify. Over the years Connectify evolved and incorporated many advanced features like File sharing, Bridge, Dispatch, and more. That said, that evolution also brought along a fair share of problems.
Why we need a Connectify alternative?
While Connectify is a very good piece of software, one of the biggest challenges when it comes to using this piece of software is pricing. I understand that Connectify provides a free lite version of the app, however, the Lite version is severely restricted and most of its features are hidden behind a paywall, and that paywall is going to cost you a lot. To be specific, there are two paid versions of Connectify, the Pro, and the Max, and they will set you back $34.98 and $49.98 respectively.
Another problem with Connectify is that all the awesome features that the software incorporated in the last couple of years has made its user interface very complex and it's certainly hard for a beginner to figure out the ins and outs of the software. For a user, who is just looking for simple WiFi creating tools neither the price nor the complex UI is justifiable. That's why we started to look into the alternative software which can help replace Connectify and here are the best of them:
6 Best WiFi Hotspot Software to Replace Connectify
1. Baidu WiFi Hotspot
One of my favorite alternative to Connecitfy is the Baidu WiFi Hotspot. I like it because the software is not as complex as Connectify but still brings features which can satisfy the requirement of most of the users. The first and foremost task of a Hotspot software is creating Hotspot, and Baidu handles this task perfectly. The connection is fast and secure and I didn't feel any drop in connection speeds on my connected devices what so ever. Apart from creating Hotspot, the software also allows you to send and receive files from devices that are connected to the WiFi hotspot which is really appreciated. I also like the user interface of this software, as it is fairly modern and really easy to navigate.
Download: (Free)
Compatibility: Windows 10, 8.1, 8, 7, Vista, XP.
2. MyPublicWifi
MyPublicWiFi is another simple and easy-to-use software that turns your laptop/PC into a Wi-Fi wireless access point. The software is really good for sharing your internet connection as it easily creates HotSpot and provides good internet speeds to all connected devices. Despite being one of the oldest Hotspot creating software, it still is one of the simplest to use and packs a ton of features. The features include creating a firewall to restrict user access to certain domains, preventing the use of certain Internet services to save bandwidth, and recording and tracking all visited URL pages on your virtual WiFi-Hotspot. MyPublicWiFi is best if you are creating Hotspot to allow users other than yourself to use the internet. Probably the only con of this software is its legacy UI which has not been updated in a while.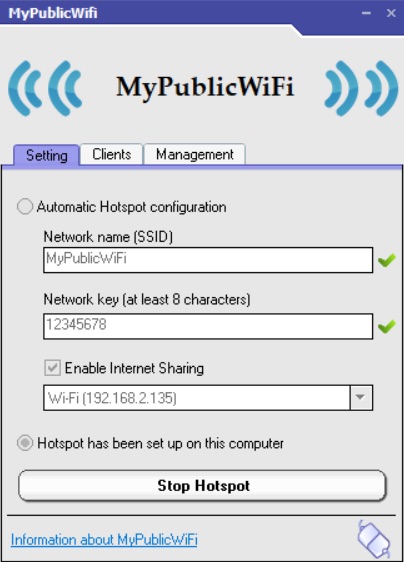 Download: (Free)
Compatibility: Windows 10, 8, 7, Windows Server 2008 R2, and Windows 32/64bit
3. LionScripts WiFi Hotspot Creator
While the above two software are really good at what they do, what if you don't require any extra feature that they bring and only want to use the HotSpot creating a feature. If that's the case, LionScripts WiFi Hotspot Creator is just for you as the software does nothing else other than converting your Windows machine into a WiFi Hotspot. The software is incredibly easy to use and only takes a few clicks to set up the connection. If simplicity is what you are going for, LionScripts WiFi Hotspot Creator is for you. The software has both free and paid version, however, the only difference between the two is that the free version is supported by ads, so you are not losing any functionality with the free version what so ever.
Compatibility: Windows 10, 8, 7, Vista and XP.
4. OSToto Hotspot
OSToto used to be my favorite tool for creating Hotspot on my Windows machine, however, it seems that the developers have killed the software as it's not present on OSToto's official website anymore. That said, the last supported version of the app can still be downloaded and works pretty fine. OSToto packs all the usual features including the ability to create Hotspot, blacklisting device, and using WPA2 PSK security protocol. However, my favorite features of OSToto are the ability to set a timer to automatically switch off the Hotspot and allowing the hotspot to run even when your PC is hibernating. For these two features alone, OSToto Hotspot made this list even after it is no longer officially supported.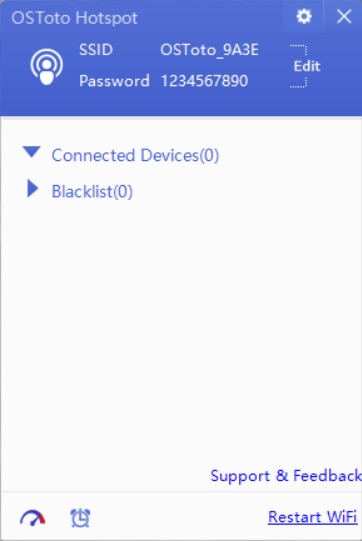 Download: (Free)
Compatibility: Windows 10, 8.1, 8, 7, XP, Vista.
5. Thinix WiFi Hotspot Creator
Thinix WiFi Hotspot Creator is a software which brings almost all the features of Connectify at one-third of its price. The software not only allows you to create a safe and secure Hotspot using the WPA2 PSK WiFi protocol but it also allows you to monitor and check all the aspect of your Hotspot. One of my favorite features is the Auto-Start Hotspot feature which allows me to share my internet connection even when I am logged out of my device. Other features include multi-language support, connection identification and connection prioritization, profile creation for easy and automatic connectivity, and more. It's one of the most feature-rich Hotspot creating software out there.
Compatibility: Windows 10, 8, 7 (doesn't support Windows 8 RT and Windows 7 Starter Edition)
6. Maryfi Virtual Router Software
The last virtual Hotspot creator on our list is the Maryfi virtual router software which is yet another simple and free software which helps you in creating Hotspot on your Windows machine. With Maryfi, users can wirelessly share any Internet connection including a cable modem, a cellular card, or even another Wi-Fi network. The best part about using MaryFi is you don't need any internet connection to create a WiFi. The feature helps in creating a shared library of folders and playing LAN based games without using any physical wires. The only drawback of this software is that it doesn't support Windows 10.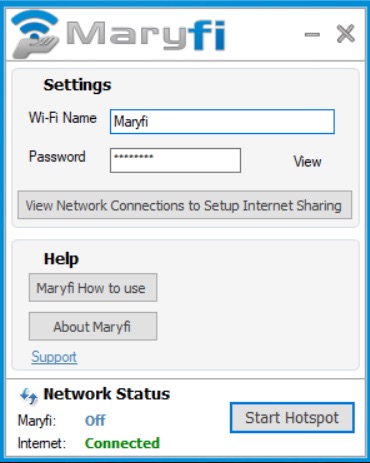 Download: (Free)
Compatibility: Windows 7, 8 and 8.1
Bonus: Windows 10 Native Hotspot Creator
With Windows 10, Microsoft allows its users to create native Hotspot on their Windows 10 devices. All though this doesn't allow users to utilize any other feature such as file sharing and creating shared libraries, it's a good, simple, and free way to create a WiFi hotspot on your device.
To create a WiFi Hotspot using your Windows 10 machine, you should go to Settings -> Network and Internet -> Mobile Hotspot and then click on the on/off toggle button to create the Hotspot. You can also use the Windows 10's Action Center to do the same thing.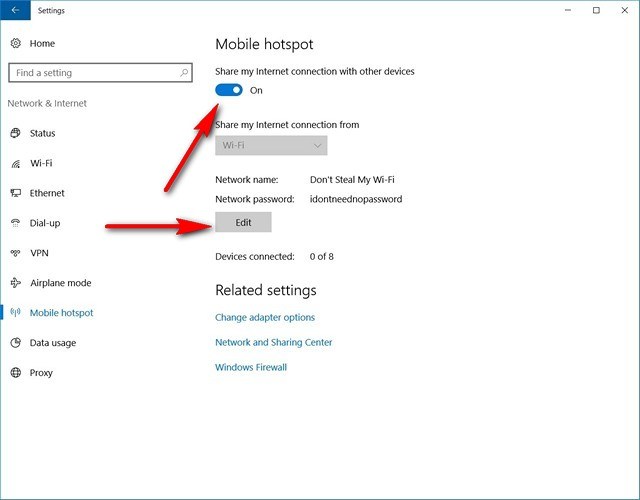 SEE ALSO: Top 7 Free WiFi Hotspot Software For Windows
Use These Connecitfy Alternatives to Create Hotspot on Windows
AS you can see, there are a lot of capable software which can replace Connectify and help you in creating Hotspot using your Windows machine. You can choose the software depending on your requirements. Once you have done that do let us know which software you think is the best one on the list by writing in the comments section below.