Although wireless charging has existed for quite a long time, it really received a great impetus when Apple's 2017 iPhone lineup including the iPhone 8, iPhone 8 Plus, and the iPhone X started supporting wireless charging. Since the launch of the new iPhones, many third-party accessories makers doubled down their efforts to manufacture wireless chargers. Off all these third-party accessories maker, Belkin is one of the best, if not the best company that manufactures wireless chargers. The Belkin F8M747bt Qi Wireless Charging Pad (₹2,999) is the company's entry-level wireless charger and in this article, we are going to take an in-depth look at it to see if it's any good. So without wasting any more of your time, here is our Belkin F8M747bt Qi Wireless Charging Pad review:
What's In the Box
Let's start our review with what you are going to get once you make the purchase. Well, the device comes in a very unassuming soft cardboard box. There is nothing fancy about the packaging which is understandable from the fact that it's an entry-level product from Belkin. Packaging apart, here are the things that come in the box: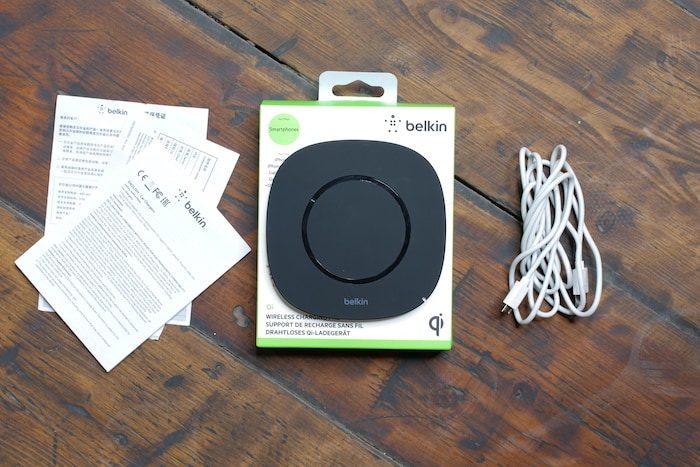 Belkin wireless charger
USB-A to micro USB cord
paperwork
Specifications
When you are buying a wireless charger, there are only two specifications that really matters. The first is the charging technology that the charger supports and the second is the power output of the charger which determines how fast your devices are going to charge with that charger. As a general rule of thumb, you should be buying Qi wireless chargers as it is the standard wireless charging technology supported by all the wireless charging devices out there. The rest of the specifications are mentioned in the table below.
| | |
| --- | --- |
| Name | Belkin |
| Model Number | F8M747bt |
| Weight | 249 grams |
| Product Dimensions | 4.3 x 13 x 16 cm |
| Supported Standard | Qi Wireless Charging |
| Price | ₹2,999 |
Design and Build Quality
When it comes to design and build quality, I think Belkin has done a pretty good job with its F8M747bt Qi wireless charging pad. The top of the pad has a rounded square design with a Belkin logo and notification LED. The surface of the charger has a mat finish which feels good to touch and stops your phone from slipping off even when you gate a call. There's also a glossy circle in the middle of the charger which outlines the charging area.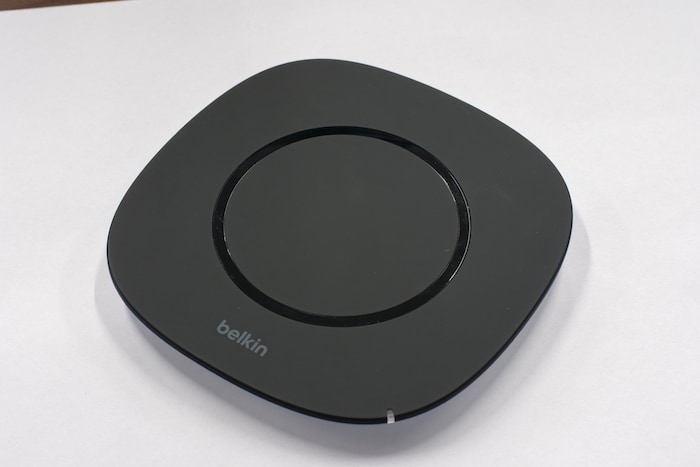 The bottom of the device tapers down into a circle which has a rubbery finish to stop the charger from slipping on the surface that you put in on. There's a nice cut out which houses the micro-USB port which is used to deliver power to the device. The charger is fairly light and portable. All in all, I am really happy with the charger's design and build quality and I have nothing to complain.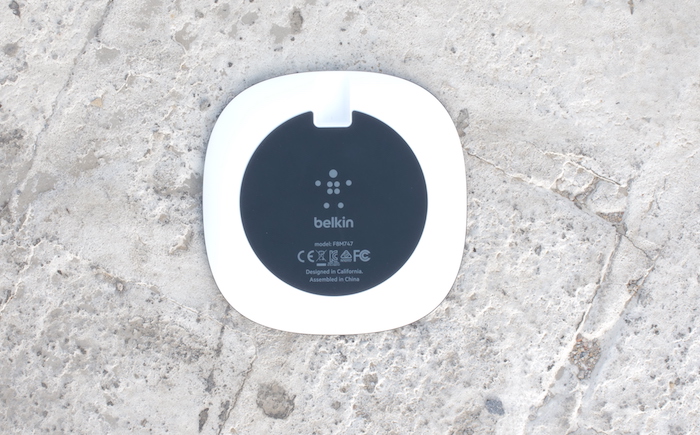 Charging and Performance
One of the best things about the Belkin F8M747bt Qi wireless charging pad is that it supports 5W/1A outputs which means that it will charge your devices relatively fast. Although it won't be as fast as dedicated fast wireless chargers, it will be fast enough to make you want to use it on a daily basis. If you are looking for numbers, I was able to charge my iPhone X from 20% to 43% in 60 minutes.
Do remember that you will need a charging adapter with at least 5W/2A output to run this charger at its full capacity. If you are using a charging brick which outputs a lower power than the recommended range, your device will charge slowly than what we found in our testing.
Intangibles
For me, wireless chargers are one of the few products where the intangibles matter as much as all the other facets of the products. It's because you are not buying a wireless charger because you want the fastest charging speeds in the world rather you are buying it for the convince that it offers. In fact, when it comes to speed, wireless charging will not be able to beat wired charging anytime soon.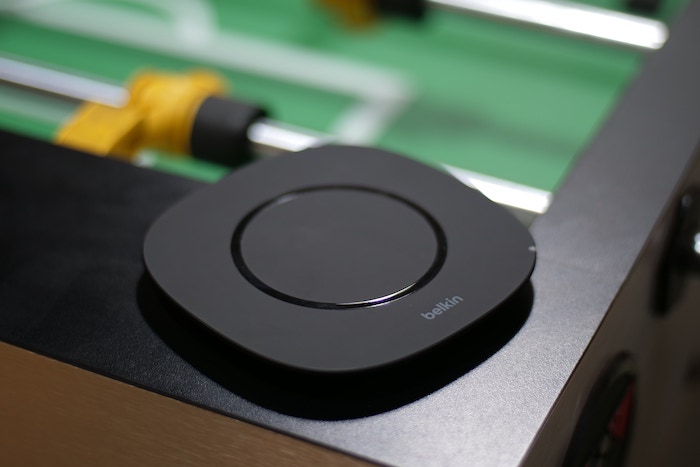 If you are using a wireless charger, it means that you are using it for its ease of use and for the fact that you have one less cable to worry about. I put mine on my bedside table, where I put the phone when I am sleeping and I wake up with a fully charged phone. Due to wireless charging, I don't have to fiddle with wires in the darkness of night anymore.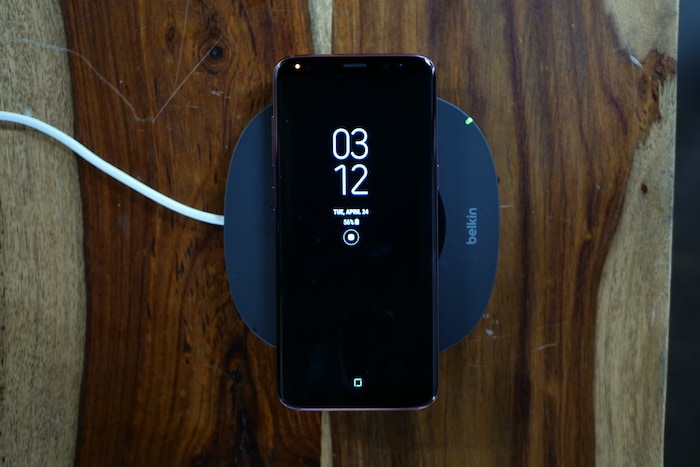 While the Belkin wireless charger makes all those things possible, not everything is good here as there are some things that I hate about it. Firstly, the wireless charger comes without a charging brick. That means you will have to use a charging brick of your own to power the device which is a hassle. Also, the notification LED on the device only lights up when you put a smartphone to charge which confused the hell out of me when I used the device for the first time.
Belkin Wireless Charger: Its Time to Cut the Chord
Belkin wireless charger is a very good product which makes it really easy to charge your devices wirelessly. Since the charger supports Qi wireless charging standard, it means that you will be able to charge any smartphone that supports wireless charging. There is nothing that I dislike about the device other than the fact that it doesn't come with a charging brick in the box.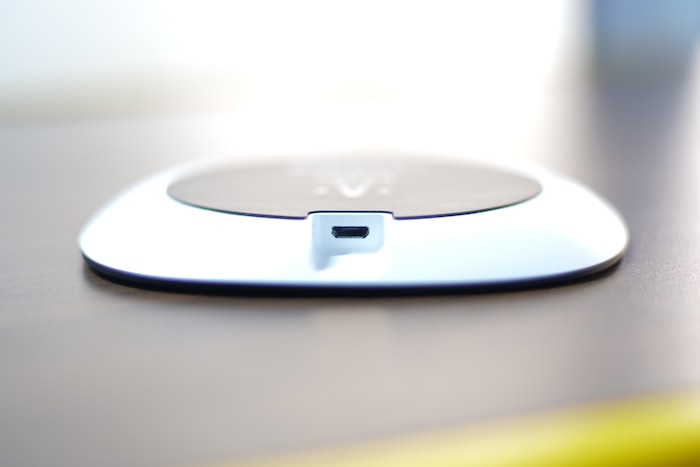 Pros:
Charge your device wirelessly
Don't have to fiddle with cables
Works on all smartphones that support wireless charging
Cons:
Do not come with charging brick out of the box
The notification LED only lights up when charging a smartphone
It's not a fast wireless charger
SEE ALSO: Google Home Mini Review: More Than Meets the Eye
Belkin Wireless Charger: Charging Your Smartphones Just Got Easier
I love the Belkin wireless charger because, for quite a reasonable price, it takes away the hassle of managing multiple cables. Now I can charge both my iPhone X and Galaxy S8 with a single charging dock. If you own a smartphone which supports wireless charging, the Belkin F8M747bt is the right product for you. But that's just my opinion. Do let us know your thoughts on wireless charging and the Belkin F8M747bt in the comments section below.
Buy Belkin F8M747bt Qi Wireless Charging Pad: ₹2,999
---
Load More