Asus Republic of Gamers is a huge name in the gaming industry, known over the years for its excellent gaming hardware and accessories. We ourselves have recommended some Asus gaming laptops such as the ROG Strix laptops in the past for its killer performance. That, sadly, hasn't been the case with the TUF Gaming series, which is fairly new on the scene, and looks to reduce the price point of Asus gaming laptops.
With its TUF Gaming laptops, Asus is essentially trying to bridge the gap between hardcore gaming laptops and mainstream notebooks. An ambitious plan, yes, but the company hasn't made any big strides with this series. I mean, you may have heard about other budget gaming laptops from the likes of Acer, Dell, etc., but TUF Gaming series? Duh, what's that?
Well, that's exactly what Asus is looking to change with the launch of their new TUF Gaming laptops in India. In fact, they sent over a unit for us to check out and see how we like it.
So I've been carrying the Asus TUF Gaming FX505 laptop (₹1,29,990) for the past few days to see if this laptop has really outdone its predecessors. My first impressions were fairly positive. But I wanted to put it through its paces, and see if it's really something that I could recommend to people who want to buy a good laptop that can also handle some games at playable settings. So, is it worth picking this laptop? Well, let's find out –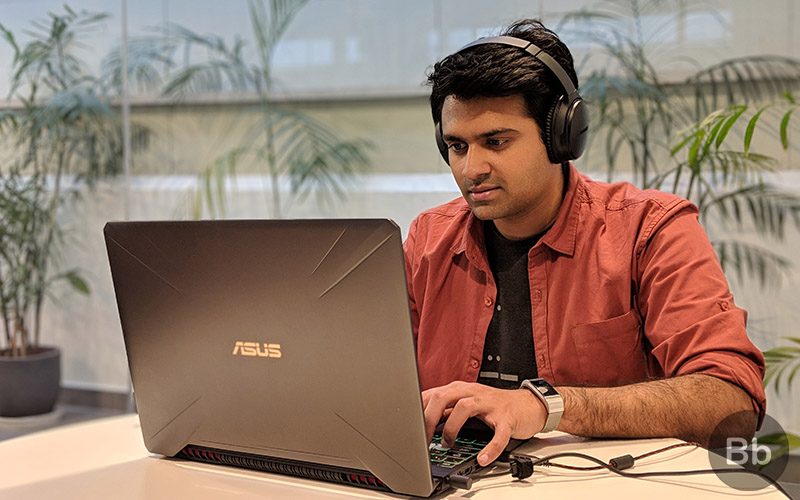 Asus TUF Gaming FX505 Specifications
Before I get on with my review, I think it's best to get the hardware specs out of the way. The version of laptop for review packs 8th-Gen Intel Core i7 processor paired with an Nvidia GeForce GTX 1060 GPU, along with 16GB of RAM. This particular variant is priced at ₹1,29,990. Here's a quick rundown of the FX505 specifications:
| | |
| --- | --- |
| Dimensions | 360.4 x 262.0 x 25.8 ~26.8 cm (WxDxH) |
| Processor | 8th Gen Intel Core i5-8300H / i7-8750H |
| Memory | Up to 32GB |
| Storage | 1TB 7200RPM SATA HDD + Up t0 512GB SSD |
| Display | 15.6" Full HD IPS 60Hz/144Hz |
| Graphics | NVIDIA GeForce GTX 1050/1050 Ti/1060 |
| I/O | 1 x Type-A USB2.0, 2 x Type-A USB 3.0 (USB 3.1 Gen 1), 1 x RJ45 LAN jack for LAN insert, 1 x HDMI, HDMI support 2.0, 1 x COMBO audio jack |
| Networking | Integrated 802.11ac, Bluetooth® 5.0 |
| Battery | 4 -Cell, 48 Wh Polymer Battery |
| Operating System | Windows 10 Home/Pro |
I'd like to point out that you can also buy a relatively cheaper variant powered by Intel Core i5, 8GB RAM and GTX 1050 Ti. That's priced at ₹79,990. We'll talk a bit more about it towards the end.
Asus TUF Gaming FX505: Design and Build Quality
The very first thing I noticed as soon as I pulled the laptop out of the box was its size. I can't quite describe how refreshing it is to write about a gaming laptop that doesn't look like, you know, a bulky slab. No, gaming laptops don't have to be big and bulky as they once used to be.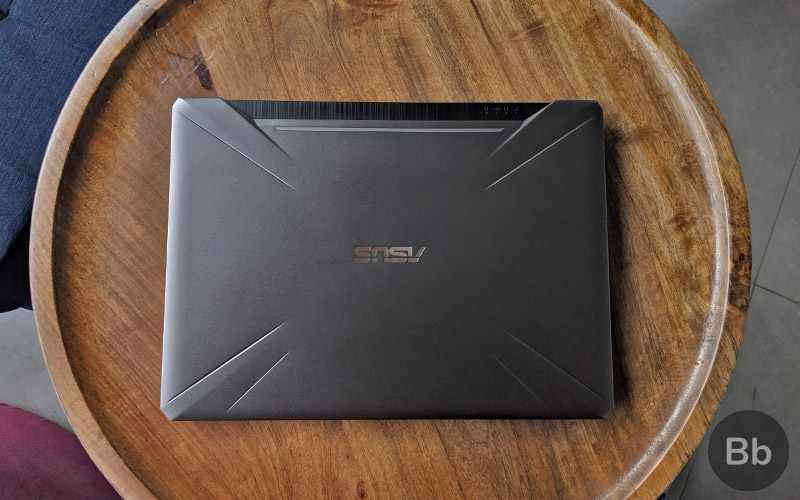 Still, most look like alien devices, with gaudy RGB lights seeping out of the edges. It's what inside the laptop that matters the most, not the number of RGB lights on the body. Asus, as you can see, seems to have understood what I am saying.
Their TUF Gaming FX505 laptops look like a regular laptop, with just a little bit of flair, while still packing enough power to glide through games and resource-intensive tasks with ease.
As soon as you open the lid with one hand, (yes, you can do that, and I'll have a special place for every laptop that lets me do that), you'll see a textured compact body with a full-sized keyboard, and a big trackpad. The FX505 design shares much with its predecessors. It has an angular body, and has a precision build, that makes me feel good while using it.
Unlike some other laptops that have flashy RGB-lighting all over the body (eyes on you Alienware!), the FX505 sports just an RGB-backlit keyboard. It's, in my opinion, the right amount of RGB for that any laptop should have. As I said earlier, I don't want to feel like I stumbled upon an alien artifact, and this is just perfect.
Asus is pretty confident about its TUF Gaming build quality. It says these laptops have passed a series of rigorous MIL-STD-810G tests, surviving varying conditions including solar radiation exposure, high altitude, etc. As much as I like to believe that, I don't think that's something I can entirely agree with.
In fact, I didn't even have to use the laptop for an extensive period of time to draw this conclusion. The moment I opened the laptop and started trying random words to test the keyboard (just like I do on any new laptop), I noticed the first flaw – a fragile keyboard deck. As far as I can tell, it looks like my unit, in particular, lacks the reinforced metal plate beneath the keys, making it feel flimsy and, just, cheap. It's not so bad that it makes me feel like it's going to give up on me, but it's definitely weak and flimsy. Flimsy enough to make me dedicate an entire paragraph to rant about it. Anyway, let's move on. No, wait, did I tell you about the flimsy display panel as well?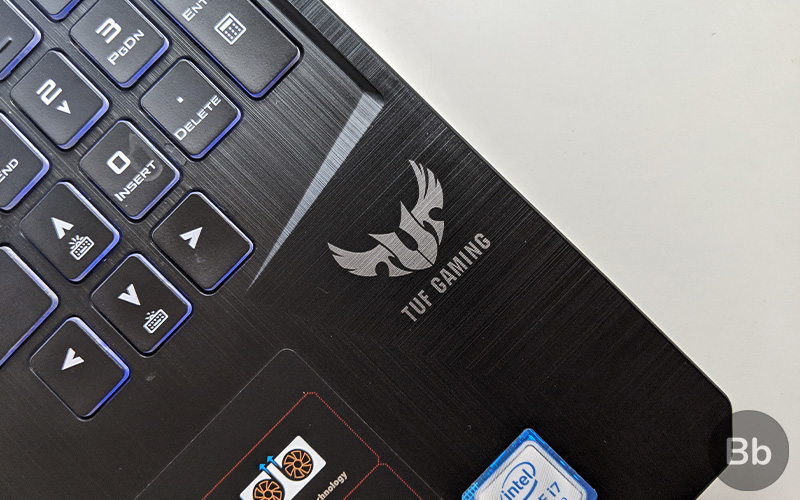 Yes, while we are at it, let me point out that the top portion of the display panel feels like it'll detach any moment from the polycarbonate bezel supporting it. The lid itself is very firm, but the panel seems to have issues sticking to the bezel. Both the display and the fragile keyboard deck, as I mentioned earlier, could be limited to my unit. But I feel like this is worth checking out in retail stores before picking one up for yourself.
I've been using what Asus calls 'Gold Steel' variant of the laptop. However, you can also buy 'Red Fusion' or 'Red Matter' variants, which have plenty of red elements. I am not a huge fan of red elements anyway, so i enjoyed my time with the Gold Steel variant.
Looking past the weird flexing issues, I have absolutely no complaints with the FX505's build quality.
Despite having a hard-plastic inner chassis, I think the FX505 can handle everyday hassle with ease. You don't have to worry about breaking it while throwing it in your backpack.
Asus TUF Gaming FX505: Connectivity
When it comes to connectivity, the FX505 is decent at best. It features a single USB 2.0 and two USB 3.1 Gen 1 Type-A ports for your gaming peripherals, as well as HDMI 2.0. You also get a LAN and charging port, and all of them are situated on the left-side of the body, leaving nothing on the other side to interfere with right-handed mousing.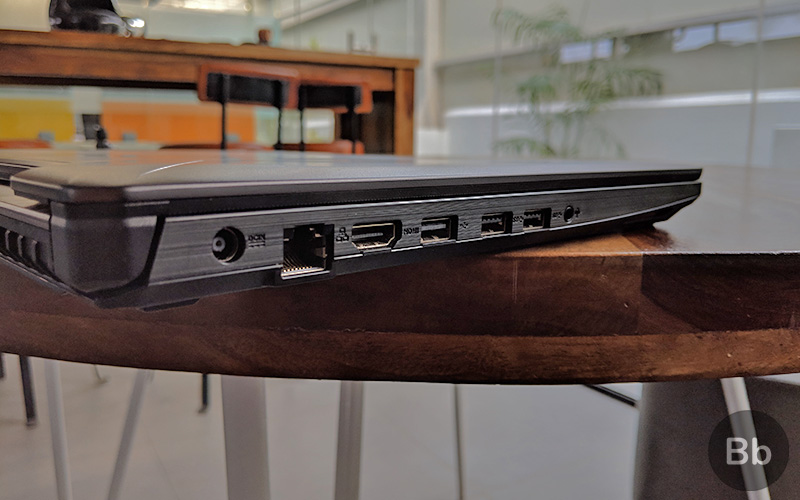 Honestly, I would have loved to see more ports like the USB Type-C, a mini Display Port, etc. So, yes, it doesn't have every port you could possibly want, but all the majors are here and about as plentiful as any gamer would ever want.
Asus TUF Gaming FX505: Display
The FX505's predecessor didn't get much appreciation for its TN panel, so I am glad that Asus went with an IPS panel this time. Better yet, you can even choose to buy a panel with 144Hz refresh rate, which is what I've got here. The higher refresh rate enables smoother interface interactions. It's noticeably better and you can feel the change just while moving the cursor around. Also, in games, it will translate to smoother frame rates when you're playing with proper settings.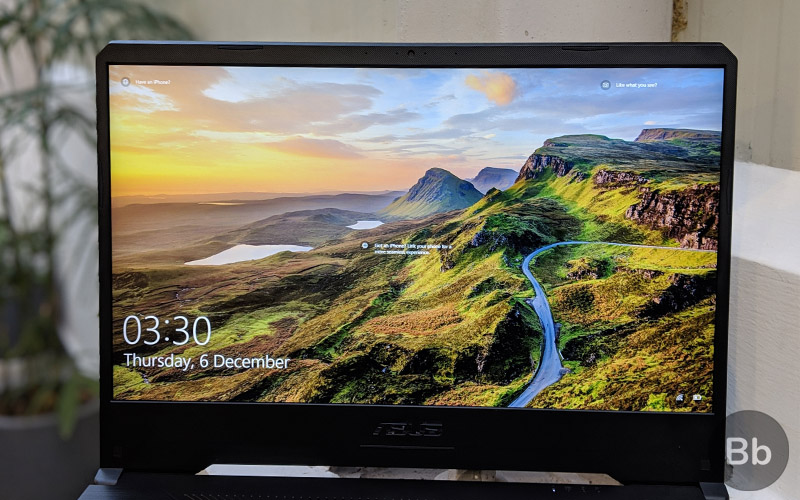 It's a 15.6-inch LED-backlit FHD display with 72-percent NTSC. I am also glad that Asus has done away with distractingly glossy screens. It's a matte panel (anti-glare coating) and has excellent viewing angles. Asus claims that the display covers 100% of the sRGB color range. And from what I've experienced, the colors are nice and bright, blacks are deep and dark enough to both play games and watch movies.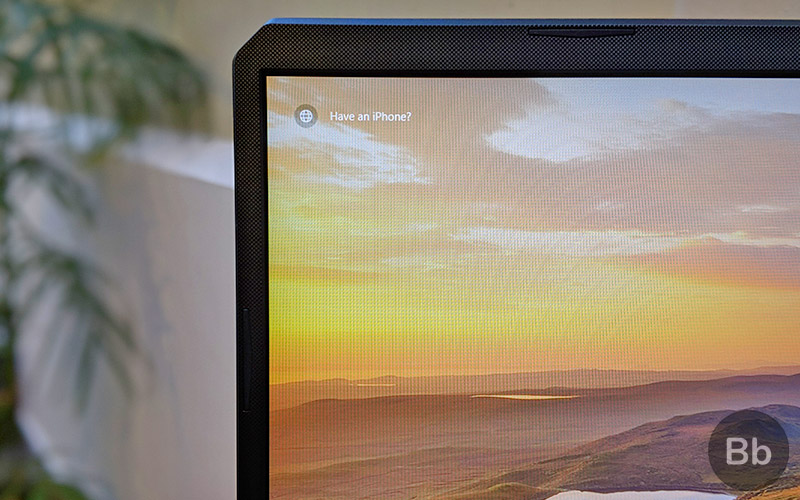 Overall, the display is truly a treat to look at. It's got thin bezels, a wide color gamut, and a very fast refresh rate. I mean, what else can you possibly ask for from a laptop display?
The 144 Hz Display on the FX505 is a joy to look at
Asus TUF Gaming FX505: Keyboard
I am a writer by profession, so laptops with poor keyboards are an absolute deal-breaker for me. Thankfully the keyboard on the FX505 is a good for typists. The keys are quiet and have a decent amount of travel. It has n-key rollover and it's advertised for 20 million lifetime presses.
Although I appreciate Asus for adding a full-size keyboard, I can't get over how narrow both the arrow and NumPad keys really are. As you can see, they feel really cramped in there as compared to the other alphabet keys.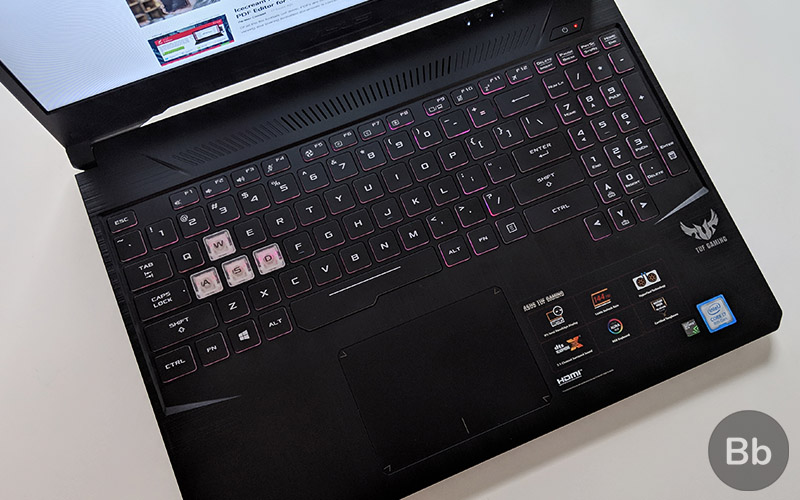 As I mentioned earlier, it's an RGB-backlit keyboard, and the 4-zone illumination can be controlled via the AURA software that comes preinstalled. The WASD keys are made from clear plastic, just like the ones found on some ROG Strix laptops as well.
The AURA software lets you choose from four lighting effects, i.e. static, breathing, color cycle and strobing. You can also set the lighting to over 16 million colors. The controls are pretty basic, though. So, think of it like a novelty feature, which you won't find yourself using all the time.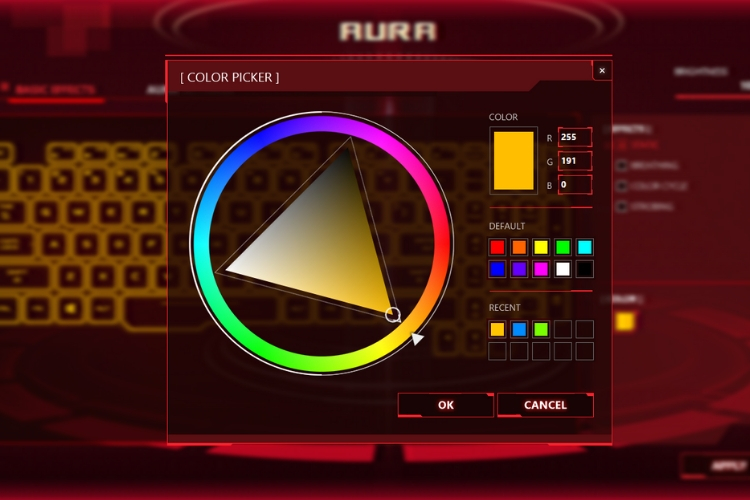 Touchpad
The Asus TUF Gaming FX505 has an Elan plastic touchpad surface with Windows Precision drivers. It has a decent size and a smooth surface, but it isn't the best touchpad I've used. In fact, at times, I felt it was a bit wonky. There were times when it decided not to register my gestures. It also froze up more often than I would like.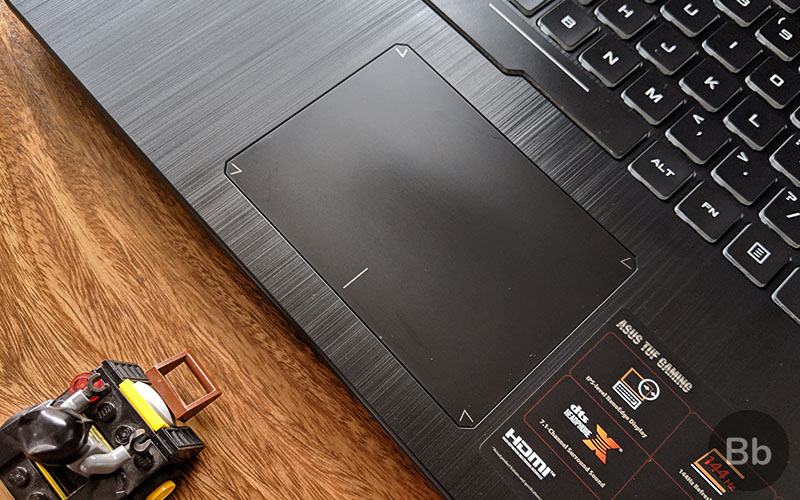 The FX505 touchpad lacks dedicated left and right click buttons, and even the clicking mechanism isn't on-par with many other laptops that I've used in the recent times. So let's just say that the touchpad could have been better.
Asus TUF Gaming FX505: Audio and Webcam
The FX505 features a built-in 2W stereo speakers that are, well, just disappointing to say the least. The speakers are fairly loud, don't get me wrong. However, the sound coming out of the speaker grill on the edges is tiny, and can be easily muffled if/when the laptop is placed on an uneven surface.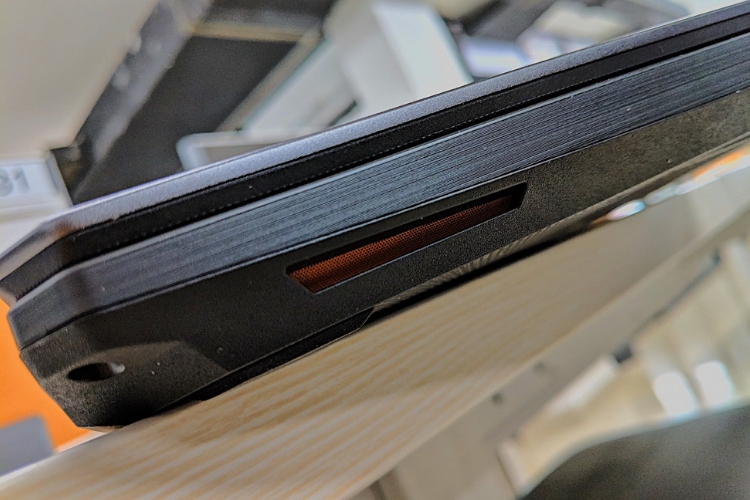 The sound is mostly dominated by mids and highs. It lacks the bass, which makes it sound tinny even on significantly high volumes. The stereo separation, however, is really good. Asus is advertising some high-fidelity 7.1-channel virtual surround sound, thanks to the DTS Headphone: X technology. So, you might to wear a pair of headphones playing games or watching movies, etc.
As for the camera, well, the camera on the FX505 is just like the webcams found on any other laptops. It does well if you're sitting in a well-lit room, however, it starts to fall apart when the lighting becomes dull. But despite having small bezels, I am glad that the camera is still placed on top of the screen.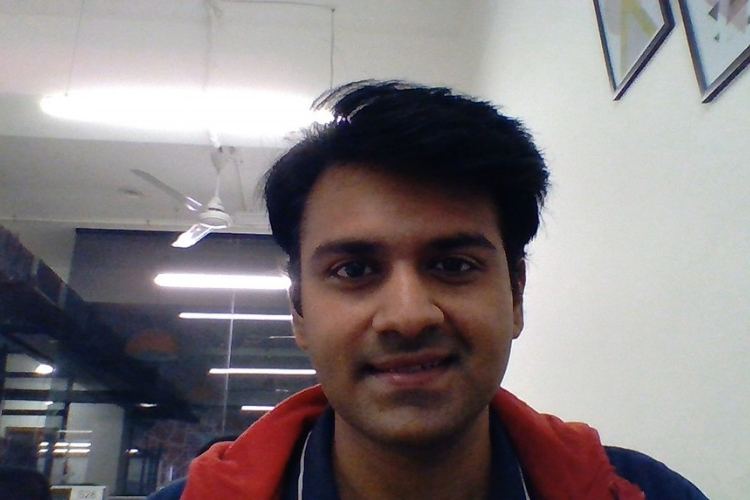 Asus TUF Gaming FX505: Performance
For ₹1,29,990, the FX505 comes with an Intel Core i7 processor, 16GB RAM, and the GTX 1060 GPU. Not only do these numbers look good on paper, they also translate to smooth overall performance. Of course, I played a lot of games on this laptop to see if I could push it to its limits. But before I dig a little deeper into that, let me give you some numbers.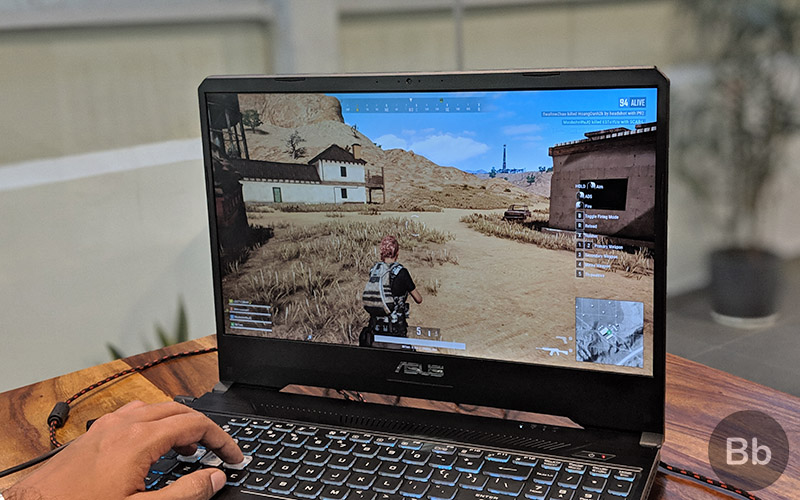 Asus TUF Gaming FX505 Synthetic Benchmarks
I ran the standard set of benchmarks on the FX505 like Cinebench R15's OpenGL test, VRMark, etc. Here are the results:
The FX505 clocked 91.39 FPS in Cinebench R15's OpenGL test, scored 6,704 in 3DMark Fire Strike, and 4,736 in PCMark 10.
I also ran the Geekbench 4 test, in which the FX505 hit 4,718 in the single-core score, and managed to put up 14,499 in multi-core score. In VRMark, I got a score of 4,582, which is on par with most other laptops in this price point.
I also rendered the BMW Benchmark from the Blender demo archive,and the FX505 was able to render the image in 816 seconds, which is again, pretty decent.
As you can see, I managed to put a taxing load on all 6 cores of the CPU by running a bunch of benchmark tests. The results are on par with most other Core i7-powered laptop out there. The fan was on auto mode throughout the duration of the benchmark test, and I must say that it kicked in pretty early on while running the tests.
Asus TUF Gaming FX505 Gaming Performance
Playing games is what the FX505 was designed to do, so how's the gaming performance? Well, it's exactly what you'd expect out of a GTX 1060 GPU powered laptop. It can comfortably run most AAA titles with medium – high graphics settings at 1920 x 1080 resolution. In fact, you'll comfortably hit 60 FPS. Check out these gaming benchmarks: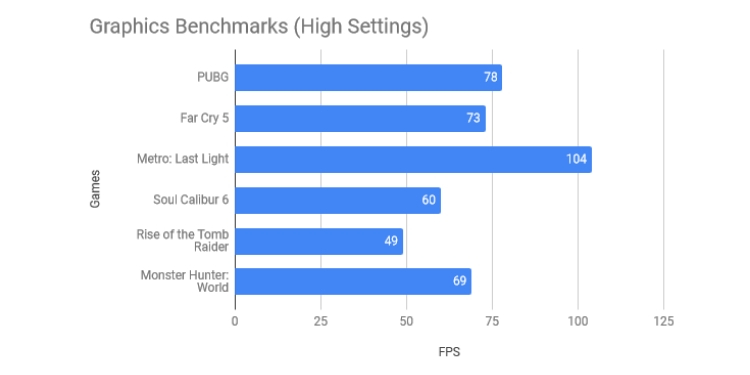 The FX505 glides through most aaa titles at mid-high settings
As you can see, I pushed the FX505 to its limits by throwing in some graphics-intensive titles like Metro: Last Light, Rise of the Tomb Raider, etc. I even tried some newer titles like the Soul Calibur 6, and I was comfortably hitting 60 FPS. For playing online games like PUBG, though, I'd suggest you go easy on the graphics settings, as you may experience some frame drops if you are, say, in the middle of a fierce gunfight.
Asus TUF Gaming FX505: Thermals
I always appreciate manufacturers who make it easier for users to crack open the back of their laptop and peek inside the thermals. Sadly, Asus is not one of them. But from what I could gather, the FX505 has two large fans, and several heatpipes running across the CPU and the GPU.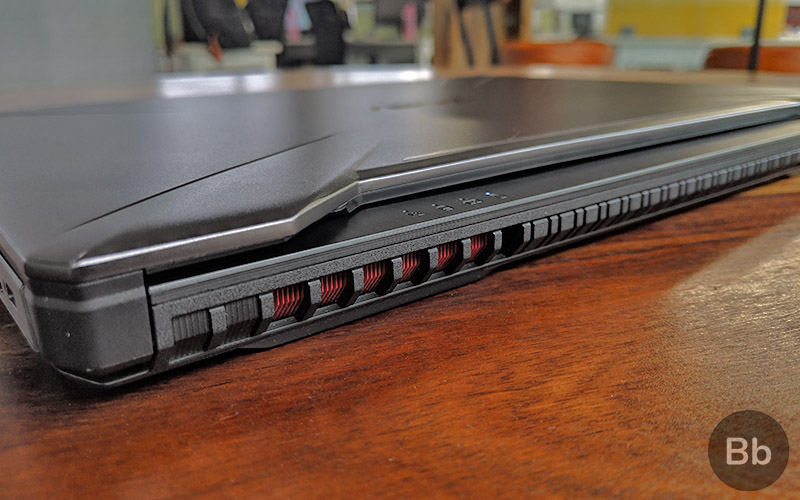 These fans along with the heatpipes managed to keep the FX505 at optimal temperatures at all times. As for the outer shell temperatures, the laptop never felt too hot to make me uncomfortable using it. Yes, some spots on the body reach high temperatures, but that's plausible given the compact size of the chassis.
Asus offers three fan profiles: Silent, Balanced and Overboost. I left mine at Balanced at all times, and never bothered changing it manually again. I found the CPU fan to be active at all times, a phenomena, which is rather rare. I mean, I don't expect the fans to be active even when I am barely using the laptop. Luckily they don't get too loud, unless you're playing a game or performing some resource intensive task.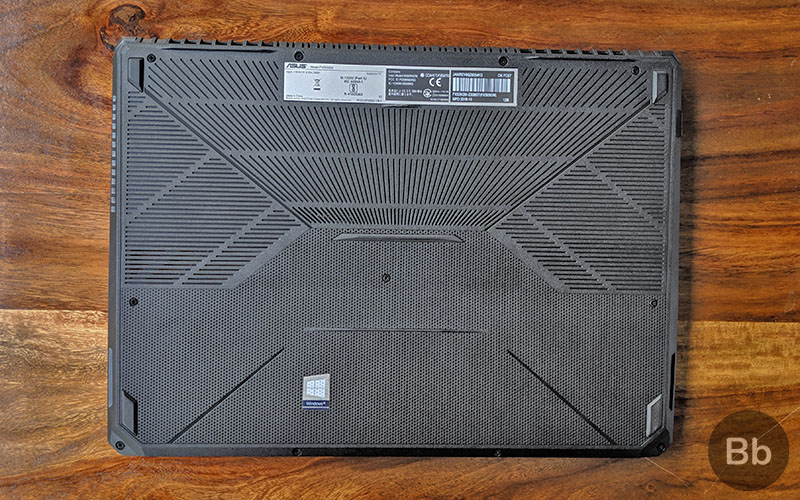 Asus TUF Gaming FX505: Battery Life
The battery life is where I'd say the FX505 has let me down quite a bit. It packs a 48Wh Polymer battery, which is really small by today's standards. Add a 144Hz display on top, and I can easily say that battery life is the Achilles heel of FX505.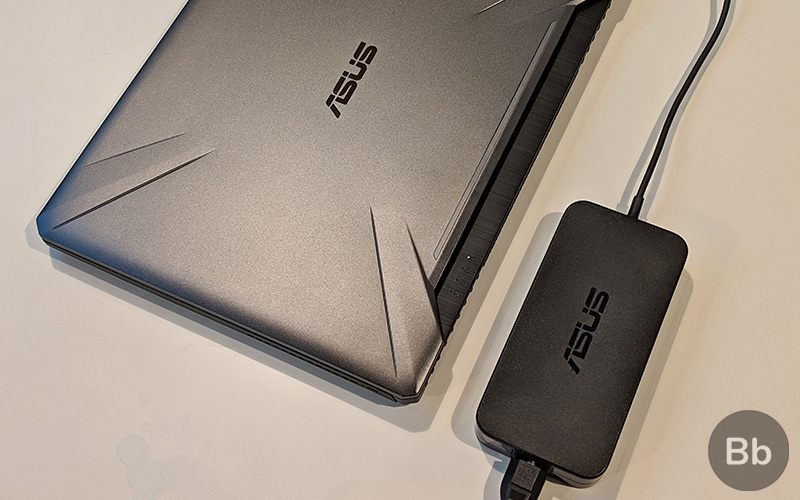 Playing games on battery is not something that you should be doing anyway, so let's not go there. However, even while doing day-to-day work, which, in my case, involves, web browsing, typing, etc., I got poor results. I was able to use it only for a little over 4 hours, before needing to charge the battery again.
Battery life is the Achilles heel of FX505
The FX505 comes with a standard 120Wh power brick, and it takes around a hour and a half to charge fully.
Asus TUF Gaming FX505 Pros and Cons
Pros
Gorgeous 144Hz screen
Thin Bezels
Compact Design
Thermals
Good gaming performance
Cons
Sub-par battery life
Display seems loosely fixed
Flex in keyboard
Slightly expensive
Buy Asus TUF Gaming FX505 from Flipkart (Starts ₹79,990)
See Also: Alienware 15 R3 (2017) Review: Hits the G-Spot for Gaming
Asus TUF Gaming FX505 Review: Tough to Recommend
As you probably know by now, the Asus TUF FX505 has managed to impress me on a lot of grounds. It's got a compact body that seems to have grown on me. It also has a beautiful 144Hz display and powerful internals for consistently better performance.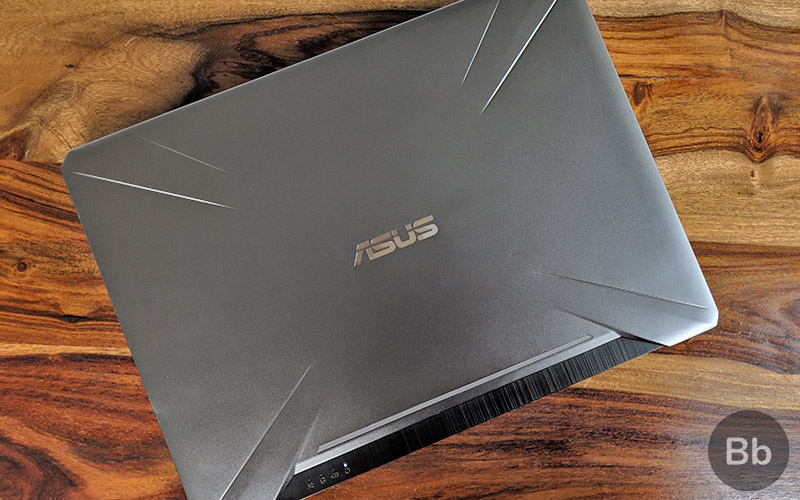 All that, however, comes at a price, which, in this case is a hefty ₹1,29,990. At that price, the FX505 becomes a 'tough' sell, as I can no longer call it a budget laptop. Instead, I am inclined to pit it against the something like the Dell G7, which offers a more powerful Intel Core i9 for an ever so slightly higher price of ₹1,32,390.
As I mentioned earlier, you can also buy the Core i5, GTX 1050Ti version of the FX505, but then you'll have to give up on things like the 144Hz display and top notch performance. The choice is yours, really.
But overall, Asus has managed to make a well put together laptop. It's a step in the direction. Now I'll just the waiting game to see what's next in line.
But that's just me. I'd like to know your thoughts on this laptop. Do you see yourself buying this laptop after reading my review? Let me know by dropping a comment down below.
REVIEW OVERVIEW

Design and Build Quality

8

SUMMARY

The Asus TUF Gaming FX505 has managed to impress me on a lot of grounds. It's got a compact body that seems to have grown on me. It also has a beautiful 144 Hz display and powerful internals for consistently better performance. But there are some reservations about the body flex and the pricing.