Gone are the days when gaming laptops used to be large and clunky machines with an over-the-top flashy design language. Today's gaming notebooks are sleek, light and feature a more subtle design with just a hint of that gamer-y aesthetic. Even though the design might not speak volumes, their performance far exceeds that of notebooks without a dedicated GPU.
One of the newest addition to the Asus' line of gaming notebooks, the ROG Strix GL503 (₹88,499) is a budget gaming notebook that features a stunning display and a great keyboard which sets it apart from other notebooks in its price bracket. With the GL503, as mentioned earlier, Asus has moved away from the flashy design and the notebook features a stealthy look and feel. But how does the laptop actually stack up in real-world performance? Keep on reading to find out: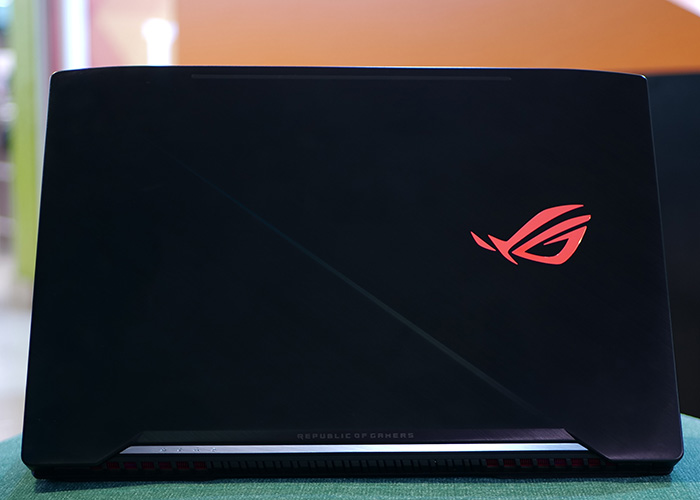 Asus ROG Strix GL503 Specs:
First off, let's get the hardware specifications out of the way before I get on with the review. The Asus ROG Strix GL503 packs in a 7th-Gen Intel Core i5 or i7 processor paired with an Nvidia GeForce GTX 1050 or 1060 GPU, along with 8 or 16GB of RAM. On paper, the specifications are great for a budget gaming laptop and the GL503 features a number of unique additions which help it stand out in the saturated budget gaming notebook space. Here's a quick rundown of the GL503's specifications:
| | |
| --- | --- |
| Dimensions | 38.4 x 26.2 x 2.3 cm (WxDxH) |
| Processor | Up to Intel Core i7-7700HQ |
| Memory | Up to 16GB DDR4 2400MHz |
| Storage | 1TB 7200RPM SATA HDD + Up to 256GB SATA3 SSD |
| Display | 15.6" full HD LED with 178˚ wide-viewing angle |
| Graphics | Up to Nvidia GeForce GTX 1060, with 6GB GDDR5 VRAM |
| I/O | 4x USB 3.0 ports, 1x USB 3.1 Type-C ports, 1x HDMI port, 1x mini Display Port port, 1x RJ45 LAN port, 1x multi format SDCard reader |
| Networking | Integrated 802.11 AC (2x2) WiFi, Bluetooth v4.1 |
| Battery | 4 cell 64 Whrs |
| Operating System | Windows 10 Home |
Note: For the purpose of this review, I used a GL503VD, which includes an Intel Core-i7 7700HQ processor, an Nvidia GeForce GTX 1050 GPU, and 8 gigabytes of RAM.
Design and Build Quality
The first thing I noticed as soon as I pulled the laptop out of the box was its stealthy all-black design. Yes, the laptop does feature a polished ROG logo on the lid, but the new minimal approach is far better than the design of older notebooks in the ROG line which was nothing short of an eyesore. The logo lights up a dull red when the laptop is turned on and I really dig this new approach. Kudos to Asus!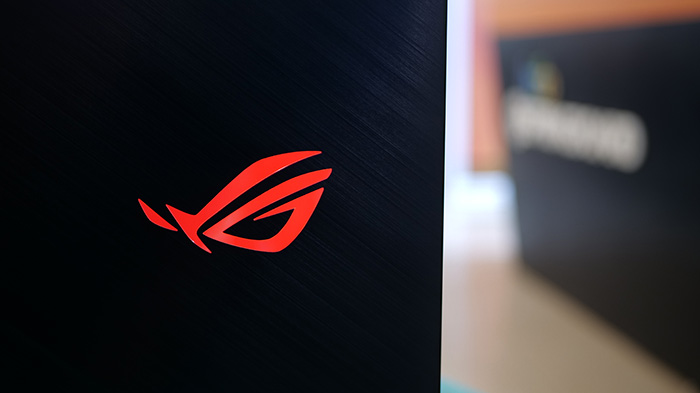 The laptop has a premium feel to it, with a metal lid and a solid plastic chassis that has minimal to no flex. The display hinge has been tuned for one-handed opening and there's absolutely no screen wobble, which is great for intense gaming sessions where you might sometimes lose your cool.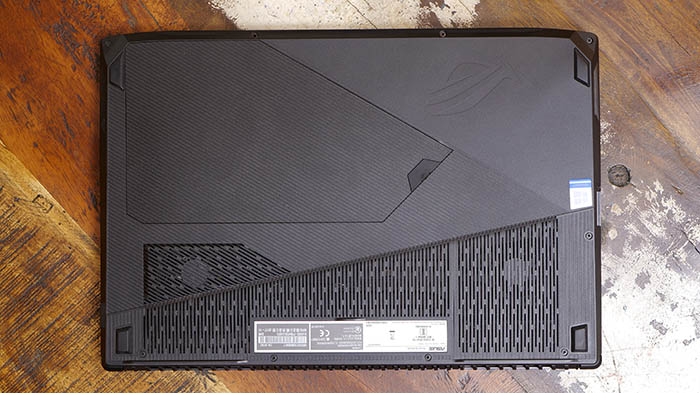 On the inside is where you'll finally notice a shift towards the 'gaming' aspect of things. The keyboard layout, combined with the edgy palm rest might be annoying for some users, but we'll elaborate on that when we get to the keyboard review. The laptop features a nifty hatch on the back which gives the user access to a RAM slot, and both the hard drives, making upgradability a piece of cake. All in all, the GL503VD features a great design and premium build quality, which isn't something you'd expect in a budget gaming notebook.
Connectivity
When it comes to connectivity, the Asus ROG Strix GL503VD features every possible connectivity option any typical gamer would need. It has a better selection of I/O than most of the other laptops in this price bracket and in my opinion, a typical user will never fall short of ports or feel the need to resort to a dongle.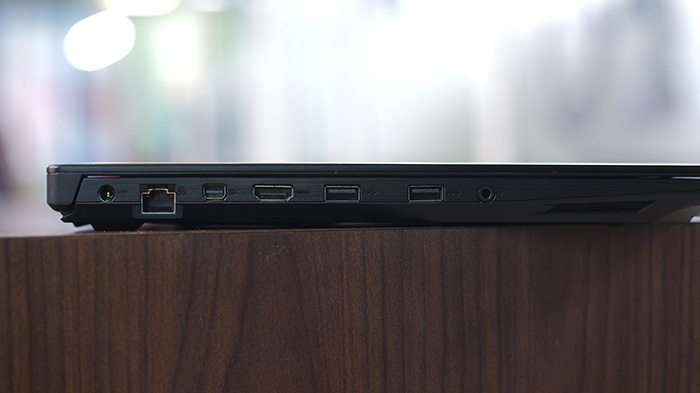 The GL503VD includes four USB 3.0 ports, one USB 3.1 Type-C port, an HDMI port, a mini Display Port, an RJ45 LAN port, and a multi format SD card reader. The ports are placed on either side of the machine and have been appropriately spaced out so that users won't face any issues when all of the ports are populated at the same time.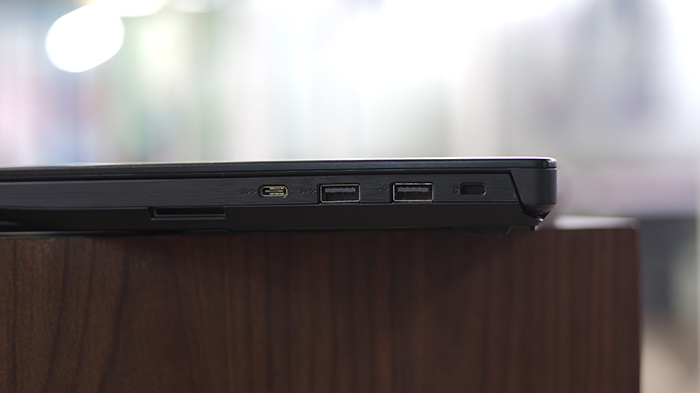 Another thing worth noting is that the laptop doesn't include a single USB 2.0 port, which can still be found on some budget gaming notebooks from other manufacturers. I'm really glad that Asus is finally moving away from the outdated technology and I wish other OEMs would take note and follow suit.
Display
I have to admit, I wasn't expecting much from the GL503VD on the display front, considering the fact that other laptops (read Dell) in the segment still ship with TN panels, but I was pleasantly surprised. The display on the GL503VD is pretty great, to be honest. Not only does it get fairly bright on the maximum setting, but it also fairs well when it comes to color reproduction.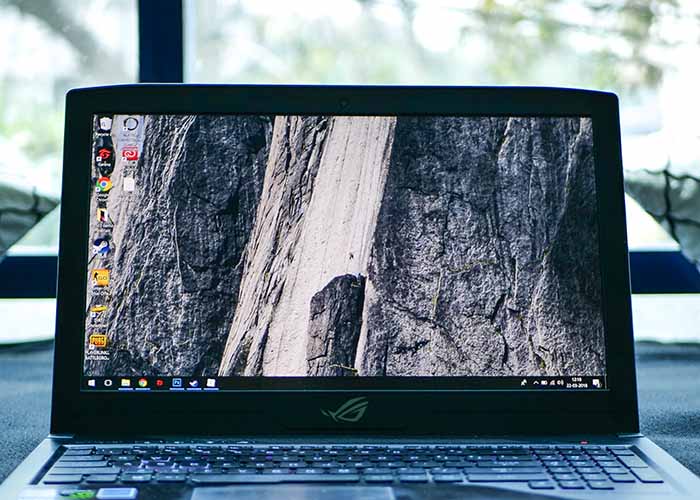 According to Asus' website, the GL503VD comes with a full HD LED backlit display with a 60Hz refresh rate and a matte anti-glare finish. The panel has a 178˚ wide-viewing angle and the company claims that it covers 100% of the sRGB color range. Not only is the display good enough for gaming and media consumption, but it'll also hold up well if you choose to use it for image or video editing.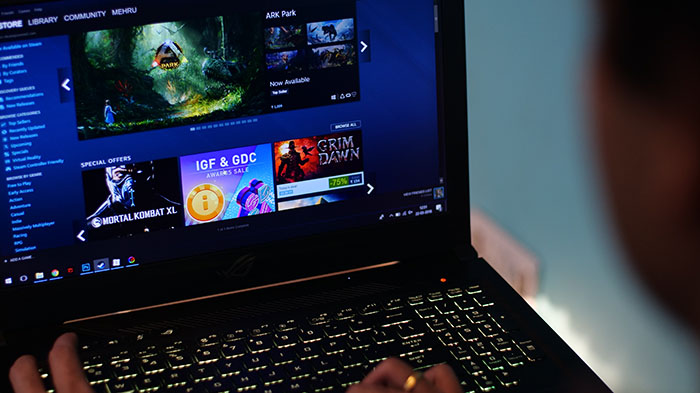 In my opinion, the display on the Asus ROG Strix GL503VD is better than those found on other laptops in the same price range. At the cost, the display on the GL503VD has the best color reproduction, offers a decent brightness range, and has an acceptable refresh rate, all of which is good enough for gaming.
Keyboard
I used the review unit as my primary device for about a week and since my work entails a lot of typing (as you'd expect), I was more than happy with the keyboard on the GL503VD. Now I wouldn't compare it to a mechanical keyboard, but for a laptop, the keys are quite responsive and have a decent key travel. The keyboard is silent, so you wouldn't have to worry about your teammates hearing you bash your keys, but the feedback is a bit on the mushy side.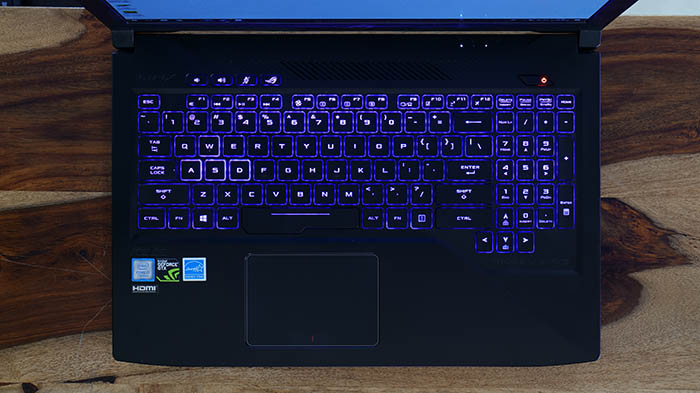 The keyboard layout is more or less standard, with well-spaced letter keys, but I'm not really a fan of the numpad and arrow key placement. Also, the large right control key annoyed me a bit in the beginning, but I got used to it within a couple of hours. The dedicated volume, microphone toggle, and ROG Gaming Centre keys on the top left are a neat addition, in my opinion.
http://gph.is/2pvFCJS
The keyboard is backlit and has been divided into four zones that can each be set to over 16 million colors using Asus' Aura Core software. The software also allows users to choose between a few lighting effects, but the novelty wears off quite soon.
Touchpad
The plastic touchpad on the GL503VD is a decent size and has a smooth surface which, at first, is amazing to use. On my first day of using the notebook, I remember placing it at par with the touchpad found on Macbooks, but I couldn't have been more wrong.
Even though the touchpad makes use of Windows Precision Drivers, tracking, at times, is a bit wonky. While sometimes the trackpad isn't able to accurately pick up gestures, occasionally it just stops responding for a fraction of a second. The touchpad doesn't feature dedicated left- and right-click buttons, but the clicking mechanism is quite satisfactory.
Speakers
The GL503VD features 3.5 W side-firing stereo speakers which are rather disappointing. They're not quite loud to begin with and can easily be muffled if the laptop is placed on an uneven surface (like a lap).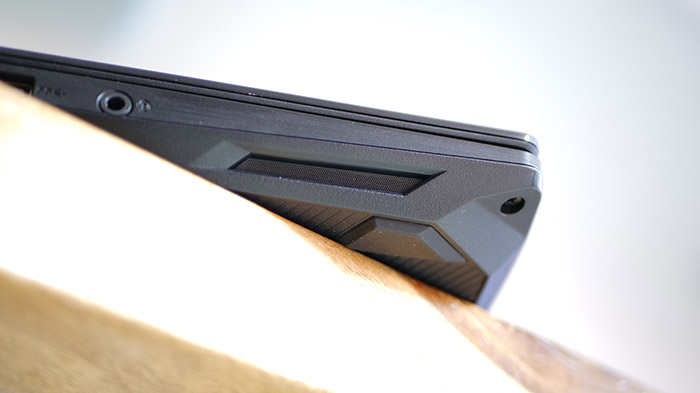 Quality wise, the speakers are average at best and lack bass. The sound is dominated by mids and highs, which make them sound tinny on higher volumes. However, due to the placement, the stereo separation is pretty great which could be good while playing FPS games when you forget your headphones. But I'd recommend that you don't forget your headphones.
Bundled Software
Much like most OEMs, Asus also includes some of its proprietary software with the GL503VD. While I uninstall all bundled software while setting up a new system as a matter of principle, some of the software bundled with the GL503VD is kinda useful.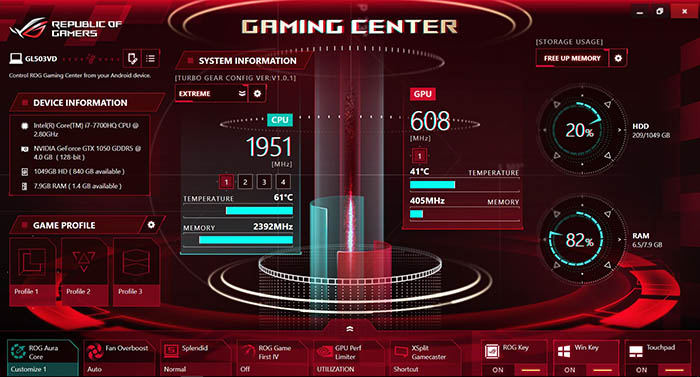 The ROG Gaming Center, which is a staple of the ROG line, offers a basic system monitor which allows users to check the CPU and GPU clock speeds and temperatures, along with the available storage and memory use.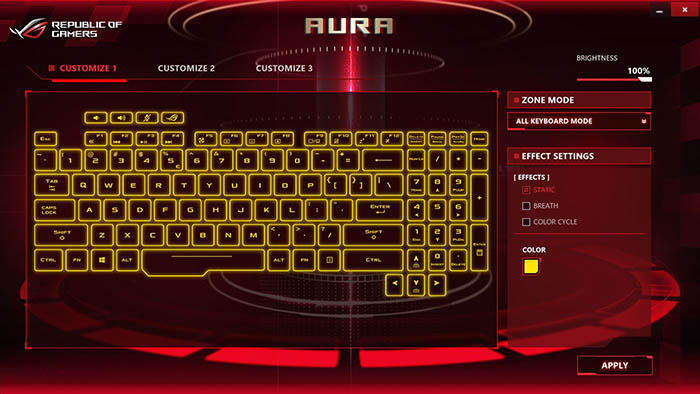 The Asus Aura Core software, which I mentioned earlier, can be used to customize the 4-zone RGB keyboard backlight and the ROG Gamefirst IV software monitors and prioritizes network access to prevent programs from affecting your online gaming experience.
Performance
Coming to the section you've probably been waiting for- performance. Powered by an Intel Core i7-7700HQ and an Nvidia GeForce GTX 1050, the GL503VD is exactly what you'd expect of a budget gaming notebook. It's more than a capable multimedia machine and it can comfortably run any modern title at low to medium settings. To test the gaming performance, I tried out multiple titles, including League of Legends(LoL), Counter Strike: Global Offensive (CS:GO), The Elder Scrolls Online: Tamriel Unlimited (ESO), and the notoriously unoptimized PlayerUnknown's Battlegrounds (PUBG).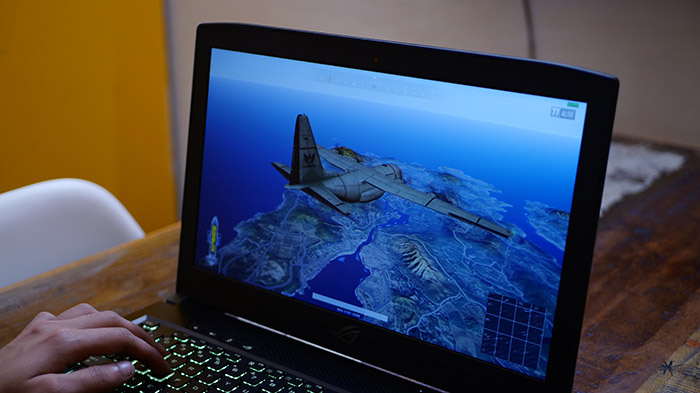 With less demanding titles like LoL and CS:GO, the GL503VD faced absolutely no issues and the games were easily able to run at high settings at 1080p while maintaining well over 60 FPS at all times. However, with demanding titles like ESO and PUBG, I had to turn down the settings to medium and very low, respectively, in order to maintain 60 FPS at all times. I didn't notice any frame drops or stutters, which is expected of a gaming laptop of this caliber.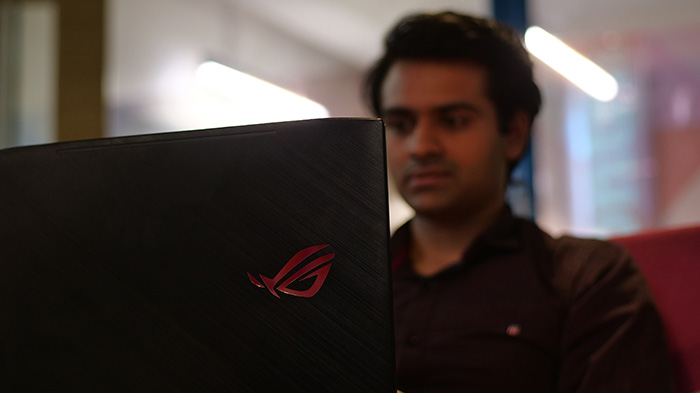 Although the GL503VD was able to do fairly well while gaming, the meager 8GB RAM, in my opinion, was a major bottleneck. The effect was most prominent while browsing the internet and watching videos in full screen if a number of Chrome tabs were open at the same time. The system took a little more time switching between tabs and switching from windowed to full screen made videos stutter for a fraction of a second.
Thermals
Asus has done a great job with the thermals on the GL503VD and the exterior heat is managed well. While playing ESO, even though the CPU reached 90 degrees after 15 minutes, the fans automatically went into overdrive and I experienced no throttling whatsoever. If fan noise isn't an issue, you won't have any problems while gaming on the GL503VD.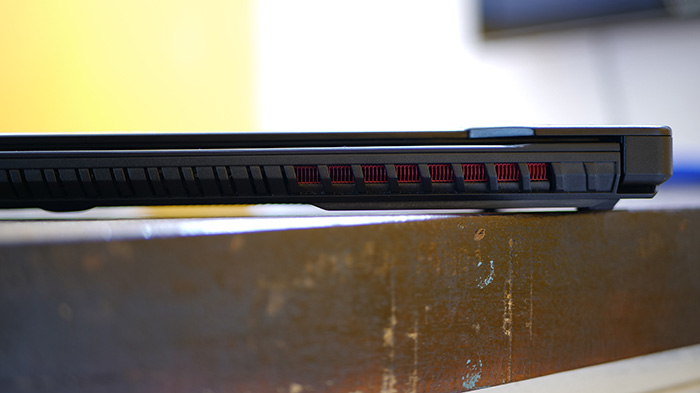 The keyboard and chassis remained fairly cool even while gaming, however, the air intake above the keyboard along with the rear-facing vent got fairly hot. If you plan on using the laptop on your lap, I'd advise you to stick to light use or you might get uncomfortable due to the heat.
Battery Life
Gaming notebooks aren't typically known for their amazing battery life, and the Asus GL503VD isn't any different. The 64Wh battery powering the notebook lasts anywhere between 3 to 4 hours on light to regular use with the screen at maximum brightness. If you want to get a bit more runtime from the notebook, you can always choose the battery saving mode and turn down the brightness, which will give you an additional hour and a half depending on your use case. Under significant load, the GL503VD runs out of juice around the hour mark, so I won't recommend pushing the laptop unless you're near a power source.
Pros:
Subtle yet eye-catching design
Premium build quality
Excellent display
Compact and lightweight for a gaming laptop
Good keyboard with 4-zone RGB lighting
Cons:
Fans can get fairly loud under load
Air intake above the keyboard can get very hot
Average battery life
SEE ALSO: Acer Nitro 5 Spin Review: A Gaming Laptop That's Not for Gaming
Asus ROG Strix GL503VD: The Best Budget Gaming Laptop?
Starting at just under Rs. 90,000, the GL503VD is a compelling buy for any gamer on a budget. The notebook not only performs well, but also has a stealthy look and a premium finish, so you can easily use it as your work laptop. However, if you're planning on purchasing the notebook and have a little bit of wiggle room in your budget, I'd suggest you to go for the higher end variant with the Nvidia GeForce GTX 1060 and 16GB of RAM. Along with the performance boost with the upgrade, you'll get yourself a budget VR rig on which you can enjoy a number of VR titles.
Buy Asus ROG Strix GL503VD from Amazon: ₹88,499
---
Load More