I've reviewed a lot of Asus gaming laptops, and while I've liked a lot of them a fair bit, I don't think anyone of them comes close to the feeling that the ROG G703GXR evoked inside me. To use a cliché, it was like love at first sight. But at Rs. 3,99,990, the question that arises is this — does the G703GXR gaming laptop offer enough to justify that price, and should you consider buying this laptop? Well, that's the decision I'll be helping you make today with my review of the Asus ROG G703GXR gaming laptop.
Asus ROG G703GXR Specifications
Display
17-inch FullHD;
144Hz;
3ms;
Nvidia G-Sync
Processor
9th-gen Core i9-9980HK
RAM
32GB 2666MHz
GPU
Nvidia RTX 2080;
8GB GDDR6 Memory
Storage
2x 512GB M.2 SSD;
1TB 5400RPM SSHD
I/O and Ports
1 x USB 3.2 Gen 2 (Type-C)/Thunderbolt 3

3 x USB 3.2 Gen 2

1 x mDP 1.4

1 x HDMI 2.0a

1 x RJ-45 Jack

1 x SD card reader

1 x 3.5mm headphone and microphone combo jack

1 x 3.5mm microphone jack

1 x Kensington lock
Connectivity
2.5Gb Ethernet;
Bluetooth 5.0;
WiFi 802.11ac
Price
Rs. 3,99,990
Design and Build
The Asus G703GXR is a bulky laptop, let's just get that out of the way right now. It's not the most portable machine out there, but with specs like that, you wouldn't expect it to be a thin and light machine anyway, now would you?
Keeping that aside, this is a well-designed laptop. Asus has gone with a curving body, which makes it look less menacing and more attractive than one might expect from a beast of a machine like this one. There's a nice brushed metal finish on the lid, with gorgeous looking bronze accents which make the G703GXR look really pretty.
There's a wide selection of ports and there are ample places for the laptop to cool itself down while under intensive workloads. The G703GXR features big vents on the sides and the rear which are pretty good at keeping the laptop cool while it's running games.
All of those good looks carry on when the lid is opened, as long as you can forgive Asus for the huge bezels on this thing. Still, the black of the laptop, with silver accents looks nice, the keyboard is well laid out, with the macro keys on the top instead of the side, which I like, and a trackpad that's big enough. Plus, I also really like the power button — it's just different from most other laptops and it looks cool.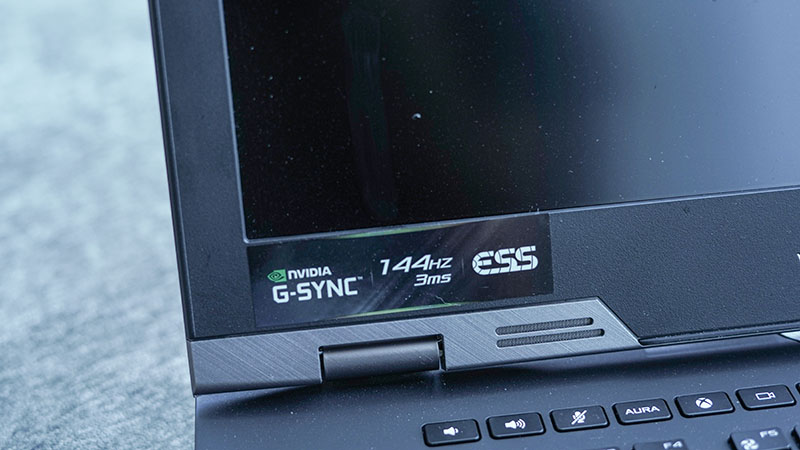 Still, objectively speaking, the bulkiness here is definitely a negative. After all, carrying this laptop is more a chore than anything else and that just shouldn't be the case for laptops. They're supposed to be portable, or at the very least, shouldn't break your back if you haul them around in your backpack.
Display
Anyway, moving on from the design, let's take a look at the display here. Apart from the giant bezels that wrap around the display on the G703GXR, the display itself is actually decently good. It's a big 17-inch FullHD display, which means you get great sharpness in consuming media content and games. Textual content does look slightly rough, especially if you're sitting close to the laptop as you're likely to do, but otherwise, it's a perfectly nice display.
It comes with a 144Hz refresh rate and a 3ms response time. Now I know, 3ms isn't the fastest response time on a display, but for a laptop, 3ms is solid. Plus that 144Hz refresh rate makes for smooth animations and transitions across the board, and thanks to Nvidia G-Sync, supported games should run with minimal screen-tear and reduced input lag.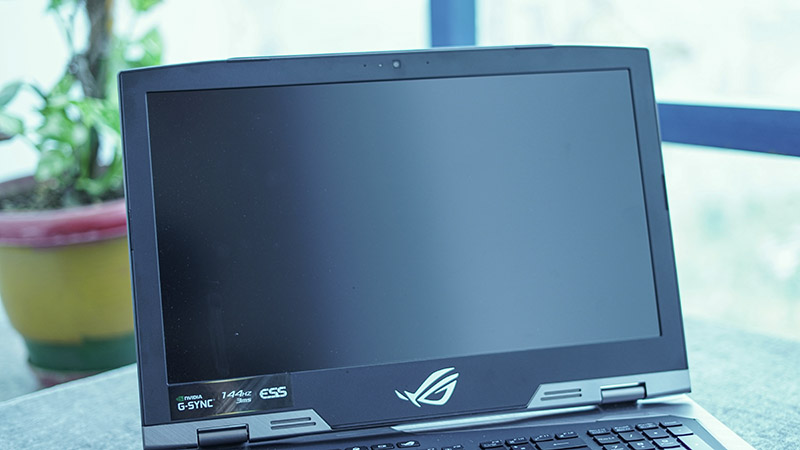 Apart from that, the colours look good on this screen, but it's not the brightest panel out there. Also, the viewing angles are decent enough, but brightness drops really quickly once you move past something like a 45-degree angle.
So yeah, the display is a sort of a mixed bag. I don't really mind the viewing angles much since I don't look at my laptop from the sides often, but I would've liked a brighter display, and preferably one with thinner bezels.
Performance
Coming to things where I have absolutely no complaints at all, the G703GXR is an absolute beast when it comes to performance. The laptop packs in a 9th-gen Core i9 processor, 32GB RAM, 1TB SSD + 1TB HDD, and the RTX 2080 GPU. So yeah, if you're thinking this laptop just flies through everything, you've basically summed up this section.
I ran a bunch of benchmarks on the laptop, just to get a measure of the performance this thing can push, and well, take a look. Here are scores from Geekbench, Cinebench R20, 3DMark Time Spy, and PCMark 10, and they all look really good.
In terms of actual, real-world performance, once again, the G703GXR doesn't disappoint. In Far Cry 5 at 1080p Ultra, the laptop got a maximum frame rate of 140FPS, averaging at 113FPS which is insanely good. Switching graphics down to 1080p High got a maximum frame rate of 148FPS and an average of 119FPS — not much of an improvement, but there you have it.
PUBG saw a similar performance on this thing with the laptop getting well over 125FPS at almost all times. There were sudden drops to around 100FPS when the game rendered smoke, or explosions, but overall, PUBG runs smoothly on this at maximum settings which is great.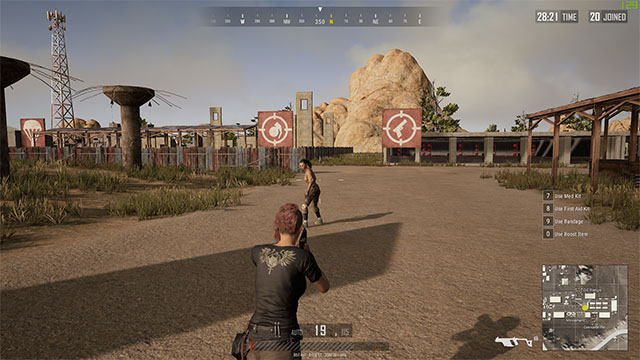 I also played Battlefield because, well, ray-tracing, and once again, the G703GXR did not disappoint. At maximum settings in 1080p with ray-tracing turned on, the laptop maintained frame rates well over 60FPS even in intense gunfights.
Keyboard and Trackpad
The G703GXR has a full-size keyboard, complete with a numpad. Now I, personally, don't really use a numpad nearly enough to actually want it on a laptop, but hey, it's not bad to have it and on a 17-inch laptop there's definitely enough space to fit that in.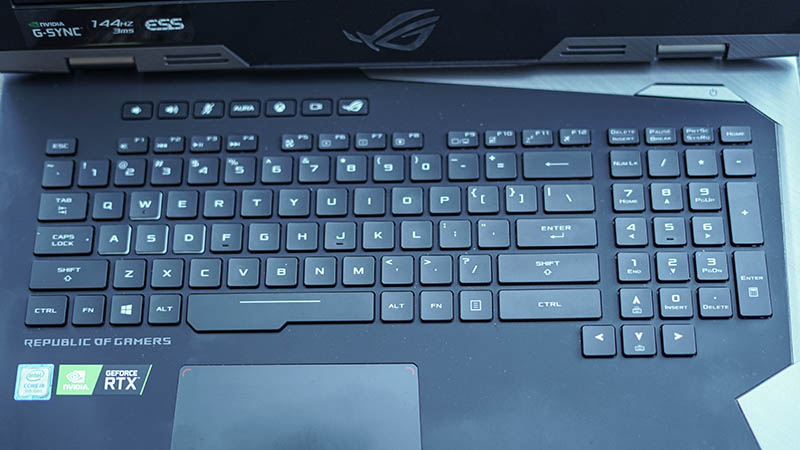 What I actually do appreciate is the full arrow key layout that's present here instead of a compact arrow key layout. Plus, the keys have great travel as well. Sure, at Rs. 3,99,990 I expected a mechanical keyboard, but the chiclet keyboard on the G703GXR is not bad by any means.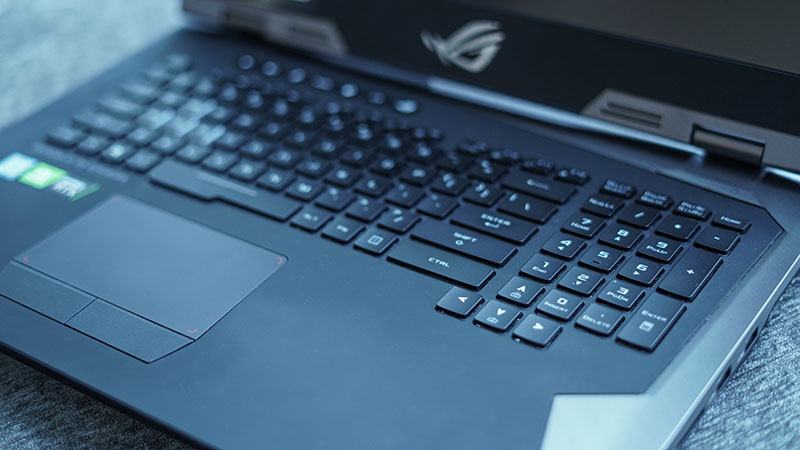 Typing on this is quite fun, and it doesn't get tiring even after long hours of playing games, or as was more often happening with me — typing.
Still, the fact remains that the G703GXR has a nice keyboard that's good to type on, has ample travel to not be fatiguing but still have a tactile feeling, and since it's not mechanical, it's quiet enough too.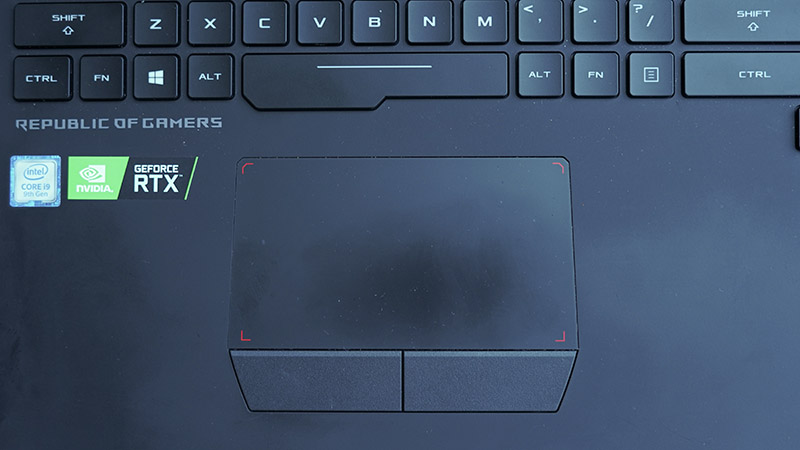 The trackpad too is decent on this laptop. It's considerably big, which makes it great for gestures. Plus it's a Windows Precision trackpad, so you get a bunch of intuitive and easy gestures that it supports which is always nice. Clicking isn't as nice an experience on this trackpad, even with its dedicated left-click and right-click buttons, but that's something I can say for most Windows laptops out there. Overall though, the trackpad on this laptop is one of the better ones on gaming laptops.
I/O and Ports
Moving on, the port selection on a laptop this thick should be impressive right? Well, take a look. There's a USB-C/Thunderbolt 3 port, 3 USB 3.0 Gen-2 ports, a mini-display port, and HDMI 2.0a, an RJ-45 ethernet port, an SD card reader, a 3.5mm headphone jack/mic combo port, a 3.5mm mic port, and a Kensington lock. That's definitely quite a lot of ports, and you wouldn't really run out of options here.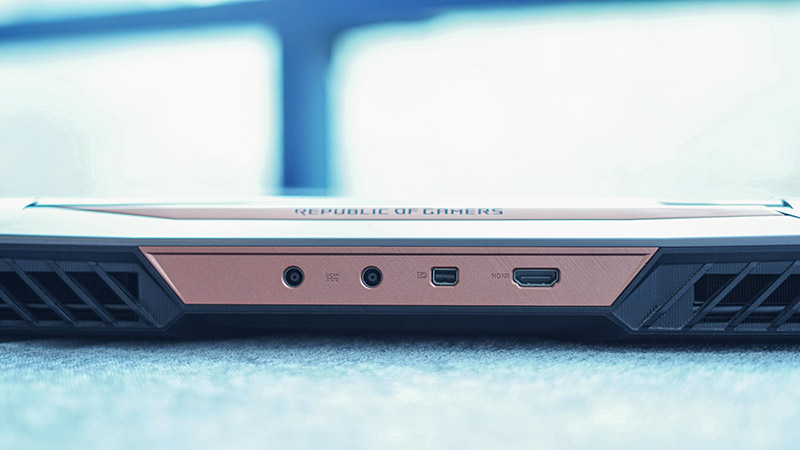 Personally, I only found myself using one USB Type-A port, and the headphone/mic combo port (when I was gaming), and that's it. Even if you do want to connect your laptop to an additional monitor, and maybe even an ethernet cable, you'll still have plenty of ports on the ROG G703GXR to let you add more accessories should you need them, so it's definitely more than enough.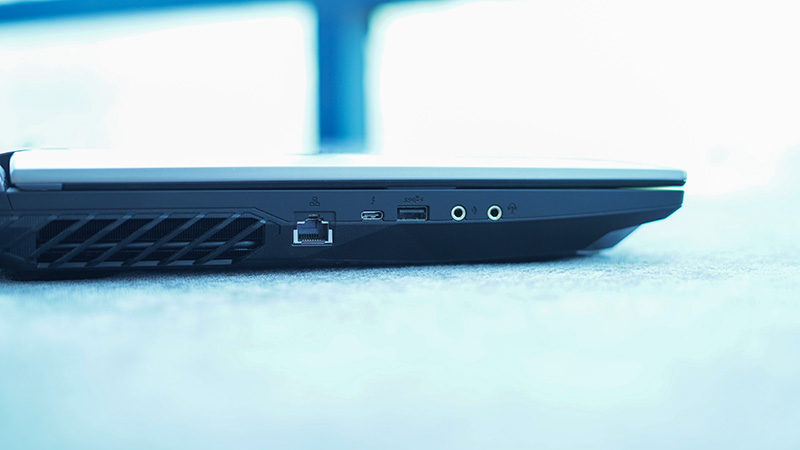 Audio
One thing I really liked about the audio experience on the Asus ROG G703GXR is the fact that it has speakers right there in the bottom bezels of the laptop. That means, the speakers fire right at your face, and that should be pretty good. However, somehow, the G703GXR provides an underwhelming audio output. It's not loud, it's not good at bass, and it's basically only decent at best.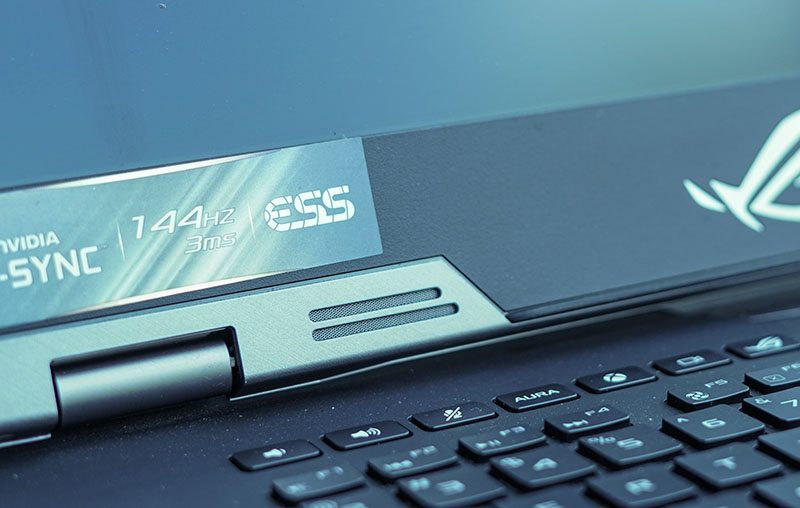 That, at least, is the overwhelming response from most of the Beebom team that heard me while I was playing songs on the laptop to see what different types of music sound like on this laptop. It's not good.
I would call these speakers decent for gaming, but then again, the fans are so loud that they easily overpower the speakers, and most gamers would be using headphones anyway, so the speakers don't really matter much in that scenario.
Battery
What do I even say about the battery on this laptop. It was always fairly obvious that this laptop wouldn't get anything close to a decent battery life what with all the hardware packed inside. There's a 9th-gen core i9 processor, an RTX 2080 GPU, and those things by themselves would devour battery and that showed in actual usage of the laptop.
In casual use, with light browsing, and a bunch of tabs open, the Asus ROG G703GXR lasted somewhere in the ballpark of 3-4 hours, which honestly is not bad for a laptop with specs like this. However, it's not great battery life either, and if you start gaming, well, that drops down to barely 60 minutes.
What I'm saying is that you will need to carry both the power bricks of this laptop if you intend on gaming with it, and yes, you read that right, there are two power bricks here. This beast of a machine needs all of that 560W of power input to run like butter, and man, does it run like butter then.
Pros and Cons:
Pros:
Top-notch performance. Just awesome.
144Hz, G-sync display is great
Great design and build
Comfortable keyboard
Cons:
Big and bulky
Poor battery life
Audio performance is bad
Asus ROG G703GXR: Should You Buy It?
Honestly, the question here is not whether you should buy this laptop; it's more about who would buy it. After all, at a price of Rs. 3,99,990 this laptop is clearly aimed at people who absolutely don't want a desktop, or already have one but need a laptop with that sort of capability. If you're one of those people, sure, get this laptop. It will get you desktop-grade gaming performance along with some semblance of portability. However, for everyone else, a laptop as bulky as this machine isn't really something I would recommend going for. If you're just looking for portable gaming, there's the Asus ROG Strix Scar III G531GV that comes with the RTX 2060 for Rs. 1,54,990. There's also the MSI GL63 9SEK with the RTX 2060 that comes in at Rs. 1,47,389, and believe me, the RTX 2060 will afford you great AAA gaming at less than half the price of the G703GXR.
It all depends on what you want out of your machine. If portability is not your top concern with a laptop, and if you're looking for something that can absolutely crush every single AAA title out there at max settings, the G703GXR is one of the best laptops to get. However, if you want a great balance between high-end AAA performance, and portability, those other options I mentioned above are probably a better buy for you.
Buy the Asus ROG G703GXR from Flipkart (Rs. 3,99,990)
REVIEW OVERVIEW

SUMMARY

The Asus ROG G703GXR is not for the faint of heart. Packing a 9th-gen Core i9 processor, 32GB RAM, and an RTX 2080 GPU, this laptop can run circles around every single AAA title you throw at it, at max graphics. However, with that power, comes its inhumanly high weight, and it throws portability out the window. If you're in the market for a gaming laptop that performs like a PC, and almost weighs like one, this might just be it as long as you're willing to shell out Rs. 3,99,990 for it.