Apex Legends Mobile has finally made its global debut after multiple beta tests over the past year. With the game topping the charts in over 60 countries on iOS, mobile gamers have flocked to this battle royale game with high expectations. Now, we all know how important it is to have the highest frame rate possible to enjoy a high-octane FPS game like Apex Legends on mobile. Therefore, Respawn and Tencent have optimized the experience on mobile for iPhone and Android smartphones, offering gamers a plethora of graphics and frame rate settings to choose from. Now, if you own a budget Android phone or the iPhone 13 Pro Max, we have detailed the best FPS settings you can use to get the highest FPS and best performance in Apex Legends Mobile. So without further ado, let's dive in:
Best FPS and Graphics Settings for Apex Legends Mobile (2022)
Best FPS Settings for Apex Legends Mobile
Before we look at the best FPS settings for Apex Legends Mobile on your smartphone, let's go over the basics. You will need to navigate to Settings -> Graphics and Audio to adjust the frame rate and graphics quality. Apex Mobile offers five frame rates and six graphics quality options, as shown in the screenshot above. The game recommends a suitable setting based on your device's hardware, but we suggest you try out the next best setting to see if the game runs smoothly without any stuttering or overheating.
Moreover, one of the best graphics settings offered by Apex Mobile is the ability to display FPS in the HUD within the game. If you enable this feature, you will see the in-game FPS along with the latency at the top while playing the game. With that out of the way, here's a quick look at the various FPS and graphics settings in Apex Mobile:
Normal Frame Rate (30 FPS)
Graphics Quality – up to Original (if supported)
Frame Rate – Normal
This frame rate setting is applicable for low-end and budget users whose smartphone's barely meet the minimum system requirements to run Apex Legends Mobile. This is the lowest frame rate setting for the game and locks the frame rate to 30FPS. It offers you a sub-par experience while conserving battery life and preventing your budget phone from overheating.
This graphic and frame rate setting is good enough to give you an idea of what the Apex Legends experience on mobile is like. That's all.
High Frame Rate (40 FPS)
Graphics Quality – up to ExtremeHD (if supported)
Frame Rate – High
For mid-range smartphones with a Snapdragon 600- or 700-series chipset, the game recommends this frame rate setting. This may be the highest setting available on many mid-range phones, enabling you to get slightly smoother gameplay than the 30FPS setting. It does make for smoother gameplay, and you should switch to it right away, but at the expense of faster battery drain and possible heating issues.
Very High Frame Rate (50 FPS)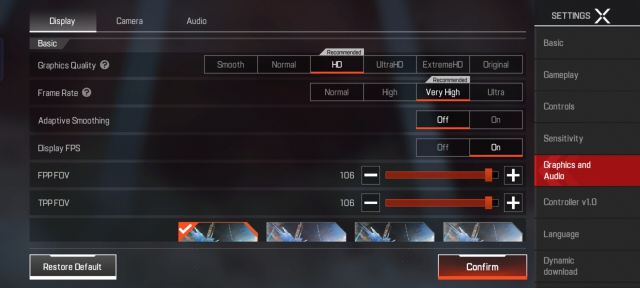 Graphics Quality – up to ExtremeHD (if supported)
Frame Rate – Very High
This is the recommended frame rate setting, along with the HD graphics quality, for Apex Legends Mobile you will find on most premium, high-end smartphones. You will have a smooth ride if you stick to these settings without worrying too much about heating or frame drops.
But, this is not the setting we recommend if you have the latest smartphone powered by a Snapdragon 800-series or MediaTek Dimensity chipset. Keep reading to know more.
Ultra Frame Rate (60 FPS)
Graphics Quality – up to ExtremeHD (if supported)
Frame Rate – Ultra
For the smoothest experience on most iPhones and high-end Android phones, you can switch to the Ultra frame rate option and get 60FPS constantly for an enhanced gameplay experience. This is the setting I have been using on my Realme GT Neo 2, which has the Snapdragon 870 chipset running the show, and it offered me amazing smooth gameplay, and I noticed no frame drops. Your device may heat up a little when using this frame rate setting.
Does Apex Legends Mobile Support 90FPS?
That's another important question many of you might have, and the answer is no. Apex Legends Mobile does not support 90FPS at the moment, but you can enable the 80FPS option on select iPhones. You can learn how to enable 80FPS support in Apex Legends Mobile on iPhone using the linked article.
While we can expect 80FPS support to reach high-end premium Android phones in the coming weeks, there is currently no word on when true 90FPS support will arrive for Apex Legends Mobile.
Will Apex Legends Mobile Support 120FPS?
There is no official information about whether Apex Legends Mobile will support 120FPS (frames per second) on Android and iOS. It only offers up to 80FPS frame rate support, that too on select iPhones at the moment.
With rival games like PUBG Mobile and Call of Duty Mobile having 120FPS support, we expect Tencent and Respawn to optimize Apex Legends to support this higher frame rate on mobile in a future update. We will update this guide once the game includes this option, so bookmark it and return back for more information.
With Tencent rolling out official emulator support for Apex Legends Mobile via Gameloop, we have gotten the 120FPS frame rate option in the game. So if you are someone who enjoys playing mobile games on their PC, you can experience even smoother gameplay with superior graphics. Go through our guide on how to install Apex Legends Mobile on your PC for the step-by-step installation process.
Increase FPS in Apex Legends Mobile for Best Performance
So yeah, these are the best frame rate and graphics settings you can use in Apex Mobile on your iPhone or Android device to get improved performance and take down enemies easily. If you own a budget or mid-range Android phone, we suggest sticking to the normal and high frame rate, respectively. But if you have a premium Android phone, you can bump up the FPS to 60. iPhone users, on the other hand, can enjoy up to 80FPS support, thanks to the addition of a 120Hz ProMotion display on the iPhone 13 Pro models. Well, what frame rate and graphics settings are you using in Apex Legends Mobile on your phone? Tell us in the comments section below.