AnyTrans, the popular iOS device manager software, is considered by many as a worthy replacement to iTunes. Well, it's capable of transferring any media from your computer to your iOS device and vice-versa, in addition to creating backups of your device. Apart from this, the software can connect to your iCloud account in order to manage your online storage. Users can also download videos from various websites for offline viewing on your iPhone or iPad. These features along with an intuitive user interface make AnyTrans one of the best iOS device manager software out there. Plus, it's better, as iMobie, the company behind the popular software has just released a new update that brings some really interesting features.
What's New in AnyTrans?
iMobie, the company behind AnyTrans is currently testing out a nifty new feature called "iOS Mover" that lets Android users easily move the data from their existing smartphones to any of their iOS devices with absolute ease. Although certain features of the software have limitations when you're using the free trial mode, you'll be pleased to know that the latest "iOS Mover" functionality is completely free of cost. Therefore, you don't even have to pay a dime to transfer every piece of data from your Android to iOS device. The company has implemented the feature, as they expect more people to make the switch from Android to iPhone in the months to follow, especially because of the radical design change that's widely expected in the upcoming iPhone 8.
Using iOS Mover in AnyTrans
The latest version of AnyTrans which includes this new feature, has been recently pushed out to the general public after a brief private beta testing phase. If you've installed the updated version of the software already, simply follow the steps below to move the data from the Android smartphone to your new iOS device:
Upon opening the software, you'll notice a new iOS Mover icon right at the top menu. Click on that and connect both the Android and iOS devices to your computer to configure the transfer process.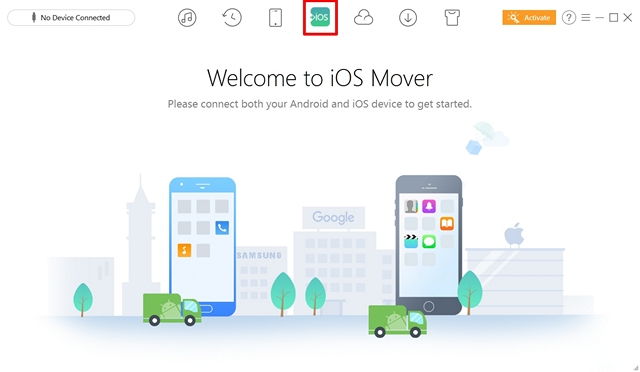 Once both of you're devices have been connected to the software, you'll be asked to enable USB debugging from the Developer Options page in Settings with the help of a short tutorial. Now, AnyTrans will start installing the application on your Android smartphone. Once done, you'll be asked to allow the necessary permissions for AnyTrans to work.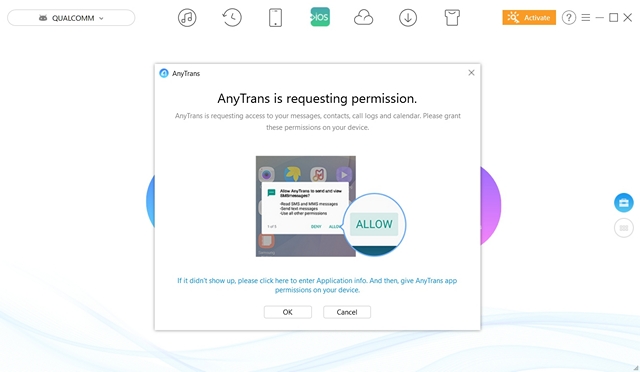 Now, you'll have the option to move content to iOS or iTunes or Apple's iCloud service. If you want to transfer data on your Android smartphone directly to your new iPhone, click on "Content to iOS".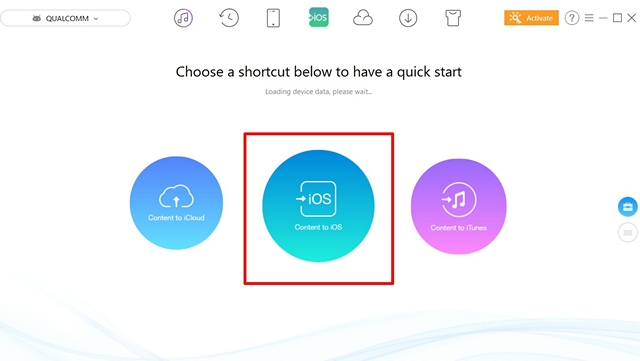 Once done, you have to choose iPhone as the target device, as you're working on transferring all the content from your current Android smartphone to the new iPhone.
Now, since the software lets you transfer almost any form of data from your Android device, you'll be asked to choose the categories of the content you want to actually transfer. After you're done selecting, the transfer process will be initiated. Wait for the transfer process to complete. Depending on the size of the content, the estimated time may vary.
Well, that's pretty much it, as all the transferred content will now show up on your new iPhone. That wasn't quite hard, was it? This is exactly one of the reasons why we enjoyed using AnyTrans.
Ready to Try The New AnyTrans Feature?
AnyTrans checks most of the boxes when it comes to iOS device management, and it's certainly better than iTunes in terms of flexibility. With this new iOS Mover feature, the software becomes an obvious choice when it comes to replacing iTunes on your computer. Unlike Apple's official "Move to iOS" App that's available for Android devices, this AnyTrans feature gives a lot more flexibility by letting you transfer almost every form of data that you'll actually need. From transferring media content from your computer to managing your iCloud storage, the software is capable of doing almost everything that you'll need, when it comes to managing an iOS device. So, if you've already been using AnyTrans, what do you think about this software, and how excited are you to try out its new iOS Mover feature? Do let us know, by shooting your valuable opinions in the comments section down below.
Download iMobie AnyTrans here.