About a couple weeks ago, Google released the first developer preview for Android P, the next iteration of its mobile OS. There are a ton of new features, UI/UX enhancements, as well as back-end improvements, and some have even been brought to older versions of Android. Another feature which stood out in the developer preview is the ability to lock your phone down and prevent it from being unlocked with your fingerprint.
In our opinion, this is an incredibly handy feature to prevent your phone from being unlocked when you are asleep or temporarily incapacitated. And this too has been already been replicated on custom ROMs, starting with Lineage OS 15.1. Long-press the power button and tap on the lockdown option in the power menu. This will guarantee no one can unlock your device using your fingerprint, iris scanning, face unlock, or other smart unlock options such as on-body detection or bluetooth-based unlocking.
LineageOS 15.1 has added a similar feature to just a couple days after the launch of the first Android P Developer Preview. It has now started to roll out to LineageOS users with the most recent weeklies update.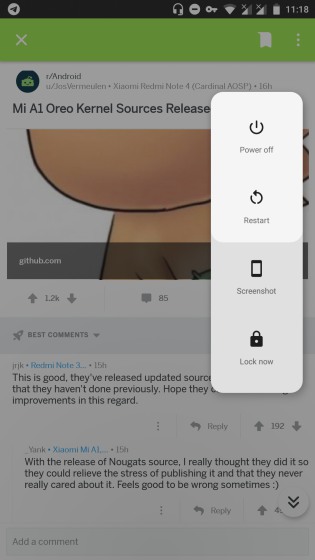 As you can see in the image attached above, you can now add a 'Lock now' button to the power menu in a manner similar to Android P. If you tap this button, the device would be locked down and you can then only unlock it using the password, PIN or pattern. The presumption is that only you are aware of these so the phone cannot be broken into easily.