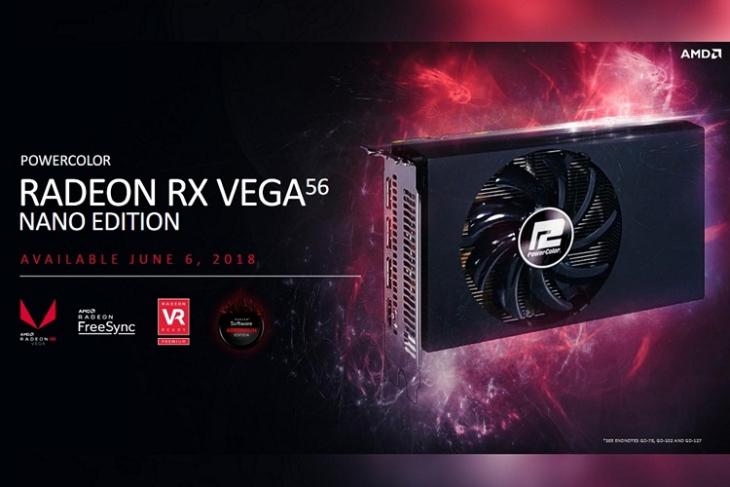 At its eventful Computex 2018 appearance, AMD also showcased the first of the mini versions of its Vega 10 GPU, the Radeon RX Vega 56 Nano. Interestingly enough, the actual card showcased at the event wasn't a reference design that one would have expected, but a PowerColor Add-in Board, that comes with an all-aluminum fin-stack and a single fan, as well as three HDMI ports.
The card is built on the same 14nm FinFET node as the rest of the Vega 56/64 lineups. It has 8GB of HBM2 VRAM, a 150W TDP, and will likely come with 56 compute units like the full-fledged Vega 56 reference. With the smaller PCB though, it will only ship with a single fan instead of the triple-fan configuration found on the standard models. According to a prior leak, the card also sports standard power connectors for a RX Vega 56, including an 8-pin and a 6-pin.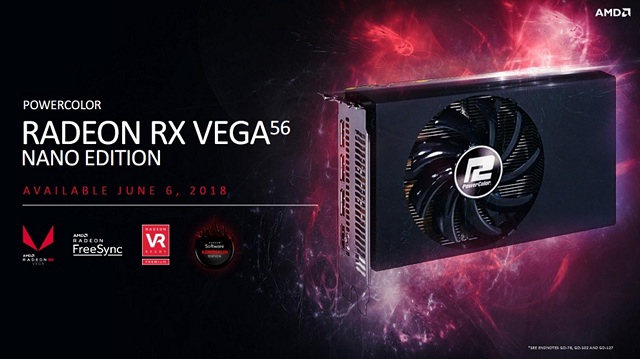 It is worth noting that most of the tech specs of the newly-unveiled card remain under the wraps officially, but it's slated to go on sale later today, so it shouldn't be long before the full spec-sheet becomes public. Saffire is also said to be working on bringing a Vega 56 nano to the market this year, and while we didn't hear anything about that at the event, that too, has been rumored to launch this year.
Alongside the new Nano Edition GPU, AMD also announced a number of other products at the event, including the a monster 32-core/64-thread 2nd-gen Threadripper chip that will go on sale later this year. The company also announced the 7nm Radeon Instinct GPU meant for deep learning applications, as well as the roll-out of FreeSync support to Samsung's 2018 QLED lineup.