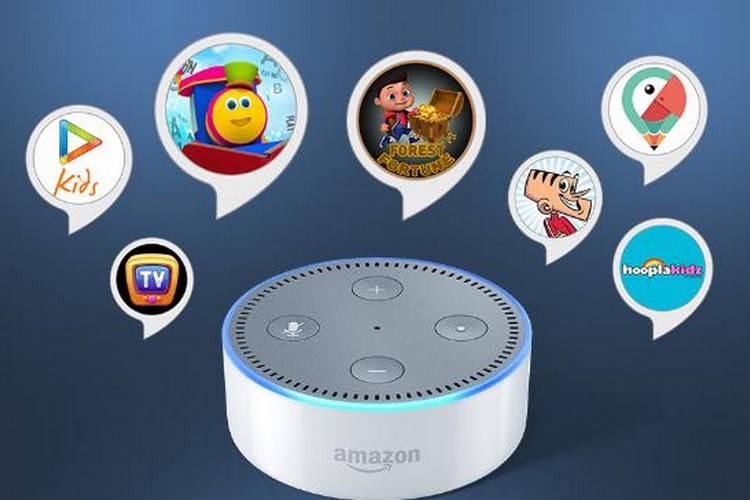 Amazon has today introduced a new range of Alexa skills in India which are built for children aged 13 years or less. Dubbed 'Kids Skills', the new category of Alexa skills bring experiences from popular Indian comic books and kid-friendly entertainment franchises such as Amar Chitra Katha, Tinkle, ChuChu TV, PAC-MAN and Hungama to name a few.
The new Alexa skills are now available in the Alexa Skills Store on Amazon India, and can be used on all Echo devices as well as the Alexa app for smartphones. The primary focus of the new skills seems to be edutainment with a wide range of activities including quizzes, storytelling, and language and grammar practice among others, over Alexa commands.
https://gph.is/2Knc7ax
Amazon has brought around 350 'Kids Skills' to India by partnering with leading kids entertainment brands such as ChuChu TV, Hungama, and Videogyan. The Alexa skills tailor-made for kids can now be accessed from the 'Kids Skills' section on Amazon India's Alexa skills store. One can also access the kid-centric skills by summoning Alexa and asking the virtual assistant,"Alexa, what kid skills do you have?" 
"In line with our vision to keep expanding Alexa as a service that provides a delightful and fun experience for the entire family, we have curated a special catalogue of skills to engage, entertain and educate children. Our developer guidelines ensure that the skill experiences encourage exploration and creativity among kids", Dilip RS, Amazon's Country Manager for Alexa Skills said in a press statement.
The Alexa Kids skills are spread over five categories:
Nursery rhymes, songs, and rhyme-game skills
Brain teasers, quizzes, trivia and joke skills
Immersive and adventure game skills
Educational skills
Fun and interactive story skills
In order to see and add the new Alexa skills to the Echo device, parents have to activate the Kids Skills from the settings menu in the Alexa app. You can check out the complete list of the Alexa Kids Skills here.
---