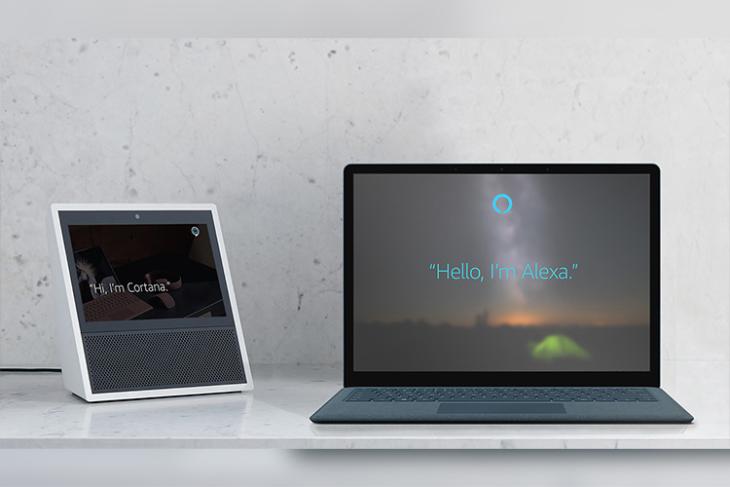 Microsoft has been taking baby steps to build upon its partnership with Amazon to make Alexa available across Windows 10 machines. We earlier saw its efforts to integrate both voice assistants, Cortana and Alexa to allow users to use either to call upon the other. It, however, seems like Microsoft plans to bring Alexa and other third-party voice assistants right on the lockscreen.
With the next major Windows 10 update 19H2 (a simpler name as compared to earlier), Microsoft will give its Alexa integration a major boost. It'll allow you to access Amazon's voice assistant (and other third-party ones in the future) without unlocking the machine. You will be able to call out 'Alexa' and your Windows 10 PC will start listening to all your commands right away.
This may seem like a minor change on the surface but Microsoft has been prepping the same for quite some time. The company has already removed its long-running Cortana integration and made the voice assistant available as a standalone app, just like Alexa. Amazon has also taken steps to make life easy for Windows 10 users, enabling them to utilize the Alexa wake word in its app.
Microsoft knows that Cortana has been a failure for them and it's going to a take a back seat for consumers. The company plans to repurpose its own voice assistant to serve its business efforts, so we can see Cortana being heavily integrated into Microsoft enterprise software and services for improved productivity.
Overall, this basically means that third-party voice assistants will have more prominence for Windows 10 users in the future. Alexa could pave the way, turning your Windows 10 machine into an Echo Show-like device, but this doesn't mean Cortana is completely out from the picture. These changes are already being rolled out to Windows Insiders for an initial test, with a more robust feature set coming in future builds.