Xiaomi backed Huami recently launched two of its smartwatches — the Amazfit Bip (Rs. 5,499) and the Amazfit Stratos (Rs. 15,999). The Stratos is the higher priced one, and it brings in more features, a higher water resistance rating, a more attractive circular design and more. We recently received the Amazfit Stratos smartwatch, and these are my first impressions of what I like to call 'the more expensive affordable smartwatch.'
Amazfit Stratos Specifications:
| | |
| --- | --- |
| Processor | 1.2GHz Dual Core Processor |
| Storage | 4 GB |
| RAM | 512 MB |
| Display | 1.34-inch 320x300 pixels |
| Water Resistance | 5 ATM |
| Sensors | air pressure, geomagnetic, ambient light, gyroscope, PPG heart rate sensor, triaxis accelerometer |
| Connectivity | Bluetooth 4.0 BLE, WiFi 802.11 b/g |
| Battery | 290 mAh |
| Price | Rs. 15,999 |
Design and Build
In terms of the design and build, the Amazfit Stratos looks pretty much like you'd expect a circular smartwatch to look. Amazfit has gone to some length to try and make it look a regular watch by giving it not one, but three buttons on the side which gives it an impression of a regular chronograph-style watch.
That said, the Stratos is a very bulky watch which is saying something because I'm used to the bulk of the Moto 360 which itself is a bulky watch, but the Stratos is even thicker than that.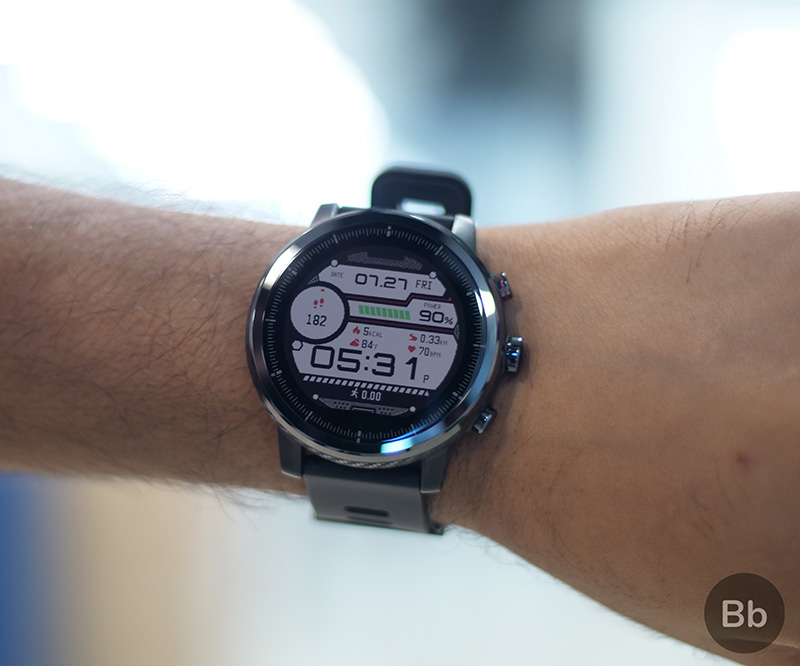 The watch is made out of plastic, which makes it feel a lot less like a Rs. 16,000 smartwatch than my Moto 360 and that sucks. The Amazfit website says that the shiny bezel around the display is made out of polished ceramic. While that may be true, it doesn't really add much to the watch in terms of flair and polish. It definitely adds a little bit of class to the watch which would otherwise look really bland, but it's not something I'd boast about on a smartwatch because the Amazfit Stratos looks very underwhelming for a watch that's priced the way this is. The Moto 360 that I use was priced at Rs. 13,999 and it brings a way better build quality and design than the Stratos.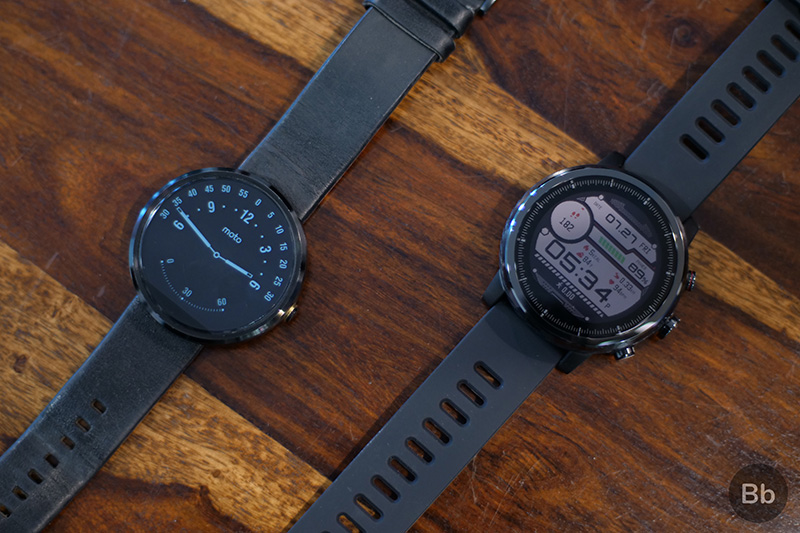 The strap here is made out of silicone and while at this price a silicone strap is kind of weird, it's definitely a soft and nice feeling strap. It's comfortable enough that I'm sure it'll be okay for continuously wearing (something I'm planning on doing for testing the watch), and while I'd have loved a leather strap like the Horveen leather strap on my Moto 360, this silicone strap is passable anyway.
Other than that, the watch comes with a 5 ATM water resistance rating, which is considerably more than the Amazfit Bip which has an IP68 rating, so that's definitely a plus. While I'll not be taking the watch swimming, I'm gonna make it a point to not protect it against water. I'm pretty confident it'll hold its own.
Display
The Amazfit Stratos uses a LCD color touch display and for some reason, it looks rather bad. Increasing the brightness on this display makes it feel like only the black parts of the screen are getting gray, but the rest of the things are still at the same level of brightness. I'm not sure what's going on here, but I'm definitely going to be looking at this display thoroughly (and far longer than I usually would) while I'm testing this watch out for the full review.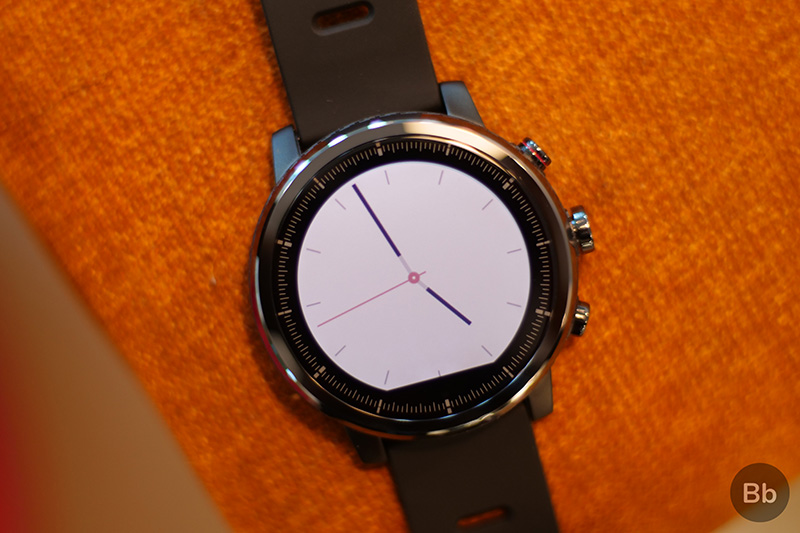 It's a 1.34-inch display with a resolution of 300×320, and it has the infamous 'flat-tire' design that the Moto 360 also featured. However, while Motorola said the flat-tire was needed to stuff in the sensors in a bezel-less display, I don't understand why the Amazfit Stratos has that. There's an abundance of bezels around this smartwatch's display and yet there's a flat-tire.
As far as touch-sensitivity goes, in my brief usage of the smartwatch, the display seems to be good enough, so that's definitely a plus.
Features
The Amazfit Stratos brings a ton of features to the mix. There are obviously the standard things like step counting, distance traveled, calories burnt, etc. But the Stratos features a barometer as well to measure elevation during your workouts, and it's also capable of measuring the VO2Max values when you're working out. It can also inform you of the exercise load, and the recovery time. I'll have to test those things out before giving a verdict on how they work, but they sure sound like some pretty impressive features.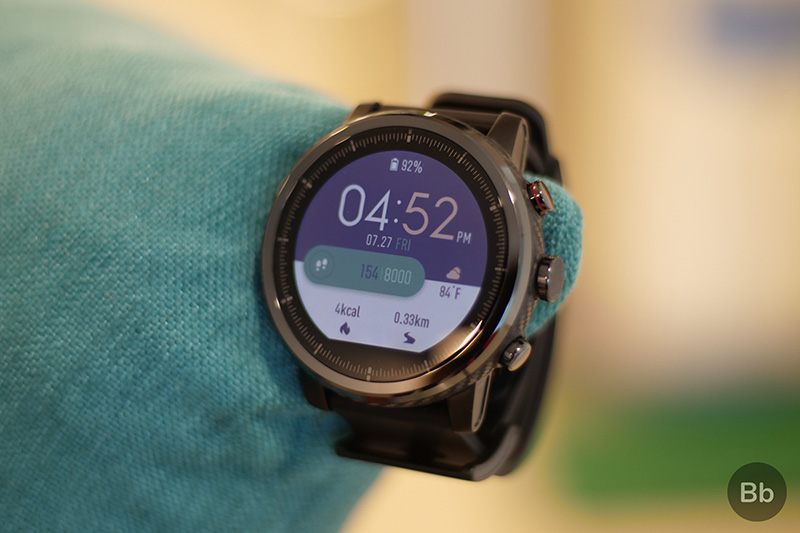 Other than that, the watch brings weather information, alarms, timers, compass, stop watch, timers, and is capable of showing you an analysis of your sleeping patterns as well. It's a pretty handy set of features to have in a smartwatch for sure, and I'm definitely looking forward to testing them out thoroughly for the full review.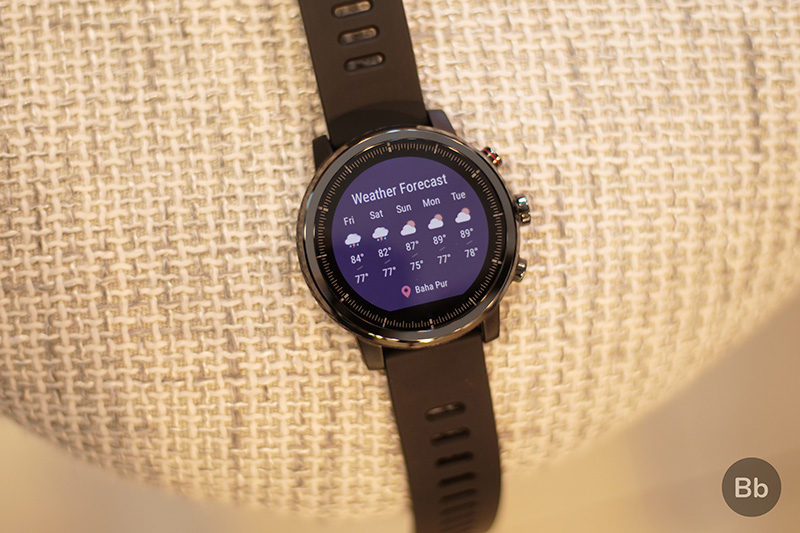 There are a bunch of watch faces here so you can choose whatever one suits your needs best. These can be changed from the settings, or by simply long pressing on the home screen. So far, I prefer the default watch face only, but that might change. Also, you can use the Amazfit app to add custom watch faces to the watch which is definitely a cool feature to have.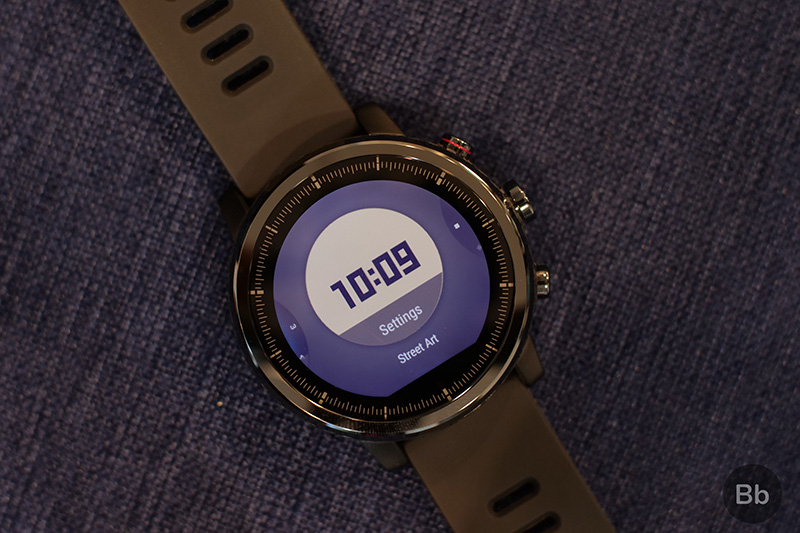 Connectivity
In terms of connectivity, the Amazfit Stratos comes with Bluetooth 4.0 for pairing with the Amazfit Watch app. However, the Stratos includes support for WiFi b/g networks as well. For some reason the watch doesn't support WiFi 802.11n networks.
Also, you can connect the watch to the Mi Fit app as well if you so choose, but the Amazfit Bip only connects with the Mi Fit app. It's a bit confusing but that's just how it is.
Battery
The battery life of the Stratos is one of the more impressive things about the watch. The Amazfit Stratos features a 290mAh and Amazfit claims a battery life of 5 days on regular use, and 11 days with minimal use. That's really great, especially as compared to other smartwatches out there that don't even claim a battery life of anything more than a day or 36 hours.
While I haven't properly tested the watch yet, in my usage over the last day the watch certainly looks like it'll last the 5 days Huami promises. This battery life is probably helped along by the fact that the display isn't all that great. I'm unsure how I feel about that, but let's see if the tradeoff is worth it.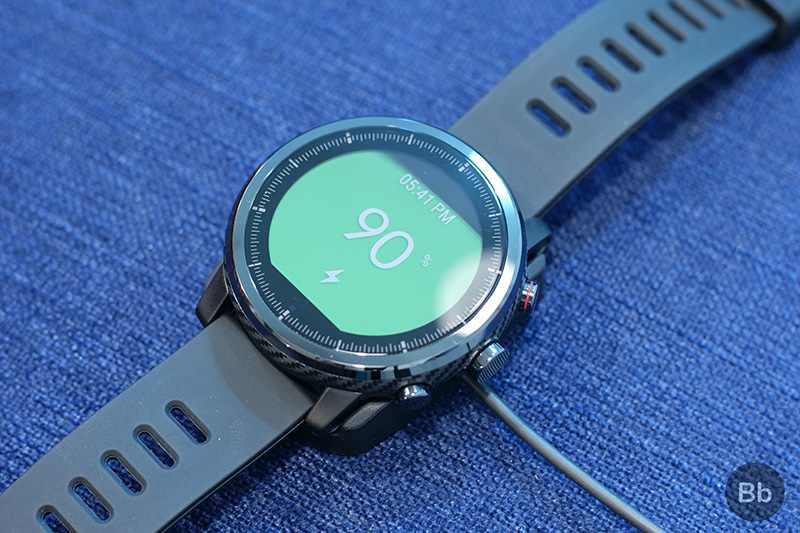 For charging, the Amazfit Stratos comes with a flat backed charger that you can place the watch on to charge it. However, you have to press the watch in firmly for the pins to properly connect and charge the watch which can get a bit annoying sometimes.
SEE ALSO: 5 Best Smartwatches Under 10000 INR You Can Buy
Amazfit Stratos First Impressions: The Expensive Affordable Smartwatch
Overall, the Amazfit Stratos is a confusing smartwatch. On the one hand, it brings a decidedly 'better than usual' battery life, along with some great features like VO2Max data, but on the other hand it compromises on things like the display quality, and connectivity (I mean, no WiFi 802.11n support is unacceptable in 2018.)
For a price of Rs. 15,999 the Amazfit Stratos is on a weird ground, it's not a bad watch, per se, but it's not nearly what you'd expect from a smartwatch of this price. The watch brings in a ton of features, but fails to be a convincing buy. Anyway, I'll be using it extensively and I'll review the watch thoroughly soon, so stay tuned for that.