I've been using smartwatches for years now, and very infrequently have I come across something that genuinely excited me. The Amazfit GTR 2e (Rs. 9,999) is one of the few watches that I was quite interested in checking out. After all, the GTR 2 was a pretty nice smartwatch, and the GTR 2e brings most of those features at a lower price point. So, if you're in the market for a new budget smartwatch, here is my review of the Amazfit GTR 2e.
What's in the Box
First off, let's take a look at the contents of the box here.
Amazfit GTR 2e
Charging cradle
Manuals
The box itself is pretty much what you'd expect, although I do like the almost lego-like way it opens up when you take the watch out of it.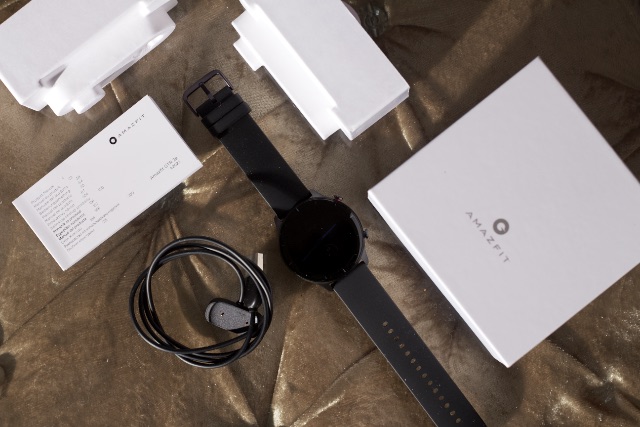 Design and Build
Design-wise, the Amazfit GTR 2e looks very much like its more expensive predecessor, the GTR 2. That's actually something I like, because the design of these watches has gotten better with every generation since the first GTR came out, and the GTR 2e makes very slight changes to the GTR 2e's design philosophy.
It's still a circular watch, with a pretty big bezel around it, two buttons on the side, and just an overall pretty looking aesthetic.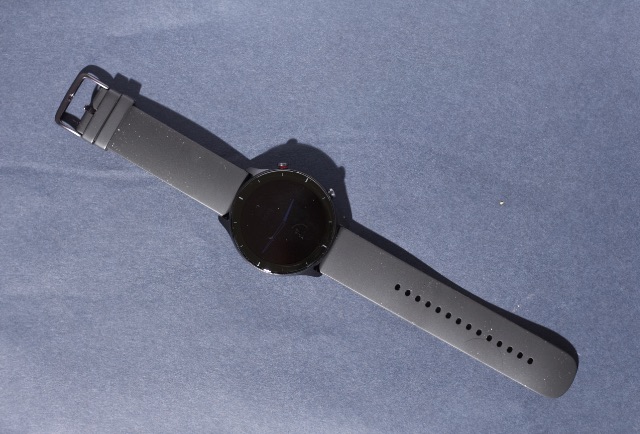 There are some changes here when compared to the GTR 2. Notably, the Amazfit GTR 2e uses a 2.5D glass instead of a 3D glass that was seen in the GTR 2. The stainless-steel body is replaced with an aluminium body on the GTR 2e, and Amazfit has used a glass vacuum coating on the watch.
I know stainless steel looks better to a lot of people, but I personally like the matte finish afforded by the aluminium body on the Amazfit GTR 2e.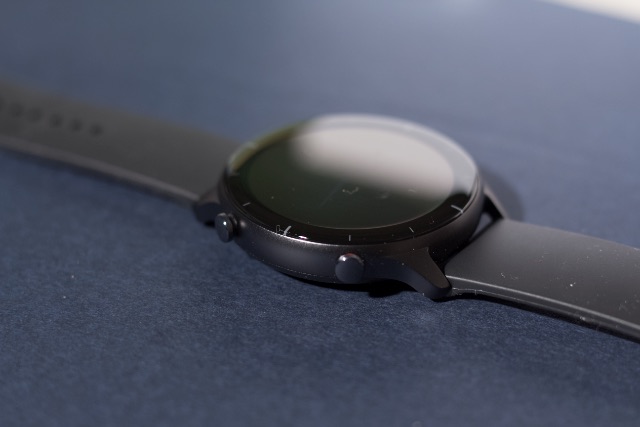 Then there's the strap, made of silicone, which I found quite comfortable for everyday use, although you might miss the leather strap options that were available with the Amazfit GTR 2.
I'm notoriously careless with smartwatches these days, but that didn't seem to be an issue with the GTR 2e. The sturdy build, and matte aluminium body does an impressive job making sure the watch doesn't get scraped easily and it can handle bumps without a problem.
Surprisingly, the watch strap is pretty good as far as breathability is concerned. Other than the Apple Watch, most silicone straps I've used suffocate the skin very quickly, but the GTR 2e didn't cause me any problems on that front. That's something I appreciate.
Other than that, the watch has a 5ATM water resistance which means you can easily use it while swimming, or in the rain without any issues.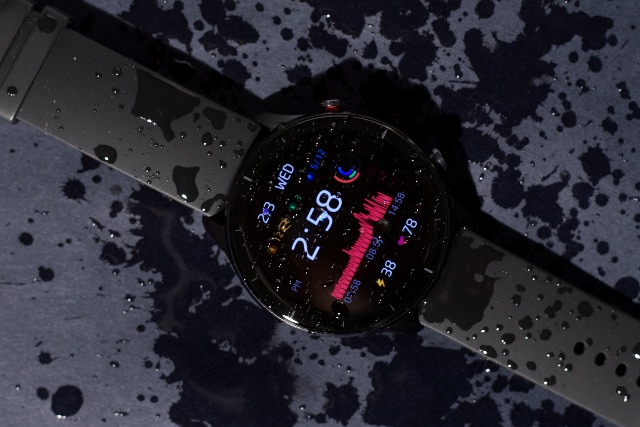 Over all, in terms of design and build, the Amazfit GTR 2e is a solid smartwatch. It looks great and it's built really well.
Display and Basic Interactions
The watch features a pretty big 1.39-inch AMOLED display. This screen has a resolution of 454×454 pixels, same as the Amazfit GTR 2. It's also a really nice screen. Being an AMOLED panel, the screen does a really good job with colours and contrast, and everything looks very pretty on this display.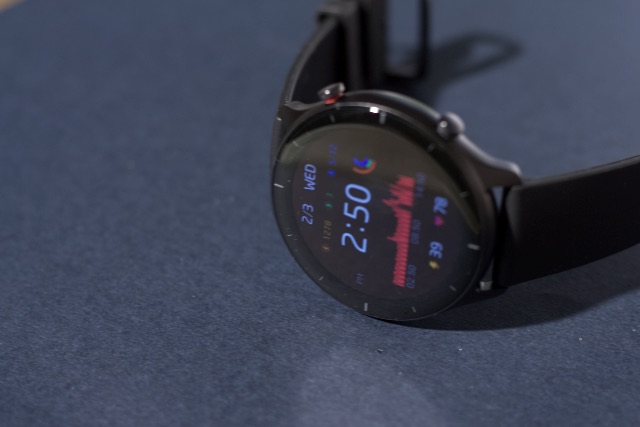 Also since this is quite a big screen, information rich watch faces look very good on this without becoming too packed in and difficult to read.
While you can always press the power button on the watch to head into the apps screen, there are a bunch of widgets, and features, that you can access with just some basic interactions on the watch display.
You can swipe down from the bottom to open the control center for the watch. This brings features like a flashlight, theater mode, find my phone, brightness adjustment, and more. Here you will also see the current temperature, battery level, connection state with the smartphone, etc.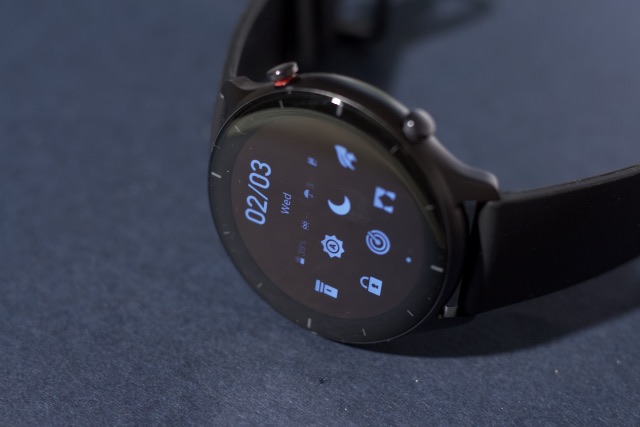 On the other hand, you can swipe up from the bottom of the screen to access your notifications (more on these later).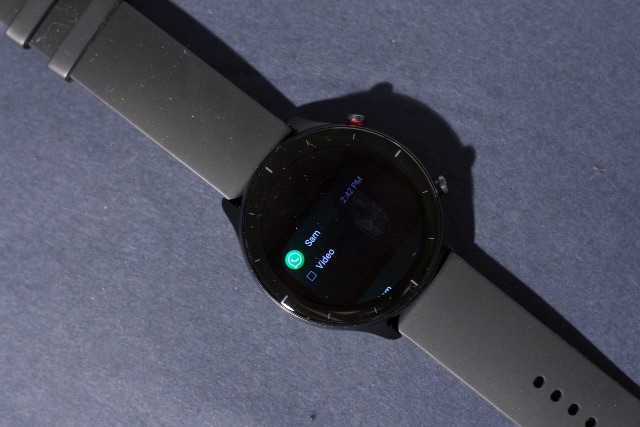 Swiping left, or right from the watch face shows up the widgets you've added there. By default this includes the activity widget, heart rate, music control, weather, and more. There's also a handy daily-overview of sorts that shows you your alarms, weather, heart rate, and other information you might need to take a peek at every now and then.
Watch Faces
One of the many advantages of using a smartwatch is the fact that you can change the watch face design to match the occasion or your outfits. If that's something you find yourself doing often, Amazfit offers a wide collection of watch faces within the companion app that you can freely use on your watch without any problems.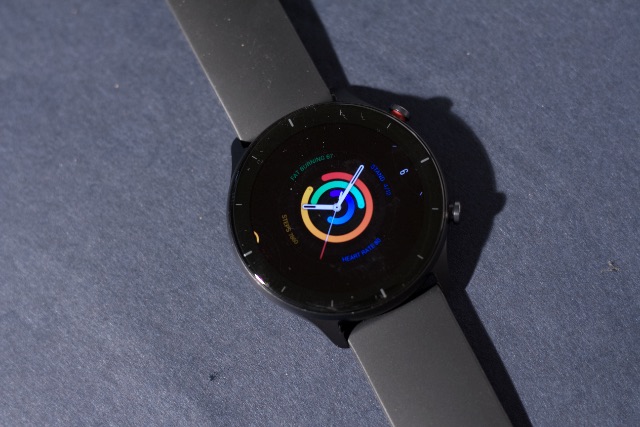 The app provides somewhere in the ballpark of 50+ watch faces for you to try, which is a decent number. However, if you're looking for even more watch faces, you can check out the AmazFaces app (download) from the Play Store which brings an insanely huge number of watch faces for you to try out, plus they are all free.
Health Features
Amazfit has always stuffed its watches full of features, although how good those features actually are is a different story. The Amazfit GTR 2e is no different. It's packed with a boatload of features ranging from basics like heart rate measurements, to things like Blood Oxygen saturation levels, stress measurement, and more.
Personally, I didn't find myself really using features like Blood Oxygen and stress measurements on the GTR 2e, mostly because those aren't things I normally track. However, it's definitely nice to have them in case you ever need to take a measurement. That said, I did turn them on to test the battery life.
The heart rate measurement here is fairly accurate by the way. The watch measures heart rate continuously, and can display it in the form of a graph in case you're looking for an overview of your heart rate throughout the day.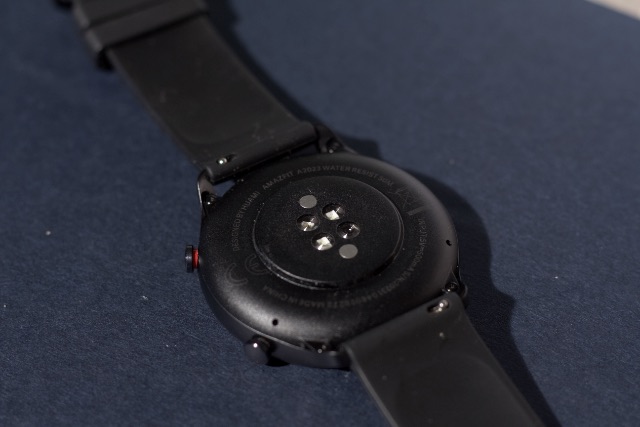 The watch uses Huami's BioTracker 2 optical sensor to record heart rate measurements throughout the day. Plus, it also provides warnings if your resting heart rate goes above a normal value.
What's more, you can even add the heart rate graph as a complication in some watch faces.
You also get sleep tracking on the GTR 2e, and the watch can recognize the stage of sleep you're in, from light sleep, REM sleep, and deep sleep. It can even recognize naps and track them as long as they are longer than 20 minutes.
Fitness Features
The Amazfit GTR 2e also offers quite a bit in terms of fitness features. The watch features an absolute ton of workout options. There are 90 sport options, to be exact including a variety of dances, combat sports, ball sports and a lot more.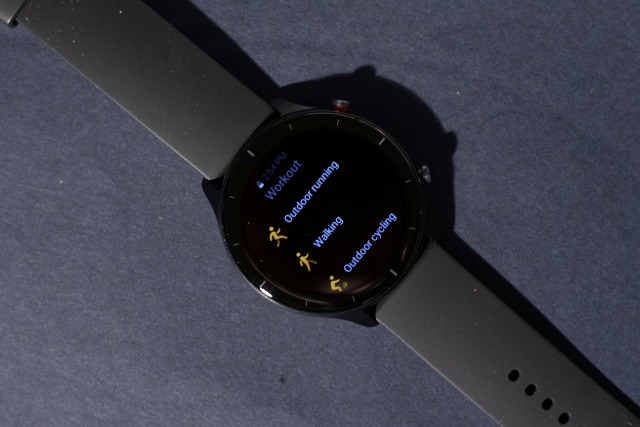 The watch also comes with smart recognition. With this feature, you don't need to manually select the workout you're doing. Simply start working out and the watch will automatically detect which exercise it is and start tracking it on its own. It's a fairly cool feature, and while it's not anything I haven't seen before, it's nice to have. However, do note that the smart recognition only supports six types of workouts.
Elliptical
Outdoor running
Treadmill
Walking
Outdoor cycling
Pool swimming
Once you're done with a workout, the watch compiles a fairly detailed analytical report for you to peruse. Plus, this report can also be found within the Zepp app.
I tested the watch's sports features while walking around, and it looks fairly accurate to me. The watch uses GPS to track your walking path on a map, and shows it to you once you finish the workout.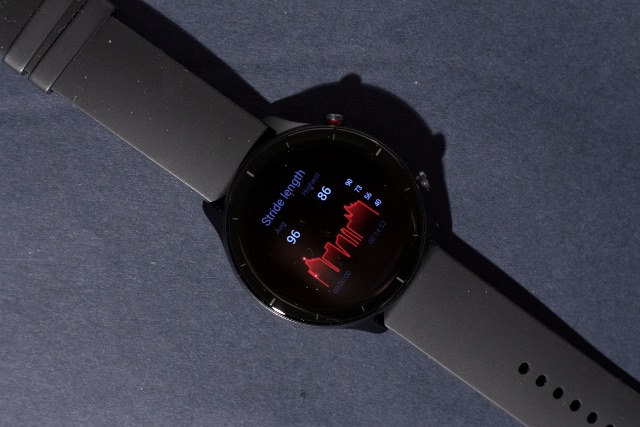 It also shows information like the heart rate graph, cadence, pace and more.
All things considered, if you're someone who works out quite often, or likes to track every single workout, sport, or even dances that they do, the Amazfit GTR 2e has you covered pretty much everywhere.
Other Features
The Amazfit GTR 2e also offers some other features in its bag of tricks. You get the ability to control the music playing on your smartphone via the watch, which is something I use quite often when I'm out and about and don't want to pull my phone out of my pocket every time I want to skip a song or play it all over again.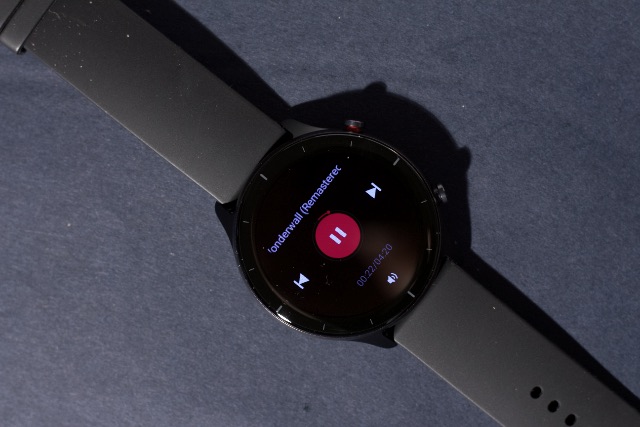 The watch also shows you the weather by just swiping over from the main watch face. You get a nice overview of the temperatures for the day here along with the humidity. Plus, you can swipe up to view more details such as the weather for upcoming days in your locality.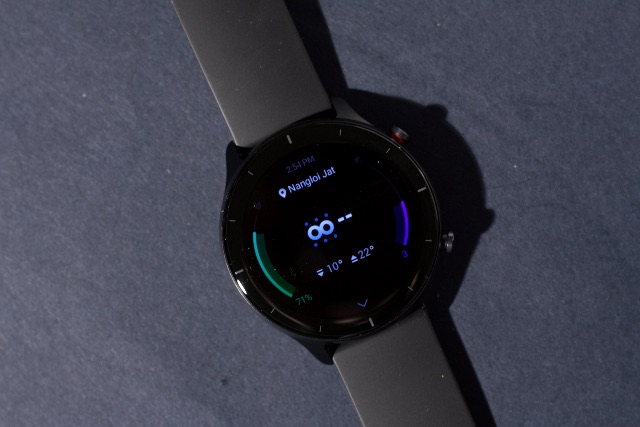 You can also head into widgets on the watch to get access to the compass, a barometric altimeter, a stopwatch (weirdly called a Timer) and a countdown (which is actually a timer). This is also where you can use the Find Mobile option to find your smartphone if needed.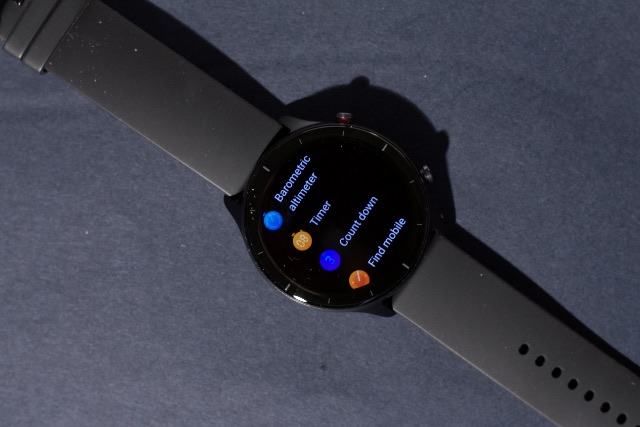 Obviously, being a smartwatch, the Amazfit GTR 2e also brings support for mirroring phone notifications and calls. These aren't enabled by default, and you'll have to go into the Zepp app to enable notifications on a per-app basis (for supported apps).
The notifications here are a little disappointing. Partly because the watch doesn't let you really interact with them in any meaningful way. But partly because the app support is really lacking. On my phone, the Zepp app showed the following apps in the notification section:
Zepp
WhatsApp
Mi Home
Telegram
Instagram
Snapchat
Twitter
YouTube
Calendar
That's out of a total of 151 apps that are installed on my phone.
However, you can get notifications from the other apps as well by simply enabling the 'Other' toggle in the notification settings. This works fine, but it has two major issues for me.
One, this enables notifications for literally every app on my phone, even ones that don't send notifications that are important enough to cause vibrations on my wrist. And two, when you open the notification center on the watch, all of these apps just show up a generic 'App' icon which makes it quite difficult to gather context from.
But that's my mini rant about notifications. The watch also mirrors phone calls if you enable that feature within the Zepp app. Now while the Amazfit GTR 2 could let you answer calls on your watch itself (great!), the GTR 2e removes that ability. This could be in an effort to cut costs, but it's a feature I would have really appreciated.
Side note, the Amazfit GTR 2e page on the official site has this line "The Amazfit GTR 2 also includes a speaker to let you answer calls on your watch via Bluetooth […]". This line isn't incorrect, since the GTR 2 actually does have that feature, but writing this on the GTR 2e's product page can cause confusion among buyers looking to get an overview of the GTR 2e's features. I'm assuming this is just an honest mistake by someone who just copy-pasted the Amazfit GTR 2's feature-guide on this page without double-checking it.
Offline Audio Commands
Similar to the Amazfit GTR 2, the GTR 2e also brings support for offline audio commands, and these, while limited, work really well.
Once you've enabled the feature from your watch settings, or from within the Zepp app, you can simply raise your wrist to wake the watch and then use commands like 'open heart rate' or 'start walking' etc.
You can also use this to change settings on your watch. So you can say things like 'brightness up' or 'brightness down' to change the brightness of the screen. You can also say 'silent mode' to put your watch into a silent mode.
Like I said, these commands are fairly basic but that's alright. Since these are offline audio commands, they are incredibly fast at doing what you say. Plus, the smartwatch's voice recognition has been working flawlessly for me which is something I can't even say for my Apple Watch.
Battery Life
Coming to the battery life, this is one of those things that I just knew would be remarkable on the Amazfit GTR 2e, and I wasn't wrong. My colleague, George, has been using the Amazfit GTR for a very long time, and the battery life on that thing has always impressed me. The GTR 2e makes things even better.
Even though the watch has the same 471mAh battery that you'll find inside the more expensive GTR 2, it still manages to have better battery life.
According to Amazfit, the watch lasts 12 days with heavy usage, 24 days on typical usage, and up to 45 days with basic use. Now I am never going to use a smartwatch in the basic use-case, because that's not what a smartwatch is for. However, Amazfit's estimates on battery life are pretty accurate.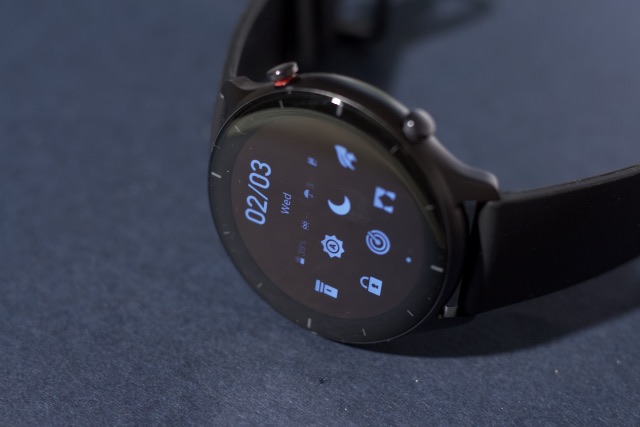 I characterize my usage as quite heavy, because I get a lot of notifications, and also because I kept the heart rate measurements to always on, and enabled automatic measurements for SpO2 and stress levels as well. With all those things draining the battery, I have noticed (on average) a 10% drop in battery every day, which would imply the watch will run for around 10 days on a charge. That's quite close to Amazfit's estimate of 12 days, so I'm fairly confident that if I turn off automatic stress and SpO2 levels, heart rate measurements, etc, the watch will easily last over 20 days on a charge, which is great.
Being used to an Apple Watch that needs charging every day or two, this sort of battery life is something that really impresses me, every single time.
Amazfit GTR 2e Review: Should You Buy?
With all of that in mind, the question remains, should you buy the Amazfit GTR 2e? Honestly, for Rs. 9,999, I would say go for it. Not because there aren't other options in the market. In fact there are quite a lot. However, the Amazfit GTR 2e really manages to hit the ball out of the park in ways that most smartwatches don't.
It looks good, it has a big, beautiful screen. It's absolutely loaded with features, and has a battery life that seems to keep on going.
That said, if you're hell bent on looking for other options under Rs. 10,000, you can check out the NoiseFit Fusion hybrid smartwatch (Rs. 5,999) or even the Amazfit GTS 2 Mini (Rs.6,999). On the other hand, if you can spend an extra three grand, you can get the Amazfit GTR 2 (Rs. 12,999), which will let you answer calls on the smartwatch itself.
All that said, if you're in the market for a smartwatch under Rs. 10,000, the Amazfit GTR 2e is definitely one of the best choices right now.
---
Load More