Meitu – the app that converts your selfies into anime artwork, has recently been in the news for a number of reasons. The widely used selfie app has been receiving flak, ever since users discovered that the app has been mining their personal data, and sending it to servers in China. The app has been obtaining information such as users' IMEI numbers, carrier name, and much more. Fortunately, if you're on an iOS device, most of these issues won't apply to you, as iOS itself prevents a lot of this from happening. However, this is still not something that is desirable from a selfie app. So, if you're aware of these security, and privacy threats, and are looking for other apps that can capture some great selfies, here are 5 apps like Meitu you can use:
1. Cymera
Cymera is a great alternative to the Meitu app. With Cymera, you can perform basic manipulations on your selfies, such as slimming the face, smoothening the skin, etc. You can also apply a plethora of filters on your selfie, by tapping on the video-strip icon in the bottom of the app. There are also options to adjust a number of settings in the app, such as flipping the image horizontally, or vertically (or neither). You can also adjust the resolution that the app will take images in, as well as enable/disable watermarking on the image.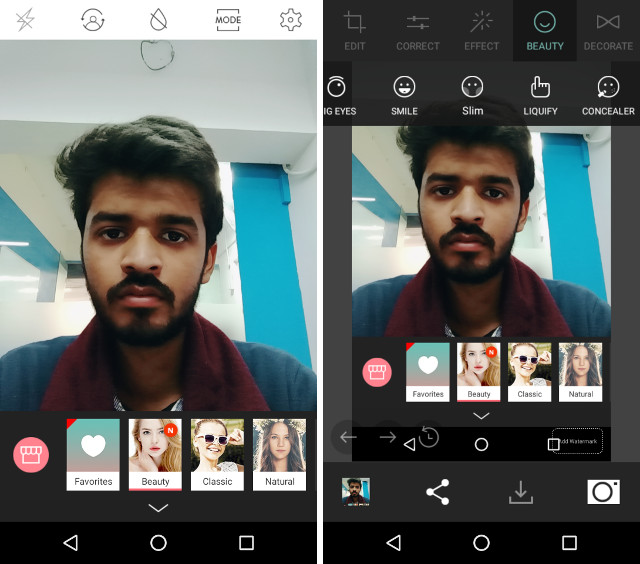 The app also offers a "Liquify" mode, where you can edit your images and perform all sorts of manipulations on them. To get selfies like the ones you might take in Meitu, the Liquify mode can be used to get bigger eyes, add concealer, soften the skin, change your hairstyle, and a lot more, basically converting your selfie into anime. You can even decorate the image with any of the numerous stickers, and memes that the app comes with. The app will also let you add borders to your images, along with adding a blur, changing the color, and even adding light effects to your selfie.
Download on Android or iOS (Free, with in-app purchases)
2. YouCam Makeup
YouCam Makeup is another app that comes quite close to the Meitu app in functionality. The app allows users to either pick an existing picture from the gallery, and apply the makeup, and other effects to it, or click a new picture, with the chosen makeup and effects being previewed live. The app has a plethora of filters to choose from, along with a variety of makeup styles that you'll definitely love. The app offers a high level of control over the makeup you want, as you can independently choose the lip color, foundation, blush, eyeliner, eyelashes, and a lot more.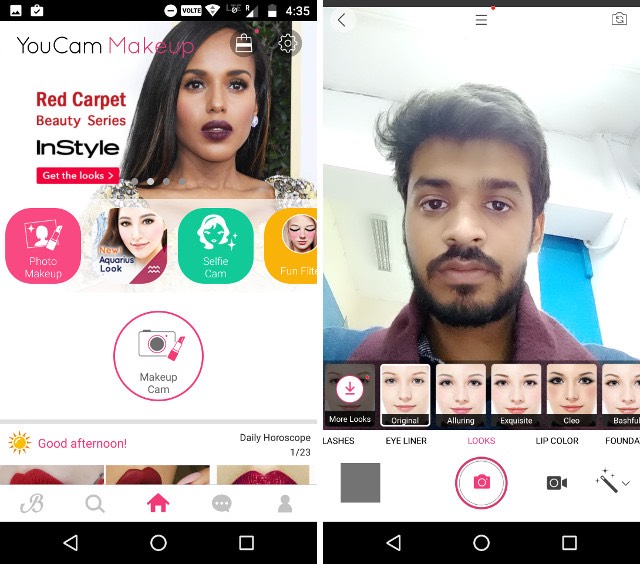 You can even switch the app to video mode, in case you want to shoot a video of yourself with all the filters and effects you want. The app performs very well in tracking the position of facial features in the video, something that is definitely commendable.
Download on Android or iOS (Free)
3. Makeup Selfie Cam: InstaBeauty
InstaBeauty is another good alternative for Meitu. The app comes with a lot of features that you'll find similar to the Meitu app, without any of the invasive permissions. You can use the "Camera" in the app to click selfies with the "Makeup", or the "Beauty" setting. In the beauty setting, you can make further adjustments to the selfie, by adjusting the smoothness, and color of your skin. You can also perform slimming operations on your face, make your eyes bigger, adjust the shape of your nose, and do a lot more. These edits can actually get you a final image that is much like the one you'd get from an app like Meitu.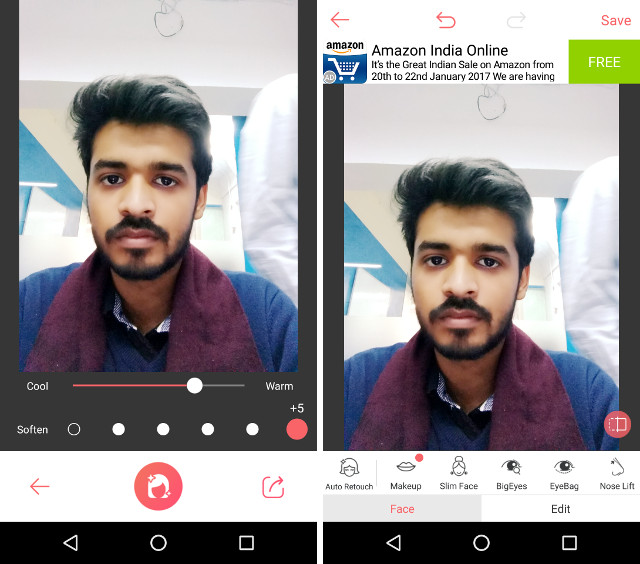 Once you're done, you can save the image, and share it wherever you want. You can even pick an image from your gallery, and perform the manipulations on it. The app also comes with a "Paint Lab" feature, which will let you convert your images into cool-looking artwork, something that Meitu can't do.
Download on Android or iOS (Free, with in-app purchases)
4. B612
B612 is an app developed by LINE, which will let you click pictures, and selfies, and perform a lot of manipulations on them. You can apply filters on your face, by tapping on the face icon in the bottom left of the screen. These filters range from things like faces of cats, dogs, etc, to the face swap filter you may have used in Snapchat. Apart from all that, you can add things like floating lanterns, fireworks, and much more to your photo. Once you have set up the perfect shot for yourself, you can capture the image, and share it, or save it to your device. If you have a LINE account, you can even share the picture on there.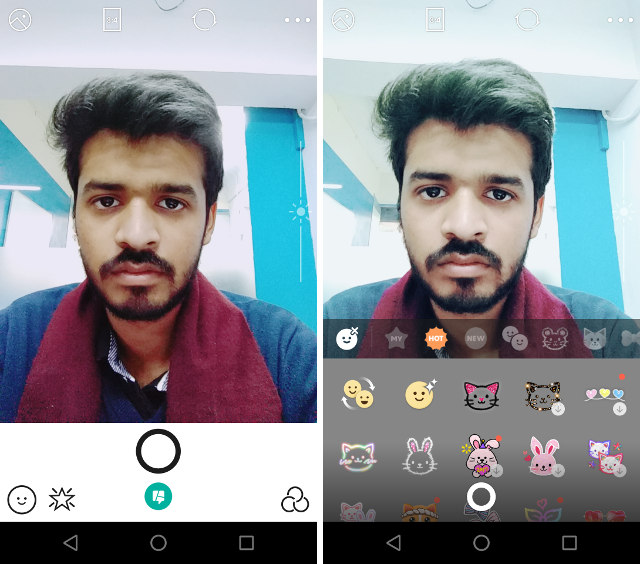 The app also supports shooting videos with all the effects, adjustments, and filters enabled. You can simply tap and hold on the shutter button in the app to shoot a video, which you can then share, or save to your phone.
Download for Android, or iOS (Free)
5. Bestie
Bestie is an app developed by the company behind the popular camera app "Camera 360". What makes Bestie different from the other apps on this list, is the fact that it comes with a much cleaner interface. It has a number of different filters that you can apply on your selfies. However, unlike Meitu, the app doesn't offer any way to make changes to the shape of your face, increase the size of your eyes, or make adjustments to your facial features.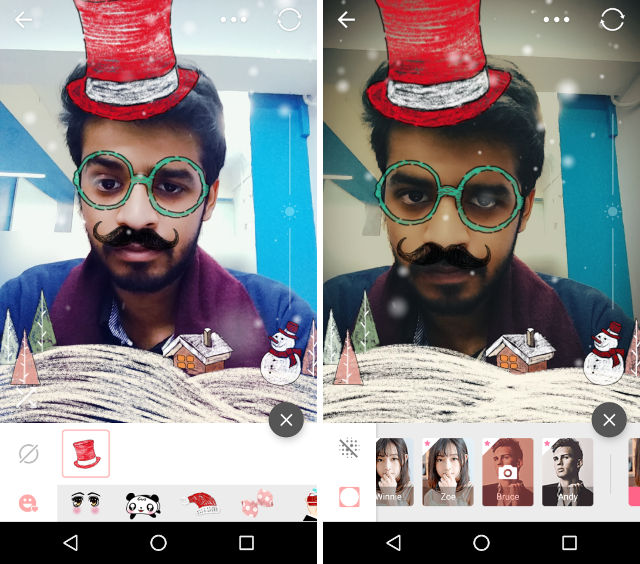 However, the features in the app are quite good, and they will definitely let you click some really good (and natural) looking selfies. You can swipe up and down on the camera interface within the app, to increase, or decrease the amount of skin smoothening you want in the picture, but this is as close as it comes to Meitu.
Download on Android or iOS (Free)
SEE ALSO: 6 Best iPhone Camera Apps You Should Use
Use These Meitu Alternatives to Click Beautiful Selfies
With Meitu coming under fire for integrating with a host of ad services, and third party analytics platforms, you should definitely ditch the app, and go with one of the apps mentioned in this list. While not all of the apps in this list can convert your selfies into anime, they are really good at beauty selfies, and will definitely let you do everything else that Meitu did. No matter what you used Meitu for, these apps should more than suffice your needs (unless, of course, you were using Meitu to send your data to Chinese servers).
So, have you used Meitu, and were you aware of the privacy threats it poses? We would like to know your thoughts about Meitu, and its data policies. Also, if you're aware of any other app that you think deserves to be on this list, do let us know about it in the comments section below.