We are living in a time where finding and hiring local services has become easier than ever. Having said that, most of the services that allow us to find and hire local professionals charge a non-negotiable, which is generally on a higher side. We pay the premium owing to the convenience that the service is offering us and the fact that we don't have any other option but what if I told you that there is a service which not only makes it easier to hire local professionals but also allows you to get the best prices? Well, in this article, we are going to talk about AceBy, which lets us do just that. So, let's take a look at the key features of AceBy:
Key Features
AceBy is a service which not only allows you to hire local professionals but also offer your services as a freelancer if you want to earn some extra cash. Here are all the key features of AceBy:
Hire Professionals Easily
AceBy makes it really easy to hire professionals locally. All you need to do is download the AceBy app, create your account, and post the job for which you are looking to hire a professional. The job will be posted on AceBy's portal with a tag to your location. Every professional that resides in your area will be able to look at that job and apply for it. It's that easy.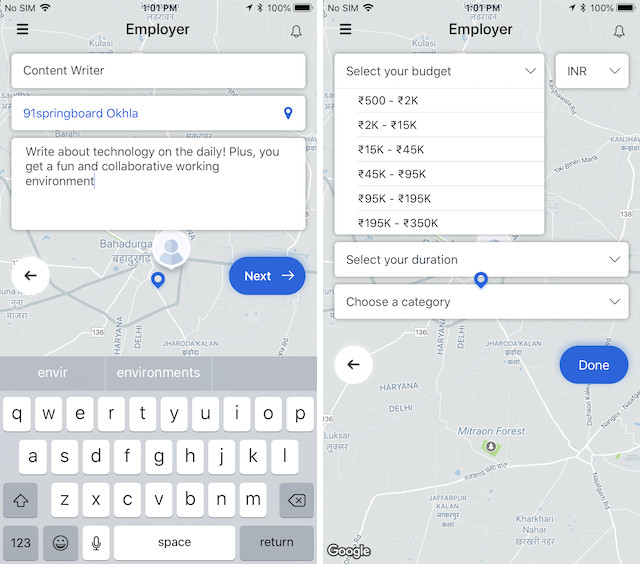 Quick Hire to Skip the Bidding Process
Although most of the times it's good to hire freelancers using the bidding process as it ensures that you are not paying more than you should, sometimes you need to hire a freelancer quickly. If that's the case with you, AceBy also allows you to skip the bidding process and hire freelancers quickly. To directly hire a freelancer, just tap on the freelancer icon on the map and then tap on the Hire button. You can also check out the freelancer's portfolio before you hire them to make sure that you are hiring the right person for the job.
One of the biggest advantages of using AceBy over any other such service is the fact that the service ensures that you have control over the prices. When you are posting a job, you can specify your budget, which means that only the professionals that are okay with your prices will apply for the job. Also, the fact that there is a bidding process involved, you can be sure that you are paying competitive prices and are not getting ripped off.
Large Catalog of Services Offered
With AceBy, you can be sure that you can find professionals for almost all your needs. The app offers a ton of services including accounting & consulting, customer service, writing, design and creative, legal, translation, and many more. Basically, you can hire professionals for any job that you can think of.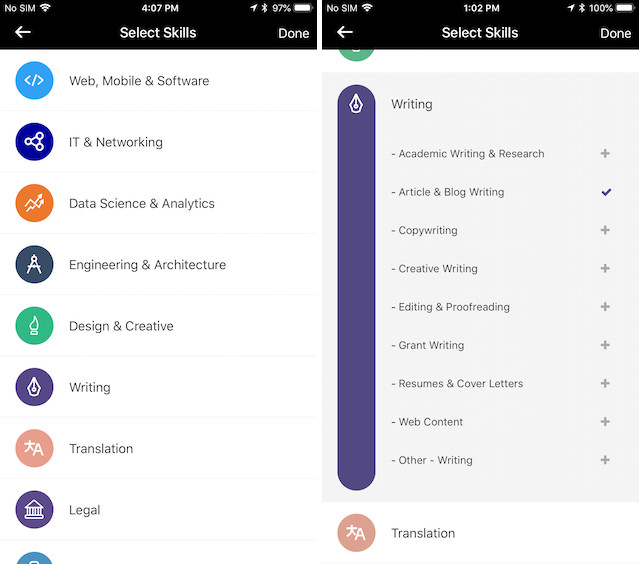 Earn Money by Offering Your Services
While it's good that AceBy allows you to hire professionals, the fact that it also allows you to offer your services through the same platform makes it even better. You don't even have to download an additional app for that. The AceBy app allows you to either hire a professional or offer your services. You can switch between your client and freelancer profile with just a flick of the button.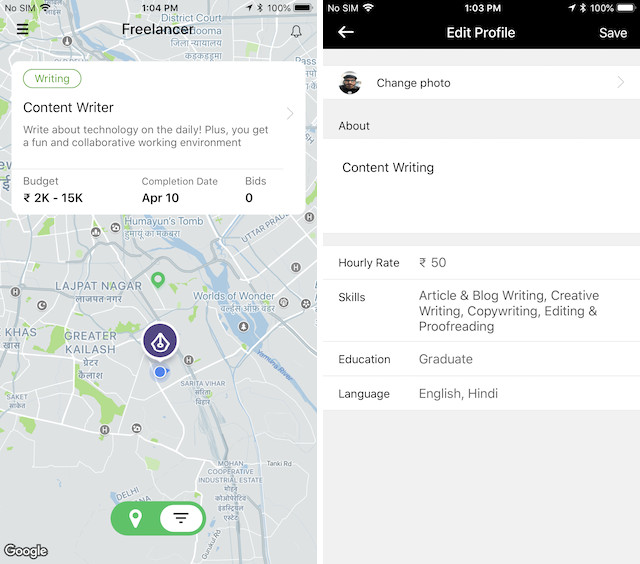 Whether you are offering services or hiring a professional on AceBy, you can be sure that there is no payment fraud going on the service. Whenever a professional accepts a job, the client has to make a payment which is held in AceBy's escrow account. Once the job is done and the client is happy with the service, the payment is released by AceBy to freelancer. This ensures that neither the client nor the freelancer can cheat when it comes to making the payment.
User Interface
AceBy offers a clean and intuitive user interface. When you sign up for the service and complete your profile, your main homepage shows you the map of the area. Depending on whether you are using the app in freelancer or employer mode, the homepage will either show you job listings in that area or a button to create and post jobs in that area.
All the settings are neatly hidden in the side panel, from where you can also easily switch between the freelancer and employer profile with just a flick of the button. From the same side panel, you can also find all your projects and everything related to billing and invoices. As I said, the user interface of the app is very refined and I loved using the app during my testing period.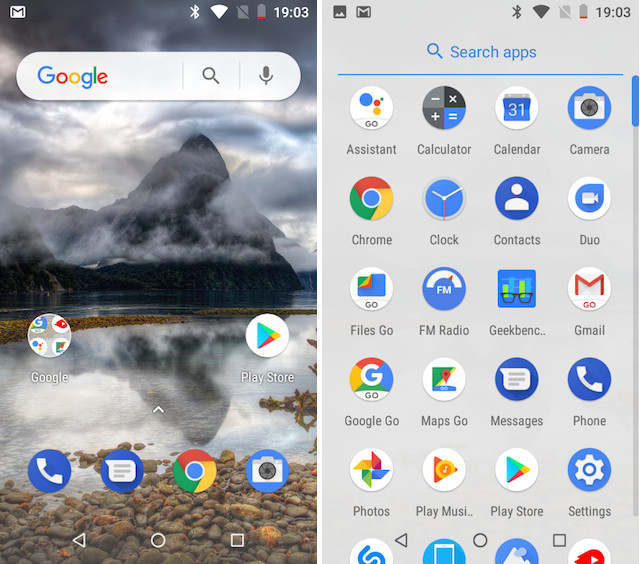 Ease of Use
The user interface section of the article makes it quite clear that the app is very easy to use for both employers and freelancers. It is really easy to post jobs and apply for them. It just takes a few taps to do both of those things. I mean, I tested out the app on both an Android smartphone and an iPhone and it just worked like a charm. Also, if you are an iPhone X user, you'd be happy to know that the app has been updated with support for iPhone X and its infamous notch. So basically, the user experience on the AceBy app is just what you expect from a premium app.
Price and Availability
AceBy app is free to download from App Store and Google Play Store. So, you can just ahead and install the app right away. Do note that if the service is new in your area, it will take some days before you can find the right balance of jobs and professionals.
Note: Beebom readers can use the promo code "GoIndia" to get free ₹300 in the app. The code expires on August 30th, 2018 and is only for employers hiring above ₹3,000.
Pros:
Hire Professionals Easily
Offer Your Services to Earn Money
Large Catalog of Services
Easy and Simple UI
Cons
Install: AceBy (Android / iOS)
Hire Professionals or Get Hired Using AceBy
AceBy is a very good service for anyone who is looking to either hire professionals to get the job done or offer their services to earn some cash. The app is totally free to download and use, so do give it a try and let us know your experience in the comments section below.