While weather apps are a dime-a-dozen, some, like AccuWeather, have become extremely popular over the years because of not just its relative accuracy in predicting the weather, but also the intuitive user-interface. However, with recent reports alleging that the iOS version of the app may be sending location data to a third-party data monetization firm called RevealMobile, many users are alarmed about what that might mean for their privacy. So, in case you want to be on the safe side and drop AccuWeather for something more secure, here's a list of the 8 best AccuWeather alternatives for iPhone and iPad:
1. Yahoo Weather
Yahoo Weather is one of the most popular and widely-used weather apps around the world, not just on iOS but also on Android. Just like AccuWeather, it provides hourly forecasts and, displays the amount of precipitation, wind-speed and atmospheric pressure in a simple, clean and easy-to-understand layout. You also get the option to see 5-day forecasts or 10-day forecasts as you scroll down the on the landing page. There are also 'Today' and 'Tonight' forecasts, along with info about humidity, visibility and UV. There's also an interactive map that shows overlays for snow and rain.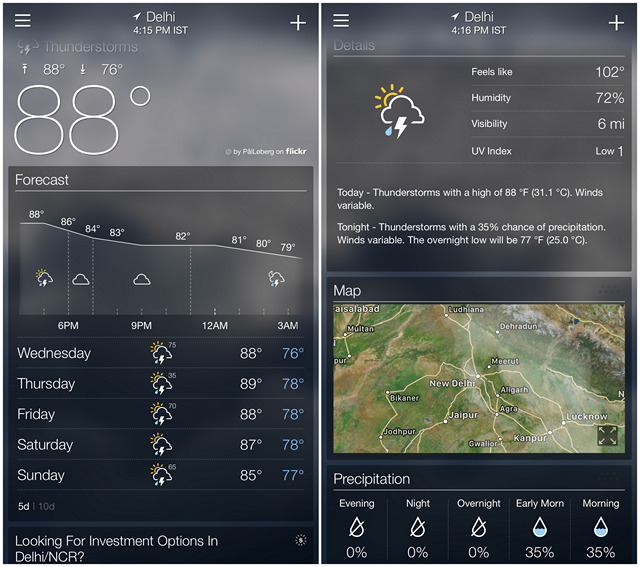 While Yahoo Weather is not the most detail-oriented weather app you'll ever use, its the aesthetically-pleasing design and simple layout that makes the app stand out from many of its peers. The app actually won the Apple Design Award 2013 because of its interface and uses a library of stunning local images in the background that blurs nicely as you scroll the page to view more details. Overall, its a nicely-designed app that provides enough info that will be more than enough for most users, but if you want extensive details on everything, the next one on the list will fit the bill nicely.
Install: (Free)
2. The Weather Channel
The iOS app for The Weather Channel also comes with a simplified UI, but unlike Yahoo Weather, provides a lot of additional details that power-users will find helpful. Like AccuWeather, this particular app also provides hourly and daily forecasts, but it also offers a 15-day forecast that many business travelers will find immensely useful. The app also provides comprehensive info about wind speed, humidity, atmospheric pressure, as well as UV radiation. You will also get info about weather-related road conditions, which is certainly helpful in areas prone to sleet, water-logging or mudslides.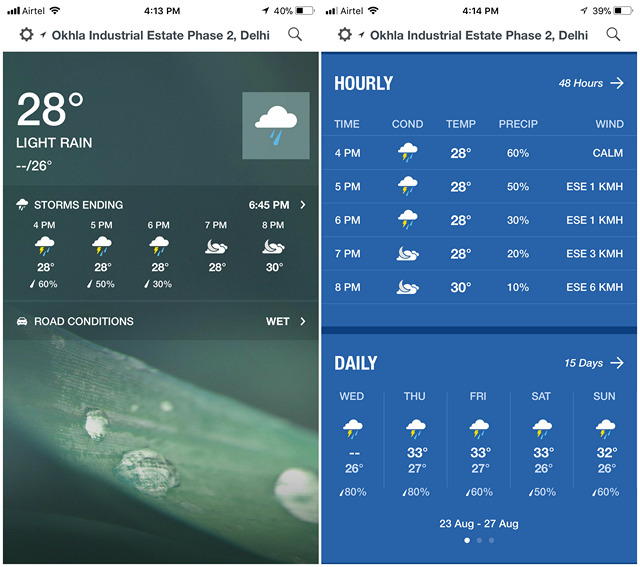 Since the Weather Channel operates one of the most authoritative weather-related TV stations in the world, you'll also get brief news reports about local and national weather. Overall, the Weather Channel's mobile app is one of the most detailed and extensive weather apps you can find on the net, so it's not difficult to understand why this is the go-to app in this category for millions around the world.
Install: (Free)
3. Dark Sky
Like AccuWeather, Dark Sky is a full-fledged weather app that sports a great interface and, provides info on a lot of weather-related aspects over a 24-hour period. There's also a 7-day forecast that's updated hourly. One of the most interesting aspects of Dark Sky is that it allows users to swipe and pinch on their screens to find the most intense weather spots in the world at any given point in time. The app was built using forecast.io, and it specializes in predicting precipitation, which is does more accurately than most in the business. Some of the app's info about global weather is crowd-sourced, with users given the option to send data about the temperature and pressure in their area to the company's servers.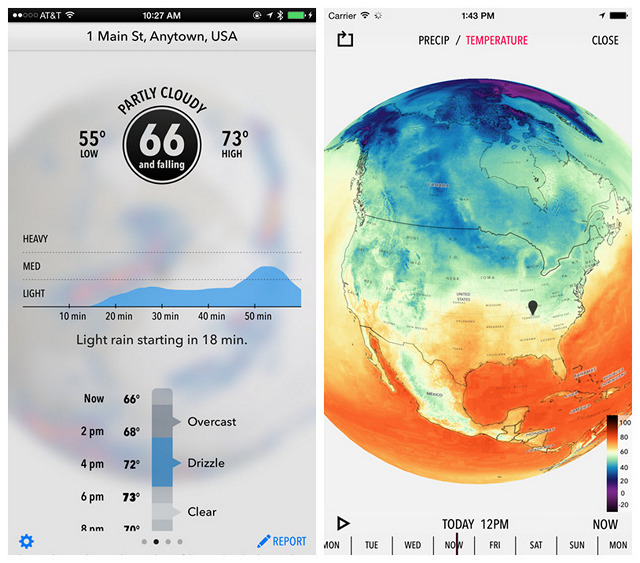 If you're a storm chaser, Dark Sky is definitely one of the apps to have on your phone, as it lets you follow developing storms as they grow in size, eventually either making landfall or dissipating. The app can actually predict how much time you have before a storm hits your location. While most weather apps typically show you the weather in a few cities or towns of your choosing, with Dark Sky, you can actually scan the entire globe to follow instances of extreme or unusual weather, thanks to a beautifully-presented 3D Earth that offers information about precipitation and temperature.
Install: ($3.99)
4. Weather Underground
Weather Underground is a stat-heavy app that gives you all the weather-related info and then some. Like AccuWeather, Weather Underground also shows detailed info about temperature, precipitation, atmospheric pressure and wind directions, but it allows power users to do so much more. The interface is not as user-friendly as AccuWeather or indeed, some of the other apps on this list, but it does provide users with a lot of data that are displayed as a series of charts, graphs and images. This app is clearly targeted at the advanced user who either already knows enough about weather or wants to know more and is willing to go through the hoops for it. Everything within the Weather Underground app is customizeable, so you can add, remove or change any feature to suit your needs.
Users can choose to contribute to the weather info by opting in to the app's built-in crowd-sourcing features: 'Sky Report' and 'Hazard Report'. While Sky Report allows users to report back on the accuracy of the weather forecast in their current location, Hazard Report allows users to report flooding, power outages, mud slides, avalanches, high surf, sleet, etc. Crowd-sourcing is a big part of Weather Underground, and users can even register their own weather stations to work with the platform. The app comes with ads in the free version, but users can remove those by paying $1.99 per year.
Install: (Free)
5. RadarScope
RadarScope, as its name suggests, is a specialized app that allows users to view NEXRAD Level 3 data, which is something that mainstream users may not necessarily need, but is an extremely useful tool for professional meteorologists. The app also tracks storms and weather fronts predicted by the US National Weather Service, and can display the native radar data regarding the latest reflectivity, velocity, dual-polarization etc. from any of the 156 NEXRAD sites and 45 TDWR sites in the United States, Guam and Puerto Rico, as well as reflectivity and velocity data from 30-odd Environment Canada radars.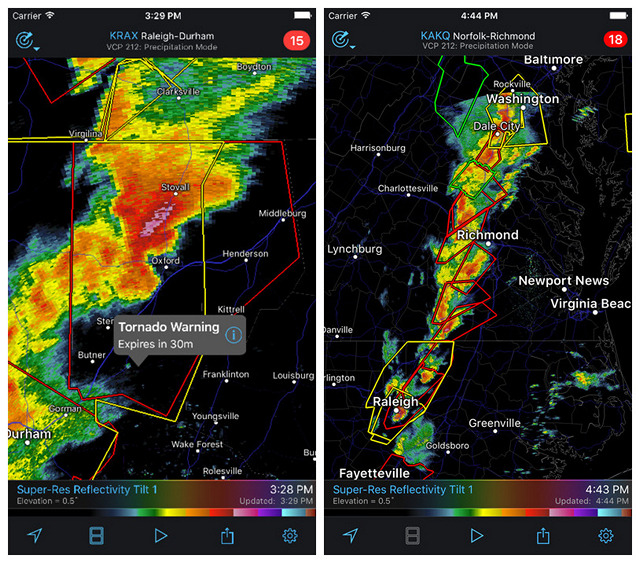 If its complex data you want, this is the app you want to have on your iPhone. But beware, it doesn't come cheap. Yearly subscription starts at $9.99 for Tier 1 and goes all the way up to $99.99 for Tier 2. While Tier 1 users get access to real-time lightning data as well as an optional dual-pane mode to view two radar products side-by-side, Tier 2 subscribers additionally get a 30-day archive of all radar products, along with other bells and whistles. For most standard users, RadarScope is as overkill as it gets, but if it's genuine professional-level weather data you want, you could do much worse than RadarScope.
Install: ($9.99)
6. Weatherbug
Weatherbug is a free weather app that brings 18 different interactive weather maps including Doppler radar, lightning, wind, temperature, pressure and humidity. Like AccuWeather, the Weatherbug mobile app also makes real-time forecasts for up to 10-days, with updates on an hourly basis. You also get lightning alerts in the form of 'Spark', a lightning detection tool that gives you "minute-by-minute, mile-by-mile lightning proximity alerts", as well as updated forecasts about all the likely storms in your region.
Earth Networks, the developers behind the Weatherbug app, claims to have access to the weather databases of over 2.6 million locations, and over 10,000 professional-grade weather stations around the world. Weatherbug operates on a freemium model like so many of the apps on this list today, however, like AccuWeather, you get all the features in the free version itself, so you'll need to spend $2.99 via in-app purchase only if you want to remove the ads that come with the free version.
Install: (Free)
7. MeteoEarth
MeteoEarth is very likely one of the best-designed weather apps you can find right now, irrespective of the platform. The app is based on "a professional weather broadcast tool used by TV presenters around the world" and, lets you superimpose maps of precipitation, wind, temperature etc. over the geographical image of the earth.One of the more interesting features of MeteoEarth is that it can show weather transition on the map just like you see on the TV. Users can pause, rewind and move forward in time to get a 24-hour forecast, and use the 'Storm Tracker' function to track hurricanes, cyclones and typhoons. The app also lets to real-time access to live weather webcams in hundreds of locations around the world.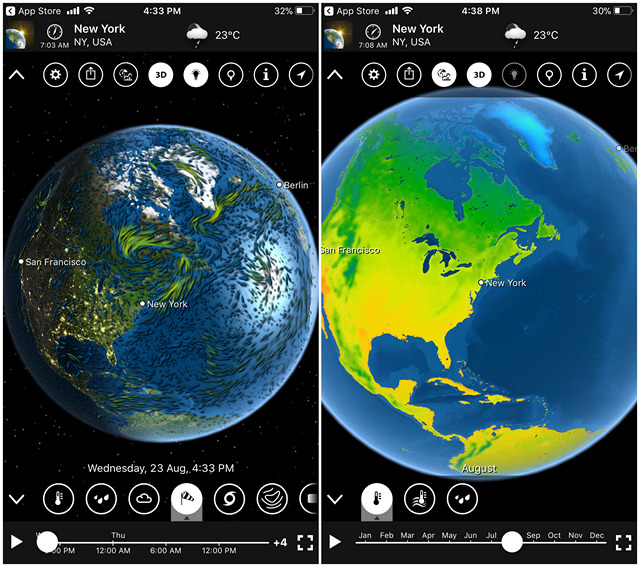 Like AccuWeather, MeteoEarth also employs the freemium model, meaning, you'll need to pay up in order to use some of the more premium features of the app. Thankfully, however, most of the important features of the app are available for free, but an in-app purchase removes all advertising and, adds a few interesting features, like the ability to swipe along a timeline to see the predicted change in weather in the coming days. The premium version also offers users info about wind conditions "at any altitude right up to the Jetstream", according to the apps official listing page on the App Store, although, we can't really vouch for that, having tested only the free version of the app.
Install: (Free)
8. Hurricane by American Red Cross
Last, but definitely not the least, we have the official hurricane-tracking app from the American Red Cross. To be entirely honest, though, this one's not entirely the full-fledged app that AccuWeather is, but is more focused on predicting severe storms that often cause destruction to life and property, requiring medical and humanitarian aid workers from organizations like the Red Cross and Medicine sans Frontiers to work overtime. This free app lets you track severe weather conditions, like hurricanes, floods & tornadoes either in your region or throughout a storm track. You also get to set custom alerts and push notifications to keep up-to-date about any severe weather front that may be headed your way.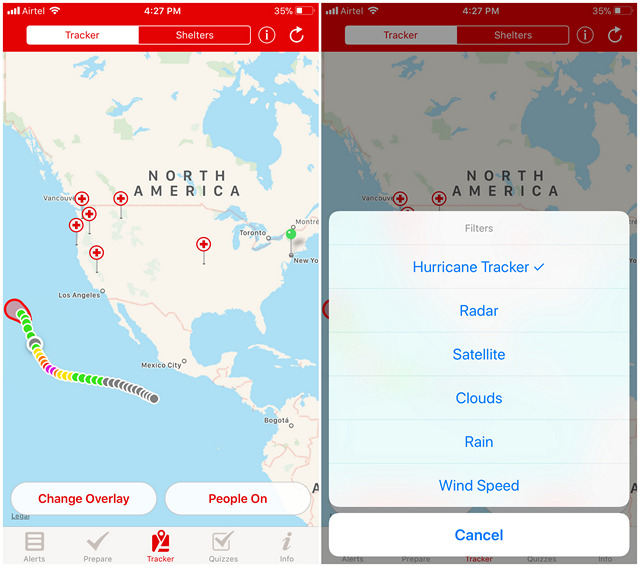 Being a Red Cross app, Hurricane marks out all the safe Red Cross shelters in an area in case of an oncoming storm. There's also a 'Hurricane Toolkit' that includes a strobe light and a flashlight. The app also prepares users for the worst case scenario with step-by-step instructions that informs you about what to do during and after a storm, in case you lose power and data connectivity. Another area where the app comes in handy is all the health-related information it provides in case your locality has been impacted by floods and other such natural disasters. Overall, its a great app to have if you live in a hurricane-prone area, but don't expect it to provide every single weather-related detail that you can get from AccuWeather or some of the other apps on this list.
Install: (Free)
SEE ALSO: 10 Best Weather Apps for iPhone You Should Try
The Best AccuWeather Alternatives for iPhones and iPads
AccuWeather is one of the very best weather apps available right now for regular users, and even I use it myself as my primary weather app on Android. However, with the recent controversy surrounding the app raising more questions than answers, many among us, including myself, are wondering if we should jump ship, if only temporarily. So in case you're also using AccuWeather like I am, are you weighing your options now that you know that AccuWeather may not be the best thing for you from the privacy point of view? Or are you already using one of the aforementioned AccuWeather alternatives on your iPhone? Or are you using something completely different? Do let us know by leaving your thoughts in the comment section below.