As a weather app, AccuWeather checks off many boxes to stake the claim of being a complete app for tracking weather conditions and keeping a tab on forecasts. Moreover, it also offers full-on customization for personalized forecast tracking. Combine this with a solid freemium version and AccuWeather leaves very little room for complaint. However, the app's interface is unintuitive, and AccuWeather was even caught selling user data a couple years ago, which is a big red flag. So, if you're looking for an app like AccuWeather for your iPhone, here are the 12 best AccuWeather alternatives for iOS that you can use.
Best AccuWeather Alternatives for iPhone (2022)
There are a ton of weather apps on the App Store, however, not all of them can compete with AccuWeather's feature-set. That's why we have hand-picked the 12 best apps like AccuWeather for iOS with features like interactive maps, real-time alerts, and more.
1. The Weather Channel
Rated as the number one weather app for iOS (4.7 stars out of 5 from over 3.2M ratings), The Weather Channel has got everything covered to be one of the best AccuWeather alternatives for iPhone. The app has a clean user interface with a sole focus on offering a simplified weather tracking experience. You can use it to keep a track of daily weather forecasts and plan up to 15 days in advance with insightful weather trends. With live radar updates, storm alerts, and local precipitation alerts, the app enables you to remain informed about the changing weather conditions.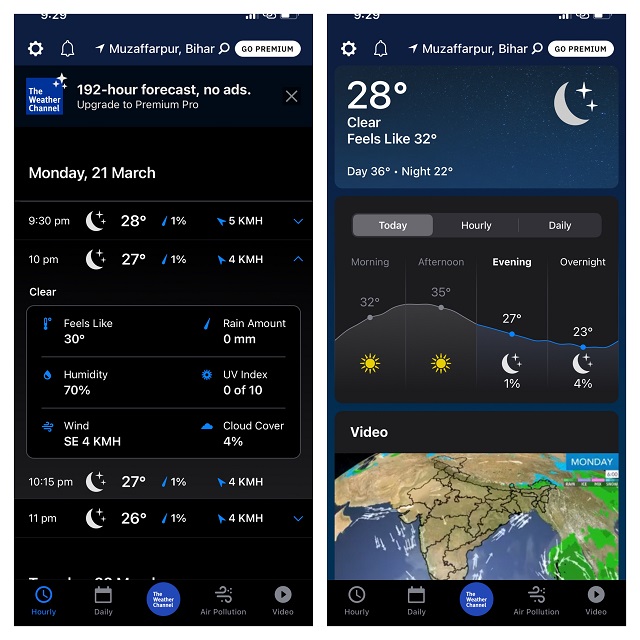 In terms of accuracy, The Weather Channel can go head-to-head against AccuWeather. Based on your preference, you can customize weather alerts to receive notifications only about relevant things and avoid being bombarded by redundant alerts. Not to mention, The Weather Channel has got a pretty nifty home screen weather widget that allows you to track the latest weather conditions at a glance.
However, what sets this app apart from the rest is the live breaking news alerts which come in super handy during extreme weather events such as earthquakes and hurricanes. While the Weather Channel is available for free, you will need to shell out $5/month for unlocking premium features like 15-minute forecast details, and advanced 72-hour future radar.
| Pros | Cons |
| --- | --- |
| Simple and clean interface | More expensive than AccuWeather |
| Powerful rain tracker | |
| 15-minute forecast details | |
| Advanced 72-hour future radar | |
| Live breaking news alerts | |
Install: (free, $4.99/month)
2. Yahoo Weather
Both in terms of accuracy and ease of use, Yahoo Weather is up to the mark. While Yahoo Weather may not be as feature-packed as AccuWeather, you can count on Yahoo Weather to provide all the essential details including wind, pressure, the chance of precipitation, and more. Besides, it can also keep you updated about the forthcoming weather conditions with the 5-day and 10-day forecasts.
You can view animated sunrise and sunset, and browse the interactive maps to get a clear perspective of the weather. For a more convenient weather tracking experience, you can add your favorite cities and track their climate with ease. With twice daily notifications, the app helps you stay updated and be prepared for the acute weather.
As for the user interface, Yahoo Weather has a clutter-free UI that is easier to navigate. Although you will miss AccuWeather's massive roster of tools and customization, Yahoo Weather's simplicity will please you. Not just that, you don't have to pay anything to unlock the full potential of this app. In a nutshell, it's one of the best free alternatives to AccuWeather for iOS.
| Pros | Cons |
| --- | --- |
| Clean UI | Doesn't offer much customization |
| Accurate 5-day and 10-day forecast | |
| Shows animated sunrise and sunset | |
| Interactive maps | |
Install: (free)
3. WeatherBug
There are very few weather apps that can beat WeatherBug's efficiency in delivering real-time weather forecasts. The app offers both hourly and 10-day forecasts. What's more, it features as many as 19 weather maps to let you visualize weather conditions. If you are on the lookout for an AccuWeather alternative with a more interactive map, I would recommend you check out WeatherBug.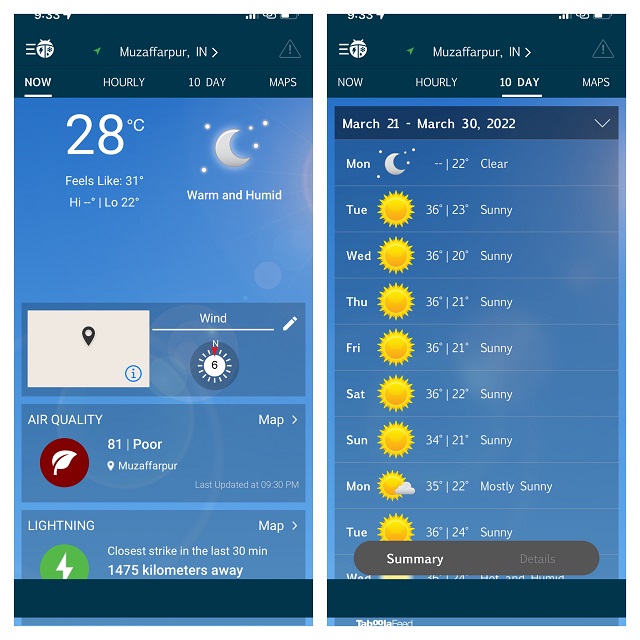 Boasting the largest weather network (forecasts for more than 2.6 million locations worldwide), WeatherBug is well-known for offering accurate forecasts. Furthermore, the weather app also provides Doppler radar across the US, Canada, Mexico, Alaska & Hawaii. Couple this with the detailed fire center data to find out when you are at risk as well as the real-time traffic conditions to better plan your day and you've got an app that can take on AccuWeather with ease.
What I love the most about WeatherBug is the lifestyle forecast which allows you to figure out how the weather will affect your trips, workouts, and even allergies. Moreover, the app also provides the needed flexibility to let you customize alerts. Hence, you can get weather alerts only about things that matter to you.
| Pros | Cons |
| --- | --- |
| One of the largest weather network | Requires a bit of a learning curve |
| Doppler radar across US and Canada | |
| Hurricane forecasts | |
| Real-time traffic conditions | |
| Global fire data | |
Install: (free, premium version is available for $0.99/month)
4. Dark Sky
If you are looking for a feature-rich alternative to AccuWeather, Apple's Dark Sky should be your preferred choice. The app is well-known for delivering hyperlocal weather information and keeps you informed about the upcoming weather with down-to-the-minute forecasts. Hence, you can plan your outing smartly.
As compared to AccuWeather, Dark Sky sports a more intuitive user interface and feels a lot snappier on iOS. Moreover, Dark Sky also has a clear edge in terms of weather animations. You can use the neatly designed weather animations to find out the path of the storm including where it is and where it's going next.
Another department where Dark Sky is slightly ahead of AccuWeather is a wide range of notification options. Hence, you can customize the alerts in accordance with your preference to remain updated about the ever-changing weather conditions. On top of all, Dark Sky is widely considered to be a highly secure and privacy-centric weather app, unlike AccuWeather.
| Pros | Cons |
| --- | --- |
| Feature-packed | Doesn't offer a freemium version |
| Hyperlocal weather information | |
| Down-to-the-minute forecasts | |
| Very intuitive interface | |
| Home screen widget | |
Install: ($3.99)
5. Carrort Weather
Tracking weather information doesn't have to be a boring affair. If you wish to add some much-needed fun elements to the way you track weather, Carrot Weather is the one you must check out. Touted to be one of the funniest weather apps for iOS, Carrot Weather delivers forecasts in a hilarious way. On this front, it beats AccuWeather hands down.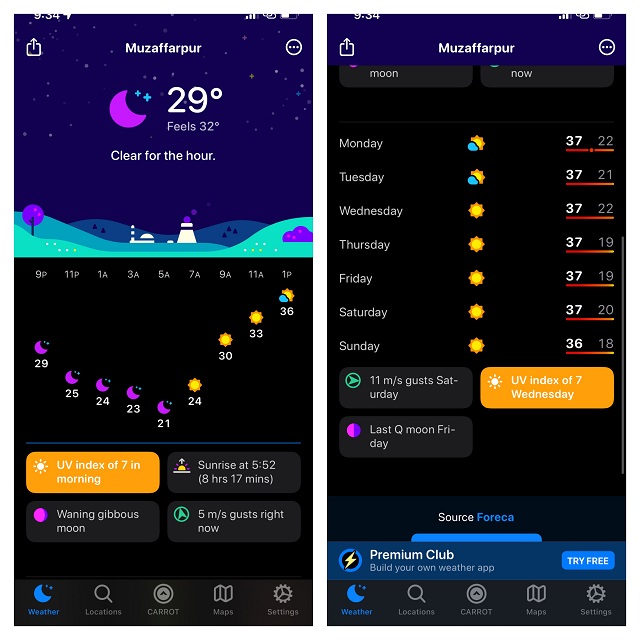 To get started, you can choose one of five personalities for Carrot based on how you want the weather app to inform you about the weather trends. From a professional profile to a jovial personality, you can pick the desired profile to track weather in a unique way. Fun aside, Carrot Weather delivers accurate current, hourly, and daily forecasts. On top of everything, you can track down secret locations to unlock a ton of cool rewards and even invoke the augmented reality mode to bring the Carrot right into your living room.
| Pros | Cons |
| --- | --- |
| Provides weather information in a fun way | Rain tracking isn't always spot on |
| Delivers current, hourly, and daily forecasts | |
| Augmented reality mode | |
| Over 60 achievements | |
Install: (free, $4.99/month)
6. Weather Underground
For getting accurate severe weather alerts, you can't go wrong with Weather Underground. With this app, you can set weather alerts for a specific location and get timely notifications about the local conditions. Even in terms of offering detailed weather data including humidity, dew point, pressure, visibility, temperature, and more, Weather Underground is top-notch. Additionally, you can also rely on this weather app to provide other essential geographical data such as air quality index, sunrise and sunset, UV index, and more.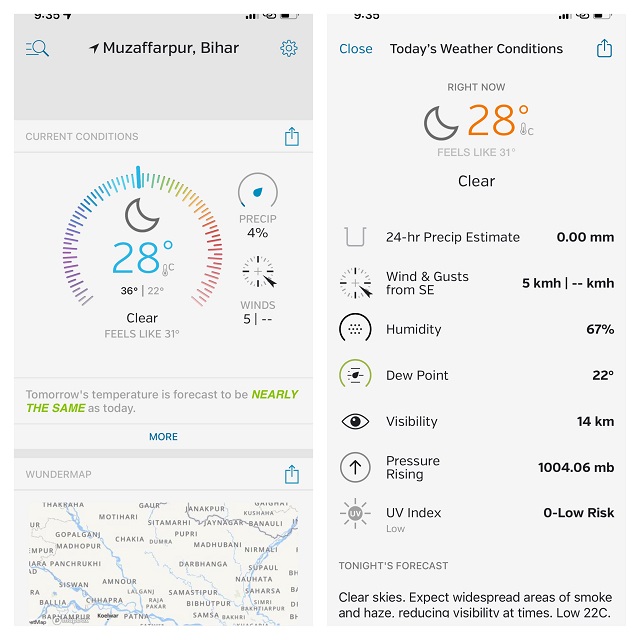 Equipped with more than 250, 000 weather stations, Weather Underground is up to the mark when it comes to delivering hyper-local forecasts for up to 10 days. If you prefer to have an expert view of the weather trend without spending too much time, the daily weather summaries will come in super handy to you.
Another area where Weather Underground makes a good match with AccuWeather is customization. Featuring various map types and units, Weather Underground allows you to fine-tune the app to retrieve the desired weather data. Notably, it shows high-resolution satellite and cloud cover imagery from GOES-16 powered by NOAA (National Oceanic and Atmospheric Administration). Keep in mind that Weather Underground is available for free, however you will need to upgrade to the premium version ($4/month) to unlock smart forecasts, and view extended hourly forecasts for up to 15 days in the future.
| Pros | Cons |
| --- | --- |
| Shows high-resolution satellite and cloud cover imagery | Some stations may not show up to date information |
| Extended hourly forecasts up to 15 days in future | |
| Over 250, 000 weather stations | |
| UV Index | |
| Heat maps | |
Install: (free, $3.99/month)
7. Storm Radar
If you are hunting for a more powerful NOAA radar and tornado tracker, Storm Radar could be the right answer to your needs. The app provides a more in-depth, color-coded view of the changing weather patterns to let you figure out how much rain is coming in your area. With the 6 hours of comprehensive global radar, you can also discover when and where the storm will hit.
Thanks to the detailed data on all impending storms, Storm Radar can let you track every extreme condition from cyclones to tornadoes to hurricanes. Even better, the app also lets you fully customize your radar map with detailed data overlays. In this regard, Storm Radar comfortably edges out AccuWeather.
When it comes to real-time weather notifications, Storm Radar can keep you informed with precise alerts. Since it offers the option to choose and customize notifications, you can pick only selected alerts about things that are relevant to you.
| Pros | Cons |
| --- | --- |
| Color-coded view of the weather patterns | Lacks a snappier interface |
| Live local storm alerts | |
| Severe weather warnings | |
| Option to customize your radar map | |
Install: (free, $0.99)
8. Weather Live
Featuring a rich user interface and a wide range of tools for tracking weather conditions, Weather Live is a good alternative to AccuWeather. For a personalized tracking of weather conditions, the app allows you to choose specific weather parameters you want to monitor. Moreover, it also offers you the freedom to select from different layouts, rearrange the blocks with different weather details, and interact with the weather maps to retrieve certain information.
Even better, Weather Live provides a 14-day hourly forecast and keeps you updated with real-time bad weather warnings to ensure you don't get caught in severe weather. Furthermore, it also has solid hurricane and lightning trackers to give you the instant heads up about the bad weather in your area. On top of all, Weather Live delivers daily weather reports with all the essential information to help you have a better insight into the weather conditions and what you can expect in the coming days.
Well, my only gripe with Weather Live is that it offers a very limited free version. And if you wish to unlock all the pro features, you will need to spend $3.99/week which makes the weather app seem extravagant.
| Pros | Cons |
| --- | --- |
| Provides a 14-day hourly forecast | The Premium version is more expensive |
| Real-time bad weather warnings | |
| Hurricane and lightning trackers | |
| Daily weather reports | |
Install: (free, Pro features are available for $3.99/week)
9. WeatherRadar
If all you need is a simple weather app with a neat interface, Weather Radar won't disappoint you. While it's nowhere near as powerful and rich as AccuWeather, it's a tad easier to use and also considered to be pretty reliable on the security parameter. With a 14-day weather trend, the app helps you plan your journey wisely keeping in mind the weather conditions. Aside from offering the latest forecast for the chance of rain/snow, temperature and wind, the app also provides detailed data about dewpoint, wind chill, air pollution, and air pressure.
"WeatherRadar" comes with a highly interactive weather radar that allows you to track real-time meteorological conditions. Besides, you can also trust this app to deliver timely weather alerts. However, what I has grabbed my attention the most in this app is the well-timed climate news. The expert analysis and helpful videos help you get a better perspective about the weather and what you should do to avoid being caught in severe weather conditions. Taking everything into account, WeatherRadar deserves to be rated as one of the best alternatives to AccuWeather.
| Pros | Cons |
| --- | --- |
| Precise local forecasts | Live Doppler Radar |
| Wind radar | |
| Local air quality forecasts | |
| Weather news | |
| High-resolution satellite | |
Install: (free, $0.99/month)
10. The Weather Network
Last but not least, The Weather Network has got all the bases covered to be a notable substitute for AccuWeather. Though The Weather Network can't take on AccuWeather in terms of feature-set, it's more than capable to provide accurate and detailed weather trends. With short-term (35 hours), long-term (14-day), and hourly forecasts, the app makes sure you remain informed about upcoming weather conditions and plan events wisely.
Furthermore, The Weather Network features high-quality satellite and weather radar maps to let you watch the weather system. Plus, it also provides essential weather news and related videos so that you can get expert views about weather conditions. As it is available for Apple Watch as well, you can keep an eye on the latest weather right from your wrist. Just like AccuWeather, The Weather Network is also available for free and offers the premium version at a competitive price ($2.79/year).
| Pros | Cons |
| --- | --- |
| Multiple map layers | Old-fashioned user interface |
| High-quality satellite and weather radar maps | |
| Weather news and videos | |
| Offers Apple Watch app | |
| Offers Siri Shortcut | |
Install: (free, premium version is available for $2.79/year)
11. 1Weather
Another feature-packed alternative to AccuWeather that you can check out is 1Weather. The app brings live weather forecasts and alerts, as well as a health center that you can use to monitor air quality — especially useful in places with high levels of air pollution. 1Weather also brings 24 hour forecast so you can stay prepared for the day, as well as hyperlocal severe weather warnings. All this is available in the free, ad-supported version of the app.
Pay $1.99 to unlock the premium version which has no ads, and you'll also get some advanced features. The app brings minute-by-minute forecasts with temperature and precipitation information, hourly forecasts up to 48 hours, and daily forecasts for 10-days. Plus, there's an AQI card to check air quality at a glance. 1Weather also has a neat UI, along with support for dark mode.
| Pros | Cons |
| --- | --- |
| Minute by minute forecasts | Ads can be annoying |
| Hyperlocal weather alerts | UI, while good, is not among the best |
| AQI card | |
| 48-hour hourly forecasts | |
Install: (free, premium version available at $1.99)
12. RadarScope
Lastly, for anyone who's looking for an AccuWeather alternative that is focused solely on radar features, RadarScope is a decent app to try. The app brings a ton of radar features, including NEXRAD level 3 and high-resolution radar data. You can use it to track tornados, thunderstorms, floods, special warnings (marine and snow squall), and more.
The app is incredibly powerful, and I would recommend it only for people who are looking for a radar app that can pretty much do it all. Add to that the premium subscriptions which brings features like real-time lightning data along with animations, SPC outlooks, probability contours, as well as azimuthal shear contours along with a host of other features. All that said, do note that the app is not meant for regular weather tracking, but for radar tracking and data.
| Pros | Cons |
| --- | --- |
| Track tornados, floods, marine warnings, and more | Not meant for general weather tracking |
| Real time lightning data and animations | Paid app, which also has subscriptions |
| Radar data updates every 2 to 10 minutes | |
| Powerful radar app for enthusiasts | |
Install: ($9.99, optional premium subscriptions available starting at $9.99)
Top AccuWeather Alternatives for Your iPhone
There you go! So, that concludes our roundup of the best AccuWeather alternatives for iPhone. From the most feature-packed to the highly secure to the easy-to-use weather app, the list has got the variety to let you find an ideal replacement. Hopefully, your long search for a viable substitute has to an end. Would you like to share your feedback about the app that is most likely to be your go-to destination for tracking weather forecasts? And if you think that any weather app (that is missing in this article) deserves a mention in this roundup, make sure to let us know about that as well.
---
Load More