At its iPhone 11 launch event earlier this week, Apple claimed that its A13 Bionic processor, which powers its latest smartphone lineup, significantly outperforms Snapdragon 855 and the Kirin 980, respectively. Now, a Geekbench listing seems to have borne out those claims, showing much faster single-core and multi-core performances than not only those two chips, but also Samsung's Exynos 9825 that powers the Galaxy Note 10 and Note 10+.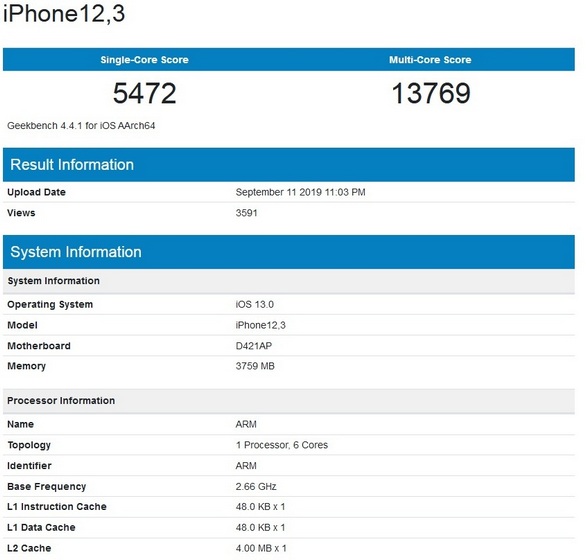 As can be seen in the embedded screenshot, a device listed as iPhone 12,3 (believed to be the iPhone 11 powered by the Apple A13 Bionic) notched up a massive 5,472 points in the single-core benchmark on Geekbench 4 and an equally-impressive 13,769 points in the multi-core test. In comparison, the Black Shark 2's Snapdragon 855+ could only muster a single-core score of 3,623 and a multi-core score of 11,367.
As for Samsung's Exynos 9825, which powers the Galaxy Note 10 and Note 10+ in many international markets, including India, it could only muster a score of 4532 in the single-core tests and 10,431 in the multi-core tests, while the Huawei P30 Pro, with the Kirin 980, scored 3,289 and 9,817 on the single-core and multi-core tests, respectively. While both the Snapdragon 855+ and the Exynos 9825 are definite improvements over their respective predecessors, they continue to trail Apple's chips by a long margin.
Build on the second-generation advanced 7nm process, the A13 Bionic is one of the most advanced mobile processors in the world with 8.5 billion transistors, an ARM-based hexa-core CPU, a custom quad-core GPU and an octa-core neural engine. Not only is the chip significantly faster than its nearest competitors, it is also said to be more power efficient, with Apple claiming that it offers up to 20 percent more efficiency than its predecessor, the A12 Bionic.