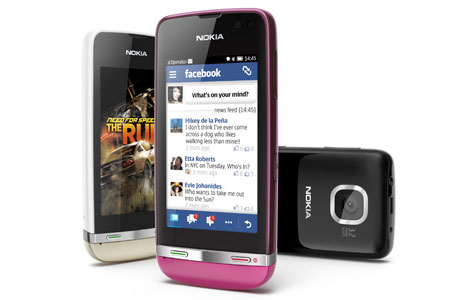 Have you recently bought a new Nokia Asha phone? Looking out for some cool apps and games for your device? Here are some of the best apps and games for the Nokia Asha phones such as Nokia Asha 501.
WhatsApp – Communicate with all your friends with the world's most popular chatting app; WhatsApp. You can send smileys, images, videos either in individual chatting or within a group of friends for free. You can also see when your friends last read your message or when was the last time they were seen online.
LinkedIn – LinkedIn is a featured application for Nokia Asha and is also being advertised. LinkedIn is the best place to create professional connections. You can find new jobs that suit you the best and showcase your profile to recruiters and individuals on LinkedIn. You can also read the latest industry news that is relevant to you.
Yahoo Mail – Are you an avid Yahoo Mail user? Here is your application which lets you sign in, check, manage and send mails with your Yahoo Mail account. It also features push notifications for Nokia Asha phones. You can retrieve and attach files in the mails through this app.
HERE Maps Beta – HERE Maps service is an alternative to Google Maps but is not even a single step behind it in terms of features, speed and accuracy. The HERE Maps service can be extremely useful for Nokia Asha users for locating places, public transport, driving as well as turn by turn walking directions. It has data for 196 countries along with real-time traffic information. There is also information about public transport lines and satellite maps.
TouchRemote: PC Remote – Do you feel lazy to get to your desktop and do small stuff like increase the volume or close a particular window? TouchRemote is an app for you which lets control your Windows PC through your Nokia Asha smartphone. You can control music, videos, presentations, keyboard, mouse and desktop via Wi-Fi, Bluetooth or Internet.
PNR Check – Are you frequent Indian traveller through railways? This is a must have app for frequent Indian travellers. You can check your PNR status right from your Nokia Asha phone without the need of calling the helpline numbers or using the desktop computers to browse through complex websites to find the same information.
CNN – Everyone needs a dose of daily world wide news to be abreast with the latest updates. CNN is one of the world's fastest and most trusted news channels. You can keep an eye on latest updates, insights, sports, entertainment, technology and more.
My Pocket Office: DOCX, PPTX, XLSX – Now you can open all the documents, spreadsheet and presentation files even in your Nokia Asha feature phone with these 3 apps. Turn your feature phone into a smartphone with these important apps.
Parky – This is a parking meter and car locator app which will help you in parking your vehicle. You can remember where have you parked your car as it is integrated with Nokia HERE Maps service. There is also a reminder function to notify you when the meter expires.
Editori PDF – Open and view PDF files even in your feature phone. All the Nokia Asha users can now retrieve PDF files from EMail or web browser and open them using Editori PDF app.
IntelliTools – This app contains a bunch of useful tools built in, such as rules, range finder, seismograph, protractor, plumb line, spirit level and flash light. This app comes in handy when you forget to carry your professional tools with you.
The Weather Channel – The Weather Channel is the most trusted weather information source on the Internet right now. You can view the weather of almost all the locations and towns in the world with Weather Channel. All the Nokia Asha users can get weather information related to their area with The Weather Channel app which is available for free on the OVI Store.
Quick Search – Using this app, you can find relevant information from various sources such as Google, Yahoo, Bing, Wikipedia and many more information databases in the world.
IFSC Code Finder – Ever found difficulty in remembering your Bank's IFSC code or the person's whom you are transferring the money to? This awesome app for Nokia Asha phones lets you find IFSC codes for all the banks in India.
Vintage Camera Effects – If you like to stylise your images and share them with friends, this is an app for you. You can click and apply various vintage camera effects and filters to those images before saving them. This app is available for free on Nokia OVI Store.
Nokia Life Plus – This app is made with young users in mind. It has health and life tips with constant updates.
Package Tracker – This app helps in tracking down and finding information about the package that is going to be delivered to you. Information comes in from trusted delivery brands such as Fedex, DHL, UPS and some more vendors.
Stock Market – Add your stock portfolio related information in this app and be updates
Pocket Lights Free – Abrupt power cut and you can't find emergency lights? Here is an app that can quickly convert your Nokia Asha phone in to a torch light for free using the phone's built in LED or screen.
FIFA 13 – All work and no play? Here's an interesting and immersive game that is a must have for gaming or soccer lovers. This game comes for free from EA which is a popular game developer.
SEE ALSO:
Is Nokia Missing Out On Dual-SIM Smartphone Market?
Image Courtesy: conversations.nokia.com