Over the last few years, DSLRs and mirrorless cameras have advanced by a significant margin, especially in terms of shooting stabilized stills and videos. As far as DSLR cameras are concerned, most of the modern lenses that are available for them today boast Image Stabilization capabilities. When it comes to the current crop of mirrorless cameras, some of them have in-body image stabilization, whereas some others depend on their lenses to bring this feature to the camera. However, these stabilization capabilities offered by the camera and lens manufacturers are pretty limited to say the least. Although there's a noticeable improvement, it's still not good enough to eliminate the minor bumps that occur during significant movement, especially when you're walking while recording. Well, in order to achieve this, you need to make use of high-quality gimbal stabilizer like the Zhiyun Crane ($649) that we have here. So, if you're looking forward to purchase a handheld gimbal for your camera, you might be interested in reading about everything that the Zhiyun Crane has to offer, in our in-depth review:
What's In The Box?
Immediately after you unbox the Zhiyun Crane for the first time, you'll realize that it comes in a rugged carrying case, which is pretty useful while you're travelling, and you don't have to purchase one additionally. Once you open the case, you'll notice all the components neatly arranged in their respective arrays made of a nice padded foam. Now, let's take a look at everything that you get inside the box:
Gimbal Stabilizer x 1
Battery Compartment x 1
Battery Charger x 1
Batteries x 2
Micro USB Cable x 1
Lens Mounting Clamp x 1
Lens Mounting Screws x 2
User Manual x 1
Design and Build Quality
The Zhiyun Crane 3-axis gimbal is designed for mirrorless cameras as well as compact DSLRs, and it has a maximum payload of nearly 1.8 Kgs. So, if you're looking forward to attach one of your long zoom lenses, this is not really the gimbal you should be going for. Excluding the battery, the gimbal unit weighs just 950 grams. That being said, the Crane V2 boasts an advanced slip-ring technology on all the three axes of the gimbal, thereby providing users with unlimited 360° x 3 rotation control and free angle choices for any gripping gestures or camera placements depending on the way you intend to shoot. The Crane features a unique dovetail slot design that allows for balance adjustments with high precision, for faster and convenient mounting.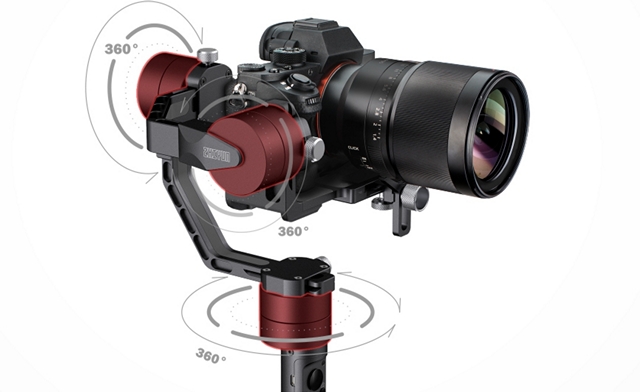 As far as build quality is concerned, we're pretty impressed to say the least. The gimbal looks and feels quite sturdy, and doesn't even feel plasticky like several other expensive gimbals that are currently available on the market today. Thanks to its robustness, you can even use this gimbal in rough conditions, without any worries. In comparison to the DJI Ronin-MX ($999) which demands two-handed operation, the Zhiyun Crane is much more compact, yet elegant and it can pretty much be carried around anywhere, even in the tightest places for the toughest shots. The gimbal has a 3/8-16 screw thread at the bottom that lets you mount it onto any tripod. It even has an integrated universal mount plate, that lets you balance your camera with ease.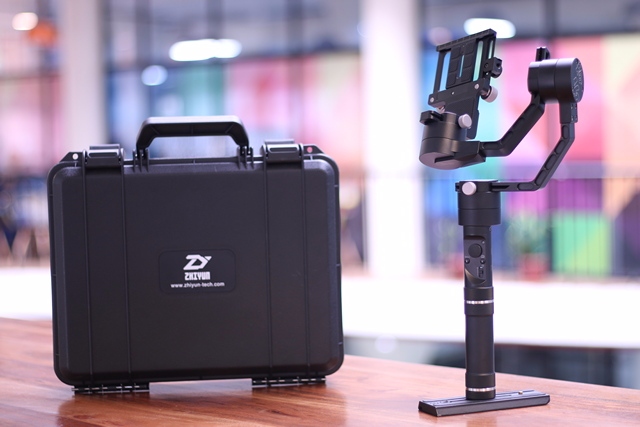 Gimbal Controls
This is the department where you'll immediately notice how the newer Crane V2 differs from the V1. The gimbal now has a large control panel with a four-way joystick for tilting, panning and rotating the gimbal. In addition to this, you have the camera/power button, mode button and the shifter switch, which can be used along with a USB cable that you additionally purchase, in order to zoom in and out. This can also be used to start and stop the recording, and as a result of this, you don't even have to touch the camera. However, if you have a compatible Sony or Panasonic mirrorless camera like the a7S or GH5, you could directly use the Zoom-in or Zoom-out button, without requiring a USB cable. The button configuration is pretty neat and doesn't manage to confuse the beginner who just purchased his/her first gimbal stabilizer.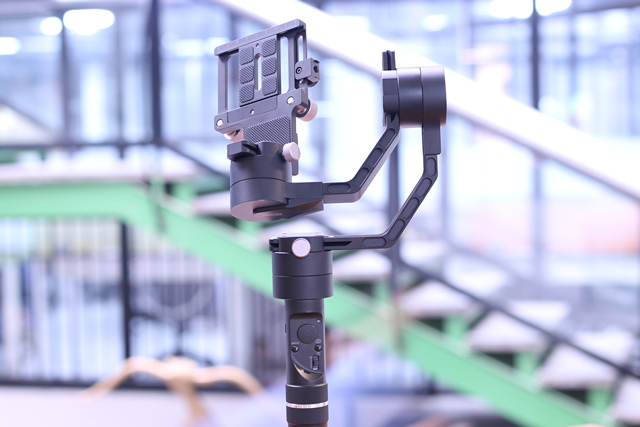 Before you proceed to balance your new gimbal, make sure it's turned off. Well, you shouldn't really turn on the gimbal without balancing, as it might damage the motors. It's actually better if you can remove the batteries, so that it doesn't turn on once you click the power button by accident. Once you've perfectly balanced it, the gimbal should stay at the same place where you moved it. If it doesn't stay in place, it simply means that the gimbal is not perfectly balanced. The base plate section of the gimbal where you normally mount the camera now has a quick-release lever which can be pulled to remove the base plate itself.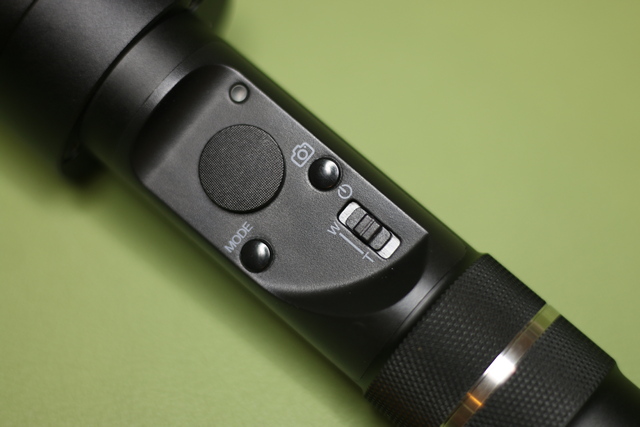 The gimbal offers three modes called Pan-Follow mode, Lock mode & Full mode that can be easily switched with the help of the Mode button that we mentioned earlier. Once the gimbal is turned on, it's already in the Pan-Follow mode. Here, the gimbal will pan once you twist the handle, but it will not tilt without the joystick. By pressing the Mode button once, you'll be taken to the Lock mode, where the Pitch is Locked, as long as you don't adjust with the joystick. Double press the Mode button and you will be taken to the Full Mode, where the gimbal will follow your movements with tilt and pan. Triple click the Mode button, and the camera will rotate 180 degrees for an unofficial selfie mode. Apart from all this, if you want to mount the gimbal on to a tripod, there's also a 3/8-16 screw thread along with a 1/4-20 adapter that you can take full advantage of.
App Controls
Zhiyun Assistant is a smartphone application that's available for both iOS and Android devices. With the help of this app, you'll be able to easily pair your Zhiyun Crane with the help of Bluetooth, thereby letting you completely control the gimbal, without even having to actually touch it. Once you open up the app, you will be taken to the dashbard that showcases your gimbal's battery percentage. Here, you'll be able to calibrate, control and adjust the stabilizer settings. In the stabilizer settings, you will be able to change the Control dead zone, Following rate, Control rate and Degree of smoothness. Each of these settings can be individually adjusted for the Pitch, roll and pan axis of the gimbal. If there's a deviation that happens on the gimbal's 3-axis and horizontal direction, the app will help you reset it once you click on Calibration.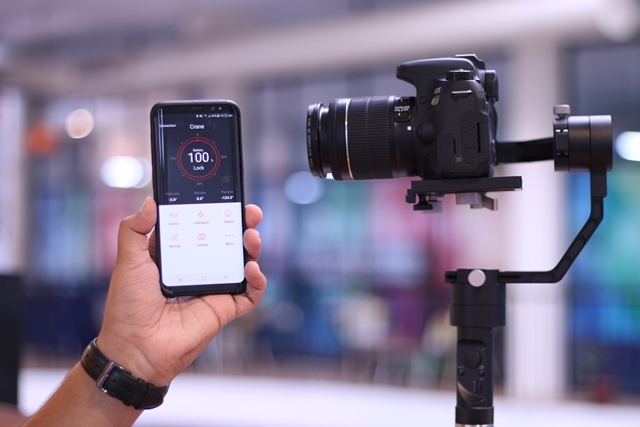 By clicking on Control in the dashboard, you will be given a virtual joystick that lets you control the actual gimbal itself, without having to fiddle around with the physical buttons on the unit. Here, you will be able to switch between all the three modes that the gimbal has to offer, namely Follow, Lock and Full modes. Depending on the mode that you've selected, the Roll axis, Pitch axis and Pan axis can be adjusted to control the gimbal with the help of this virtual joystick. There's also a Restore button, which can be tapped to easily bring the gimbal back to its original position, so there's no worry in this regard. Overall, the app is just decent with a mediocre user-interface and controls that are uncluttered and simple to use, even for beginners. Having said that, the app does feel a bit outdated and people looking for advanced features might be a tad bit disappointed.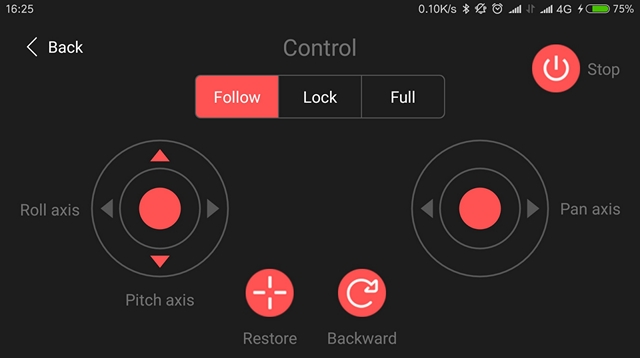 Performance
The Zhiyun Crane packs 32-bit x 3 high-speed MCUs that boasts a processing speed of up to 4000 MHz on its independent built-in Inertial Measurement Unit, so we've no doubts regarding the potential performance levels of this gimbal stabilizer. With the hardware that it packs, Crane manages to create the most impressive shots with its unmatched motion sensitivity and precision control. With the help of Zhiyun's Instune Algorithms and optimized high-torque motion control technology, the Crane is capable of responding to sudden twists in real-time with smooth and precise compensation. That being said, the motors on this gimbal are barely audible while they're hard at work trying to stabilize the video footage, so we've got no complaints in that department.
When it comes to real-world performance, we're glad to say that the Crane V2 does a great job in stabilizing your footage. Whether you're walking, running or travelling in a car while trying to take a shot, the Crane manages to effectively cancel out the wobbles and shakes in the video. The final footage looks as if you're almost gliding through the air, rather than walking. Apart from being able to stabilize your shots, the gimbal can also be used to take some great panning shots that's comparable to the results you get from a tripod. This can be done by twisting your wrists, so that the gimbal head will follow your route. That being said, if you're planning to shoot for a long duration, we highly recommend you to get the double handle kit, as your hands might get tired and the gimbal might feel heavy after over an hour of continuous shooting.
Battery Life
The Crane V2 gimbal stabilizer comes with two Zhiyun 26500 Li-ion batteries rated at 3600 mAh, and since it comes with a charger, you can easily charge them within an hour or more. As per the manufacturer's claims, the batteries on the Zhiyun Crane V2 are good enough to let you operate the unit for approximately 10 to 12 hours. This is noticeably better than the battery life offered by the Crane V1. However, it's worth noting that, depending on your usage, the battery life that you get might vary.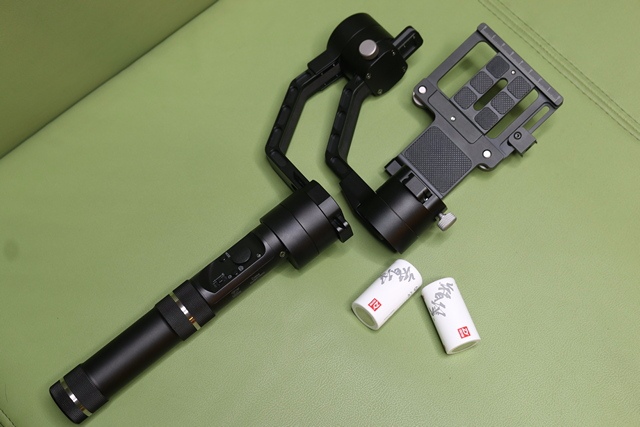 Verdict: Is The Zhiyun Crane Worth The Buy?
Zhiyun has managed to pack in as many features as they possibly could with the Crane V2. Being compact and lighter compared to several other gimbals on the market, the Zhiyun Crane will even be suitable for the hardest shots in the tightest spots. The gimbal is also capable of handling extreme weather conditions, as it's operating temperature ranges from -10°C to 45°C. However, on the downside, it's primarily designed for mirrorless cameras and DSLRs that are usually lightweight and targets the DJI Ronin-M/MX. If you're planning to mount a kit or zoom lens on to your camera and then use it along with the gimbal, you will be easily exceeding the Crane's maximum payload. For that, the DJI Ronin-MX will be a much better option as it's capable of handling up to 4.5 Kg.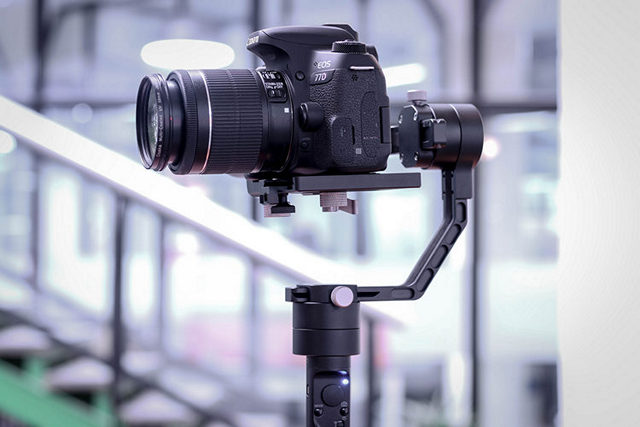 As far as stabilization is concerned, we've no doubts regarding the capabilities of the Zhiyun Crane as it does a great job in smoothing the footage by cancelling all the shakes that occurs as a result of walking and running, thereby giving you a feel that you were gliding while you recorded the shot. If your mirrorless camera or lens already has image stabilization, you can expect slightly better results. That being said, depending on the camera you're using, it might tend to get heavy after long and continuous usage, especially if you're using it single handed. All in all, for a price tag of $649, we consider the Zhiyun Crane V2 to be one of the best value for money gimbals you can currently buy, and a significantly more affordable option compared to DJI's Ronin-M/MX.
Pros
Compact and durable design
Impressive stabilization
Solid battery life
Much more affordable option, compared to DJI Ronin-M/MX
Cons
Maximum payload of 1.8 Kg limits the lenses that can be used along with a DSLR
Not suited for long and continuous single-handed usage
        SEE ALSO: Zhiyun Smooth-Q Review: A Value For Money Gimbal
Planning to Buy The Zhiyun Crane V2 Gimbal?
If you're having a mirrorless camera, the Zhiyun Crane is certainly a great option in terms of the stabilization that this gimbal has to offer. However, if you're planning to use a DSLR, you need to constantly keep in mind that it won't be able to handle the heft of zoom lenses, as you'll be easily crossing its 1.8 Kg maximum payload. Also, if you're looking forward to shoot for long hours, we highly recommend you to get the double handle kit, as the gimbal tends to get heavy for single-handed usage. Well, now that you know the capabilities and limitations of the Zhiyun Crane, are you planning on purchasing it or are you just going to give it a pass? Do let us know by shooting your valuable opinions in the comments section down below.
Buy Zhiyun Crane V2 Gimbal ($649)