Recently, Verizon-acquired Yahoo announced that it would be shutting down its Yahoo News Digest app. If you are among the millions of daily consumers of this prodigy app, then you will no longer be receiving its daily digests from June 30, 2017. Yahoo is killing this app in favour of its Newsroom app, which is more of a news discussion app rather than a news digest app. You can try it out, if you want, but you won't get the same thing as you did with Yahoo News Digest. However, to get a similar experience, you can download some other apps. Here is a list of the top 7 Yahoo News Digest alternatives that you can try:
1. Google Play Newsstand
Google Play Newsstand uses Google's recommendation engine to present you with personalized news suggestions. It boasts a catalog of many popular newspapers and news magazines like The New York Times, The Wall Street Journal, and Wired. Similar to Yahoo News Digest, Google Play Newsstand includes a section for a day's news digest that are separated based on different topics. As you use this service, or any other Google service, with time, you get more tailored news notifications based on your interests. And, if you want, you can even modify these recommendations.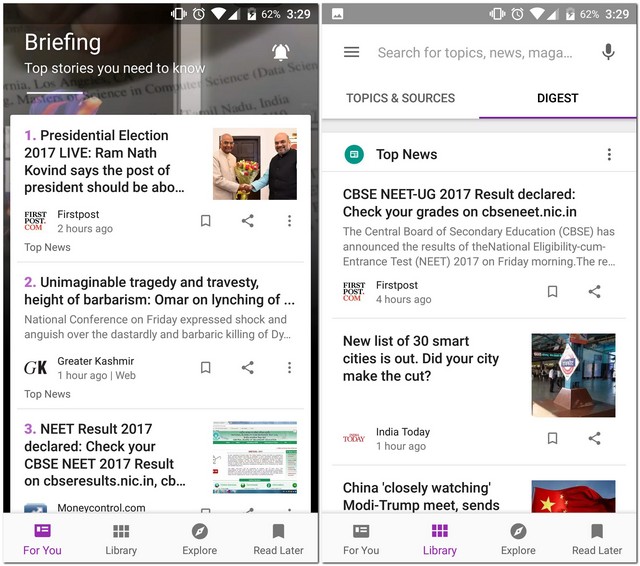 2. Flipboard
Flipboard is one of the most popular news apps out there. Like the name suggests, you can "flip" through different news stories. Using this app, you can choose from over 34,000 topics to help you keep updated on the exact topics that you want. And don't fear this number – it includes all the sub-topics as well.
In 2014, Flipboard introduced a new notification setting known as "Daily Edition" which is something similar to Yahoo News Digest. When this setting is turned on, you receive a notification, every morning at 7 AM, of all the important news of the day. With over 500 million users, this app is totally worth a try.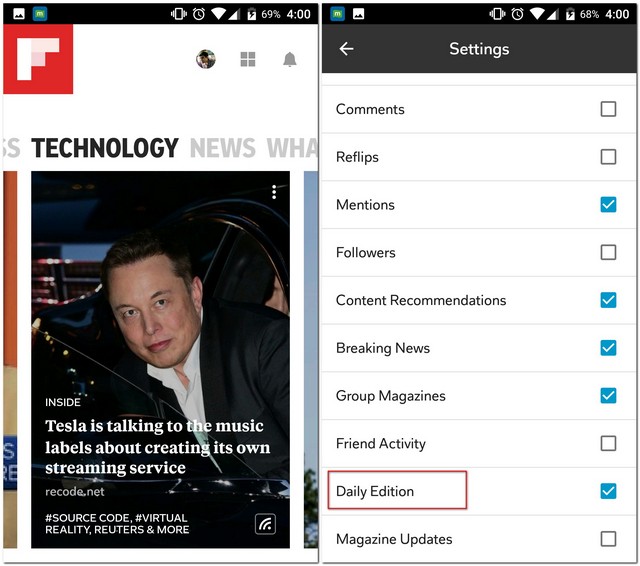 3. SmartNews
Standing by its name, the SmartNews app analyzes millions of topics in a day and gives you the top trending stories from around the world. There are a bunch of categories from which you can choose to receive notifications. Articles in the app come from popular media publishers like NBC News, USA Today, TIME, and TechCrunch. The app is clutter-free and is optimized for mobile reading. Once an article is loaded, you can even read it offline.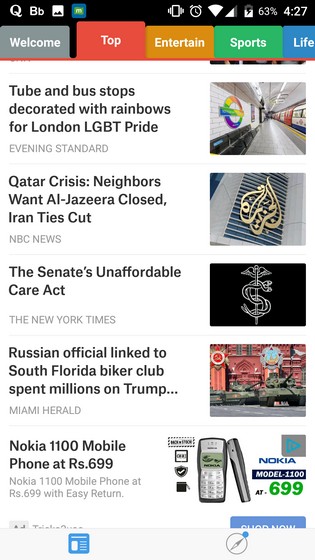 Using the app, you can choose up to 4 different times when you want to receive the notifications. To make it more like Yahoo News Digest, you can turn off two notification times and receive your news digest twice a day.
4. Nuzzel
Nuzzel claims to be the news app for busy professionals. In addition to letting you choose news from different topics, it also lets you subscribe to different newsletters. This is a feature that not many news apps provide. It also comes with an in-app browser, so that you can navigate to different news sites without having to navigate from the app. To make its experience more like Yahoo News Digest, you can choose the number of mobile alerts to a maximum of 2 per day.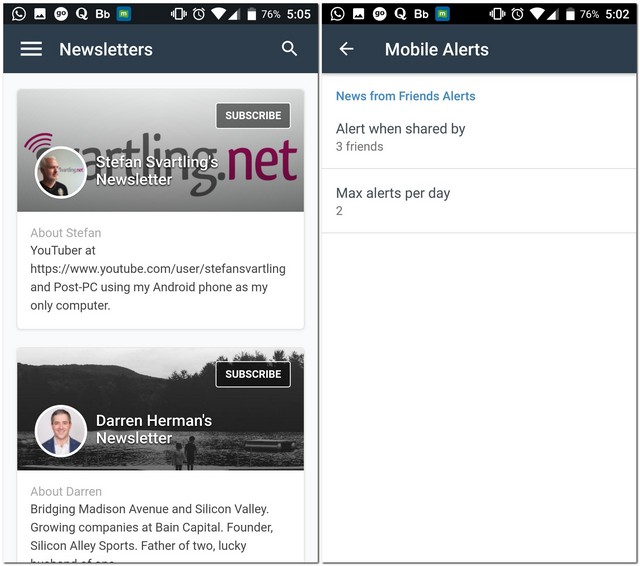 You can even download its Pro version that costs $9.99 per month or $99.99 per year from in-app purchases to enjoy an ad-free experience and some other features like keyword filtering and dark mode.
Install: Android, iOS (free, with in-app purchases for Pro)
5. Feedly
Feedly is a central place for all your news. Using Feedly, you can organize news from publications, blogs, and YouTube channels in one place. Irrespective of the variety of sources, you get your articles in an easily readable format. The best part about using this app is its RSS support. You can add any source you want to read the articles from, and you're good to go.
With its free version, you are limited to 100 feeds, three categories, and sharing on only three media channels. If you want to make the most out of Feedly, you can go for its paid version which starts at $5.41 per month. To know more about its pricing, you can check out Feedly's official pricing page here.
Install: Android, iOS (free with in-app purchases)
6. News360
News360 is a personalized news reader. With more usage, it becomes smarter as to which notifications to push to you. Many newspapers claim it to be one of the better news aggregating apps on any platform.
Though it may not let you control when the notifications are being sent, you can choose to receive notifications on certain topics only. What makes this app special is one of its features that gives you a summary on the top of any article that you may be reading.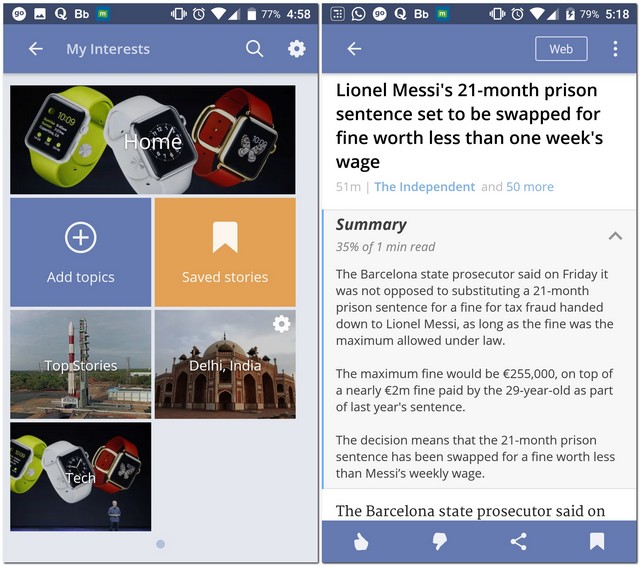 7. Recent News
Recent News offers a variety of options to choose your news from. It improves its suggestions for you, with time. The app comes with the capability of cross-platform synchronization. For example, you can bookmark an article on your phone, and then find it in the bookmarks section of the app on your tablet. You can even export your history and bookmarks.
Though this app does not let you control the push notifications, it does bring you a summary of the article that you are reading to help you decide whether or not you want to read it further.
Install: Android (free)
SEE ALSO: 15 Best News Apps for iPhone and Android to Stay Updated
Stay Updated With These Yahoo News Digest Alternative
Yahoo may be shutting down its most popular app, but that wouldn't stop you from keeping yourself updated on the news happening around the world, would it? Now that you know the best alternatives for Yahoo News Digest, you can download any one of them that suits you the best and keep your worldly knowledge updated.
Are there any other good other apps that you use as an alternative for Yahoo News Digest? Do let me know in the comments section below.