Wondershare has been developing some of the best software and tools to simplify our life and creative endeavors for the past several years. Particularly, Wondershare Filmora has received numerous accolades. It was the recipient of the Video Editing Leader award in the GetApp Category Leaders 2022 rankings. Besides that, Filmora has been the Leader of Video Editing in the G2 Fall 2022 Report for 19 quarters straight, which says something about the features Wondershare offers to creators here. And that's the reason we decided to give the latest Wondershare Filmora 12 release a shot and review the video editor in this article. From its features to new innovations, we have tested all the features for you. So on that note, let's go ahead and learn about Wondershare Filmora 12 in detail.
Wondershare Filmora 12 Review (2022)
In this in-depth Filmora 12 review, we have tested all the essential features as well as the new additions made by Wondershare in the new version of this video editor. Moreover, we have included the hardware requirements, supported input, and output formats, and price plans in this hands-on review, so expand the table below to navigate to the desired section.
Requirements to Run Filmora 12 (Tech Specs)
First up, let's quickly run through the hardware requirements to run Wondershare Filmora on your PC. If you are on Windows, you can run Filmora 12 on Windows 11, 10, 8.1, and 7. As for the processor support, you need at least an Intel i3 processor with a clock speed of 2GHz or more. On the graphics side, you will require an Intel HD Graphics 5000 or later, NVIDIA GeForce GTX 700 or later, or AMD Radeon R5 or later. Add to that at least 2GB VRAM (4GB VRAM for HD and 4K videos). Finally, you must have at least 4GB of RAM, which needs to be bumped up to at least 8GB if you intend to edit HD and 4K videos.
Wondershare Filmora 12 has also shared with us its plans to add dedicated support for NVIDIA GeForce RTX 4000-series GPUs. The new Filmora 12 will support AV1 dual decoders, resulting in 2x faster video exports. So if you manage to get your hands on one of the beefy new RTX 4000-series cards, you can get an impressive bump in export speeds.
For Mac users, Wondershare Filmora 12 can run on macOS Monterey, Big Sur, Catalina, and Mojave. It is also compatible with Apple M-series and Intel processors (Core i5 and above). You will need at least 8GB of RAM for light editing and 16GB RAM if you want to edit Full-HD and 4K videos. You can also use the Filmora app on Android, iOS, and iPadOS to create YouTube Shorts and Instagram Reels on the move.
Wondershare Filmora 12 Input/Output Formats
Filmore 12 supports all the popular and essential input and output formats. Find a complete list of the input and output formats supported by Filmora 12 right here:
| Type | Container formats |
| --- | --- |
| Video Formats | MPEG-1/2 Video file: (.mpg, .mpeg, .m1v, .m2v) |
| | MPEG-4 Video file: (.mp4, .m4v, .3gp, .3g2, .3gp2) |
| | QuickTime Movie File: (.mov encoded with MPEG 4 or MJPEG codec only) |
| | Camcorder File: (.dv, .mod, .tod, .mts, .m2ts, .m2t) |
| | Flash Video: (.flv, .f4v) |
| | Windows Media: (.wmv, .asf) |
| | Audio Visual Interleave (.avi) |
| | Matroska Video File: (.mkv encoded with MPEG 4 or MJPEG codec only) |
| | HTML5 Video File: (.mp4, .webm, .ogv) |
| | Non-encrypted DVD Titles: (.vob, .vro) |
| Audio Formats | .mp3, .m4a, .wav, .wma, .ogg, .flac, .aif, .aiff |
| Photo Formats | .jpg, .png, .bmp, .gif, .tif, .tiff |
| Type | Container formats or Device/SNS profiles |
| --- | --- |
| Format (Common video/ audio) | .mp4, .wmv, .avi, .mov, .f4v, .mkv, .ts, .mpg, .3gp, .webm, .gif, .mp3 |
| Format (4K) | .mp4, .mov, .mkv |
| Devices | iPhone, iPad, Apple TV, iPod, Galaxy S, Android Generic, Nexus,PS4, Xbox one, Wii, Sony TV, Smart phone |
| Social Network | YouTube, Vimeo, TikTok |
| DVD | DVD disc, DVD folder, ISO disc image file |
New Features in Wondershare Filmora 12
Multiple Platform Support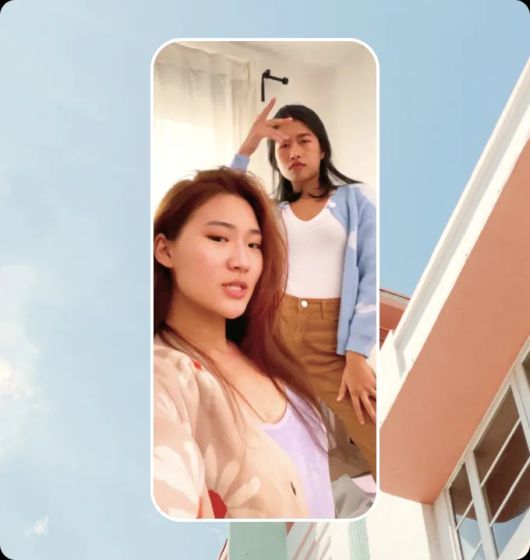 One of the promising new features of Wondershare Filmora 12 is support for multiple platforms. Video creators can edit videos on their desktops and then move to their iPad to access all the projects. You can now add final touches to your videos on an iPad itself. So yes, no matter where you are or which device you are using, you can edit videos with Filmora 12 on the move. You can also transfer video clips using Filmora Workspace cloud service from your smartphone to your desktop for easier accessibility. For your information, Wondershare Filmora is available on Windows, macOS, Android, iOS, and iPadOS.
Video Review and Collaboration
Filmora 12 is making it easier to collaborate with your team of video editors and reviewers. Now, you can securely share your project with other team members using the Filmora Workspace cloud service, and they can add time-coded comments and notes for you to review easily. This is going to make collaboration so much better, and you don't have to manually seek reviews from other team members. If you have multiple people in your video editing team, Wondershare Filmora 12 just elevated the experience for you.
Enhanced Keyframe
Keyframing is a crucial feature for any video editor, and Filmora 12 excels in this department as well. When using Filmora 12, you can easily set the keyframe start and end points to animate a particular scene with cool effects, add filters, and use color correction tools.
With the Enhanced Keyframe feature in Filmora 12, you can elevate your videos to a whole new level. You can also define multiple keyframe points and adjust the controls for that particular scene. Not only animation, but you can customize other video elements like scale, opacity, location, etc. as well.
Adjustment Layer
Adjustment Layer has been one of the most sought-after features on Filmora, and Wondershare has finally released it with Filmora 12. On Filmora 12, you can add an adjustment layer and apply changes to the adjustment layer, and it will reflect across the whole video. For example, you can apply color correction to the adjustment layer and change the brightness, tint, and color hues.
It's particularly impressive because you can even create keyframe points on the adjustment layer, add effects, and do whatever you want to apply changes to the whole video. Basically, with the adjustment layer, you will have the flexibility to make non-destructive changes to the footage without permanently altering the pixels in the original scene.
AI Audio Stretch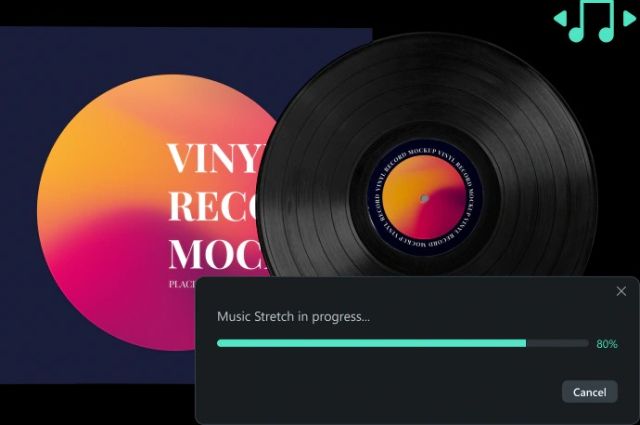 Wondershare has been adding AI-based smart features to its video editor, but Filmora 12 brings an incredibly handy feature called Audio Stretch. There are times when the video has a longer duration but your soundtrack is shorter. In that case, you have to copy and paste the audio and then merge the clips. Instead of doing that, you can simply stretch the audio from the timeline, and it will instantly increase the duration of the audio. How cool is that? It smartly creates a loop of the audio without any errors, and it sounded seamless in my testing.
AI Audio Denoise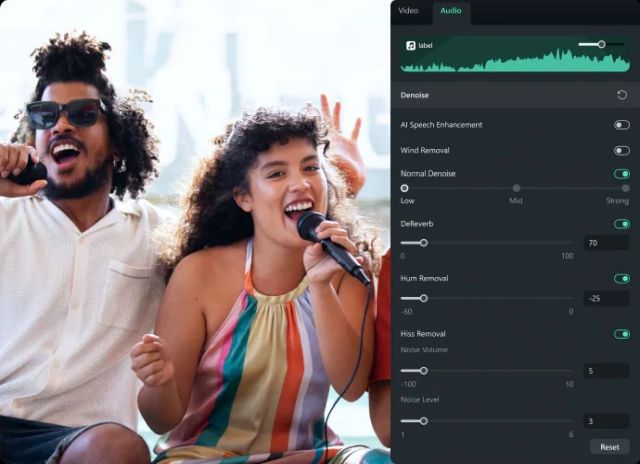 Filmora 12 also introduces Audio Denoise, which is an AI-powered feature. It significantly reduces the noise from the background and gives you a clear audio stream. It delivers much better hiss noise reduction, which is primarily found in recordings. And it also brings down the reverberation from audio clips. So if you want to instantly remove noise from video clips, there is no need to use a third-party service or software. Filmora 12's AI-powered Audio Denoise tool does a better job at noise reduction.
AI Smart Cutout
This is one of my favorite Filmora 12 features. The AI Smart Cutout allows you to quickly remove background, people, and objects from the scene using AI, much like Apple's new photo cutout feature in iOS 16.
To use this feature, select the video, move to AI Tools, and enable Smart Cutout. Now, choose the target object using the smart brush and it will instantly isolate the subject using AI. It works great without any hassle. I tested the feature on Filmora 12, and it worked flawlessly well. So you don't have to use the green screen and Chroma Key to remove the background manually.
Draw Mask
Draw Mask is another new feature on Filmora 12 that lets you create free-form shapes using the pen tool. You can use it to draw and freely follow the path along straight lines or through curves and it intelligently creates a cutout of the object. You can also adjust the Blur strength and opacity around the object to make it look natural.
Other New Features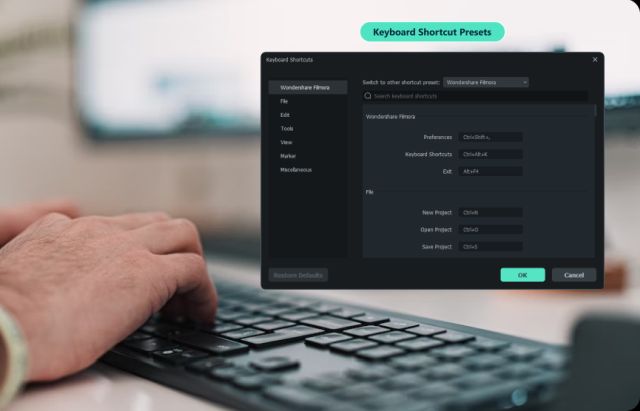 Other than these new features, Wondershare Filmora 12 also brings the ability to create 3D tiles using preset templates. Next, Wondershare has provided over 100 new royalty-free background music in its video editor tool, which is awesome. And if you are someone moving from other video editors to Filmora 12, you can use keyboard shortcut presets for programs like Premiere Pro or Final Cut Pro and use it in Filmora without any issues. That's a helpful feature, right? You can check out all the newest features that debut in Wondershare Filmora 12 in the video attached below:
Key Features of Wondershare Filmora 12
Note: If you have been using Wondershare Filmora, you would be familiar with these features. However, if you are someone new and planning to move to Filmora 12, you can find all the key video editing features available in Filmora 12 and its earlier versions.
Intuitive UI
Wondershare's Filmora video editor has always been known for having a simple and intuitive interface. In fact, the uncluttered UI has been this video editor's main USP, and that's why new video creators and professionals alike prefer to use Filmora. Filmora 11 had a classic easy-to-use user interface, but Wondershare has introduced some minor tweaks to Filmora 12 to make the flow even better. You can, by the way, move to the old classic layout if you want on Filmora 12.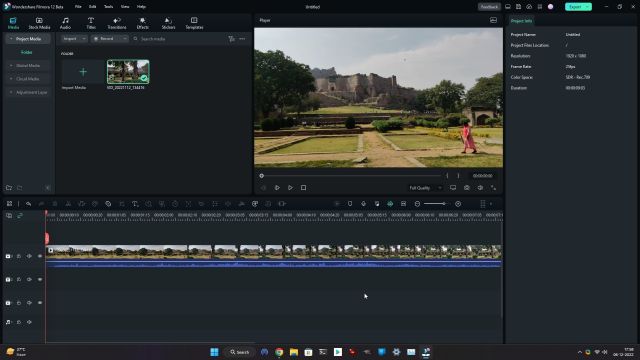 As for the video editing experience, you can drag and drop videos on the timeline and get started with the process instantly. It has multiple timeline support with a preview window always available to view the changes immediately. And if you have a dual-monitor setup, well, you can change the layout to Dual mode. On one window, you will have all the controls and the preview on the other.
If you are someone who doesn't want to manually edit your videos, Filmora 12 also offers an "Instant Mode" where you can select a template of your choice and generate a good-looking video within seconds. From vlogs or presentations to photo memory slides, Filmora has more than a hundred templates. Finally, you have the "Elements" panel neatly laid out on top, allowing you access to your local media, Stock footage, audio library, titles, scores of transitions, effects, stickers, templates, and split-screen mode.
Basically, Filmora 12 has a clean user interface, and even a beginner can start editing videos using this software in no time. And if you are a professional like a marketer, vlogger, filmmaker, or influencer, Wondershare offers you the flexibility to make the layout appealing to your needs.
Editing Tools
Filmora 12 includes a variety of editing tools that allow you to trim, split, crop, and resize videos with ease. You can also rotate, adjust the opacity, drop a shadow, and most importantly, add keyframe points to apply effects to jazz up your video. The best part is that you can right-click on the video clip and separate the audio instantly. Further, I particularly loved the fact that it's easy to split the screen and add multiple videos in one frame. With Split Screen mode, you can make video collages in more than 30 ways.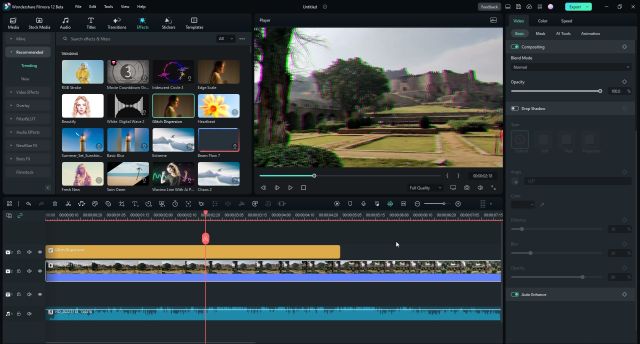 I imported a 1080p 60FPS video to Filmora 12 and managed to quickly trim the video, add a new soundtrack, add keyframe points to apply trending effects, and render the video within minutes. There is also an option to adjust the speed of the video and stabilize the footage in case you captured a shaky shot. You can also choose to make the video slow, or fast, or even reverse it from the timeline. As far as necessary video editing tools are concerned, Filmora 12 is packed with not only the essentials but also brings new innovative features that you will not find in other video editing apps.
Mask and Blend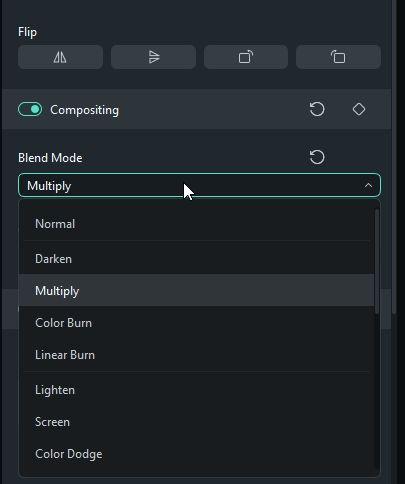 Filmora 12 comes with an incredible Mask and Blend feature that lets you mix multiple video clips to create a unique blend. Using overlay, soft light, linear dodge, and other blending techniques, you can easily reveal a part of the video and hide the rest of the scene. You can also choose the shape and size of the layer and adjust the opacity. You have up to 18 blending modes, and you need to select one of them to output a stylish and magical scene. Speaking of other video editing software, you might need to spend hours manually blending two scenes, but it's merely a click away with Filmora 12. And it works flawlessly.
Motion Tracking
Motion Tracking is one of the advanced features of Wondershare Filmora 12. Professionals like to use this feature to match the movement of an object or a person with another element in the video. You can simply add the video clip and select Motion Tracking. You can choose the particular part where the movement starts, and the software will automatically analyze the whole video for movement.
Next, select the target, following which you can select an element like a text box, sticker, emoji, AR object, or anything you want to track along with that target. Essentially, it will follow the object's movement and sync with impeccable accuracy. So if you are looking for an advanced feature like Motion Tracking, Wondershare Filmora 12 has you covered.
Text and Titles
Filmora 12 also comes with a massive selection of Titles to make your video stand out from the crowd. It has a trending section, where you can find all the cool and new fonts and title options. You can add plain text, opening titles, auto-generated subtitles, WordArt, custom Subscribe buttons (if you are a Youtuber), End Credits, and much more.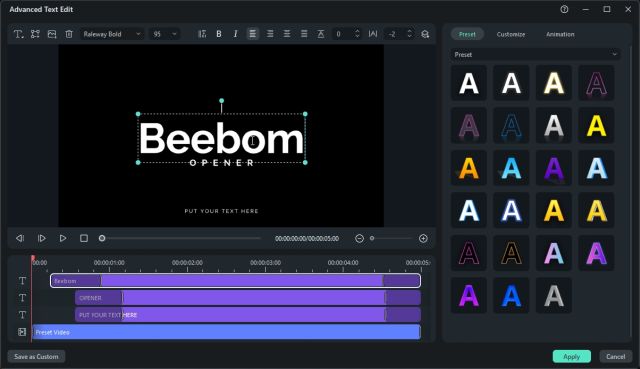 There are also a few Film Titles that I liked and used to make an intro sequence for Beebom videos. If you are a filmmaker, you are going to love the variety available in Filmora 12. Not to mention, if you subscribe to Wondershare Filmstock, you will get access to a huge library of titles from its store.
Transitions and Effects
Furthermore, Wondershare Filmora is particularly good for adding transitions and effects. You get an impressive library of transitions with options ranging from Fade, Warp Zoom, and Beam Transition to Flash, cinematic effects, and more. And now that the FIFA 2022 World Cup is underway, Wondershare has added a selection of World Cup-themed transitions to Filmora 12, which is pretty awesome. Other than that, you have standard transitions like Speed Blur, Glitch, Dissolve, et al.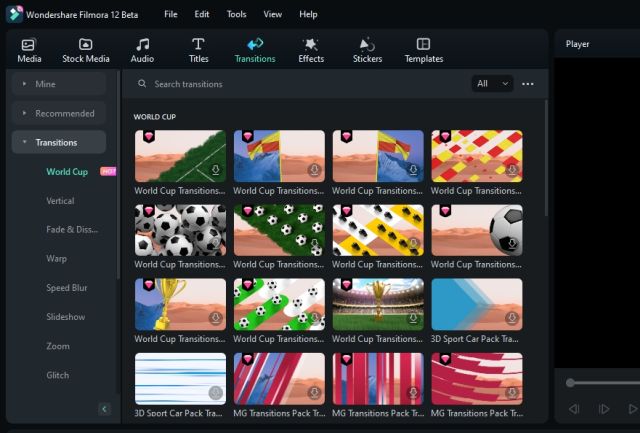 As for the Effects, Filmora 12 packs in a vast number of video effects, which will surely make your videos interesting and unique. I quite like the Glitch Dispersion effect that can make the introduction to your videos look cool. Besides that, you also have cinematic filters, black-and-white effects, frames, overlays, Damaged Film effects, and more.
Also, the list of options doesn't end there. You can even add a Bokeh Blur and AI portrait effect to videos. All in all, Filmora 12 does not disappoint in terms of transitions and effects. Beyond the built-in library, you can get more effects from Filmstock as well, but you have to pay to access it (pricing is attached below).
Audio Features & Sound Effects
Moving to the audio features available in Wondershare Filmora 12, well, you can easily detach audio from videos and add a soundtrack of your choice. For that, Wondershare offers a huge library of music and sound effects. You can choose the music based on your video theme and search for any kind of audio you want. Be it for intros, vlogging, background music, ambient sound, or travel videos, you'll find music and sound effects for almost all categories. And needless to say, you can find more music from Wondershare's Filmstock store if you have subscribed to it.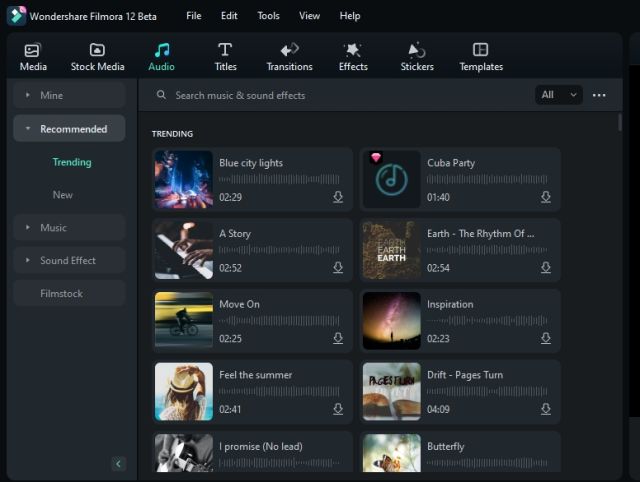 Other than that, you have an Auto Beat Sync feature to match the video with the high beat of the music automatically. Filmora 12's Auto Sync feature also works great and syncs your audio and video from different sources effortlessly. And to save time, you can quickly remove the silent sections of the video with a click. It's all effortless with this video editor.
Not to mention, you can reduce the noise completely from audio files. Finally, Wondershare Filmora can convert your text to speech and create subtitles from speech to text using advanced AI. There is also a new smart feature called Audio Stretch, which I have covered in the advanced features section below.
Chroma Key (Green Screen)
For any advanced video editor, support for Chroma Key (Green screen) is a must, and Filmora 12 comes with the feature built-in. If you record video clips with a green background, Filmora lets you remove the background with a click. You can change the background to anything you want. You can add several effects and create a distinct look for social media using this feature.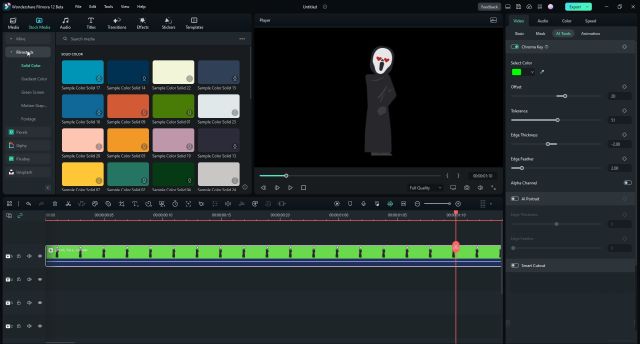 Although now that Filmora 12 brings AI Smart Cutout (more on this below), you will not have to use a green background for isolating the subject. Nevertheless, for a precise cutout of an object, green screen, and Chroma Key functionality are still recommended.
Color Grading
Do you want to make your videos look cinematic? Well, Filmora 12 comes with an advanced color-tuning tool to make the scene creative and dramatic. You can select the clip and adjust the temperature, tint, lights, vignette, 3D Luts, etc. It also has several presets from popular films and shows like Batman, Game of Thrones, House of Card, Gravity, and more.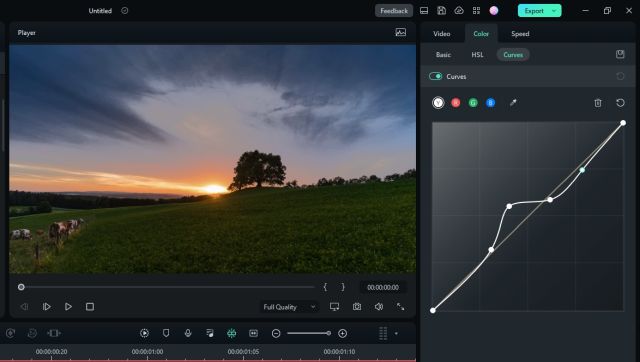 With the advanced color histogram, you can change the color state of the video and highlight colors in a particular part of the scene. With RGB tuning and white balance controls, you can fine-tune and color-correct the scene according to your own preference. You can also increase the brightness and exposure, highlights, and match the color to a reference frame. In tandem, Filmora 12 also brings a long list of advanced color-correction features along with its video editing tools.
Plug-in Support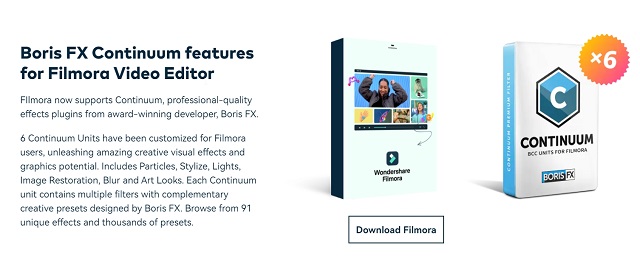 Filmora 12 also supports third-party plugins from award-winning developers. Currently, it supports Boris FX and NewBlue FX plugins. The plugins come with a variety of high-quality presets that can instantly improve the look of your footage. Boris FX effects such as Particles, Stylize, Lights, Image Restoration, Blur, and Art Looks are popular. So depending on the content, you can apply these presets to generate a unique look instantly. The NewBlue FX plugin comes with over 100 effects and more than 500 custom title presets.
Free Stock Media
One of the best things about Wondershare Filmora 12 is that you get access to free stock media from popular sources, including Pexels, Pixabay, Unsplash, and GIPHY. Within Filmora 12, you can download high-resolution stock media and import it to your project. That's awesome, right? And if you want access to more assets, you can subscribe to Wondershare's Filmstock, where you can find stock videos, images, music, and more.
Wondershare Filmora 12: Performance and Usage
I tested Filmora 12 on my Windows 11 PC running on a 10th-Gen Intel i3 processor with 8GB of RAM and 240GB of NVMe SSD storage. It has an entry-level Nvidia GeForce GT 730 graphics card with 2GB of VRAM. While rendering a 1-minute 4K video in MP4 format (30FPS, 8000kbps bitrate) with a soundtrack and an effect thrown in, it took 7 minutes and 30 seconds to export the video. And that's pretty decent when you take into account that I'm not using the most powerful computer.
As for a 3-minute 1080p video rendered in 30FPS with a bitrate of 8000kbps, Filmora 12 exported the video in HEVC format (Extension required) in around 6 minutes. During the process, Filmora was consuming about 70% of the CPU, 50% of the GPU, and 3GB of RAM (out of 8GB). Despite rendering the video on a budget PC, Filmora 12 did a fantastic job. If you have a mid to high-end computer, it will render the videos even faster and output your footage within a couple of minutes.
Wondershare Filmora 12: Pros and Cons
Now that we have learned about the features, let's go ahead and check out the pros and cons of Wondershare Filmora 12. This would help you make a decision whether Filmora 12 is worth your money or not. And if you ask me, it definitely is. That's because of two reasons. One, the software includes all the essential tools and features that one might require in a video editor. Second, Filmora 12 doesn't shy away from catering to beginner video editors, who don't want to get tangled in a web of knobs, curves, and shortcuts. You can easily edit your YouTube videos here and grow your channel.
| Pros | Cons |
| --- | --- |
| Easy to use; low learning curve | Can't use Filmora on mobile with a desktop subscription |
| Instant Mode to create videos using templates | Plugin support is limited |
| Offers both basic and advanced editing tools | |
| Supports advanced features like Motion Tracking, Chroma Key, Keyframing, Adjustment Layer | |
| Huge library of effects, transitions, music, and titles | |
| Advanced color grading | |
| Royalty-free photos, videos, and music | |
| Remove background from videos with AI Smart Cutout | |
| Supports AI-powered features like Audio Strech and Audio Denoise | |
| Quick rendering time, easy on resources | |
| Stable performance, no crashes | |
| Supports all popular input and output formats | |
Wondershare Filmora 12: Plans and Pricing
Now, for those wondering how much does Wonderhare Filmora 12 cost? Well, surprisingly, Filmora 12's Perpetual plan costs as much as the Annual plan with Filmstock bundled. So I would recommend users to opt for the lifetime Perpetual plan that costs just $28.99 and brings both Filmora 12 and Filmstock access. We have included all the subscription plans and prices right here, so have a look to find the one that suits your needs:
Subscription Plans
Prices
Annual Plan
$49.99 for Wondershare Filmora
$28.99 for Filmora + Filmstock
Cross-Platform Plan
$69.99 for Wondershare Filmora
$28.99 for Filmora + Filmstock
Perpetual Plan
$79.99 for Wondershare Filmora
$28.99 for Filmora + Filmstock
Buy Wondershare Filmora 12 to Start Your Video Editing Journey
That rounds up our review of the latest Wondershare Filmora 12 release, which brings the most essential as well as several new features for video editors. Having used the video editor for nearly a week, I can say that beginners will feel at ease using Filmora 12. It's easy to use, and there is almost no learning curve. You can start editing videos right away with its simple tools and smart features. From new video creators to influencers, vloggers, professional marketers, and filmmakers, Wondershare Filmora 12 comprises all the tools you might need. So if you are interested in Filmora 12, you can buy this excellent video editing software from the link below.
Check Out Wondershare Filmora 12
---
Load More