In Windows 8 & 8.1, we had to face that fancy start screen with big square icons, not to mention the unnecessary charms bar,  the confusing 'PC Setting' and its counterpart, 'The Mighty Control Panel'. We still do not get the idea of having different kinds of PC settings, but bad luck – we were desktop users and we had to suffer all these!
However, for Tablet PCs, Hybrid PCs and convertible laptops windows 8 and 8.1 brought a tremendous improvement in User Interface as the UI put its focus on touchscreen-friendly layout and design. Anyway, it seems that Microsoft has sought to understand its own mistake and Windows 10 is going to win your heart now. In this post, we would like to have a detailed look on Windows 10, exploring how it is going to erase all those bad impressions Windows 8 & 8.1 made.
Windows 10 Technical Preview Download Links
If you have not got your hands on Windows 10, here are the official download  links to Windows 10 technical preview. Of course, you can get the Technical Preview without paying anything, and the happy news has it that you can get Windows 10 for free if you own a license of Windows 7, 8 or 8.1.
Windows 10 Technical Preview: Download
Windows 10 Enterprise Technical Preview: Download 
Note:  Technical Preview means OS that is still under development and it may contain several bugs. It is advisable not to install these technical preview OS in your present workstation and doing so might harm your files and other data. On the other hand, you can use a spare workstation to get your hands dirty with the new Window 10 Technical preview. 
Now, it's time for those who have started hating Microsoft Windows to regain love for the OS. Here, we will have a look on some of the striking features of Microsoft Windows 10.
1. Your old pal Start Button is back
Windows 8.1 users will rejoice! They do not have to stick on with default start button in windows 8.1, which actually is not a major improvement, clicking the button will only take you to giant metro start screen. Of course, this absence of an effective start button was very condemned by Windows users when Windows 8 and 8.1 were released.
In windows 10, however, start button is back and you may feel nostalgic, as it brings you back to the superb UI of Windows 7. It's a great feature, and you should try that out.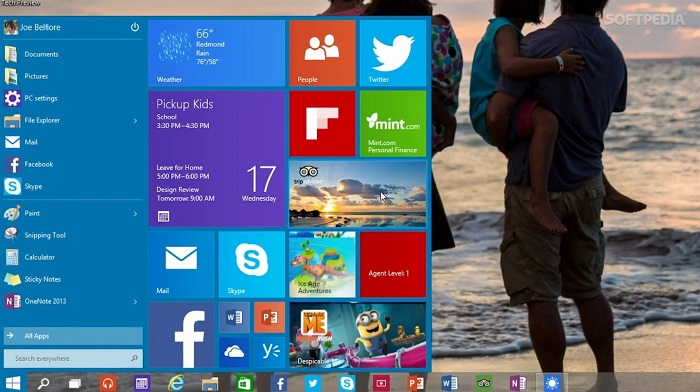 2. A new web browser and CORTANA
Yes, you heard that right. Internet explorer – the browser you would love to hate – is going to have a new lease of life and a huge transformation to new and powerful and fast browser under the codename Project Spartan. Time is to tell, whether we'd love to hate it or love it.
Cortana is coming to windows 10. Cortana is by far the most intelligent personal assistant when compared with its competitors such as Siri, S-Voice and Google Now. We too have used cortana and we were impressed. Now, the best thing is Cortana will not only be your personal assistant, It will act as full fledged desktop assistant and will help you every time you stumble upon something.
It will learn all the desktop related functions like browsing, opening a file, closing a window, copy, paste and all the activities that one can do in windows. You should try this awesome feature in the technical preview.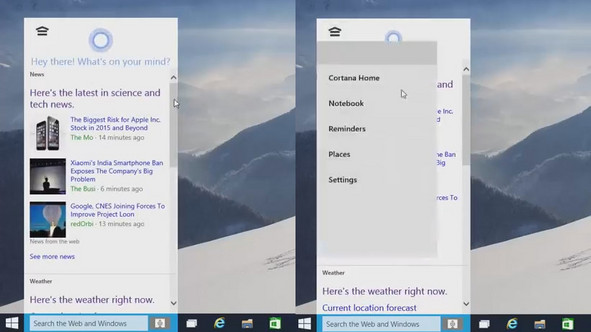 3. Multiple Desktops
Have you ever used Mac Os X? Then you have noticed the multiple desktop features there. Even Ubuntu Linux, Fedora, Red Hat Enterprise Linux will switch between work-spaces when you hit Ctrl+ Alt + (Any Arrow Key)! It's not your regular alt+tab in windows, it is more powerful and will provide you a clean desktop to work with, keeping your old data, opened apps, software in another works pace. It's cool and productive at the same time.
Windows 10 brings multiple desktop feature! Or, in other words, it can be called an alternative of "Workspace Switcher" .
You see that black square box with a "+" symbol at the center . Hit that to create a new workspace. It will be like a new clean desktop, and your opened data and apps will be pushed to an old workspace and obviously you can switch back and forth.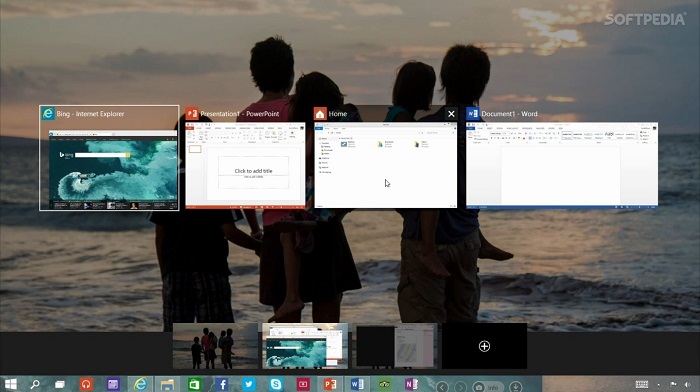 4. Improved Multitasking and Command prompt
Windows 10 will introduce a quadrant layout allowing up to four apps to be snapped on the same screen. The OS will even make smart suggestions to fill available screen space. You'll be able to cycle through open apps using the familiar Alt + Tab shortcut, but there is also a Task View button on the taskbar. Pressing this button will show all open apps, allow you to rearrange them and switch between virtual desktops.
Power users and command line geeks will rejoice, as copy and paste will be enabled in Windows 10's Command Prompt.
5. Windows 10 is a free upgrade for existing Windows OS users
Windows 10 will be FREE for existing Windows 7 and 8/8.1 users for the first year as Microsoft looks to kick-start adoption. Microsoft has also confirmed that Windows 10 users will receive free updates for the lifetime of their device.
Apart from the above mentioned features, you would also find subtle change in administration process and some cosmetic changes in UI (user Interface) here and there.
Conclusion
Windows 10 is going to bring plethora of new features under the hood and users are going to love it. Above mentioned features are the best 5 features we believe to be the most striking ones in the available build of windows 10. You've got to try it to appreciate it or to criticize it!
SEE ALSO: 5 Free WiFi Hotspot Software For Windows
Let me know If we have missed any solid feature of windows 10 through your comments.