WhatsApp introduced the ability to send disappearing messages last year for people to choose the chats they don't want to keep. With an aim to further extend this feature's capabilities, the Meta-owned messaging app now lets you set the disappearing messages option as the default. Not just that, you can even choose multiple durations for this feature, extending up to 90 days.
New WhatsApp Disappearing Message Features Added
With the Default Disappearing Messages feature, all your new chats on WhatsApp will be set to disappearing mode by default. Whenever you chat with a person for the first time, the messages will vanish after a set time. This is applicable for new group chats as well. While creating a new group, you will get an option to switch on the disappearing messages mode.
When the disappearing messages mode is on by default, WhatsApp will display a message on each chat, indicating that the option is chosen as a default setting. It is to clarify that the feature is your choice and not a forced setting by the app.
One thing to note is that this is optional and you can always turn it off. Plus, you can also decide to select the people you want to send disappearing messages to. If you want to keep their chats intact, you can always disable the feature via each chat's settings. To recall, you can enable or disable this feature by heading to any chat of your choice -> tapping on the person's name -> selecting the "Disappearing messages" option.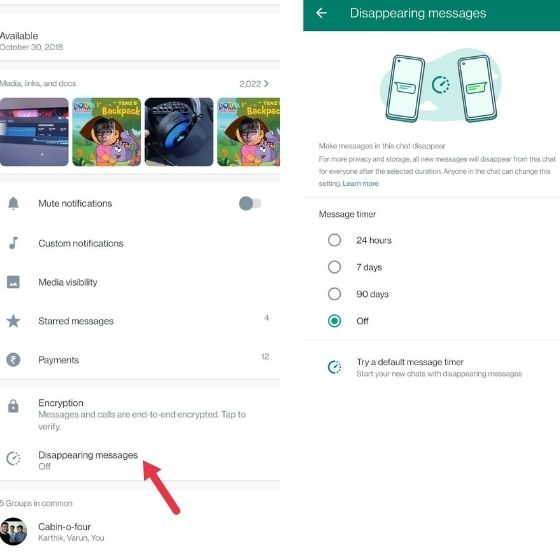 In addition to this, two new duration options for disappearing messages have been added. You can now select the duration of 24 hours and 90 days. That means the messages will disappear either after 24 hours or 90 days, depending upon the choice you make. These two options are in addition to the existing option of 7 days in WhatsApp.
To enable the disappearing messages feature by default, head over to Settings -> Account -> Privacy -> Default message timer and choose your duration.
WhatsApp also highlights a few points you should know of.
It is revealed that this mode isn't for older messages.
If you do not open the disappearing message after the set time duration, it will automatically vanish, although, it might stay in the notification panel if not removed.
Forwarding a disappearing message (if the mode is disabled on your phone), won't delete the WhatsApp message.
If a disappearing message is backed up before it vanishes, the backup will stay.
When a disappearing message is quoted, the quote will also stay within the chat.
The new features have now started rolling out to Android users, but there's a ton of privacy limitations, as you can see above. We couldn't get hold of the features on iOS but maybe because they will eventually reach all users. Do you have access to the new WhatsApp features? Let us know your experience in the comments below.