WhatsApp is undoubtedly the world's most common instant messaging app. While the app offers a great user interface and some amazing features, there are certain flaws in its UI. One of the most prominent flaws that users have faced for a very long time is the way WhatsApp handles voice notes. Currently, WhatsApp requires you to constantly hold down on the mic button until the time you want to send your voice recording. While that's not much of an issue for long voice notes, it certainly does become a bit of a hassle to constantly hold on to the button while sending long voice notes. Thankfully though, WhatsApp is all set to change it.
As reported by WABetaInfo, WhatsApp is working on a new implementation of voice notes recording functionality that will allow you to navigate inside the chat even when you are recording a voice note, without holding down on the mic button. Once you start recording a voice note, after 0.5 seconds, WhatsApp will automatically show you a new UI for the microphone button. You can simply swipe up your finger in order to enable the "lock" for the voice notes. Take a look at the GIF below for better understanding: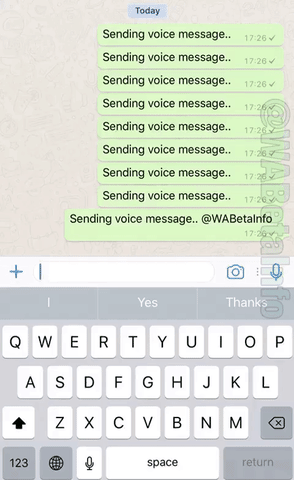 As such, the feature is still under development. While there seem to be certain bugs in the feature, it will be made available to everyone in the future updates when it is finally stable. What do you think of this new UI? Let us know in the comments down below?
---