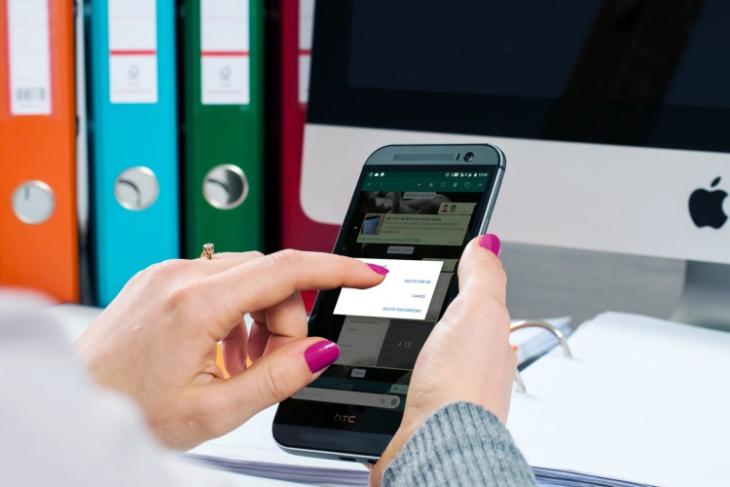 Earlier last year, WhatsApp introduced the much-requested functionality to recall any sent messages called 'Delete for Everyone'. This feature provided you a small 7-minute window to revert back a message you had sent before the recipient can read it. However, it seems like the messaging giant is now extending the recall window.
As revealed by well-known WhatsApp tipster WABetaInfo, WhatsApp is testing a much wider 4096-second recall window for sent messages. Unlike most of his leaks which mostly shed light on upcoming features, the updated time window for the recall feature is now live on the latest Android beta and Windows Phone apps.
Correction: the new limit time isn't 4080 seconds but 4096s.
So 68 minutes and 16 seconds 😛 https://t.co/7r8nWrUwwP

— WABetaInfo (@WABetaInfo) March 2, 2018
This means you'll no longer have to 'go into panic mode' and double-check if the messages have been sent to the correct individual. You now have more than an hour, 68 minutes and 16 seconds to be precise, to recall your wrongly sent messages. The feature is still working in a similar manner, meaning you have to tap the 'Delete for Everyone' button in the top navigation bar.
Note: I'm running WhatsApp beta, version 2.18.71, on my Xiaomi Redmi Note 3 and the recall feature is working perfectly fine. You can see the timestamps on both the message, as well as in the notification bar to confirm the time difference.
Nope, we're not using any known tricks to force WhatsApp into extending the usual seven-minute recall window to the lengthier one, which has made an appearance on the newest beta build on Android devices. This feature, as suggested by WABetaInfo, would be coming to iOS devices over the coming weeks. But, do we honestly need a longer message recall time window?
From what I believe, the seven-minute message recall window is more than enough to be able to realize that you've wrongly sent the message to someone. The 4096-second recall window is an overkill and shouldn't be enforced widely, enabling the people to misuse this feature without any rhyme or reason – just for their benefit. What are your thoughts on it? Tell us in the comments down below.
Update: The extended message recall time is now also available on iOS through the App Store. 
A new WhatsApp for iOS update (2.18.31) is available on AppStore.
It is a bug fixes update, but it has the new "Delete for everyone" limit, that's 1 hour, 8 minutes and 16 seconds.

— WABetaInfo (@WABetaInfo) March 8, 2018