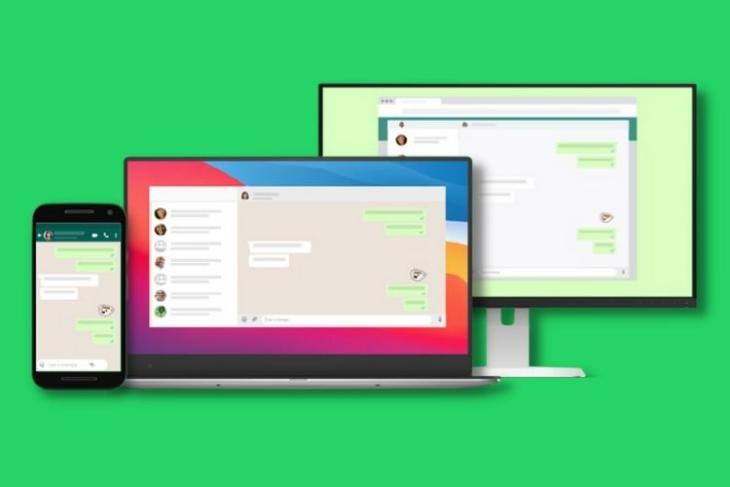 Last year, WhatsApp introduced multi-device support for you to use it on other devices too. This pretty handy functionality is now getting an upgrade as it finally supports up to 4 devices to link to a single WhatsApp account. The best part is that this setup will work even when the primary device is offline.
WhatsApp Multi-Device Supports Gets an Update
WhatsApp, via a recent tweet, has revealed that you will now be able to use WhatsApp on 4 different devices like a laptop, PC, or tablet, apart from your smartphone. And once multiple devices are linked, you can easily maintain the flow of conversations without any hassle.
This will especially be a boon when your phone is out of battery. And if this happens, you will be still able to start from where you left off. The multi-device support will keep the chats synced across devices. And, as is the case with a majority of WhatsApp features, this is also end-to-end encrypted.
One thing worth noting is that your secondary device can't be another smartphone. This functionality is in the works and could launch in the form of a companion mode. But, there's no word on when this will become official.
The ability to link multiple devices to a single WhatsApp number exists under the Settings menu in the form of the Linked Devices option. If you are interested, you can check out our article on how to use multi-device support.
This update comes after WhatsApp introduced the new version of its Windows client. The dedicated Windows app has got performance improvements and now loads much faster. Plus, it can let you have group video calls with up to 8 people and voice calls with up to 32 people.
All of this is just an attempt for you seamlessly use the arguably popular messaging platform on any device and not just your mobile phone! So, what are your thoughts about the new update? Let us know your thoughts in the comments below.