After the launch of the Instagram Threads app, Musk-led Twitter is reeling under the heat. Threads has become the fastest consumer product to garner over 100 million users; in five days. And now, Meta plans to join the Fediverse network to bring interoperability to its platform and further expand its reach. But what is the Fediverse and how does it work? To understand Fediverse in Instagram Threads, read our comprehensive explainer below.
What is the Fediverse?
First, let's learn about Fediverse in detail. The term Fediverse is derived from Federation and Universe. It's built on open-source technology and standards and supports interoperability across social media platforms. The core feature of Fediverse is decentralization.
In the Fediverse network, platforms and individuals can host their own servers and independently manage them. No one is the central authority in Fediverse and server owners can choose what they want to post or share with the Fediverse community.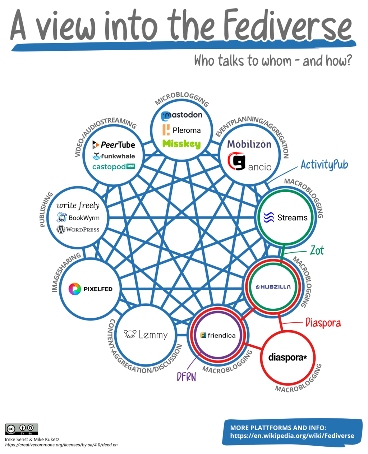 To give you an example, think of the Fediverse as similar to how email operates. A Gmail user can send an email and interact with an Outlook user. They are not bound by a single platform. It's possible because email services rely on interoperable protocols like IMAP, POP, and SMTP. Similarly, in the Fediverse network, the popular protocol is ActivityPub. We have discussed ActivityPub in detail below.
So to sum up, Fediverse aims to bring interoperability and decentralization to social media networks. A user on Instagram Threads will be able to follow and interact with a user on Mastodon, and vice versa. Users on federated social media networks will have identifiers like @username@server.com. So if you have an account on Instagram Threads, your identifier will be @username@threads.net. You can use this identifier to find and interact with users on other servers or platforms Keep in mind, the Threads server is managed by Meta.
What Is the ActivityPub Protocol?
There are multiple communication protocols supported in the Fediverse, including Diaspora, OStatus, and Zot, but ActivityPub is the most popular and widely adopted one. It's supported by most Fediverse servers — Mastodon, Drupal, Friendica, etc. Now, Instagram Threads is planning to join the Fediverse using the ActivityPub protocol.
The ActivityPub protocol offers APIs for both the client and server sides, and it supports creating, updating, and deleting content. The protocol was presented by the W3C (World Wide Web Consortium) in 2018. Now the protocol is being used not just for social media networks, but also for file hosting, CMS, blogging, event aggregator, and more.
How is Instagram Threads Implementing Fediverse?
Meta has announced that it plans to join the Fediverse by implementing the ActivityPub protocol on Instagram Threads. Instagram CEO Adam Mosseri recently said on Threads, "We're committed to building support for ActivityPub, the protocol behind Mastodon, into this app. We weren't able to finish it for launch given a number of complications that come along with a decentralized network, but it's coming."
We don't know when Instagram Threads will join the Fediverse network, but recently Kyle Bradshaw of 9to5Google did an APK teardown of the latest Threads beta app. It revealed that Meta is preparing an explainer on how the Fediverse works in the upcoming Threads update. It seems like Instagram Threads will become a part of the Fediverse soon.
Instagram Threads and Fediverse: Privacy and Security
In terms of privacy and security, Instagram on its Help Center page has mentioned that users on Threads will be able to communicate with different servers that Meta doesn't own or control. You will be able to follow and be followed by people from third-party servers as well. In addition, your content can also be shared with different servers across the Fediverse network.
If you have a private account on Threads, you need to approve the requests before people can see your content. That said, Meta says if you delete a post on Threads, it will be deleted from Threads, but it may not be deleted from other servers that Meta doesn't control; and it makes sense. Although, it will ask other servers to delete the post according to the protocol.
Finally, all your posts on Threads with restricted replies will not be visible on other servers because ActivityPub does not support reply restrictions yet. And support for private account interaction across the Fediverse network will be added later on.
So this is all we know about Meta's implementation of Fediverse using the ActivityPub protocol in Instagram Threads. As more information comes to light, we shall update the explainer for you. In the meantime, have you joined Threads yet? If you have any more doubts about the Fediverse, let us know in the comments below.