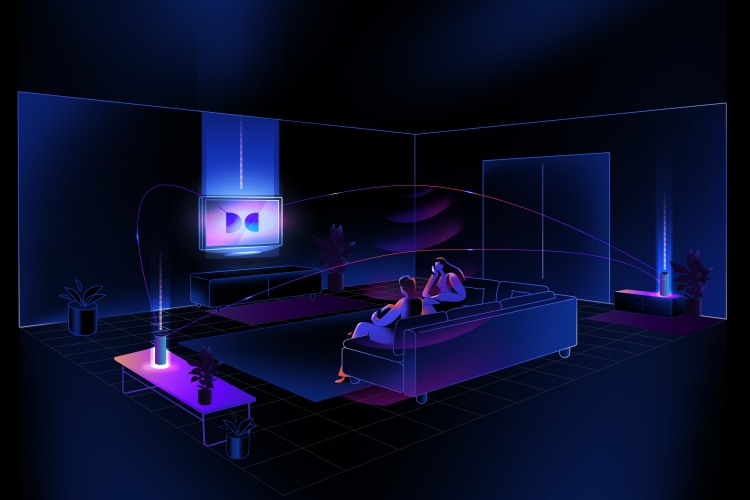 Dolby Laboratories has unveiled its latest innovation in audio technology, known as Dolby Atmos FlexConnect. It delivers even better audio and overall immersion. Let's discuss what this new Dolby Atmos FlexConnect technology is all about. We will also tell you when you can see this new Dolby technology being implemented in TVs.
Dolby Atmos Flexconnect: Extend Your TV Speaker Setup
Dolby Atmos Flexconnect features seamless pairing of the TV's internal sound system with additional wireless speakers, which results in a combined speaker setup with enhanced audio output. The new Dolby technology is able to intelligently optimize the speaker setup for numerous room layouts, to make it perfectly suitable for the viewer.
According to Dolby, their new tech unlocks the freedom to place the speakers wherever needed. Even if your speakers can't located next to the TV for optimal sound, Dolby's Atmos Flexconnect lets you place those speakers and optimize the setup for both small and large rooms. The tech is being powered on future TCL TVs with MediaTek's Pentatonic Smart TV Series chipset.
You might be wondering — why not just connect the speakers directly? Doing that will result in unoptimized audio performance since the TV will assume the speaker's position. Thanks to this new technology, users can now place their speakers conveniently without needing to alter the position of their home furniture.
The tech will calibrate the setup, resulting in a premier Dolby-powered sound experience. It can seamlessly take advantage of your TV's internal speaker and the supporting wireless speakers. It supports dynamic audio balancing and elevates the audio experience even further. Dolby's acoustic mapping utilizes the built-in microphones of your TV to locate the speakers and then calibrate them for your setup.
Dolby Atmos Flexconnect: Which TVs Are Getting It?
TCL's 2024 TV lineup will feature the brand-new Dolby Atmos Flexconnect technology. "With Dolby Atmos FlexConnect, users can unlock incredible immersive sound no matter how they arrange their audio devices. We can't wait to introduce the world to this new tailored sound experience with our upcoming lineup of TVs and accessory wireless speakers," said TCL Europe's Chief Commercial Officer (CCO) Frédéric Langin.
TCL will also launch its own accessory wireless speakers that work with this technology. These can easily pair together with their upcoming 2024 TV lineup to provide the best audio immersion powered by Flexconnect. TCL will tell us more about their collaboration with Dolby at their 2023 Global Flagship Product Launch on August 29. You can watch the event on TCL Electronics YouTube. We will definitely update you when more TV brands support this new Dolby audio technology.
Check out our dedicated explainer on Dolby's Atmos technology if you want to know about how it increases immersion and sound quality. What are your thoughts on the new Dolby Atmos Flexconnect technology? Let us know your thoughts in the comments below.
---