Viber is certainly one of the most feature rich instant messaging apps out there. While it's not as popular as the likes of WhatsApp or Skype, it has a pretty good user base, thanks to its voice and video calling capabilities. The best thing about Viber is that it not only lets you make calls to Viber users but also to people who don't use Viber. However, if you use Viber on Android, the app has been the cause of battery draining issues off late.
Actually, Viber has been intentionally keeping WiFi on, even when you have turned it off in your system settings. When you dig deeper in Viber's Settings on Android, you will find that it has a "WiFi policy" that makes sure to keep WiFi turned ON on your device. Well, you can go ahead and change the sleep policy to use "device's settings" but if the battery issues still persist, here are 7 Viber alternatives to use:
1. Skype
Skype is arguably even better than Viber when it comes to voice & video calling but it's a bit lacking in the messaging department. Microsoft-owned Skype's notable features include group video & voice calls (up to 25 people), voice calling to any mobile or landline (similar to Viber), screen sharing support and file sharing. The pricing for calls is also very similar or even less, for instance, if you are living in the US, calls to India will cost you 1.5 cents/min on Skype whereas on Viber, it costs 2.3 cents/min. Skype also lets you buy monthly subscriptions to call to a certain country.
Also similar to Viber, Skype is available on most mobile platforms (Android, iOS, Windows Phone, BlackBerry), desktop platforms (OS X, Windows, Linux) and other platforms like TVs and gaming consoles.
Install: (Free)
2. Google Hangouts
Hangouts is not really a loved Google offering but it's a viable Viber alternative. Like Viber, Hangouts lets you make calls to any mobile or landline although the rates can be a little higher. Hangouts to Hangouts calls remain free, of course. Hangouts also lets you make group video calls (up to 10 people) as well. Other than that, Hangouts is a decent messaging app that also lets you send SMSes. Like Viber, it also supports stickers, emojis along with support for animated GIF pictures.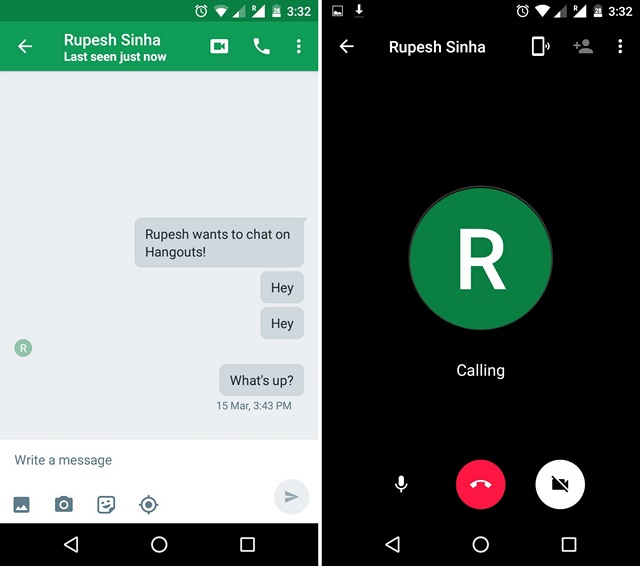 If you are a Google Voice user, Hangouts lets you connect your Voice account to sync your phone number, SMS and voicemail integration. Hangouts is available for Android, iOS and Chrome (as a plugin).
Install: (Free)
3. LINE
LINE Messenger is another Viber alternative that manages to bring a good mix of calling and messaging features. LINE lets you make calls internationally and the call rates range from 1 cent to 3 cents/min. It also includes a monthly plan for people who make a lot of international calls. Unlike Viber, the app lets you make group calls with up to 200 people.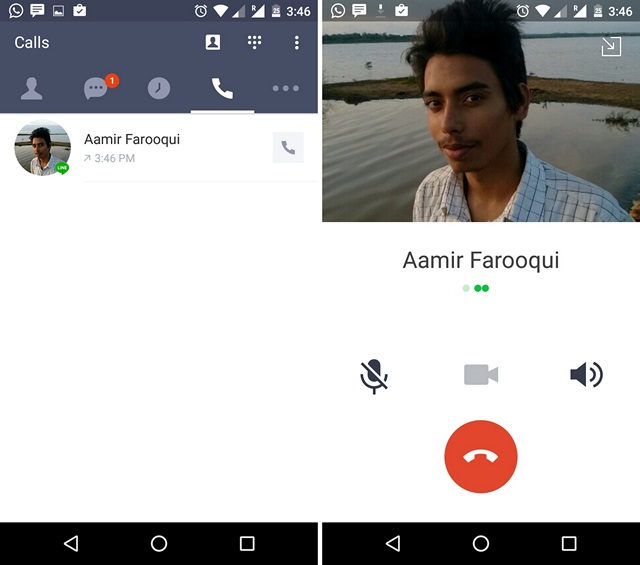 Other than that, LINE includes tons of messaging features like Sticker Shop, file & location sharing, social networking and more. When it comes to platform compatibility, LINE has you covered, as it's available for various mobile platforms (Android, iOS, Windows Phone, BlackBerry, Firefox OS, Nokia Asha), as well as desktop platforms (Windows, OS X, Linux, Chrome OS).
Install: (Free)
4. Facebook Messenger
If you are a Facebook user, you must already be very well acquainted with Facebook Messenger. We certainly love the chat heads on Android but what makes it a Viber alternative, is its voice & video calling features. However, the calling features are pretty limited on Facebook Messenger when compared to Viber, considering it only lets you make calls to Facebook Messenger users. On the messaging front, Facebook Messenger is pretty capable, as it lets you send voice messages, stickers, media, location and more.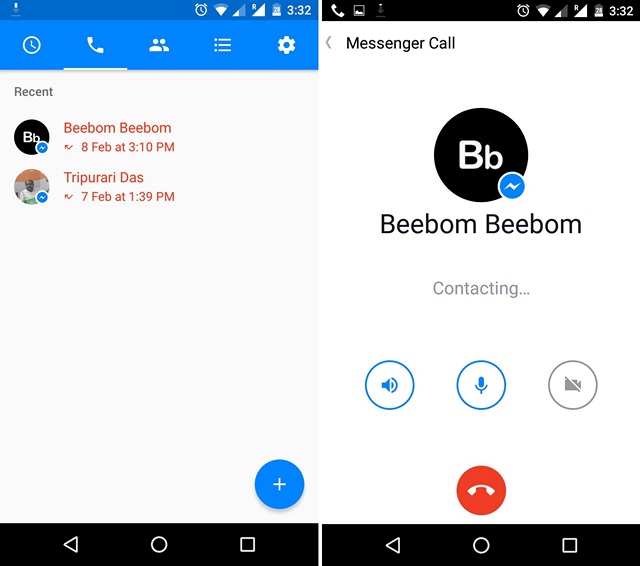 Facebook Messenger is available for the major mobile platforms (Android, iOS, Windows Phone) but there's no dedicated client for desktop and you can only access it on the web.
Install: (Free)
5. WhatsApp
WhatsApp is not necessarily a Viber alternative per se but it's fairly recent calls feature makes it one. Also, there's the advantage of user base, as most people across the globe use WhatsApp, so you can make calls to any WhatsApp user for free. WhatsApp also includes a low data mode for calls, so that you save some of your mobile data bandwidth. It's also arguably the best messaging app out there and it's constantly evolving with features like text formatting, file sharing and more.
WhatsApp too supports most platforms but sadly, there's no desktop client. However, there's WhatsApp Web, if you really want to use it on your PC. Also, it lacks video calling but if you only need calls, WhatsApp should be good alternative to Viber.
Install: (Free)
6. Tango
Tango gained a lot of followers back in the day for its voice & video calling features and that's what makes it a great Viber alternative. It also makes video calling fun, as you can play games, share stickers, add filers, all while you are on a video call. The app also packs in some other unique features like public chat groups, stickers, video messages and more. However, it can't match up to Viber when it comes to platform compatibility, as it's only available for Android and iOS devices.
Install: (Free)
7. Signal Private Messenger
Signal Private Messenger is one of the most secure IM apps available today and it not only encrypts messages but it also encrypts calls. So, if you are looking for a more secure Viber alternative, this is the one for you. Signal also makes sure that it works fast enough even when you are in a poor network environment, which is a big plus for people living in developing countries. Other than that, Signal Private Messenger packs in the usual messaging features like media sharing, group chats etc. Sadly, Signal is only available for iOS and Android devices.
Install: (Free)
SEE ALSO: 10 Best VoIP Apps You Should Use
Try these Viber alternatives to make your calls
Viber is surely a messaging app but people have always used it for their calling needs. So, keeping that in mind, these are definitely the best alternatives out there. So, if you are done with Viber on Android, go ahead and give these alternatives a shot and let us know what you feel. Sound off in the comments section below.
---
Load More