Canonical recently released Ubuntu 23.04 "Lunar Lobster," the latest version of the popular, free-and-open-source Linux operating system. It comes loaded with new features and updates to offer you a better user experience and make the operating system more efficient. Plus, the new packages and the latest Linux kernel make a great choice for both work and casual usage. So, whether you are a seasoned Ubuntu user or planning to try out this Linux distro, here is a comprehensive overview of the new features and changes in Ubuntu 23.04. This guide will help you make an informed decision about whether to upgrade to this version or not.
Best New Ubuntu 23.04 Features (2023)
Ubuntu 23.04 Release Dates
As revealed in the official release schedule, Canonical started the six-month development cycle for Ubuntu 23.04 in October, with the first testing week starting right before New Year's. The OS then went through a second round of testing in early March, squashing all the major bugs and issues.
This was followed by the first official beta release on March 30, 2023. Ubuntu 23.04 was made available for public testing last week, and we finally got a chance to try out Ubuntu's next version. At the time of writing this article, the release candidate build is set to become available on April 13, 2023. While testing the Ubuntu 23.04 Lunar Lobster beta build, we faced some minor bugs and issues and expect them to be fixed in the final release, which is set for April 20, 2023.
New Features in Ubuntu 23.04
Ubuntu 23.04 introduces a host of exciting new features and improvements over the previous-gen 22.10 Kinetic Kudu build. From a shiny new installer to the revamped GNOME environment, Ubuntu 23.04 is packed with some great features to enhance the user experience and improve the overall workflow efficiency. These features shipped with the development branch and might change before the final release on April 20, 2023. That said, let's look at some notable new features of Ubuntu 23.04:
1. New Flutter-based installer
Ubuntu 23.04 comes with a new Flutter-based installer as the default one instead of the Ubiquity installer. For those unaware, Flutter is a framework used to make cross-platform applications developed by Google. This new installer leverages the power of Subiquity, the command line installer for Ubuntu, along with a modern and refreshing look that makes the OS installation process a breeze.
During our testing, we found some new features like the option to choose the dark or light mode and a separate screen for partitioning the storage in the installer. Although the new Flutter installer has some great new looks, we found it to be a bit slow to react at times, and it froze up too, which we hope gets resolved in the final release.
2. GNOME 44
The biggest news in the Linux world right now is the inclusion of GNOME 44 with Ubuntu 23.04. It brings a range of new features and visual improvements to make the user experience much more appealing. Some noteworthy features of GNOME 44 are:
Quick Setting Menu: The revamped quick settings menu looks refreshing and modern. Here, these pods are split into two sections, and individual pods expand to show a sub-menu when clicked. Also, each activated pod displays information like the connected Wi-Fi network name, active system power consumption mode, etc, all at a glance.
Moreover, unlike the different methods to take a screenshot in Ubuntu, there is a new screenshot icon that makes it easy to capture screenshots with the built-in screenshot tool. While not visible in the screenshot here, you will also see a "Background Apps" section in the quick settings view.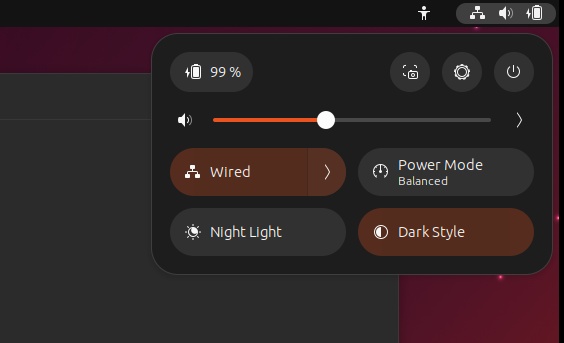 Nautilus File Manager: The latest version of Nautilus file manager ships with a bunch of new features. The most noticeable is the ability to expand folders in the list view, allowing users to view all the contents of a directory from the same page. You can even paste the screenshot you have taken anywhere in the file tree.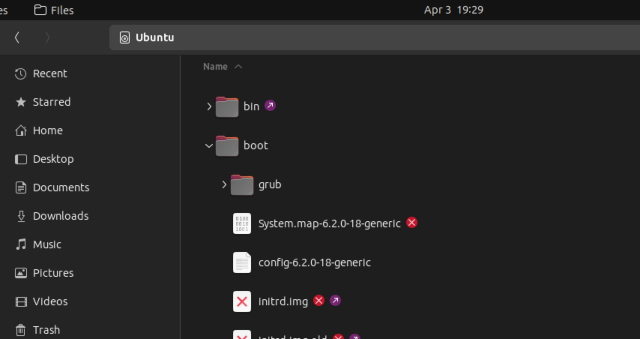 Reorganized Accessibility Page: In earlier versions of Ubuntu, the accessibility page in the Settings showed a long list of options to make the OS more accessible for specially-abled users. In the latest version, the developers have grouped these settings under sub-menus and spread them across various pages. Again, a great design choice for Ubuntu 23.04.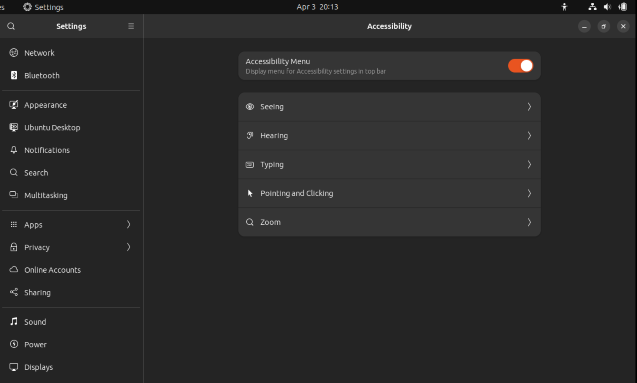 Icon View for File Upload: Though this feature may seem trivial, it is a lifesaver for many. Remember the times when you needed to squint your eyes to see the contents of a file before uploading it, well, the hassle is gone. Now, you see file icons before you upload a file.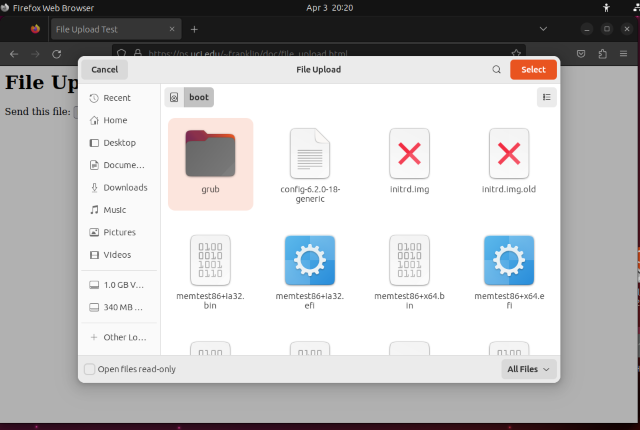 3. New Notification Badge
As a neat little visual update, you will now see the number of unread notifications from any application in the Ubuntu Dock. This feature also works when any application window has been updated. For example, when an IDE has finished executing a code, the app icon in the Dock will show a new notification badge with '1' at the top right.
4. Snap Over Flatpak in Ubuntu 23.04
This might come as a setback, but most Ubuntu flavors no longer come with Flatpak support out-of-the-box. Starting with Ubuntu 23.04, Canonical has announced that all new versions of Ubuntu will ship with the Snap package manager instead of Flatpak. The primary reason for choosing Snaps over Flatpak is that Snap packages are supported on both server as well as desktop installations, while Flatpak packages are only supported on GUI-based desktop installations.
The good news is that the support for Flatpak is not completely withdrawn, and you can still easily install Flathub from official Ubuntu repositories.
5. QR for Sharing WiFi Network
While scrambling through the Wi-Fi settings, we found this nice little feature that allows you to share the Wi-Fi passwords using QR code. This saves the users from the hassle of sharing the password manually every time they need to add a new user to the network. Simply open the Wi-Fi settings from the quick settings menu and click the miniature QR code icon beside the Wi-Fi network you are connected to. You can now view the QR code for the Wi-Fi password.
6. New Set of Wallpapers and Icons
Ubuntu 23.04 comes bundled with a new set of beautiful community-made wallpapers that give the entire OS a modern vibe. Both dark and light mode-specific wallpapers elevate the overall experience here. To change the default wallpaper, you can simply right-click on the desktop and select the "Change Background" option.
This will open the Appearance settings window. Choose from a range of award-winning wallpapers and simply click to apply them. Your desktop wallpaper will get changed.
7. New Kernel Version and Updated Apps
The Ubuntu 23.04 update ships with the latest Linux kernel 6.2, which brings a lot of hardware, performance, and security improvements to the table. The biggest feature of the new kernel 6.2 is that it now supports Intel Arc Graphics out of the box and Intel's On-Demand Drivers for 4th Gen Intel Xeon CPUs.
Also, Apple's M-series chips are now natively supported, thanks to the awesome work done by Asahi Linux developers – upstreamed to the latest kernel. Other notable changes found in the new Linux kernel 6.2 are:
Native support for Raspberry Pi 4k@60Hz displays using the Raspbian OS
Open driver support for the Nvidia RTX 30 series cards.
New and improved mount options for the Squashfs filesystems.
Faster file/ folder creation in exFAT driver.
New power-saving mode for the Intel Alder Lake N/Raptor Lake P processors
Better gaming performance with the Mesa 23.0 Graphics Driver
Also, you get the latest stable version of most software, which brings several bug fixes and different visual changes. Some of the software versions that come bundled with Ubuntu 23.04 are:
Python 3.11
LibreOffice 7.5
Mozilla Firefox 111
Shotwell 0.30.17
Remmina 1.4.29
Transmission 3.0
The best part of the new kernel is that it has optimized the OS to the next level, which is evident from CPU usage statistics in the picture below: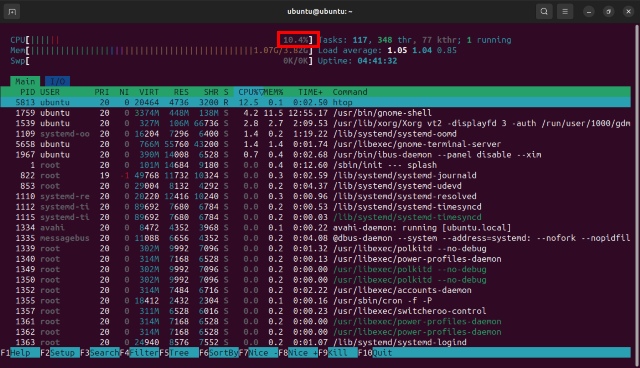 8. Ubuntu 23.04 Mini ISO
With the release of Ubuntu 23.04, Canonical is also offering a new Mini ISO download. It is a small package set (Lunar Lobster Mini ISO variant is only 109 MB) coupled with an optimized kernel and an optimized boot process installed. There are no regular tools for interactive usage, but there is full support for apt-get and snap package manager to enable users to install tools of their choice. This helps the entire OS to boot super quickly, making it an ideal choice to run cloud deployments at scale. With the "unminimize" command, you can convert the minimal version into a standard server installation.
The main benefit of the Mini ISO image is that it can run even on a CD, a pen drive, or even via UEFI HTTP. Also, they will require fewer updates due to the fewer number of pre-installed packages.
The Mini ISO variant was last released for Ubuntu 18.04 LTS "Bionic Beaver" but was later discontinued. But as of April 4, 2023, Ubuntu developers relaunched a new Mini ISO for their latest release, Ubuntu 23.04, which you can get from the official download page.
Official Flavours of Ubuntu 23.04
If you don't like the look and feel of the new GNOME 44 desktop environment, you can try out different flavors of Ubuntu and choose the one that best suits your needs. Earlier, the Cinnamon desktop environment only existed as a community project, but it has been added to the official flavors list with the latest Ubuntu release from Canonical. Here are all the Ubuntu 23.04 flavors available to download:
| Ubuntu Flavour | Desktop Environment | Download Link |
| --- | --- | --- |
| Ubuntu 23.04 Desktop | GNOME | Link |
| Xubuntu 23.04 | XFCE | Link |
| Ubuntu MATE 23.04 | MATE | Link |
| Lubuntu 23.04 | LxQT | Link |
| Kubuntu 23.04 | KDE | Link |
| Ubuntu Budgie 23.04 | Budgie | Link |
| Ubuntu Unity 23.04 | Unity | Link |
| Edubuntu 23.04 | GNOME (Customized for school apps) | Link |
| Ubuntu Cinnamon 23.04 | Cinnamon | Link |
Ubuntu 23.04 Changes and Features
Ubuntu Lunar Lobster comes with a fresh set of features and some improvements on the previous versions that aim to enhance the user experience. Though every non-LTS version gets official support from Canonical only for 9 months, Ubuntu 23.04 with GNOME 44 could become a new favorite for many people. However, this does not change the core vision of Ubuntu, which is "to bring free software to the widest audience." Do let us know what you think of the new Ubuntu 23.04 "Lunar Lobster" release in the comments below.
---
Load More