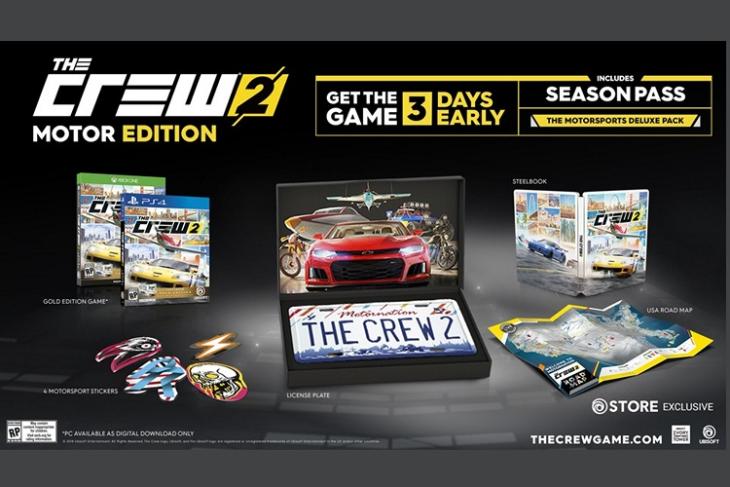 Ubisoft has announced that its upcoming racing game, 'The Crew 2', will launch June 29 on PC, PlayStation 4 and Xbox One. It is already available for pre-order on all three platforms. The Crew 2, which will be a sequel to 2014's The Crew, was earlier expected to launch last March, but was delayed alongside Far Cry 5. Some of the cities that will feature in the game include, New York, Miami, Las Vegas and San Francisco. The publisher has also just released a brief gameplay trailer that you can check out right here.
The publisher has also announced 'The Crew 2 Motor Edition' that will ship with a season pass, exclusive cars and a real-life Crew 2–themed license plate that measures 12″x6″ and, is "customized to reflect the spirit of The Crew 2". It will come with a massive $110 price-tag, and grant access to the game three days early. Pre-orders are open for this version as well, and everybody pre-ordering will also be eligible for a Mercedes-AMG C 63 Touring Car (2016) and a Harley-Davidson Iron 883 (2017).
The one thing to note here is that, unlike the regular version, the 'Motor Edition' has not yet been confirmed for PC, although that may change going forward.
The Crew 2 has been developed by Ivory Tower in collaboration with Ubisoft Bucharest, Paris, Shanghai and Massive. The game enables players to explore various locations in America, and compete with other players in an attempt to become the champions on land, air and water. Players can choose cars, bikes, boats and planes to compete with. There will be four separate motorsports families: off-road, street racing, pro racing and freestyle, with each one offering a wide choice of vehicles.