A download manager is not the first thing that comes to mind when you've got a brand new Android device. However, if you are someone who downloads a lot of stuff, you will realize just how necessary they are. While most of us use a download manager software on their PCs, we tend to ignore them on our Android devices. However, their absence is always felt because no one wants a big download to fail mid-way, plus with the internet speeds being a lot better, we like to have multiple downloads on-going. A good download manager app on Android will take care of all your downloads, prevent download failures and in some cases, improve download speed.
To make sure that your future downloads complete without any issues, read on to find out the top 5 download managers available on the Play Store for free:
1. Advanced Download Manager
Advanced Download Manager is one of the most popular download manager apps available on the Play Store. The app is capable of downloading up to 3 files simultaneously; increases download speeds using multi-threading and directly intercepts links from the stock browser, Chrome, clipboard, etc.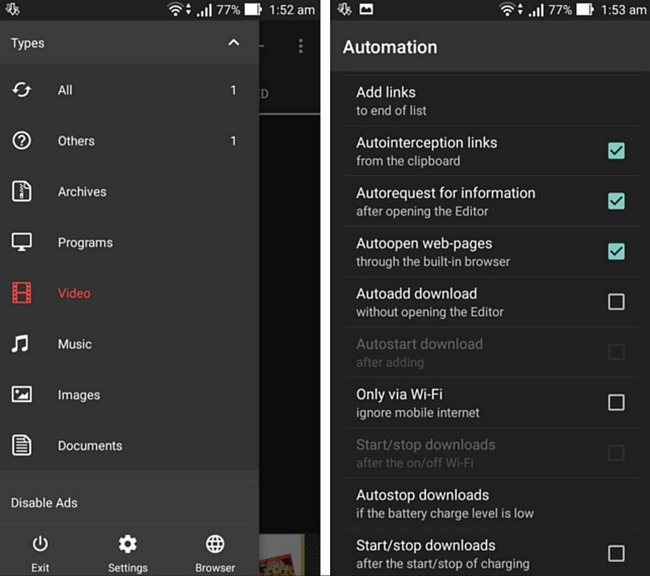 The app also has some good automation features like the capability of auto pausing downloads when the battery level is low; auto resume after errors, & issues with connection, turn off Wi-Fi module and exit the program, etc. upon completion of downloads. You can also choose to download files only over Wi-Fi and also have parallel downloads of files in a queue. The app can easily download files larger than 2 gigabytes, which is great considering it's a really small app.
2. Download Manager
Download Manager, as the name suggests, keeps things simple with focus only on downloading features. You can easily download files by adding links in the app and it can download all kinds of files, music, videos, photos, software etc. even with sizes of over 2 gigabytes. The app is also capable of automatically detecting links from your browser.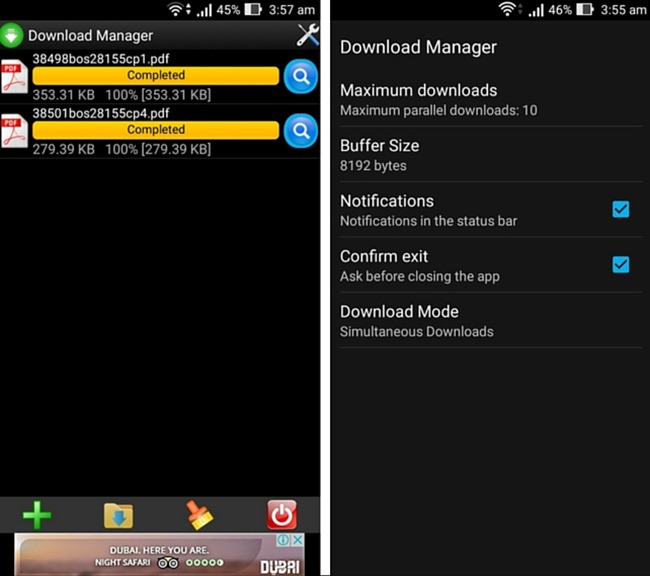 The interface of the app cannot considered modern but the developer has made sure to keep things simple. The app lets you change the total number of parallel downloads up to a maximum of 10 and the buffer size to optimize downloads. If you want a no-nonsense download manager without complications, you should definitely consider this one.
3. Turbo Download Manager
Turbo Download Manager is another app that can substantially increase your download speed, whilst also managing multiple downloads. The makers of the app report increase in speeds by around 5 times, which is not very realistic in our opinion but the app does boost download speeds by increasing the number of connections or threads.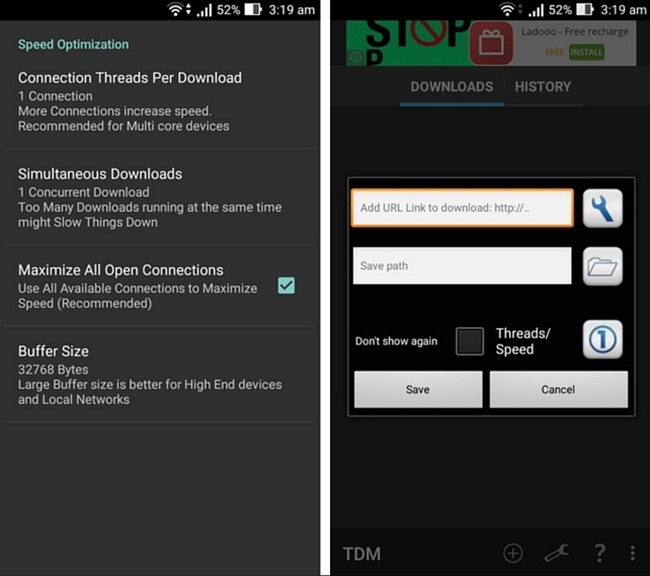 The interface of the app is fairly simple and easy to use and it lets you download multiple files at the same time, retrieve links from browsers directly, optimize buffer size, pause/resume downloads anytime and more. On devices running Android 5.0 or higher, files can also be saved directly to the SD card.
4. Download Manager for Android
Download Manager for Android or Downloader, as it is popularly known, has over 10 million downloads on the Play Store, so it's quite popular among users. The app is capable of downloading different file types like APK, RAR, ZIP, MP3, DOC, XLS etc, with speed improvements by up to 3 times. The app includes its own web browser, which functions like any other web browser and makes the whole process a lot simpler. You can simply look for files using the built-in browser or enter the download link if you have one. The app supports multiple parallel downloads at the same time too.
Apart from being a download manager, it is also a file manager and music player. So, if you want an app that manages your downloads, while also letting you open downloaded files right in the app,  this one should suit you well.
5. Download All Files
The last and probably the coolest in terms of the interface is Download All Files app. This is one of the most reliable and fast download managers on the Play Store. The app is capable of boosting download speeds and you can also prioritize your downloads in a queue.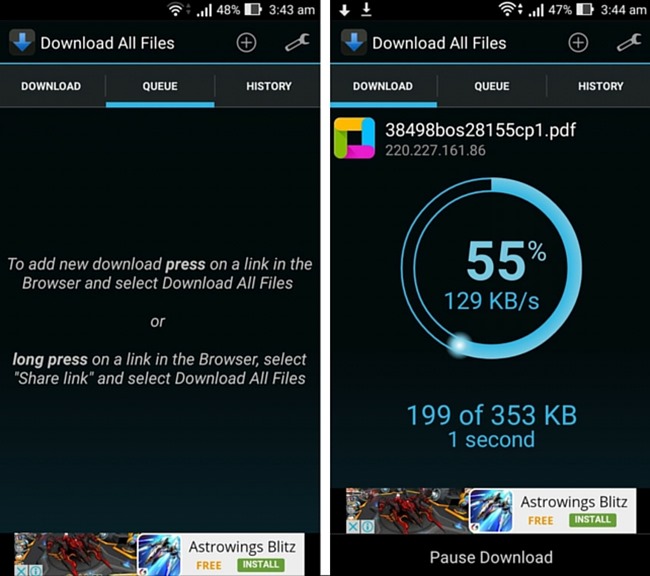 It works as any decent download manager with reliable pause/resume options, ability to continue disconnected downloads etc. What sets it apart though is its cool download visualizations. While other download managers may seem a little dull, this one does the job and looks cool doing it.
SEE ALSO: 9 Best File Managers for Android
Conclusion
That brings us to the end of our list. These 5 apps are the best download managers for Android right now and each one provides an element of reliability and simplicity in managing your downloads. With Android smartphones getting more and more powerful, we will be downloading a lot of big file, so these download managers should come in handy. These apps will let you download files as per your wish and you will also be able to schedule and queue downloads. So, save yourself the struggles of unreliable downloads and let a download manager take care of things for you. After all, you must have a lot else to do, right?
---
Load More