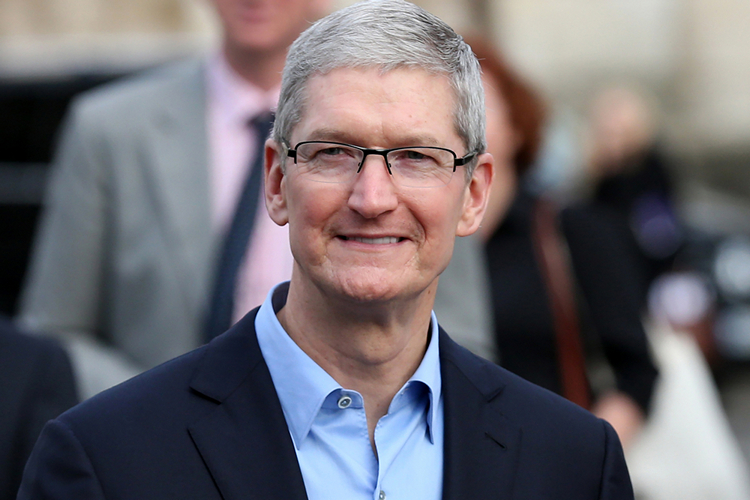 Apple recently became the first publicly traded US corporation to reach a market capitalization of $1 trillion, after the company's shares climbed 2.4% to hit the $207.05 mark which was required to reach the trillion dollar market value. Thanks to the impressive market rally, Apple CEO Tim Cook is all set to pocket shares worth about $120 million this week.
As per a report by Business Standard, Cook is in line to earn a total of 560,000 shares as part of his annual compensation plan, which amounts to Apple stock worth $120 million based on the current price of Apple's shares.
Half of the shares Cook is set to receive are tied to his contract for serving as Apple's Chief Executive Officer, while the rest 280,000 are additional shares which are subject to Apple's performance compared to other companies in the S&P 500 index, a modification which was reportedly requested by Cook a few years ago.
The terms dictated that if Apple's stock market returns exceeded at least two-thirds of the names on the S&P 500 index, Cook will receive the additional shares as part of his paycheck.
As of this week, Apple has returned 119% since August 2015, outperforming more than 80% of the companies on the S&P 500 index, which is significantly higher than the two-thirds threshold set by the company to grant Cook the additional shares. So, unless Apple's shares take a massive nosedive in a couple of days, Cook is almost certain to receive a total of 560,000 shares worth $120 million.
In 2017, Cook netted $43 million after selling a portion of the 560,000 shares he earned as part of his compensation plan, while the rest of the shares were withheld to cover taxes. Cook also earned a bonus of $9.33 million in cash in 2017, in addition to his $3 million salary.
---