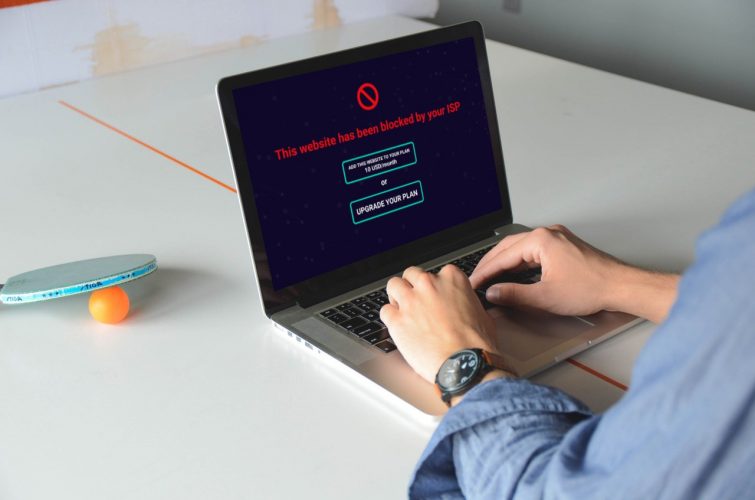 If you haven't been living under a rock, then you'd have already heard that Obama era net neutrality laws were repealed last night. The United States Federal Communications Commission, under the command of Chairman Ajit Pai, has removed the stringent net neutrality laws enforced by the Obama administration and the tech community isn't particularly supportive of this anti-net neutrality decision.
The decision to repeal the existing net neutrality rules is a punch in the gut for internet denizens. It means that telecom giants and ISPs now have the freedom to control the flow of content on the web if they wish to. They're no longer under the thumb of the U.S government and it is highly possible that they will come up with differential pricing plans for Internet services that we use on the daily, really soon.
The tech community, especially the high ranking executives and legal experts, has been pro-net neutrality from the beginning and is standing by its word even after the FCC's decision to repeal the existing laws. The community spoke out about its disappointment in the decision and how the companies plan to take action against the same in court.
This is how some of the most popular tech companies and organizations reacted to the anti-net neutrality decision passed by the FCC:
Comcast
The ISPs, who play the most important role in this decision, have come forward and put out statements in support of net neutrality. Comcast now has a dedicated page to tell its users how the company still supports the open Internet agenda. But, does it leave any wiggle room to make the subscribers pay more? Maybe.

AT&T
AT&T Statement on @FCC Vote to Restore Internet Freedom https://t.co/OY7rOKdxz8 #OpenInternet #NetNeutrality

— AT&T Public Policy (@ATTPublicPolicy) December 14, 2017
T-Mobile
Next up is T-Mobile, who has also put out a pro-net neutrality statement. You can read what the company has to say right here:
"The Commission should revise its regulatory regime recognizing that one-size-fits-all solutions are likely to restrict the options available to consumers and thus undermine consumer welfare.

Congress must act to eliminate regulatory uncertainty. Absent such action, ambiguities regarding the Commission's legal authority in this arena will lead to repeated disputes and shifting regulatory seesaws."
Apple
The Cupertino giant has also come forward in support of net neutrality and urged Congress to protect the Internet from differential treatment. Apple believes the repealing net neutrality laws will lead to a distorted race for first place. Here is Apple's complete statement:
"Paid fast lanes could replace today's content-neutral transmission of internet traffic with differential treatment of content based on an online providers' ability or willingness to pay. The result would be an internet with distorted competition where online providers are driven to reach deals with broadband providers or risk being stuck in the slow lane and losing customers due to lower quality service. 

Apple remains open to alternative sources of legal authority, but only if they provide for strong, enforceable, and legally sustainable protections, like those in place today. Simply put, the internet is too important to consumers and too essential to innovation to be left unprotected and uncertain."
Microsoft
Though the Redmond giant didn't put out an official statement, Microsoft's President and CLO Brad Smith took to Twitter to express his views on the FCC's decision:
The open internet benefits consumers, business & the entire economy. That's jeopardized by the FCC's elimination of #netneutrality protections today.

— Brad Smith (@BradSmi) December 14, 2017
Google
Google, on the other hand, reached out to Bloomberg's business and tech reporter Mark Bergen to dispense their statement in support of net neutrality. The search giant is now planning to work with other pro-net neutrality supporters to find an enforceable action to protect the same.
Google statement on #NetNeutrality repeal. pic.twitter.com/WVgmswBCJW

— Mark Bergen (@mhbergen) December 14, 2017
Amazon
Amazon's Chief Technology Officer Werner Vogels also decided to jump onto Twitter to air his views in support of net neutrality. He said:
I am extremely disappointed in the FCC decision to remove the #NetNeutrality protections. We'll continue to work with our peers, partners and customers to find ways to ensure an open and fair internet that can continue to drive massive innovation. https://t.co/0NjoNr90A4

— Werner Vogels (@Werner) December 14, 2017
Facebook
The largest social network has always believed in a free Internet, which should extend to every person on the planet. Thus, it is also standing against the decision. Facebook's COO Sherly Sandberg expressed her disappointment on her personal Facebook page and said:
"Today's decision from the Federal Communications Commission to end net neutrality is disappointing and harmful. An open internet is critical for new ideas and economic opportunity – and internet providers shouldn't be able to decide what people can see online or charge more for certain websites. We're ready to work with members of Congress and others to help make the internet free and open for everyone."
Twitter
Being a supporter of free speech, the micro-blogging platform has been pro-net neutrality from the start. It has been a huge supporter of the campaign against the FCC by providing people the necessary platform to voice their words. This is Twitter's complete statement in opposition to the decision:
The @FCC's vote to gut #NetNeutrality rules is a body blow to innovation and free expression. We will continue our fight to defend the open Internet and reverse this misguided decision. https://t.co/TXTQWDiBNC

— Twitter Public Policy (@Policy) December 14, 2017
Reddit
Reddit is yet another valuable platform that's been used by the netizens to actively voice their concerns against the FCC's repeal decision. The company's CEO Steve Huffman has issued a statement expressing his disappointment in the decision. He also thanked all the supporters of net neutrality and their desire to fight back to convince the Congress to reinstate the net neutrality rules.
"Nevertheless, today's vote is the beginning, not the end. While the fight to preserve net neutrality is going to be longer than we had hoped, this is far from over. Reddit will continue to be involved in this issue in the way that we know best: seeking out every opportunity to amplify your voices and share them with those who have the power to make a difference"
Netflix US
We're disappointed in the decision to gut #NetNeutrality protections that ushered in an unprecedented era of innovation, creativity & civic engagement. This is the beginning of a longer legal battle. Netflix stands w/ innovators, large & small, to oppose this misguided FCC order.

— Netflix (@netflix) December 14, 2017
Spotify
As for the largest audio streaming service, Spotify's General Counsel calls the FCC's decision to repeal net neutrality laws a misguided one. He has further added that the company plans to work with the Congress and fight Ajit Pai's obsession with his idea of a free Internet.
The dismantling of #NetNeutrality protections by the FCC is disappointing and misguided. It threatens the open internet and the wave of innovation and opportunity it created. The real legal battle begins today.

— Horacio Gutierrez (@horaciog) December 14, 2017
Airbnb
Last but not the least, Airbnb CEO Brian Chesky also took to Twitter to mention that the decision to repeal net neutrality laws is wrong. He further added that Airbnb will continue to be pro-net neutrality, so the decision doesn't have widespread repercussions for their economy.
The FCC's vote to repeal net neutrality is wrong & disappointing. A free & open internet is critical to innovation, an open society, & widespread access to economic empowerment. @Airbnb will continue to speak out for net neutrality.

— Brian Chesky (@bchesky) December 14, 2017
The theme that runs common in the statements mentioned above is that the tech giants are infuriated by the FCC's decision to repeal Net Neutrality laws. Most of them have also decided to take the fight back to the FCC to restore the previously stringent net neutrality laws. Currently, we've lost the fight to the tall-standing FCC who wants to allow telecom operators to control our content consumption, but we'll surely come back stronger. What are your views on net neutrality and are you in support of FCC's decision to repeal the same? Share your opinion with us in the comments down below.
---