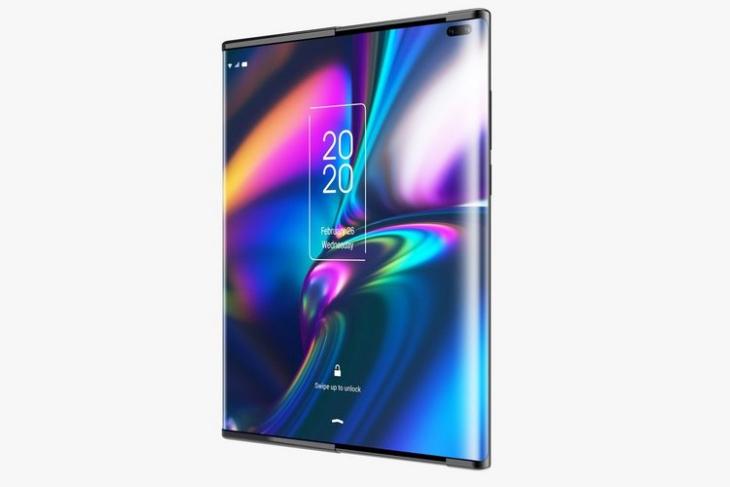 Chinese tech company, TCL, has showcased a pair of prototype smartphones with revolutionary new form-factors, giving us a look at the possible future of smartphone design. The first is a concept prototype that comes with a tri-folding display that unfurls from a 6.65-inch phone to a standard 10-inch tablet. The more interesting model, however, was a dummy unit depicting a flexible display panel that will retract within a groove on the back of the phone by curving around the side of the device.
Both devices are still in the very early stages of development, so don't expect to get your hands on either one any time soon. In fact, the second one is still very much in the proof-of-concept stage, with TCL only releasing a video of the prototype unit that the company says is being worked on by its researchers in Japan. As can be seen from the video below, the display of the phone will be able to unroll into a tablet-like form-factor or retract into the groove at the back of the device, enabling it to be used as a smartphone.
As for the first device (pictured below), it comes with two different types of hinges to achieve two completely flush folds. While one uses the company's proprietary 'DragonHinge' mechanism that was originally shown-off at MWC 2019, the other uses a standard Butterfly Hinge. Should this device ever make the transition from concept to production, it will be interesting to see how the company will address the reliability issue that Samsung and Huawei are struggling with even with their single-folding devices.
From what we can tell, the tri-folding device is awfully thick and oversized when folded, making it unsuitable to be carried around in a trouser pocket. As if that wasn't enough, The Verge claims that it is also awfully hefty because of all the heavy-duty metal hinges, so it will be interesting to see how TCL will address those concerns going forward. Either way, given that these are only early prototypes (or a dummy unit, in case of the rollable device), there's no guarantee that they'll even make it to the market.