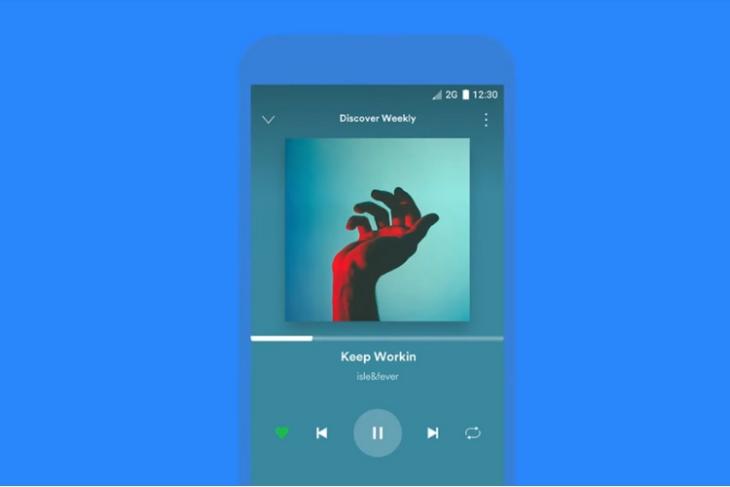 Spotify had been beta testing a lightweight version of its standard Android app, dubbed Spotify Lite, for quite some time and is now officially launching in 36 countries today. It includes Latin America, Middle East, Africa, as well as India, where the music streaming service made its debut earlier this year.
Though Internet connectivity in India has improved over the past couple of years, many popular app makers are making Lite apps to attract more users to its service. Spotify is looking to bank on the same with Spotify Lite, which is a toned-down version of the standard Android app. It's aimed squarely at users with limited phone storage and mobile data or Wi-Fi connectivity.
As the name should tell you, the biggest change in Spotify Lite is the app size. It has a meager 10MB download size and takes about 32MB of your phone's storage (this could differ from device to device) as compared to the massive 100MB standard app, which is just great.
The basic UI and UX of the app, i.e the core experience of the Spotify Lite app remains similar to the standard app. You still have a bottom navigation bar, all of your favorites alongwith playlist recommendations accessible here as well. The most useful feature in Spotify Lite will have to be the ability to set monthly data limits.
You can navigate to Settings in this lightweight app and choose from anywhere between 250MB to 3GB data limits and receive a notification when you breach it. You can also see storage space used by this app, so you can clear cache from right within the app to make space for other data on your device.
https://www.youtube.com/watch?v=PUOTD-t0xKQ
While Spotify Lite is flush with features and offers a decent music streaming experience, there's a number of features that hardcore users may find missing. This includes one of your most important features – offline playback. You can favorite tracks but you cannot download them. The settings for volume levels and music quality are absent, along with Spotify Connect, which lets you stream Spotify music to external devices over Wi-Fi.
Spotify Lite is available for use to both Free and Premium tier users, where the former is obviously going to hear audio ads (which can be really annoying sometimes) in between playback. However, if you didn't know, Spotify allows Indian users to play any song from their 50 million song catalog (not really, thanks to its tussle with Warner) on demand. It doesn't shuffle artists or playlists and you can choose the tracks you want to play, which surely comes handy.
Spotify Lite is now available to download from the Play Store and even though it still is carrying a "beta" tag, the app looks pretty stable and I'm happy with it. Go ahead and check out this lightweight app. Share your opinions with us in the comments below.