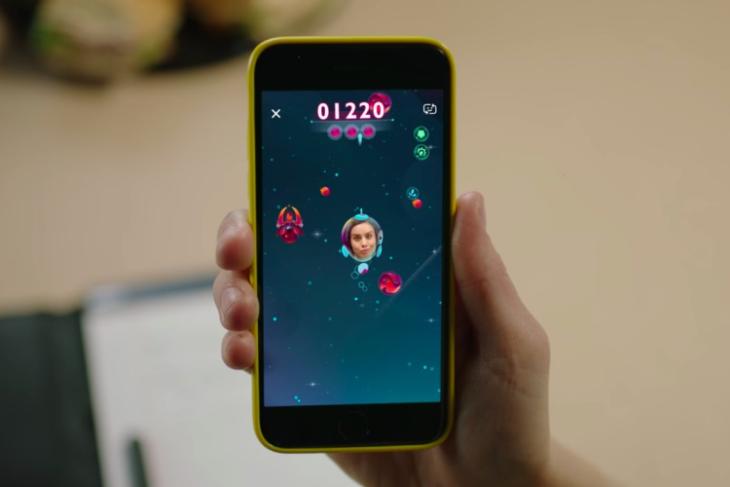 Snapchat is today adding a brand new experience called Snappables, which are Lens-based augmented reality games (AR) games that you can play with friends.
Snappables is Snapchat's latest step in opening up Lens to wider AR applications. It lets you use shared lenses to play fun new games with your friends and compete to get the high score. Games are built around touch, motion or facial expressions, which can sure look odd if you want to kill time in public.
Some Snappables let you challenge friends to beat your high score, while others invite them to multiplayer games! To win you might have to make strange faces, sway from side-to-side, open and close your mouth, in games such as eyebrow weightlifting, Asteroid shooter, and a bubble gum popping competition.
https://www.youtube.com/watch?v=NkvnmMc_hSg
While Snappables is a unique concept, Snapchat has been testing the AR games for quite some time. It partnered with Kraft Mac & Cheese back in 2016 to make a noodle-catching game, a Cuphead lens and more. A reference to the collaborative nature of Snappables was initially spotted in the app code at the start of this month, but we weren't aware of the fact that it would be games.
Snapchat's new Snappables AR games reside alongside the standard face lenses and will roll out globally to users next week. This feature is surely targetted towards letting users know that it's different from Instagram, who cloned all of its features and is now popular among the masses.
Snapchat sure wants to set itself apart with its AR lens games, but we need to see if the collaborative feature will attract users back to the app. The company is also planning to retract its new redesign (or make major changes) to make it likable to users once again. What is your opinion on Snappables? Do these AR games seem like they would be a good time? Let us know in the comments below.