Craigslist is the king of 'buying-and-selling old stuff online' websites. Just about every city in the US and Canada has a dedicated microsite, and several global countries have listings as well. But Craigslist is not the only site out there, and sometimes it might not be the best choice for buying or selling used goods. There are several other options, and many of them have advantages over Craigslist in certain areas or item categories. So on that note, let's go ahead and check out the ten best sites like Craigslist for buying and selling used stuff.
Best Sites Like Craigslist (Updated March 2021)
Here, we have listed the 10 best sites like Craigslist for buying and selling used things, be it a vehicle, camera accessory, or a premium bag. You can click the links in the table below to check out the best alternatives.
1. OfferUp (LetGo)
If you are looking for the best website like Craigslist for buying and selling used stuff, I strongly recommend OfferUp. It allows you to select your location and search items with filters under various categories. And the best part is that OfferUp has acquired LetGo, which is another Craigslist alternative. Thus, OfferUp now has a much larger user base of buyers and sellers. I also like that the service is committed to creating a safe and trustworthy marketplace. It includes an ID verification service to guarantee the authenticity of buyers and sellers.
Apart from that, the service has apps for both Android and iOS. It not only lets you browse currently available items but also allows you to communicate securely with buyers and sellers. The app also shows you if you have any Facebook friends in common, making the transaction an even more secure experience. So, to sum up, OfferUp is a worthy alternative to Craigslist, and you must give it a shot.
2. Kijiji
What started as a tiny free classifieds website has now turned into a massive catalog of used products with millions of users. Kijiji is Canada's local version of Craigslist, and it has expanded its reach to the US as well. The company advertises itself as the most popular free classifieds site. And with several categories, including cars, jobs, real estate, furniture, Kijiji is an excellent alternative to Craigslist for buying and selling used items. It also offers classifieds sections for résumés, services, vacation rentals, and just about anything else you can imagine.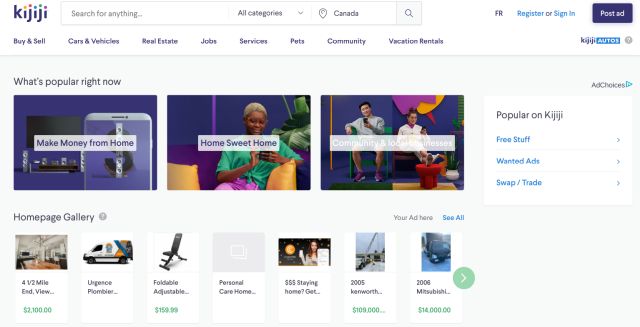 The website also allows sellers to post videos of their items, which gives you a better idea of the product's condition than the photos available on other sites. In case you are unaware, eBay owns Kijiji, and it has been operating since 2007. So yeah, it is a pretty trustworthy platform. All in all, if you are looking for a site like Craigslist that has plenty of user reviews for you to make an informed decision, then we highly recommend Kijiji.
3. Mercari
Unlike Craigslist, Mercari is a new and modern website that offers free classifieds across many different sections. It is an online marketplace operating mainly in the US, UK, and Japan. You can find millions of authentic sellers across the US and buy anything without any hassle. You can purchase home decor items, electronics, toys, fashion items, sports gear, accessories, and much more.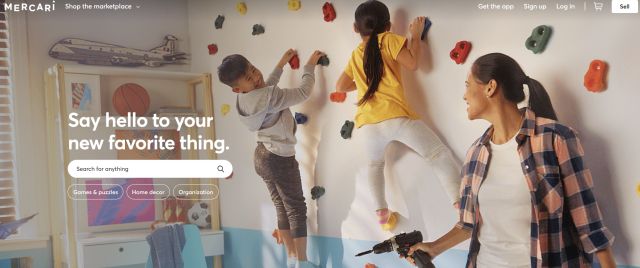 What I love about Mercari is that user review is central to buying on the platform. The platform guides you by recommendations and authentic customer feedback. For the record, Mercari is owned by a Japanese firm, and it has reached unicorn status in its country. To sum it up, Mercari has become a reliable classified service in the US and is a strong competitor to Craigslist.
4. eBay
When you talk about selling used things, eBay might be the first website that comes to mind for many. But did you know that its classifieds section lets you buy, sell, and trade with members of your community? It is an excellent site if you cannot find what you are looking for on Craigslist. From motor parts, electronics, and collectibles to rare industrial tools, you will find everything on eBay.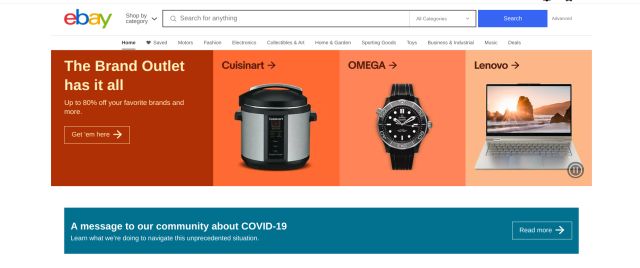 I've used eBay a couple of times when it was operational in India, and my experience has been satisfactory. What I like about eBay is that it strictly maintains seller information. You have access to a seller's membership duration, user reviews, and feedback percentage for buyers to make a sound decision. To conclude, eBay is one of the best sites like Craigslist, and you should look it up for things that you won't find anywhere else.
5. Facebook Marketplace
Most people use Facebook to keep in touch with friends or posting funny cat videos. But, if you did not know, you can use the social network to buy and sell used things, similar to Craigslist. Dubbed Facebook Marketplace, this section of the website lets you buy or sell apartments, vehicles, electronic devices, home goods, and more. Since Facebook has a boatload of user data, it connects you with the best sellers in your area through smart filters.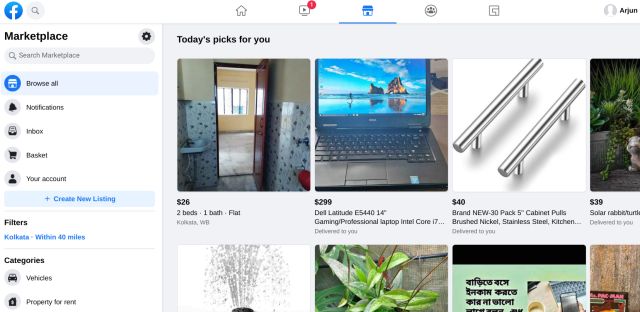 Apart from that, there are many groups on Facebook where people from the same neighborhood can post things for sale or trade. To find a group near you, search for "[your city name] garage sale," and you should get decent results. To sum up, Facebook Marketplace has become a Craigslist alternative where people can browse, buy, and sell things locally by increasing their visibility to interested parties.
6. OLX
For users in Asia and particularly in India, OLX is a potential alternative to Craigslist. It has a presence in over 40 countries and offers services similar to Craigslist. OLX has a broad catalog of used products, and you can find almost anything you're looking for in your neighborhood. Musical instruments, books, cars, hobby materials, real estate, jobs, just about everything is available on OLX. The large user base and product catalog make it a viable choice for used goods buyers and sellers in India.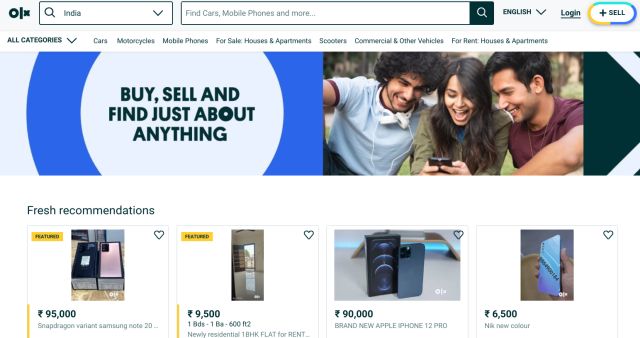 For the countries where it is active, OLX is not just a site like Craigslist. It is way better and offers Android and iOS mobile apps to buy & sell goods on the go. Having said that, keep in mind that there have been reports of fraud on OLX in India, where sellers siphon off money from buyers via a UPI collect request. So if you are buying anything on OLX, be careful of any shady financial transactions.
7. Gumtree
While it's primarily a UK-focused website, Gumtree is expanding globally with presences throughout Europe, Australia, and ex-pat communities in the United States. In essence, it's the European version of Craigslist. The platform offers the same classifieds service, with both free and paid ads, and puts buyers and sellers in touch. In the UK, Gumtree is one of the largest sites for vehicle and job listings.

As with many other sites of this nature, Gumtree has a reputation for being a means of conning people out of money. So, we suggest you be cautious, especially when looking for flats, on this website. If you are on the lookout for a website like Craigslist in the UK, Europe, or Australia, Gumtree is a great choice.
8. Locanto
Locanto is a free classified website just like Craigslist, and it offers its services mainly in the US and India. You can find a whole host of things at Locanto. For example, you can buy or sell a used car, sell an apartment or even find a babysitter in your local area. You can add photos and links to boost your ads on the website.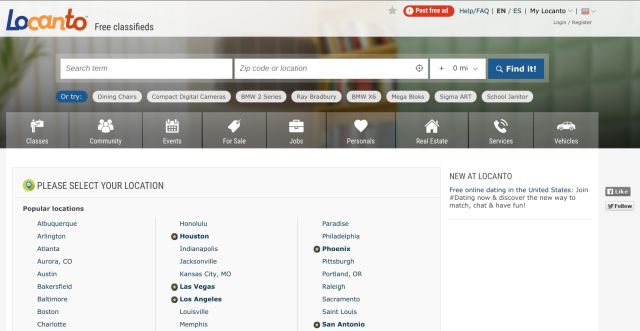 The thing I like most about Locanto is a feature called Safer Trading that allows buyers to buy stuff without any worry of shady transactions. So if you are interested in another hyperlocal site like Craigslist, then Locanto is a solid alternative.
9. Recycler
Very similar to Craigslist, Recycler is a free classified website where you can browse and find things near your location. You can find vehicles, pets, houses for rent, cameras for sale, sports items, and, not to forget, garage sales in your local vicinity. You can find and buy local essential items or put a free classified to sell an item on Recycler.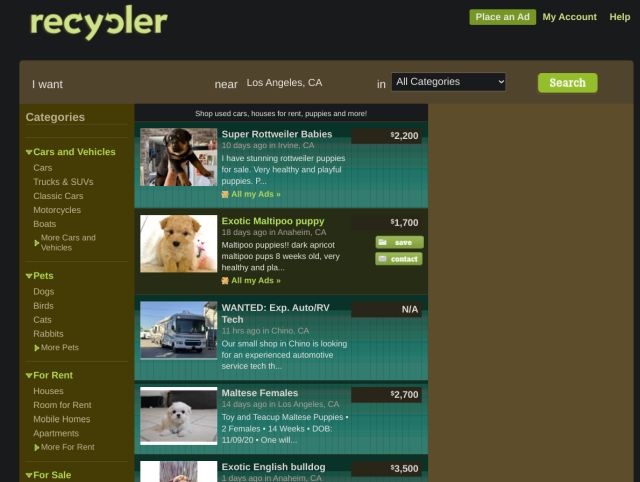 While there aren't as many different categories here as you may find on Craigslist, Recycler boasts over a million-strong userbase. And its reach is expanding. Recycler also offers more information about sellers. It lets you upload a bio, telling others what you tend to sell, so they can get a better idea of who they're dealing with when making a purchase. All in all, Recycler is a worthy website just like Craigslist, and you should give it a try.
10. VarageSale
VarageSale is our final entry on this list, and it is very similar to Craigslist. It offers local buying and selling options and has somewhat of a unique approach to the marketplace. The platform combines both online and offline social communities for buying and selling goods. Users can join groups that include others from their local area and then do business within the group. It ensures that you are dealing with people who you are close to and makes it easy to establish longer-term trading relationships with people.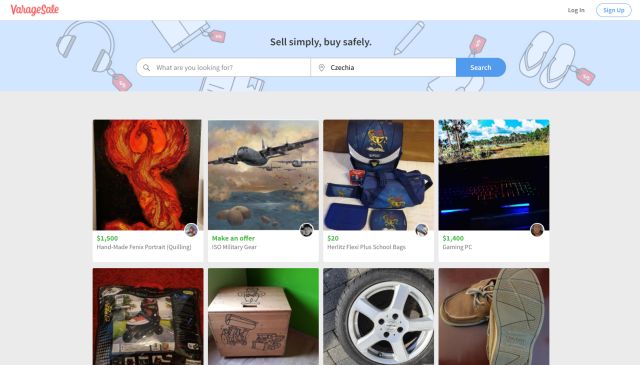 There are also interest-based groups where people sell specific items. The service is mostly active in the US, Canada, Australia, Germany, Italy, Japan, and the UK. So if you hail from any of these regions, you can try out VarageSale.
Buy and Sell Goods Locally With Craigslist Alternatives
Buying and selling things locally is great as it helps out the people around you, makes (and saves) you money, and reduces waste. The next time you think about buying a used item, check one of these sites first! Apart from this, if you are looking for local dating apps, you can find our curated list from the linked article. Anyway, that is all from us. Do you use Craigslist to buy and sell used things or rely on an alternative? Share your favorites in the comment section below.