We do know that taking a screenshot on an Android smartphone is fairly easy these days. Android natively supports screenshots and most smartphones support the two-button combo (lock/power button + volume down/home) for screenshots. Some smartphones even come with gestures to capture screenshots. But what about sharing a screenshot on the go or what if you need to doodle something quickly on a screenshot to share. If you are an avid screenshot sharer, you most certainly need an advanced screenshot app.
Why we need a third party app for screenshots?
The two-button combo for screenshots is easy but what if our smartphone has a fragile lock or volume button, we wouldn't want the buttons to break, would we? Along with that, we sometimes need editing tools for doodling, arrows, boxes etc.. to point out something in screenshots before we can post them on social networks. There are a number of screenshot apps on the Google Play Store that not only allow you to take screenshots with ease, they also bring some cool additional features.
We tried many apps on the Play Store and here are the best screenshot apps for Android (in no particular order):
Note:
Most of the screenshot apps on Android come with various triggers to take screenshots. Not every trigger will work on all smartphones due to access or hardware limitations. 
Best Screenshot Apps for Android
Screenshot Easy
Screenshot Easy is a very popular Android app for taking screenshots with ease. The app has a very simple UI, which works well with Android's Material Design UI guidelines. There are various triggers in the app, which lets you take a screenshot. You can choose to take a screenshot through an overlay button, which keeps floating or using a button in the notification center or by shaking your device. The app also lets you set your hardware camera button to take screenshots and that's if your smartphone has a hardware camera button. If the app is running in the background and you take a screenshot the conventional way, it detects that and opens the screenshot in the app for your editing needs.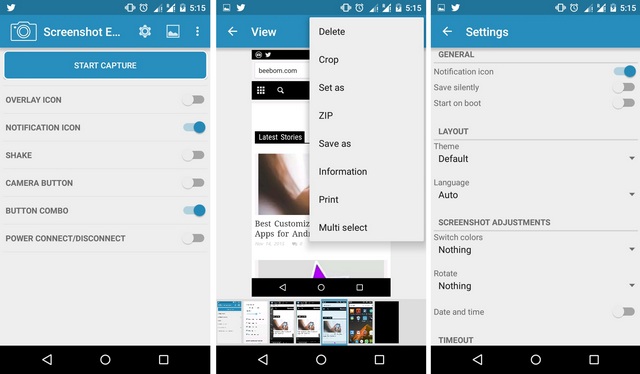 When it comes to the editing features, it lets you crop your screenshots, ZIP it or print it. You can also change existing colors in a screenshot to the one you like. There are options to show date & time on screenshots and save the images in PNG or JPG format. Other features of the app include themes, support for locale & tasker plugins. Moreover, the app is available for free on the Play Store.
Install: (Free)
Compatibility: Android 4.0 and up.
Screenshot Ultimate
Screenshot Ultimate is not the best looking Android app out there but if you want a ton of features in a screenshot app, Screenshot Ultimate won't disappoint you. It has the most number of triggers to take a screenshot and you might find some of them to be really convoluted. You can take screenshots through an overlay button, notification bar button, shaking your device, power connect/disconnect and more. There are advanced triggers like audio trigger (blow into your device's mic to take screenshot), interval (set time period to automatically take screenshots), cronjob (set when to take a screenshot in a specific app), proximity (put finger on proximity sensor to take screenshots), intent (tasker & locale support) and more.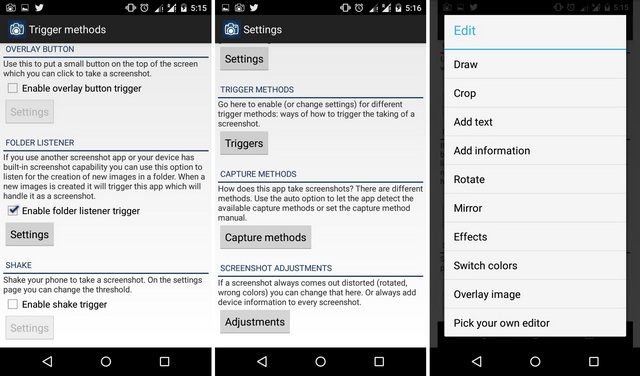 Along with the various triggers, the app lets you make adjustments to your screenshots, change formats and more. There are also editing features like draw, crop, add text, rotate, mirror, effects and more. It also lets you share images directly to Imgur. The good news is Screenshot Ultimate is available for free on the Play Store.
Install: (Free)
Compatibility: Android 2.1 and up.
Screenshot Snap
While the Screenshot Snap app doesn't really bring any intuitive methods to take a screenshot, it makes up with its diverse editing features. The app detects a screenshot being taken and loads it up on the app. You can then edit the screenshot on the go and share it quickly. You can doodle on an image with the pencil or paintbrush tool and you can also insert arrows, boxes, text and more.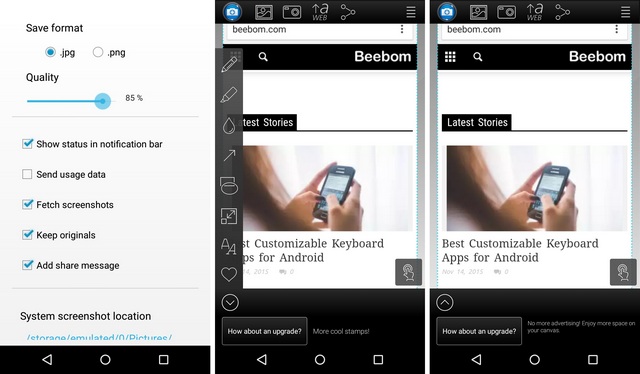 The app brings you the option to save images in PNG or JPG, increase or decrease image quality. Screenshot Snap is available in a free version but it is limited when it comes to features and the ads can be a little annoying. The paid version of the app brings some cool stamps, blur tool, cloud uploading and removes ads.
Install: (Free, Paid $0.99)
Compatibility: Android 4.0 and up.
Perfect Screen Shot
Perfect Screen Shot is another cool screenshot app, which stands out due to its unique features. The app feels smooth in operation and it embodies Android's Material Design UI, if that's a deal breaker for you. While the app does not take screenshots for you, it detects when one is taken and opens the app with the screenshot right in front. It lets you frame your screenshots inside a device's frame and you can edit the colors, background and more. There are various options to edit the frames and you can add glare, shadows & blur to the images. You can get frames of various devices ranging from Nexus devices such as Nexus 6P, Nexus 5X to Galaxy S6 Edge, One M9, Moto G and more.
The free "Classic" version of the app is pretty limited when it comes to the number of frames and editing features. The paid "Ultra" version brings you 3D frames, various editing options like background color, custom background images, optional blur and more.  You can also choose to edit your screenshots without a frame, if frames are not really your thing. The app also lets you import screenshots from any cloud storage services that you use like Google Drive, OneDrive, Dropbox etc.. To sum it up, Perfect Screen Shot is a cooler way to share screenshots and those screenshots certainly do look better inside a device frame.
Install: (Free Classic, Paid Ultra $1.99)
Compatibility: Android 4.0.3 and up.
Capture Screenshot
Capture Screenshot is very similar to Screenshot Easy but Capture Screenshot is a great screenshot app in its own right. The app is fast and is designed beautifully, so full marks to the developers on that front. It brings you various triggers like overlay button, notification shade button and shake to capture. Once you click the "Start Service" button, the app starts running in the background and detects whatever screenshots you take.
Once a screenshot is taken, Capture Screenshot lets you crop, draw, rotate, invert, add text and more. It also brings a number of filters like Boost, Grayscale, Gamma, Hue, Vignette etc.. There's ability to save screenshots in PNG or JPG image formats. Along with that, the app brings you themes and you can choose the color you like for the app to give it a personalized look. While the free version of Capture Screenshot packs in most of the features, the "Pro" version removes ads and brings more filters.
Install (Free, Pro version $3)
Compatibility: Android 2.3 and up.
SEE ALSO: 7 Best Screen Recorder Apps for Android
According to us, these are the best screenshot apps available for Android. So, give them a try and let us know how you liked them in the comments section below.