You may have noticed that we are moving to a future with wireless headphones and cord-free earbuds thanks to the slow death of the 3.5mm headphone jack. Samsung is one of the few companies that is actually trying to keep the headphone jack relevant as seen in the Galaxy Note 9, which has room for the S Pen and the audio jack. Ironic then, that Samsung's Gear IconX (2018) earbuds do such a great job of showing that a future without wired headphones may not be all bad.
The Gear IconX (2018) has its quirks, but it's surprisingly impressive pair of wireless earbuds that actually live up to its high price tag. The Gear IconX (2018) – Gear IconX from here on out – is priced at Rs 13,999 and is a Flipkart exclusive, so they are definitely not your run of the mill earbuds, which I contend is actually worth the asking price due to a combination of amazing sound, very good battery life and useful smart features.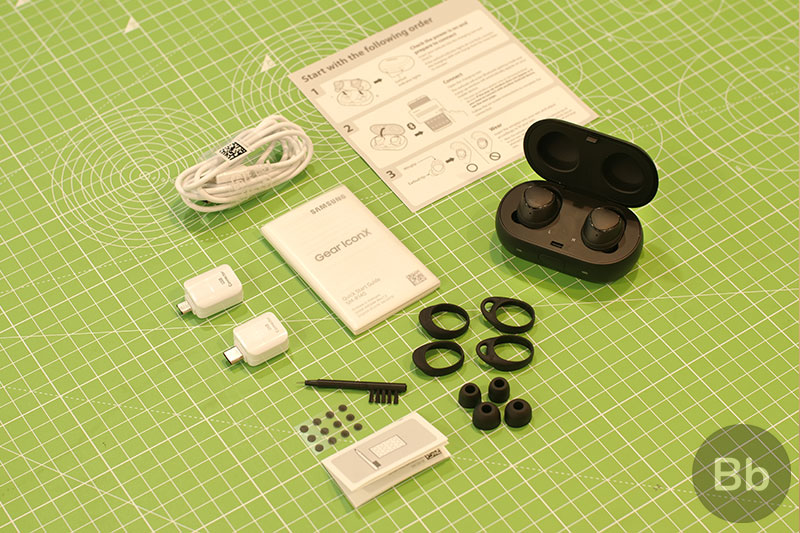 Samsung Gear IconX (2018) Specifications
The Samsung Gear IconX does not have a heart rate sensor, which may be disappointing for some, but if you have a Samsung flagship smartphone, the built-in sensor can do the job in its absence. The earphones have top-notch hardware in every other department. Here's a look at the specs:
Device
Samsung Gear IconX (2018)
Colors
Black, Gray, Pink
Dimensions
Earbud: 18.9 (W) x 21.8 (D) x 22.8 (H) mm
Case: 73.4 (W) x 44.5 (D) x 31.4 (H) mm
Weight
Earbud: 8.0g per earbud / Case: 54.5g
Voice Guide
English, Chinese, German, French, Spanish, Korean, Italian, Russian and Japanese
Speaker
5.8pi Dynamic Driver

Storage
4GB (per earbud)
Connectivity
Bluetooth 4.2
Sensors
Accelerometer, IR, Capacitive Touch
Battery
Earbud: 82mAh
Charging Case: 340mAh
Battery life
Up to 7 hours (Standalone Mode)
Up to 5 hours (Bluetooth Mode)
Up to 4 hours (Talk Time)
Charging
USB 2.0 Type-C

Compatibility
Android 4.4 +, RAM 1.5 GB or above
iOS supports music streaming and hands-free controls only via Bluetooth
Design and Build Quality
In comparison to the Apple AirPods, the Gear IconX looks chunkier (when you first see them in the cradle), but since it doesn't have the extended bottom of the AirPods, the final look is cleaner in my opinion. In fact, the black version of the earphones that we are reviewing are small enough to be stealthy.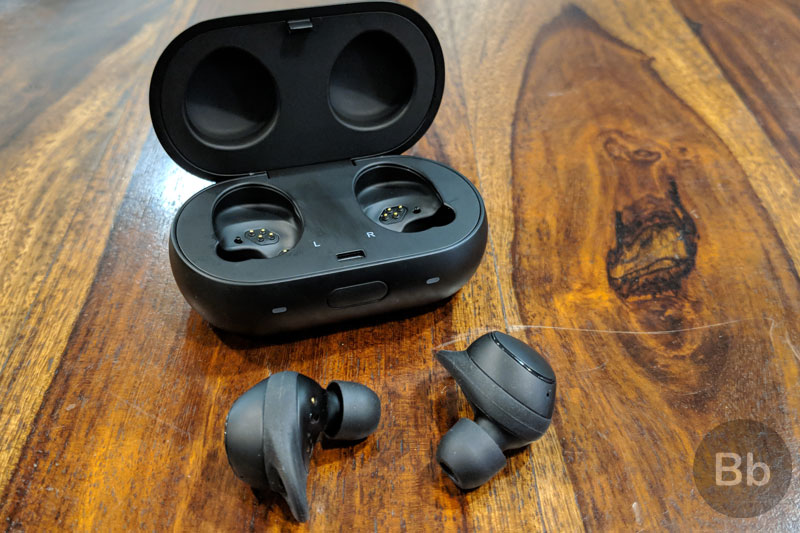 The charging cradle is an integral part of the device and Samsung has gone for a very business-like look for it. It looks like an oversized bean and there's a button on the front that lets you pop the lid open.
The cradle also acts as a charger for the Gear IconX and has LED indicators to tell you the battery level of the earbuds as well as the cradle. It also has a Bluetooth button which helps you pair the earbuds when you first take them out of the box. The cradle also has a USB Type-C port for charging, so you can charge both the cradle and earbuds simultaneously.
Touch Controls
The earbuds also have touch control on both sides. You can tap once to pause music, double-tap to play the next track, triple-tap to start the current track again or go back to the previous track, and swiping up and down for volume control.
All that sounds fantastic, but only two of those four controls actually work without any problem. You can easily tap to pause/resume music and double-tap to move to the next track, but the other two simply don't work half the time. You have to be extremely precise with your swiping to change the volume and often, the earbuds would register only a tap and pause the music. It's a little bit annoying, and I found myself not using the touch controls at all on most occasions.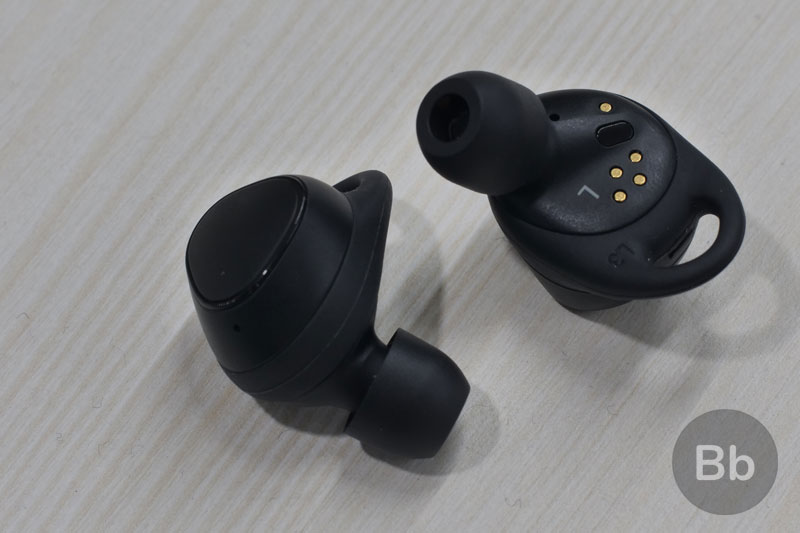 You have to be extremely precise with your swiping to change the volume and often, the earbuds would register only a tap and pause the music.
The plastic build of the earbuds may not offer as much assurance as some metal options in the market, but the Gear IconX is as solid as any other wireless earbuds. It survived a few drops without any damage, which is very reassuring as you are likely to fumble these in your hand especially if they get sweaty in use.
Comfort
That's one thing, we wish Samsung had addressed, the plastic around the POGO pin connectors gets quite slippery due to sweat. The Gear IconX are billed as workout-friendly earbuds, but it becomes slippery due to sweat after just a few minutes of walking outdoors.
Since these are truly wireless earbuds, there's always a question of whether they will fit every ear without issues. Thankfully, Samsung has included three sizes of rubber tips and wingtips, which should let you get the right fit in no time. While the wingtips definitely help reduce the vibrations and the movement when walking, when listening to bass-heavy tracks, you will find your ears fatigued after an hour or so.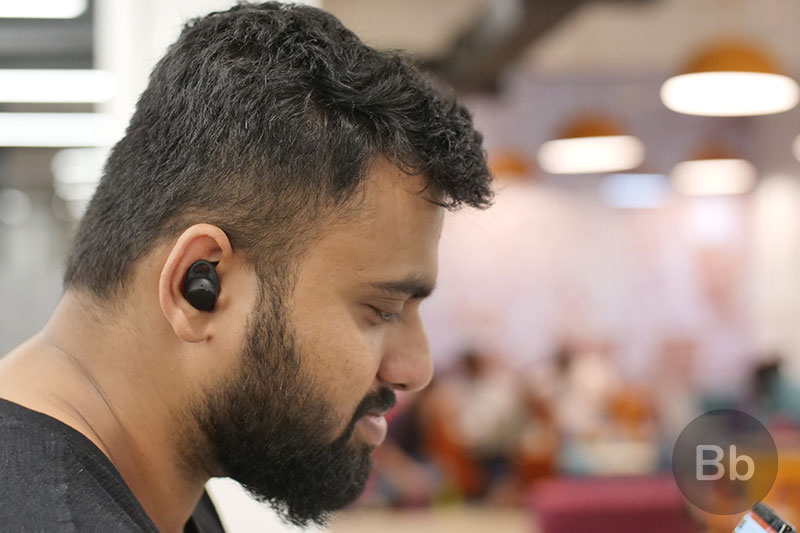 Fitness Features
While it does not have a heart rate monitor, I cannot say that I really missed it when using the Gear IconX with a Galaxy Note 8. The phone's HRM was good enough and if you are also using a smartwatch with a built-in heart rate monitor, you wouldn't feel the lack of its presence in the Gear Icon X.
Workout tracking starts automatically when you wear the earbuds, which is a great addition and makes tracking seamless
However, the earbuds still have some motion and activity tracking built in. You can choose whether the left or the right earbud is used for workout detection. Or you can turn it off altogether through the Gear app.
Workout tracking starts automatically when you wear the earbuds, which is a great addition and makes tracking seamless. All the workout data can be synced with the Samsung Health app from where you can analyse your workouts and training.
The Gear IconX does have a voice coaching feature which basically gives you updates about your active time, calories burnt, distance covered and more from time-to-time. In fact, it chimes in when you wear the earbuds after a long time and lets you know what you did last time, which is a great way to motivate yourself to meet those step-count goals and more.
Obviously, this is absolutely basic when it comes to fitness tracking, but that's not the point of these earbuds. The fact that the Gear IconX can track your activity is a bonus, not it's highlight.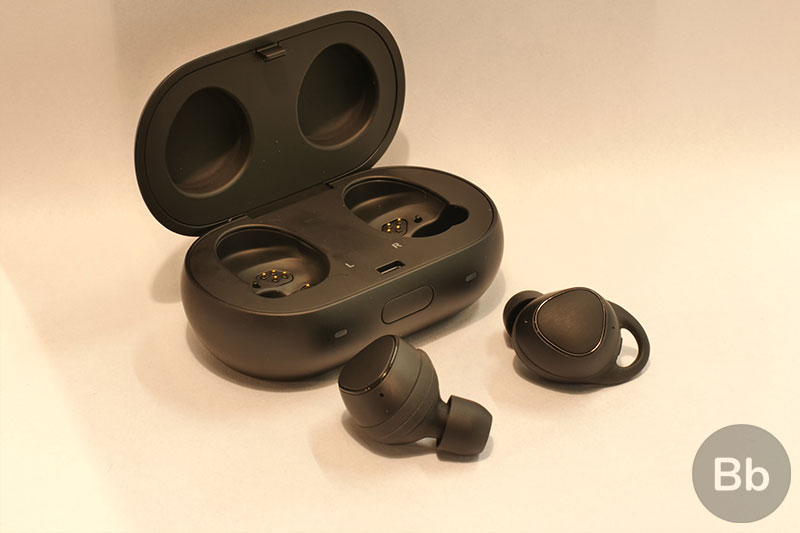 Sound Quality
As we mentioned in our first impressions of the IconX, the sound quality is highly dependent on the device being used and whether it has support for the Samsung Gear app. For example, using these with your laptop makes little sense as the Gear app does not let you set the equalizer on the PC. This is the biggest flaw in these earphones, as using them with a smartphone is a joy, but that's all the Gear IconX are limited to in terms of the sound quality.
The sound is rich, has enough warmth to keep bass-heads interested, and a wide enough sound-stage that genre doesn't matter.
Without the Samsung Gear app, sound from the Gear IconX is flat and devoid of any warmth or bass reproduction. The first time I paired it with the Pixel 2 XL, it sounded quite bad and with the Gear app not yet supporting Android Pie, those using the latest Android version will feel shortchanged with the Gear IconX. Hopefully, Samsung updates the Gear app as it also affects connections and syncing with the Gear watches.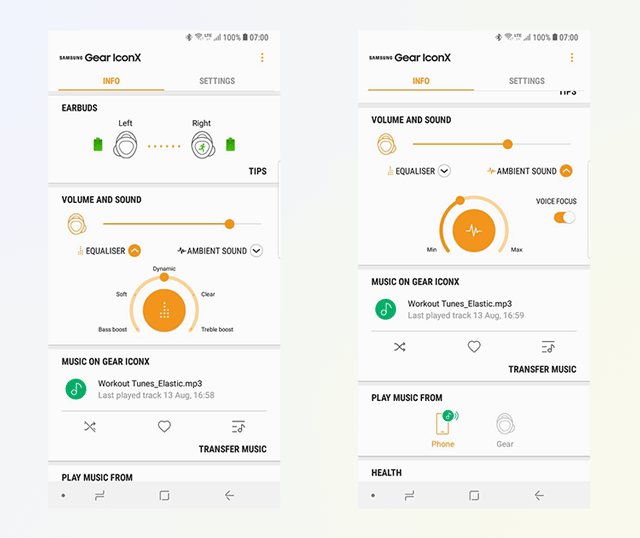 Having got that disclaimer out of the way, once we installed the Samsung Gear app on the Galaxy Note 8, we understood the near-universal praise for the Gear IconX's sound quality. It's rich, has enough warmth to keep bass-heads interested, and a wide enough sound-stage that genre doesn't matter. The Gear app lets you control the equalizer effect with 5 presets, with the Balanced preset doing the best job. Of course, you can adjust this based on your preference.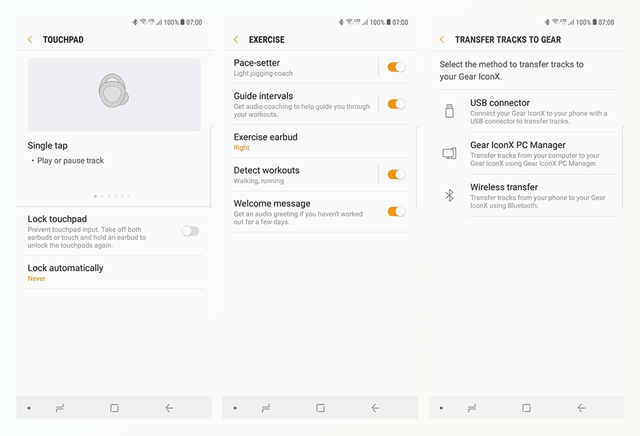 The app also lets you tune the degree to which ambient sounds should interfere with your music. You can have it all the way up to keep yourself aware of all ambient sounds in your surrounding. You can even have it to the lowest setting, and turn on the voice-aware mode, which lets you focus on what people are saying around you, so you don't come off as a complete jackass when in public, or in office. It works too, only reducing the loudness when people speak around you and then adjusting the volume back when they stop.
For George Ezra's Budapest, the Gear IconX delivered the bass-baritone part of his vocals just as well as high-pitched oohs. Listening to artists such as Passenger, Kaleo and others which focus on the vocal range of the lead singer was a delight on this pair, thanks to the very good clarity.
Trying to check the soundstage, I turned to some new metal and the playlist threw up a bunch of Mudvayne songs. Their rolling, high-speed vocals can turn into gibberish if the earphones cannot reproduce it with clarity. Not in the case of the Gear IconX. I haven't enjoyed Mudvayne in years but it's been an absolute joy to revisit this one-time favourite. Tracks such as Death Blooms, World So Cold, Pushing Through were a treat to listen.
I realize not everyone enjoys metal artists such as Mudvayne and even my taste in music these days mostly veers towards understated instrumentation, and minimalist artists, but I do like headbanging to the occasional riff-heavy track. The Gear IconX let me enjoy both these worlds without feeling like one or the other was compromised.
The clarity and warmth shone through when listening to R&B and hip hop artists such as the trendy Childish Gambino or the ever-popular Kendrick Lamar. I could truly appreciate the majesty of AR Rahman's classic Dil Se Re. I had heard the song hundreds of times but the Gear IconX reminded me once again why Rahman remains one of the finest musicians of his generation.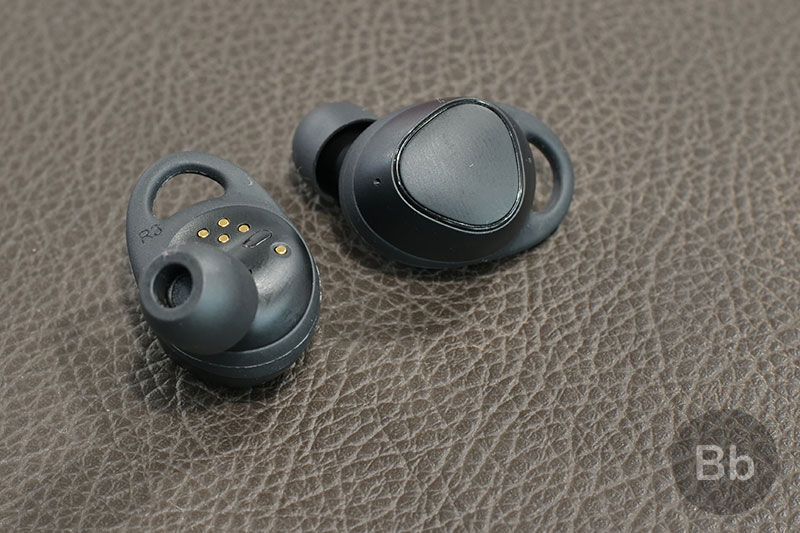 While these are all good qualities, I do wish the sound was richer and fuller – perhaps with a bit more warmth in the lows – which is perhaps asking for too much given the dimensions of these earbuds. It's certainly not the best sound for in-ear earphones, but it's quite impressive for truly wireless earphones.
Battery Life
I was really impressed with the overall endurance of the Gear IconX. Despite the limitations posed by the size of the hardware, the charging speed and the battery life make it easier to use the Gear IconX for most of the workday.
The cradle with the earbuds goes from zero to 100% in just under two hours, and that is enough to power each earbud twice over. Just 10 minutes of charging in the cradle, gives you nearly an hour of usage with each earbud, which is really great if the battery level is low towards the end of your work day and the beginning of your commute.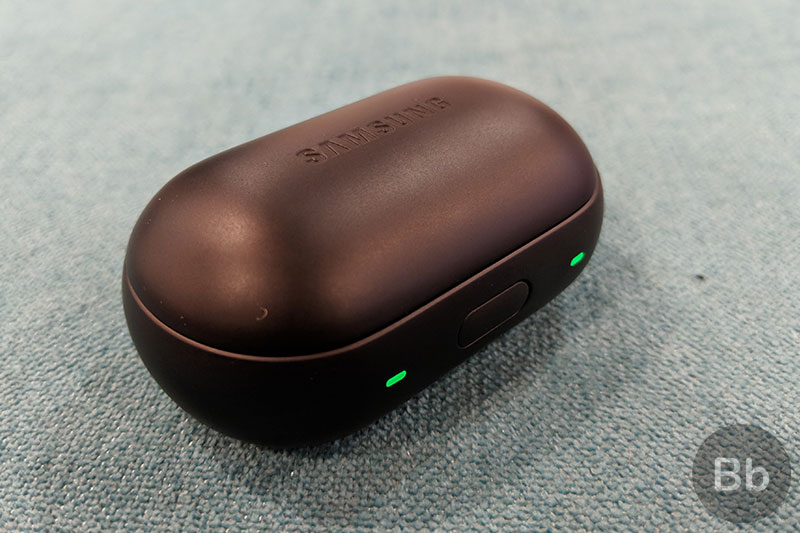 Since one of the earbuds acts as a workout tracker, it's always using a little more juice than the other. You can choose which earbud should be tracking your workouts through the Gear app, so you can balance out the battery life for both earbuds, which is a nice touch.
The charging speed and the battery life make it easier to use the Gear IconX for most of the workday.
Each earbud should ideally provide between 5-6 hours of battery life per full charge, so you can get nearly 10 hours of usage through the day with the cradle fully charged up in the morning. Overall, I would say I rarely faced a situation in regular usage which left me unable to use the Gear IconX due to poor battery life.
You can improve battery life by transferring tracks to the Gear IconX's in-built storage using Samsung's native tools. This means tracks will play right from the Gear IconX and not from the connected phone.
Connectivity
As with most high-end wireless earphones, the Gear IconX has no issues in pairing and re-pairing with devices. I used it with three devices during this review, and it had no problems syncing up each time.
One minor quibble is that the earbuds stayed connected even when I took them off and left them on the desk for an extended time. This means you might run out of battery without realizing. It's always best to return the earbuds to the cradle and close the lid to save battery life, when you are not using them.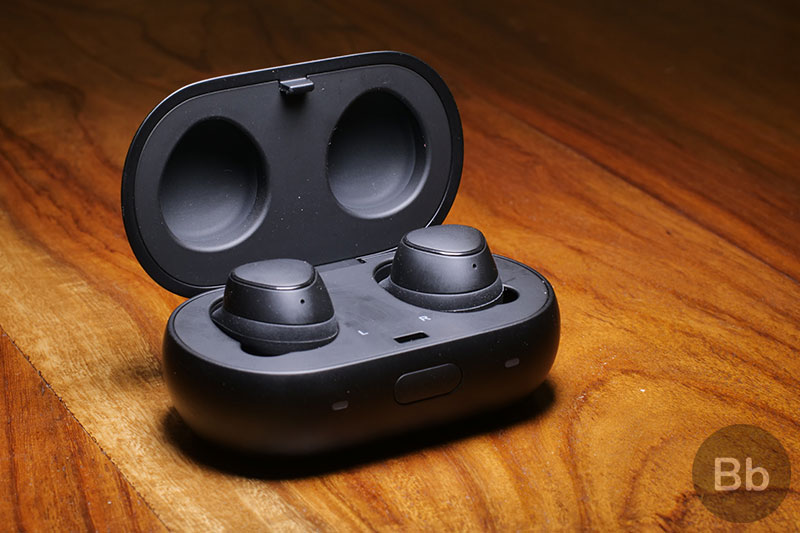 Pros and Cons
The Samsung Gear IconX (2018) ticks almost all the boxes when it comes to wireless earbuds. It's light, has very good sound and enough juice to last a work day. In fact there are very few things about it that I don't like. One thing that could turn off prospective buyers is the price tag, which will probably fall in the months to come, so it may be wiser to check the price come the Indian festive season.
Pros
Low-profile, compact build
Very good battery life
Great sound for its size
Wide soundstage
Ambient Mode and Voice Mode
Auto workout tracking
Cons
Samsung Gear app does not work on Android P
Seperate Gear IconX Plugin needed for Android 8.1+
Gets slippery due to sweat
No heart rate monitor
Finicky touch controls
More expensive than competition, including AirPods
Gear IconX Review: Should You Buy?
If you don't quite believe that wireless earbuds will soon hit mainstream, you just have to look at the number of Gear IconX rip-offs that you might find on Amazon and Flipkart these days. But it would be a shame to compare the IconX (2018) to those cheap knock-offs.
However, it's safe to say that the Icon X (2018) has plenty of competition from big brands too. Thanks to a price tag of Rs 13,990, the Gear IconX is more expensive than the Apple Airpods (Rs 11,999-Rs 12,900 on Flipkart), Sony WF-SP700N, Sony WF-1000X and the JBL FREE (around Rs 9,599 on Flipkart), all of which are truly wireless options. On the other hand, the high-end Bose SoundSport Free (Rs 18,990 on Flipkart) and Jabra Elite Sport are more expensive than the Gear IconX, and while the Bose model has good sound quality, the reviews on Flipkart do not make it seem like a very good fit for active users. The Jabra Elite Sport at around Rs 16,500 mark on Amazon are quite overpriced if you ask us, but they do have a built-in heart rate monitor.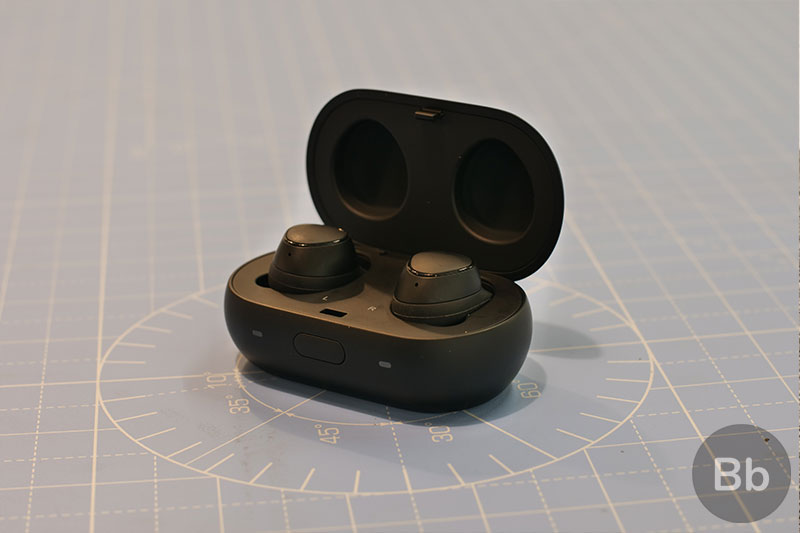 The AirPods come with the limitation of being able to work best only with Apple devices, even though there are workarounds to get them working with Android phones. The Sony WF-SP700N (Rs 11,999 on Amazon) and Sony WF-1000X (around Rs 12,999 on Amazon) are particularly exciting options thanks to the Google Assistant support, which means you can use Assistant without bringing your phone up. They also feature the Ambient Sound mode that the Gear IconX has, which makes the decision a little harder, till you see its reviews and learn that the sound quality is not up to the scratch.
That's the thing about the Samsung Gear IconX (2018). It delivers where it counts, and is well recommended for those who are not restricted by budget, because it has above average sound quality and very good battery life in a compact package.
Buy the Samsung Gear IconX (2018) on Flipkart (Rs 13,999)
REVIEW OVERVIEW

SUMMARY

The Samsung Gear IconX (2018) delivers where it counts, and is well recommended for those who are not restricted by budget. It has above average sound quality, very good battery life and some interesting smart features, in a compact package that fits your pocket.