With a profoundly aggressive price tag, Realme 3 Pro made its official debut in India just earlier this week to take on the smartphone, which is better known as the budget king – Redmi Note 7 Pro.
The cameras are important for when you make a buying decision and while Xiaomi has banked on the hype around 48MP sensors to court buyers for its latest budget offering, Realme has resorted to borrowing the camera sensor from its sister company's flagship smartphone – the OnePlus 6T.
So, let's not waste any more time and answer the one question which might have been bugging you. How does the Sony IMX519 sensor on Realme 3 Pro compare to the Sony IMX586 on Redmi Note 7 Pro?
Realme 3 Pro vs Redmi Note 7 Pro: Specs
Before we check out the camera samples and see how they compare, here's a quick peek at the camera specifications for both the smartphones.
The Redmi Note 7 Pro, as most of you, would already know brings along a primary 48MP (f/1.7) rear sensor (the Sony IMX586) coupled with a 5MP (f/2.4) depth sensor. Xiaomi's not pulling any punches to offer users the best-in-class experience at an affordable price tag.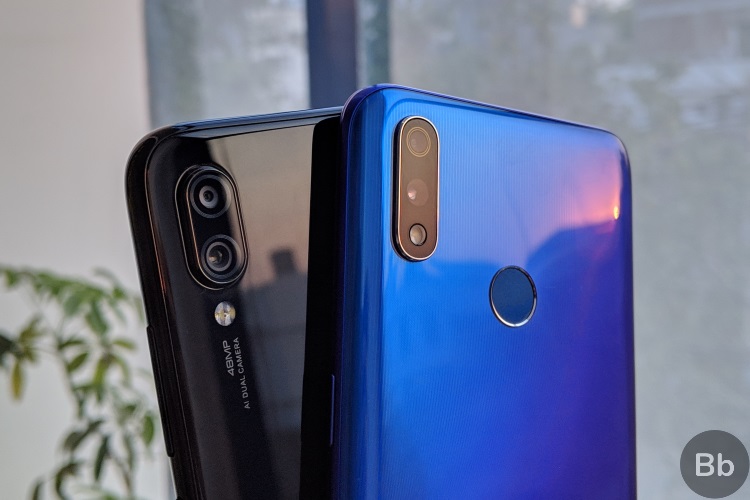 On the other hand, Realme may not be falling in Xiaomi's footsteps but it isn't looking to back down from rivaling the Redmi Note 7 Pro head-on. Realme 3 Pro sports a dual-rear camera setup with a primary 16MP (f/1.7) sensor, along with a 5MP (f/2.4) depth sensor. Realme, which was earlier an Oppo subsidiary, has borrowed the primary rear sensor we have earlier seen on OnePlus 6T.
Let's head into the comparison and see how the two smartphones compare to each other under different scenarios:
Note: We have resized the camera samples attached below to make it easier for you to view them on the website, without taxing the website and affecting the load times. You, however, can find the Google Drive link to full-resolution images right here.
Realme 3 Pro vs Redmi Note 7 Pro: Daylight photos
Starting off with daylight photos, I would like to tell you a secret. I have been staring at photos from both the smartphones for quite some time now and it has just been pretty difficult to pick one over the other. The Realme 3 Pro and Redmi Note 7 Pro capture some stunning photos, quite comparable at that.
First up, we have this top-down shot of a pancake with fruit toppings and you can easily see that both shots are social media-ready. While the picture from the Redmi Note 7 Pro looks more saturated, the Realme 3 Pro picture has captured more details – see the floor and orange at the top. However, I also feel that the Realme 3 Pro sample lacks the depth which makes the pictures pop.
Next up, we have a close-up shot of these tiny flowers and even though the photo from Realme 3 Pro is more saturated this time, it has more details when you zoom onto the flowers – the white lines in the flowers are more crisp and clear here. Redmi Note 7 Pro surely has a more color accurate picture, with a ton of details, however, I like Realme 3 Pro's image quality here.
On the other hand, the picture of this caricature shows that Note 7 Pro picture has more details and the shadows are better handled, as compared to the Realme 3 Pro picture. It has also captured a great shot, with better colors, but the shadows are overexposed and that makes the shot look a little unrealistic.
While this picture shows that Note 7 Pro has a higher dynamic range, I feel the Realme 3 Pro trumps it when you compare the cellphone tower photo attached below. So, both the devices have a pretty good dynamic range and shouldn't falter when you go out and click pictures of landscapes or architectural marvels.
Well, the pictures attached above are the reason that I would pick the Realme 3 Pro for daylight shots as it just produces more detailed and crisp shots. Both phones rely on AI scene detection to produce better pictures and I know, it can make your food or trees in the surrounding too bright, but details are also what matter and Redmi Note 7 Pro, even though it stacks up pretty well – left me wanting more at certain occasions.
If you want to check out more samples, well, here are some for you to compare and tell your opinions in the comments below:
Realme 3 Pro vs Redmi Note 7 Pro: Low-light photos
Moving on to low-light conditions, well, you can see in the sample below to see that the Note 7 Pro sample has exaggerated the blue light from the signage behind me to offer a social media-ready photo. However, Realme 3 Pro clicks more life-like and sharper images, which is why when you zoom in the blinds at the back there is lesser noise and more details.
Among the comparison images below, one thing is surely clear (pun intended) and that's the images captured from the Realme 3 Pro. They may appear over-sharpened at times, have noise in some cases, and may not be color-accurate (instead you'll always notice a tinge of yellow introduced, which isn't the case with Redmi Note 7 Pro) but they're quite detailed. It's a hit-and-miss for the 3 Pro, but the Redmi Note 7 Pro has a consistent performance in low-light conditions.
Realme 3 Pro vs Redmi Note 7 Pro: Selfies & Portraits
The selfie trend may have started to dwindle in today's age, but it's still really important and that's the reason how waterdrop notches have come to be. While Redmi Note 7 Pro sports a 13MP camera in a semi-circular dimple whereas the Realme 3 Pro has a 25MP sensor in a fluid dewdrop notch.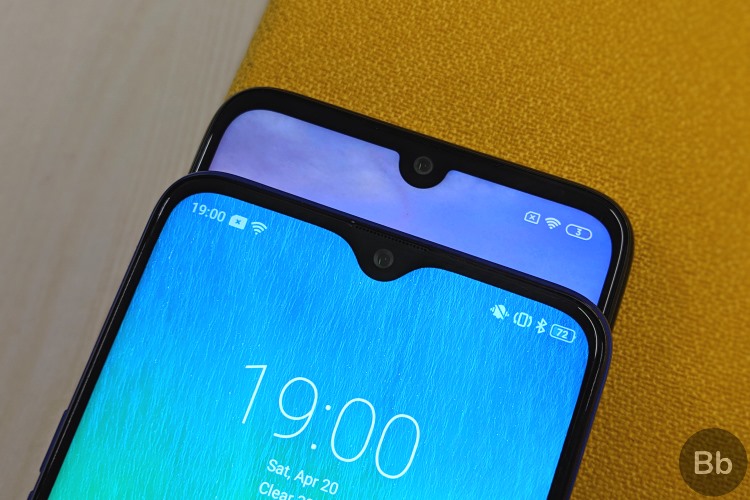 Coming to the selfie samples, well, right off the bat you can notice that the selfies from the Realme 3 Pro are over-sharpened while those from the Redmi Note 7 Pro appear soft. I mean, I don't really adore the selfies from Realme's camp but I definitely hate the softening that Xiaomi's phones apply to your bust – and yes, beauty mode was turned off but AI was still enabled.
The selfies from Redmi Note 7 Pro are color accurate for sure and I like that. George's tee in the second comparison sample is a dark shade of blue, which Note 7 Pro represent well, but Realme 3 Pro has turned it into a darker gray. So, if you don't mind selfies slightly on the softer side then Redmi should be your pick. I would go for the 3 Pro since selfies from the same look social media-ready and pleasing to see – something users are going to care more about.
Talking about the portraits, well, the Realme 3 Pro yet again comes out on top with more accurate edge detection, color reproduction, and details.
Even in a backlit shot with the sun shining in the background, the Realme 3 Pro is able to discern the subject and surroundings to apply the blur – with a ton of oversharpening, of course. However, the final result is still better than the Note 7 Pro which is soft yet again and the sun is overexposed. In all the other portrait photos you see below, Realme 3 Pro and Redmi Note 7 Pro has edge detection at par with one another, but I think the blur in the latter is more natural and not as strong as the former (but it depends on preference).
You can check out some portrait shots clicked from the rear camera attached down below as well. Again, I have to say that I like the bokeh (which can sometimes be a hit or miss) and colors of the Realme samples more than that of the Redmi Note 7 Pro.
Realme 3 Pro vs Redmi Note 7 Pro: Night Mode
Night time photography has gotten a boost ever since the Pixel 3 launch and the "Night Sight" magic. Long exposure night mode has since found its way to a myriad of phones, with Redmi Note 7 Pro and Realme 3 Pro having this feature as well. So, let's check out some samples:
In the former set of photos, I prefer the one clicked from the Realme 3 Pro because it's sharper and has less noise as compared to the Redmi Note 7 Pro. The shadows haven't been overexposed and I like that. However, if all you're looking for an illuminated night shot, then Note 7 Pro is better.
The second set of photos, where I come into the picture, the Realme 3 Pro completely destroys the image with a reddish tint and a strong oil-painting effect. The Note 7 Pro certainly looks better than the Realme 3 Pro in this department.
Here's a zoomed-in look at my face in these pictures to better show you the pronounced oil-painting effect in the Realme 3 Pro. I got this picture clicked more than once thinking my friend's hand shook during the 3-second capture, however, that wasn't the case and any number of samples turned out to be the same:
Realme 3 Pro vs Redmi Note 7 Pro: Video Recording
Finally, let's take a look at the video recording capabilities of both of these smartphones. Realme 3 Pro and Redmi Note 7 Pro enable users to record videos up to 4K resolution at 30fps from the rear camera, but there's no stabilization in play here. You will see obvious stutters in the footage and we recommend you switch to 1080p video recording at 60fps. This is where the EIS will kick in for both the devices and you'll get smoother videos.
Let's take a look and compare the video samples from both the smartphones right here:
The 4K video attached above explains exactly what I said just moments ago. There's no stabilization and the Realme 3 Pro also seems to be running into focus problems – which can be fixed via a software update. The 4K video recording doesn't look any good, so we switched to 1080p (60fps) and compare Realme 3 Pro with Redmi Note 7 Pro.
The 1080p video recordings from both the smartphones look equally stabilized, but I like the color profile and overall quality of the Redmi Note 7 Pro. This doesn't mean that the Realme 3 Pro's video is any inferior, but the persistent focus problem makes me wary of picking it over the Redmi.
Realme 3 Pro also comes with a super slo-mo mode, which allows you to shoot videos at 720p/960fps, baked in but it isn't really that good. We've compared it to the 960fps super slo-mo mode on the Poco F1 and you can easily notice the stutters and frame drops in the Realme 3 Pro. Here's the comparison video:
SEE ALSO – Realme 3 Pro First Impressions: Stands Tall Against Redmi Note 7 Pro!
Realme 3 Pro vs Redmi Note 7 Pro Camera Comparison
The answer to who among the Sony IMX519 or Sony IMX586 is better has to be that they are both pretty comparable. Redmi Note 7 Pro and Realme 3 Pro enable you to click some amazing pictures and I like them both, but if I had to pick one, well I'd go with Realme 3 Pro as it delivers a higher dynamic range, produces more detailed and sharp pictures and even low-light photography is pretty decent. The color accuracy is somewhat lacking, and I've come across minor focus issues, but Realme can fix them with upcoming updates.
You don't necessarily need to give into the 48MP hype and can certainly pick up the Realme 3 Pro if you're looking to click some casual pictures. The Redmi Note 7 Pro's 48MP cameras are not bad but instead, I would say that both of the smartphones have some of the best cameras in the budget segment.
Buy Redmi Note 7 Pro from Flipkart (starts at Rs 13,999)
Buy Realme 3 Pro from Flipkart (starts at Rs 13,999)
---
Load More