Christmas is just around the corner and Google Play Store is offering yet another deal to celebrate the festival. Starting today, Google Play Movies customers in India will be able to rent movies for just Rs. 20. Yes, you read that right. For just Rs. 20, you will able to rent any movie present on the Play Store. What's make this deal even sweeter is the fact that Google Play Movies has a great selection of movies consisting of both Indian and international movies.
But, before you quit the article and start looking for movies to rent, here are some of the conditions that you need to keep in mind before renting a movie:
The special offer is valid only for 1 movie per user
The offer ends on 2 January 2018
Once you rent a movie, you have 30 days to watch it, after which the movie will expire
Once you start watching the movie, you have 48 hours to complete it. After 48 hours, the movie will expire
You will need a Google Payments Account to rent the movie
Valid in India Only
The offer cannot be used in conjunction with other offers or credits, except Google Play Gift Cards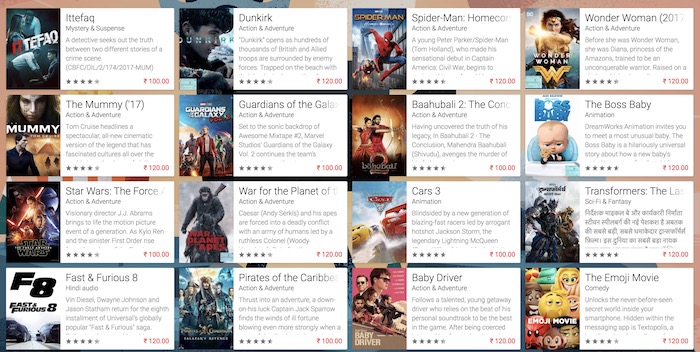 Okay, now that you are up to date on the terms and conditions, you can go and rent a movie for yourself. It's a bit sad that a user can only rent one movie, but hey, something is better than nothing, right? Do keep in mind the offer end date and the timeframe within which you need to watch the movie once you rent it. You don't want to pay for a movie and then not be able to watch it because you missed the timeline. All that said, I know which movie I am renting, it's Dunkirk by the way. Do share with us your selection in the comments section below.