The Pixel 3 XL is still close to a month away from being officially unveiled by Google. The device has, however, not just posed for leaked photos but we've also got a glimpse at its wireless charging capability and camera samples.
As pointed out yesterday, the Pixel 3 XL is 'quickly becoming the worst-kept secret of the year' and we now finally know the source for the flood of leaks. The folks over at Slashgear, as well as 9to5Google, have revealed that a stolen shipment of Pixel 3 XL test units is being sold on the black market in Europe. Here's a look at the massive shipment: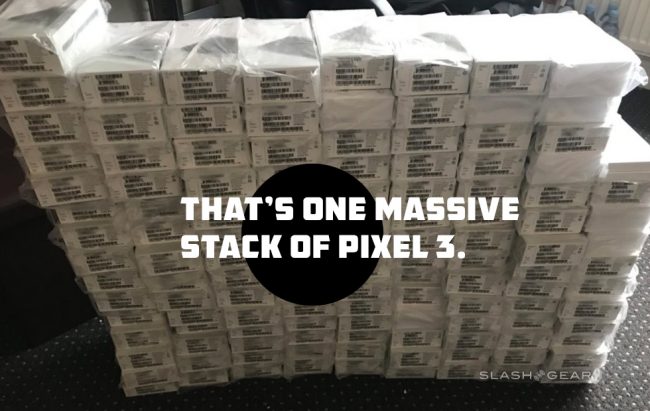 Yes, the leaked Pixel 3 XL photos hosted a watermark to a Telegram account, where the device is being sold for $2000 a pop by an anonymous Ukranian seller (even though the conversation flows in Russian). It's unknown how the seller has got his hands on Google Pixel 3 XL units so early. Here are all the details, as shared by the seller, in the public Telegram group:
Remains only 3 pcs, Google Pixel 3 XL:  I answer immediately to the most popular questions The price is $2000. Payment is possible via PayPal or Bitcoin. The second is preferable because PayPal has a horse commission for international transfers.

Dispatch is made from London via DHL or FedEx. Regarding the purchase, please contact [REDACTED]. Also, I remind you that there is a large amount of Google Pixel 2 XL available at good prices. Please!
As freelance developer Owen Williams (@ow) points on Twitter, Pixel 3 XL units in the leaks are surely test units. The hardware carries a Google email address, whereas the software is said to be dogfood-level, which means it's what's being tested internally at Google, and is likely to be full of bugs.
There's a bunch of interesting bits here that are quite odd:
1) Every shipment has had a Googler's email address glued to the box
2) Some handsets are "DVT" (Design Validation Testing) and others were "EVT" (Engineering Validation Testing)
3) Software is dogfood-level pic.twitter.com/TNGmVLNXmk

— Owen Williams ⚡ (@ow) August 22, 2018
While it may be tempting (or not so much, thanks to that huge notch) to grab the Pixel 3 XL before release, we wouldn't recommend you pay through the nose for the device from black market sellers because of the obvious legal repercussions. Given the wide publicity for the stolen units, Google may even be able to track these devices and wipe them remotely, so you might not have much luck using one.