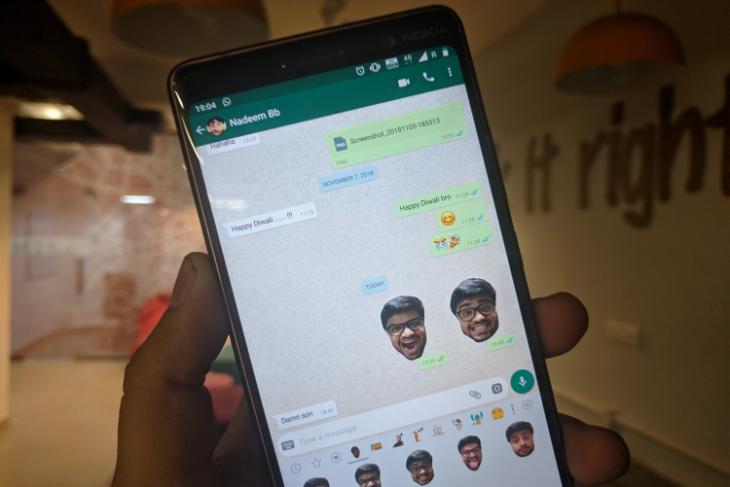 If you've been keeping up with the latest on WhatsApp, you know the app recently got the ability to share stickers on Android and iOS. They sit alongside the emojis as another way to express your emotion in the app.
While WhatsApp gives you a 'small collection' of Sticker packs to start with, you could head to the Play Store to download and install various other sticker packs (just make sure you read all the reviews carefully before installing any sticker packs). But, what if I told you that you could create own sticker pack with your faces or literally any photo you want?
Well, we came across one such app called 'Sticker Maker for WhatsApp' and here's the detailed process of how you can create your own sticker packs:
How to Make Your WhatsApp Sticker Pack
Note: We tried out this sticker creation app on Nokia 7 Plus, running Android 9 Pie and WhatsApp beta version 2.18.348.
1. Head over to the Google Play Store and download 'Sticker maker for WhatsApp' (Free) on your Android device.
2. Open the app and tap the 'Create a new stickerpack' button to enter a sticker pack name and author before hitting the 'Create' button in the pop-up.
3. Now, you will need to first set up a tray icon (the one seen in the carousel to help you identify the sticker packs) by tapping the larger icon on top of the next screen, which lets you click a photo instantly, or pick one from your gallery.
4. Once you've selected an image, you can then crop out the parts you don't want from the image to make your own sticker and hit 'Yes, Save Sticker' to add that sticker to your pack.
5. Now that you have a tray icon for your sticker pack, you need to follow the same process as in Step 4 above to make all your individual stickers. And finally, you need to hit the 'Publish Sticker Pack' button at the bottom right.
Note: You need at least 3 stickers to publish a pack, and add it to WhatsApp. You can also choose not to crop the images and use them as they are. But the cropped effect looks cool as you will see. 
6. Now that you have published your own Sticker Pack, all that's left to do is add it to WhatsApp by hitting the 'Add to WhatsApp' button at the bottom. Done!
7. Finally, head over to WhatsApp, tap the 'smiley' icon and navigate to stickers to view your creations and send it over to friends! Cool, right?
Likes and Dislikes
Sticker Maker for WhatsApp does justice to stickers and lets you unleash your creativity. It's pretty easy and I've been having a lot of fun making stickers for everyone at Beebom (including Rupesh and Akshay, as you see below) but the full-screen ads sometimes spoil the fun for me.
Also, I hate that there's currently now functionality that allows users to share the sticker packs they have created with others, such that they can add them to Whatsapp and use them as well. We've contacted the app's developer for more info on this feature and will update the article once we hear back from them.
So, how are you enjoying sticker support on WhatsApp? Will you be making your sticker packs from scratch as well? Let us know in the comments below.