After a not-so-popular Nexus 6 — made in tie-up with Motorola —, Google once again joined hands together with LG to bring Nexus 5X to the stage. Launched along with Nexus 6P from Huawei, this 5-inched Smartphone comes with a stunning design and build, which is sleeker. Just like other products in Nexus range, we can see the simplicity of stock Android and use of powerful hardware. The thinner design is made of velvet polycarbonate body and the placement of fingerprint sensor is also ergonomic! However, when you choose a Nexus 5X case for additional protection, you'd need to make sure that access to fingerprint sensor etc are not interrupted. To help you choose better, we have a list of top five Nexus 5X protective cases. We hope it helps.
Best Nexus 5X Cases
1. Spigen Ultra Hybrid Nexus 5X Case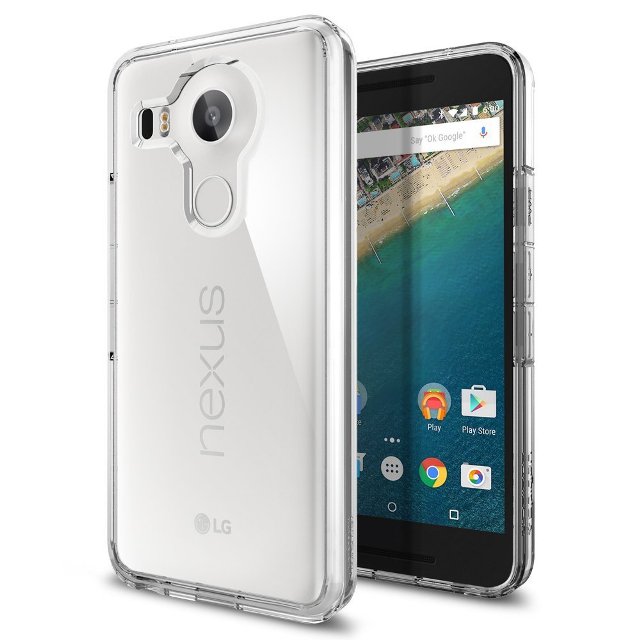 From the Ultra Hybrid series of Spigen, this convenient LG Nexus 5X case provides all-round protection, despite it has a transparent, crystal clear design. That is, you can use the case without affecting real beauty and build of the Nexus 5X of yours. Build of Spigen Ultra Hybrid Nexus 5X Case is promising, as it's equipped with Air Cushion Technology, as it comes to potentially-significant areas. For instance, the case has a TPU-made bumper that's flexible while the back case is made of Polycarbonate that's hard enough to protect from falls. In addition, there are raised bezels in camera and screen sides of the device so that you can place them as you wish. Its pronounced buttons are very easy to use & stylish, for that matter.
However, it has to be noted that some users have been reporting issues with Spigen Ultra Hybrid Nexus 5X Case. Like it has been reported by TheNextWeb, some of these cases lack access to Nexus 5X microphone, which is an issue. It's your responsibility to make sure that yours isn't affected when you start using it. That having said, some customers do say that there's a cut-out for microphone.
2. Spigen Thin Fit Hard Nexus 5X Case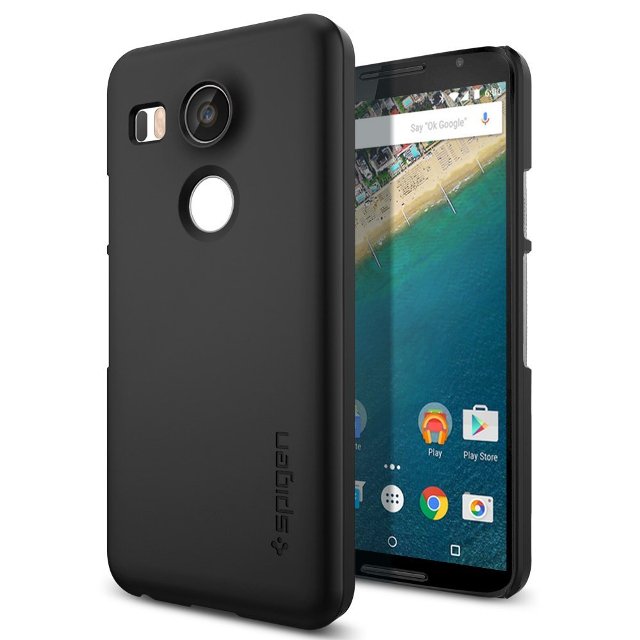 This case is available at a slightly affordable price tag and you might lose native beauty of your Nexus 5X when you put it on top. It's a sexy, black case that has an elegant look as well. As the name says, Spigen has tried to keep the bulk as minimal as possible and it's quite lightweight as well.  Spigen Thin Fit Hard Nexus 5X Case is available in Black, Mint and Shimmery White colours, at the same price. When adding to account the soft-feel matte coating that enhances grip and handling of device, the smooth design of the case is a superb one. Being a product from Spigen, you can expect a more-than-standard quality with the case. And, customers have a good opinion about the case.
3. Ringke Fusion Crystal View Nexus 5X Case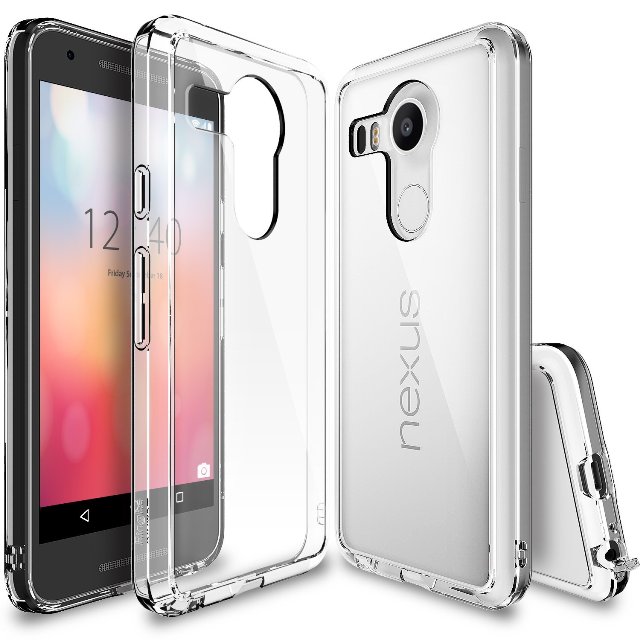 Ringke Fusion Crystal View Nexus 5X Case too has a transparent design, giving you access to the real build of Nexus, even as it offer top-notch protection. When compared to other cases, this one is quite minimal and slim and its TPU-made bumper would not be an issue when it comes to handling. Thanks to the Active Touch Technology in use, you'd have access to all the ports, including the strap holder, which you get along with the case. And, for each port, Ringke has included a dust-cap so that you can place it in dusty environments. By the way, you get a screen protector for free when you purchase Ringke Fusion Crystal View Nexus 5X Case.. When we consider just-right access to all sections, the case is a reasonable deal.
4. Ringke SLIM Ultra Thin Nexus 5X Case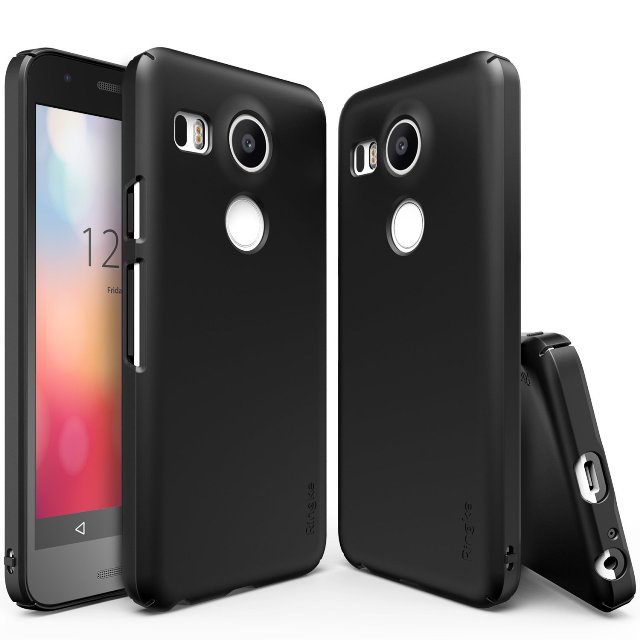 Another product from Ringke, this Nexus 5X case is not transparent, but offers a smooth design, thanks to the black, impressive coating it comes with. Ringke SLIM Ultra Thin Nexus 5X Case has been made with a certain level of precision so that you can access all the ports and other sections like fingerprint scanner and camera, right away. Also, intensity of protection has been spread on four sides as well as edges; in addition, Ringke has included raised lips on camera & screen part, so that you won't have any issues when you want to place the phone upside-down. Also, despite sturdy-looking design it has, Ringke SLIM Ultra Thin Nexus 5X Case brings minimal amount of bulk, though it won't go off your hand. It's manufactured using hard PC and there's a Dual Coating Technology for enhanced durability. It can be chosen when you prefer slim design to bulkiness.
5. MoKo Silicone Nexus 5X Case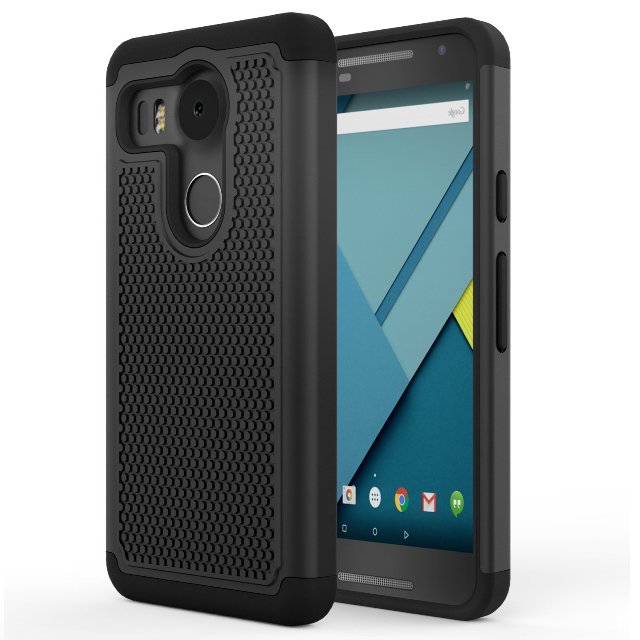 This Nexus 5X case from MoKo would be awesome if you are looking for a harder, bulkier protection for the device. It is a combination of hard polycarbonate on the outer shell and the silicone-made bumper cover that's embedded on both outer and inner layers of the case. The silicone layer is flexible as well as scratch-resistant, giving you less to worry about safety. MoKo Silicone Nexus 5X Case has good shock-absorbance ability as well. When combined with the lifetime warranty from MoKo, this Nexus 5X Case is satisfactorily awesome. What's more, MoKo Silicone Nexus 5X Case an extremely affordable pricing, the cheapest in list.
By the way, Google is planning to launch some official Nexus 5X protective cases. A vast collection is available such as Folio case and ADOPTED Protective Case. Although the pricing is shown in Official Google Store, they are not currently available. When launched, however, they will surely be good companions for your Nexus 5X. Keep an eye on this page for further details on same.
SEE ALSO: 10 Best Earbuds You Can Buy Under $50
Which one do you think is the best Nexus 5X case in the list? We would expect your opinion through comments.