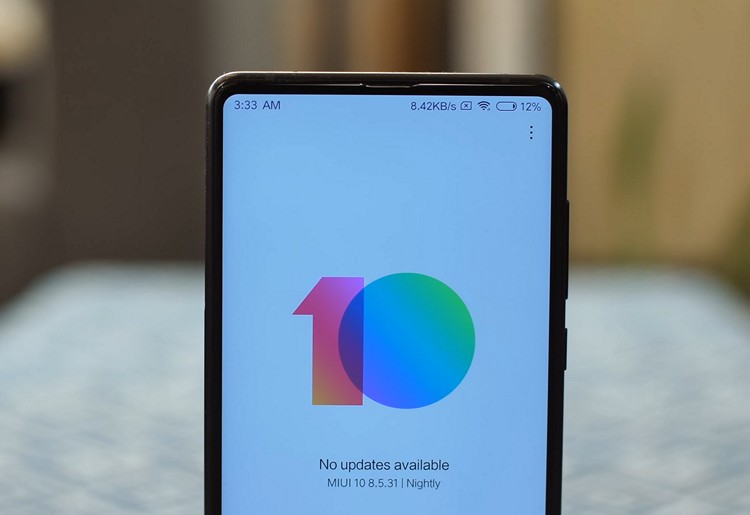 We all know Xiaomi as a major smartphone company. However, Xiaomi didn't always make hardware products and began its journey with the development of the Android-based MIUI custom ROMs, which we now adore, back in 2010.
The first MIUI custom ROM was built on top of Android Froyo and held a close resemblance to iOS, thanks to the absence of the app drawer, more uniform icons, and a different UI for most apps as compared to stock Android that we saw in the Nexus phones, or even other versions of Android such as TouchWiz. MIUI has since grown drastically and is now celebrating its eighth birthday; it's also reached a milestone in terms of software version, with MIUI 10 being released this year. So we decided to give you a glimpse at its evolution since birth. Enjoy!
The Evolution of MIUI
MIUI 1
The first MIUI ROM was introduced on August 16 2010, exactly eight years ago. It was initially developed by a group of 100 supporters, based on Android 2.2.x Froyo for the Google Nexus One. It was a step ahead of AOSP with a ton of customization options in store, which drew in a bunch of users at the time.
MIUI 2
MIUI 1 shaped up to be a huge success and gained popularity quickly among Android users, so Xiaomi decided to polish the UI and icons while offering additional customization options for even more devices, along with its first smartphone – the Mi 1 back in 2011 (it launched in India as Redmi 1S in 2014 with MIUI 5, so keep on reading).
MIUI 3
Based on Android 2.3 Gingerbread, MIUI 3 was a major milestone for Xiaomi as it was the first ROM to bring along theme support to give users the power to customize the look and feel of the UI in a more uniform manner. This version of the software marked the birth of MIUI's unique design language, which has more or less continued till date. 
MIUI 4
Launched in February 2013, MIUI 4 (based on Android 4.0 Ice Cream Sandwich) added another feather to Xiaomi's hat as it was the first ROM to bring along the company's own MIUI apps, including the app store, music app, and video player. This was because of Google's disagreement with the Chinese govt and the removal of Google apps in China.
MIUI 5
Xiaomi had got the basics down by now and looked to change the look and feel of the major UI elements to make MIUI more streamlined. MIUI 5, as you see above, was a significant revamp over all previous efforts, and sported new system animations, gesture to open the notification shade, and other UI upgrades. It was debuted in March 2013.
MIUI 6
Xiaomi celebrated the fourth birthday of its MIUI custom ROM with the launch of MIUI 6 on August 16, 2014. While MIUI 5 was a major bump over the existing UX, MIUI 6 focused on minimalism and debuted a new look with new Mi apps and features such as app notices, smart blocklist, clean master, and more.
MIUI 7
With the launch of MIUI 7 in August 2015, Xiaomi decided it was time to optimize the OS and give users new customization options. It laid emphasis on RAM management, better battery life, and optimizations in the core underlying process.
There wasn't much change on the UI front but MIUI 7, for the first time, came with four built-in themes and a slogan – 'Yours By Design' to represent the changes. It even brought along new features such as built-in data saver, child mode, DND, and flat icons.
MIUI 8
By now Xiaomi had begun adding a tagline to each release. MIUI 8's line was 'Make Life Better' and it featured a new look to the stock Mi apps and features. Alongside minor app icon changes and new fonts, MIUI 8 included a new color scheme (changing based on the weather), wallpaper carousel for the lockscreen, multi-window management and reduced power consumption.
MIUI 9
Built atop Android 7.1.1 Nougat, MIUI 9 (with the slogan 'Lightning Fast') was unveiled last year with a number of new feature additions to Xiaomi's already feature-rich custom ROM. The biggest addition was the integration of a smart assistant, coupled with system optimizations, quick reply in notifications, image search, and security, home + lockscreen improvements.
MIUI 10
Unveiled earlier in June this year, MIUI 10 (which is 'Faster than Lightning') has become one of my favorite MIUI ROMs ever as it comes with a ton of likable features, including a brand new Android Pie-like UI, navigation gestures, refreshed recents screen and volume controls among many others. There's also a bunch of underlying AI features that make using the MIUI 10 a lot more fun.
As you can obviously see, MIUI has matured tremendously over the years, just as Android has grown into the world's most popular OS. It has even shed the iOS-like design, and looks a lot like other Android phones, with its signature tweaks and customisations. So, how are you liking MIUI 10 until now? And are you excited for what's to come? Share your MIUI experiences with us in the comments below.
Image Courtesy: MIUI Forums
---