I have always said that MIUI 9 is one of the best Android ROMs on the market. I understand that it's not for everyone, but those who give it a chance will surely enjoy it. That said, there's one part of MIUI which was broken in the past and always stuck out like a sore thumb. If you are an avid MIUI user, you must know what I am talking about, however, if you still haven't figured it out, I am talking about the Notification Shade. MIUI's take on Android's Notification Shade had always felt primitive to me. I hated the fact that notifications from the same app were not bundled together and that there was no easy way to do an inline reply from notification.
Thankfully, MIUI 9 takes care of all those problems. With MIUI 9 comes the "Notification Bundle" feature which basically bundles all the notifications from the same app. This means if you have received multiple messages on WhatsApp, or any other messaging app for that matter, you won't get a separate notification for each message. MIUI 9 also brings Quick Reply. It works similar to the Quick Reply feature on the stock Android, meaning you can just swipe-down on a notification and reply right from there.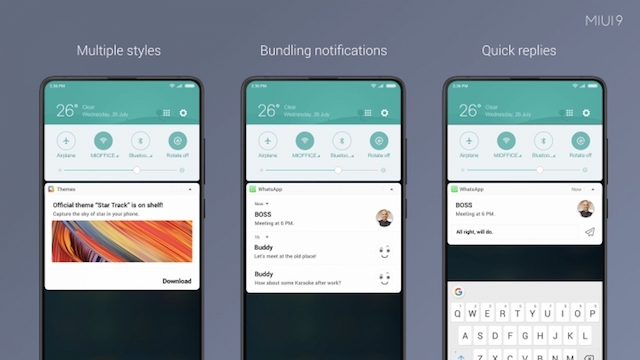 MIUI 9 also introduces multiple styles for notification which basically means it will change the notification style depending on the type of notification that you are receiving. In the above picture, you can see how MIUI 9 handles different types of notification. Notice that MIUI 9 is providing download link right inside the notification in the first example. That means a user doesn't even have to open the app to download the image. The second and third notification show how the system handles bundled and single notification. As you can see all the messages from WhatsApp are bundled together and there's a quick reply option in the Notification Shade.
I am happy that Xiaomi finally decided to fix the Notification shade on MIUI with the MIUI 9 update. With the MIUI 9, Xiaomi has solved the only major problem I had with the MIUI ROM. Everyone who uses MIUI will be pleased with this update and love MIUI even more.