There are colored block sections spread across different locations in Minecraft. It represents the same blocks that can be in all 16 different colors. Apart from glass, terracotta, concrete, and others, this category includes wool. Wool is a useful block and also a crafting ingredient. In this guide, we are covering how to dye wool and how to get all 16 wool colors in Minecraft.
Complete List of Wool Colors in Minecraft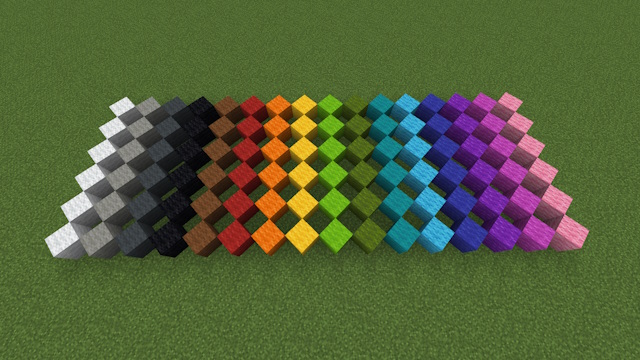 Wool blocks can be found in 16 different colors in Minecraft. Those include white, light gray, gray, black, brown, red, orange, yellow, lime, green, cyan, light blue, blue, purple, magenta, and pink.
| Dye | Crafting Ingredient(s) |
| --- | --- |
| White | Bone Meal |
| Light Gray | Azure Bluet |
| Gray | Black and White Dye |
| Black | Ink Sac |
| Brown | Cocoa Beans |
| Red | Poppy |
| Orange | Orange Tulip |
| Yellow | Dandelion |
| Lime | Smelting Sea Pickle |
| Green | Smelting Cactus |
| Cyan | Green and Blue Dye |
| Light Blue | Blue Orchid |
| Blue | Lapis Lazuli |
| Purple | Red and Blue Dye |
| Magenta | Allium |
| Pink | Pink Petals |
The table above briefly shows items you need to craft dyes in Minecraft. If you'd like to find out how to get dye color in Minecraft, check out the linked guide. Wool blocks are bright and vibrant blocks with a little rough texture. Almost all of them are acquirable in several different structures. Besides finding them in your world, you can also craft wool or obtain them by shearing sheep, even colored ones in Minecraft. If you want to know more about how to get wool in Minecraft, follow the linked guide.
How to Dye Wool in Minecraft (2 Methods)
1. Dye Wool Blocks in Inventory
Once you have a wool block in your inventory, you can combine it with any dye to get a wool of matching color. For this recipe, you can use any wool color, not just the white one. This is a new and very welcome change added in Minecraft 1.20 update. One dye is used to color one wool block in Minecraft. So, if you want to dye a stack of wool, you will need a stack of dye too.
2. Dye Sheep and Shear Them
Besides dyeing wool in a crafting interface, you can also dye the source of wool, sheep. Right-clicking on a sheep with a chosen dye lets you dye it. After that, every time you shear it, you will get 1-3 wool of the matching color. This simply implies, you don't need to worry about the dyes anymore, since one dye can color an infinite amount of wool in Minecraft. If you want to change the color of the sheep, you can simply do it just the same way.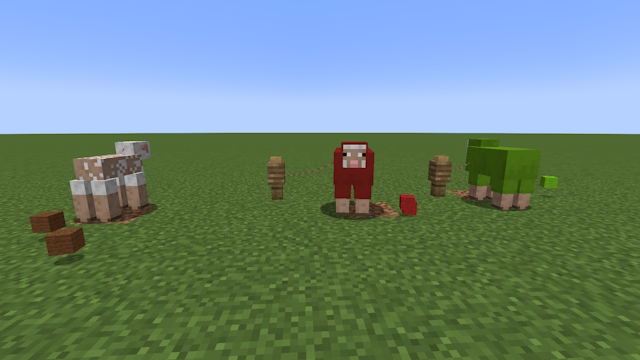 Frequently Asked Questions
Can you dye colored wool in Minecraft?
Yes, you can. This is a new addition introduced in the Minecraft 1.20 update.
Can you only dye white sheep in Minecraft?
No. You can use dyes on any sheep, no matter whether they are dyed or not.