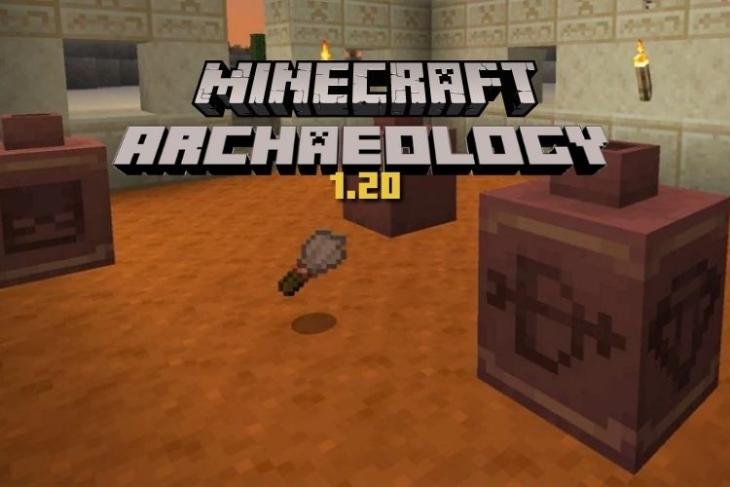 All the rumors were true! Developers have listened to our demands and one of the most anticipated features of Minecraft, archaeology, is finally making it into the game. It will arrive with the Minecraft 1.20 update and looks similar to the original 2020 version but offers a lot more. So, here's everything we know about the Minecraft Archaeology update.
Minecraft 1.20 Will have Archaeology Features
First teased for Minecraft 1.18 Caves & Cliffs update, the archaeology features are coming to Minecraft with the release of Minecraft 1.20. Much like the original teaser, you get the option to dig, dust, and craft unique pottery for your base. However, instead of having a dedicated new structure, the archaeological features spawn near some desert temples. Considering how the other major feature of the upcoming update is camels, Minecraft 1.20 definitely looks like a Desert update.
Expanding on the features, we are also getting a variety of new blocks: suspicious sand, a new tool: the brush, and a bunch of unique pottery shards and pots. At first glance, it looks like each archaeology pot in Minecraft will have its own unique pattern on top of it. If the game gives you the option to dye or modify the design, it will sync quite flawlessly with the new armor trims of Minecraft 1.20. Both of these feature allow the players to tell their stories which expands the creative freedom of this sandbox game.
When Will Archaeology Reach Minecraft?
As revealed in an official blog post, the archaeology features will be a part of the Minecraft 1.20 update. However, we suspect that you will be able to test them soon, maybe even in the next snapshot. Stay tuned and keep an eye out on the Minecraft section to be the first one to find about them.
Even with the amazing archaeology features finally making it to the game, we are nowhere close to the release date of the Minecraft 1.20 update. So, what other features do you expect to see before the update reaches its final form? Tell us in the comments below!